Paintscraper
From Inkipedia, the Splatoon wiki





Paintscraper​
Paintscraper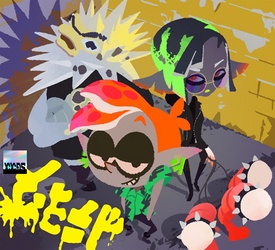 Paintscraper is a song performed by C-Side.
Description
Paintscraper is a electronic hard rock song. It starts out with electric bass melodies, then vocals are added. After that, electric guitar melodies are heard, followed by the intro melody with synth added in. Then, the vocal-heavy chorus is heard.
Quotes
"
SRL Musicology Dept. back with a huge scoop! You're listening to "Paintscraper," the latest offering from C-Side. Musically, they've welded a shiny rainbow melody to a thrash-metal skeleton and added all kinds of chrome spikes. Turn up the volume and shake the whole house!
"

— @SplatoonNA on Twitter

[1]
Other versions
Paintscraper (Splatoon 3 Enter the Splatlands Invitational 2022)
This version played in Splatoon 3 Enter the Splatlands Invitational 2022 during the waiting screens. It has a proper outro and is played in mono audio.
Etymology
Paintscraper refers to a paint scraper, a tool used to scrap paint off walls. In Splatoon 3 the 'paint' might refer to ink.
References