Paintscraper
Jump to navigation
Jump to search
Fuuuuuture!




This article or section discusses unreleased content. Information is subject to change.
Please review our policy on rumors and leaks before adding leaked information.
Paintscraper​
Paintscraper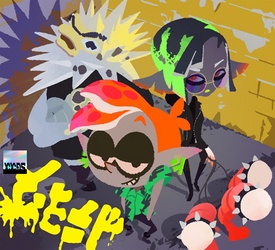 Paintscraper is a song performed by C-Side.
Description
Paintscraper is a electronic hard rock music. It starts out with electric bass melodies, then vocals are added. After that, electric guitar melodies are heard, followed by the intro melody with synth added in. Then, the vocal-heavy chorus is heard.
Currently, only a 1:02 minutes long preview of the song is available to the public, which fades out in the middle of the aforementioned chorus; it is currently unknown what is the full length of the song and how it continues.
It is currently unknown if the song will be used as background music in multiplayer battles.
Quotes
"
SRL Musicology Dept. back with a huge scoop! You're listening to "Paintscraper," the latest offering from C-Side. Musically, they've welded a shiny rainbow melody to a thrash-metal skeleton and added all kinds of chrome spikes. Turn up the volume and shake the whole house!
"

— @SplatoonNA on Twitter

[1]
References