Pancake vs. Waffle
Jump to navigation
Jump to search
Pancake vs. Waffle​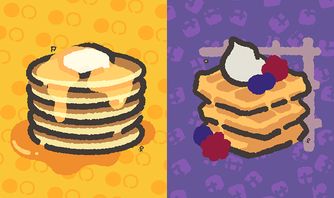 Team

 

Pancake

 

Waffle
Region
North America, Oceania
Start

9 February 2019

, 04:00 UTC
End

10 February 2019

, 04:00 UTC
Score method
category tally
Result type
combined
Popularity
48.69%
51.31%
Wins
%
Expression error: Unrecognized punctuation character "{".%
Solo wins
%
Expression error: Unrecognized punctuation character "{".%
Team wins
%
Expression error: Unrecognized punctuation character "{".%
Normal clout
48.66%
51.34%
Pro clout
48.59%
51.41%
Score
0
3
Winner
Waffle
Region
Europe
Start

9 February 2019

, 14:00 UTC
End

10 February 2019

, 14:00 UTC
Popularity
%
Expression error: Unrecognized punctuation character "{".%
Wins
%
Expression error: Unrecognized punctuation character "{".%
Solo wins
%
Expression error: Unrecognized punctuation character "{".%
Team wins
%
Expression error: Unrecognized punctuation character "{".%
Normal clout
%
Expression error: Unrecognized punctuation character "{".%
Pro clout
%
Expression error: Unrecognized punctuation character "{".%
Score
Expression error: Unexpected < operator.
Expression error: Unexpected < operator.
Winner
Region
Start

11 August 2022

, 10:44 UTC
End

12 August 2022

, 10:44 UTC
Popularity
%
Expression error: Unrecognized punctuation character "{".%
Wins
%
Expression error: Unrecognized punctuation character "{".%
Solo wins
%
Expression error: Unrecognized punctuation character "{".%
Team wins
%
Expression error: Unrecognized punctuation character "{".%
Normal clout
%
Expression error: Unrecognized punctuation character "{".%
Pro clout
%
Expression error: Unrecognized punctuation character "{".%
Score
Expression error: Unexpected < operator.
Expression error: Unexpected < operator.
Winner
Pancake vs. Waffle was a Splatfest event in Splatoon 2. It was held in North America, Oceania and Europe from 9 February 2019 to 10 February 2019. It was announced on social media on 31 January 2019 and on 1 February 2019 at 08:00 UTC in-game. The results were given on 10 February 2019.
Details
The full name of each choice was "PANCAKES" and "WAFFLES". The team name portion of Splatfest titles was "Pancake" and "Waffle".
Pancake vs. Waffle featured the 19th Shifty Station layout, The Splat in our Zones, which features Splat Zones.
Trivia
In the promotional artwork, Pearl and Marina are dressed in their Octo Expansion outfits.
Gallery
Dialogue
To do:




Complete Dutch, French (France and Canada), Italian, Russian and Spanish (Spain and Latin America) translations. edit
English
Announcement
Pearl's Dialogue
Marina's Dialogue
Region
Pearl:
"-"

Marina:
"Which stealth dessert is the better breakfast food? Pancakes or waffles?"
NOE, NOA

Pearl:
"When I'm trying to blow past my daily sugar intake before 8 a.m., I go with..."
Marina:
"-"
NOE, NOA

Pearl:
"P-A-N-C-A-K-E-S!"
Marina:
"-"
NOE, NOA

Pearl:
"You can make a full stack of pancakes in the time it takes to FIND a waffle iron."
Marina:
"-"
NOE, NOA

Pearl:
"You ever ordered a stack of waffles? Nope! You only get one measly waffle!"

Marina:
"They only give you one waffle because you only NEED one waffle."
NOE, NOA
Pearl:
"-"

Marina:
"Waffles stand firm in the face of adversity, boldly holding their ground."
NOE, NOA
Pearl:
"-"

Marina:
"But pancakes are soggy syrup sponges that cower at the sight of toppings."
NOE, NOA
Pearl:
"-"

Marina:
"They disintegrate between your teeth, leaving you unsatisfied after every bite."
NOE, NOA

Pearl:
"OK, that's a little much..."
Marina:
"-"
NOE, NOA
Pearl:
"-"

Marina:
"Waffles contain dozens of tactical flavor pockets to hold butter and syrup."
NOE, NOA
Pearl:
"-"

Marina:
"Each decadent bite explodes with unholy texture as your mouth rejoices in ecst—"
NOE, NOA

Pearl:
"Seriously?"
Marina:
"-"
NOE, NOA
Pearl:
"-"

Marina:
"Sorry, I didn't eat breakfast today..."
NOE, NOA

Pearl:
"What about you at home? Do you like pancakes or waffles more?"

Marina:
"Head over to the Splatfest terminal and pick a side..."
NOE, NOA



Introduction
Pearl's Dialogue
Marina's Dialogue
Region
Pearl:
"Are you more into pancakes or waffles?"
Marina:
"Head over to the Splatfest terminal and pick a side!"
NOE



Results
Pearl's Dialogue
Marina's Dialogue
Region
Pearl:
"-"

Marina:
"W-W-W-W-WAFFLECOPTER!"
NOE, NOA

Pearl:
"..."
Marina:
"-"
NOE, NOA
Pearl:
"-"

Marina:
"Pancakes got straight BATTERED! Haha!"
NOE, NOA

Pearl:
"Whatever..."
Marina:
"-"
NOE, NOA
Pearl:
"-"

Marina:
"Great work, Team Waffle. We are on the right side of history."
NOE, NOA

Pearl:
"OK, but have you ever tried to clean a waffle iron?"
Marina:
"-"
NOE, NOA
Pearl:
"-"

Marina:
"If you participated in the Splatfest, your prizes are waiting in the Square!"
NOE, NOA



Results if Pancake were to win
Pearl's Dialogue
Marina's Dialogue
Region

Pearl:
"P-P-P-P-PANCAKE GANG!"

Marina:
"NOOOOOO!"
NOE, NOA

Pearl:
"Waffles got battered by pancakes, We cooked 'em like clam bakes,"
Marina:
"-"
NOE, NOA

Pearl:
"They can't take our syrupy mandates, We stopped 'em like slammed brakes!"
Marina:
"-"
NOE, NOA
Pearl:
"-"

Marina:
"Stand tall today, waffles. You fought the good fight."
NOE, NOA

Pearl:
"Pancake snatched that W, waffle, Guess that makes you Team Awful!"
Marina:
"-"
NOE, NOA

Pearl:
"BAHAHA!"

Marina:
"..."
NOE, NOA

Pearl:
"No one expects the flapjack clapback."
Marina:
"-"
NOE, NOA

Pearl:
"If you participated in the Splatfest, your prizes are waiting in the Square!"
Marina:
"-"
NOE, NOA



Dutch
Pancake (Pannenkoek) vs. Waffle (Wafel) Announcement
Lorelei's Dialogue
Mariana's Dialogue
Region
Lorelei:
"-"

Mariana:
"De pannen en ijzers zijn heet! Wat eet jij liever, pannenkoeken of wafels?"
(The pans and irons are hot! What do you rather eat, pancakes or waffles?)
NOE

Lorelei:
"Als ik mijn buikje rond wil eten tijdens een feestje, ga ik voor..."
(If I want to satisfy my hunger during a party, I go for...)
Mariana:
"-"
NOE

Lorelei:
"PANNENKOEKEN!"
(PANCAKES!)
Mariana:
"-"
NOE

Lorelei:
"In de tijd die het kost om een wafelijzer te vinden, bak je stapels pannenkoeken."
(In the time it takes to find a waffle iron, you bake stacks of pancakes.)
Mariana:
"-"
NOE

Lorelei:
"Weleens een stapel wafels besteld? Nee dus! Want je krijgt er maar één!"
(Ever ordered a stack of waffles? Nope! Because you get only one!)

Mariana:
"Je krijgt maar één wafel omdat je er niet meer NODIG HEBT."
(You get only one waffle because you don't NEED more.)
NOE
Lorelei:
"-"

Mariana:
"Wafels zijn robuust en niet stuk te krijgen."
(Waffles are robust and are made to last.)
NOE
Lorelei:
"-"

Mariana:
"Pannenkoeken zijn vaak zo dun dat alles erdoorheen sijpelt."
(Pancakes are often so thin that everything seeps through it.)
NOE
Lorelei:
"-"

Mariana:
"En ze verbranden snel, waardoor je altijd een bord vol zwarte schilfers overhoudt."
(And they burn quickly, causing you to be left with a plate full of black flakes.)
NOE

Lorelei:
"Oké, nu ga je te ver..."
(Okay, now you going too far...)
Mariana:
"-"
NOE
Lorelei:
"-"

Mariana:
"De ruitjes op wafels kun je vullen met warme kersen en slagroom."
(You can fill the squares on the waffles with warm cherries and whipped cream.)
NOE
Lorelei:
"-"

Mariana:
"Elke hap is een EXPLOSIE van smaak en textuur terwijl je zintuigen jubelen..."
(Every bite has an EXPLOSION of flavor and texture while your senses jubilate...)
NOE

Lorelei:
"Serieus?"
(Seriously?)
Mariana:
"-"
NOE
Lorelei:
"-"

Mariana:
"Sorry, ik heb vandaag niet ontbeten..."
(Sorry, I haven't had breakfast today...)
NOE

Lorelei:
"En jullie daar thuis? Eten jullie liever pannenkoeken of wafels?"
(And you there at home? Do you rather eat pancakes or waffles?)

Mariana:
"Maak je keuze bij de Splatfest-stemmachine!"
(Make your choice at the Splatfest voting machine!)
NOE



Introduction
Lorelei's Dialogue
Mariana's Dialogue
Region
Lorelei:
"Eten jullie liever pannenkoeken of wafels?"
Mariana:
"Maak je keuze bij de Splatfest-stemmachine!"
NOE



Results
Lorelei's Dialogue
Mariana's Dialogue
Region
Lorelei:
"-"

Mariana:
"W-W-W-W-WAFELMIDABEL!"
(W-W-W-W-WAFFLE-MIDABLE!)
NOE

Lorelei:
"..."
Mariana:
"-"
NOE
Lorelei:
"-"

Mariana:
"Zo te zien zijn de pannenkoeken GAUW AANGEBRAND! Haha!"
(It looks like the pancakes are BURNED QUICKLY! Haha!)
NOE
Notes: "Gauw aangebrand zijn" is a Dutch phrase for "to lose temper quickly" (lit.: Be burned quickly)

Lorelei:
"Het zal wel..."
(Whatever...)
Mariana:
"-"
NOE
Lorelei:
"-"

Mariana:
"Goed gedaan, team Wafel. De overwinning is zoet."
(Good job, team Waffle. The victory is sweet.)
NOE

Lorelei:
"Oké, maar heb je weleens geprobeerd een wafelijzer schoon te maken?"
(Okay, but have you ever tried to clean a waffle iron?)
Mariana:
"-"
NOE
Lorelei:
"-"

Mariana:
"Deelnemers aan het Splatfest kunnen hun prijzen ophalen op het plein!"
(Participants in the Splatfest can pick up their prizes on the square!)
NOE



Results if Pancake were to win
Lorelei's Dialogue
Mariana's Dialogue
Region

Lorelei:
"P-P-P-P-PANNENKOEKENPARADIJS!"
(P-P-P-P-PANCAKE PARADISE!)

Mariana:
"NEEEEEE!"
(NOOOOOO!)
NOE

Lorelei:
"Onze pannenkoeken zijn het best! Wafels zakken voor de test!"
(Our pancakes are the best! Waffles fail the test!)
Mariana:
"-"
NOE

Lorelei:
"Pannenkoeken zijn niet te kloppen! Maar wafels zullen altijd floppen!"
(Pancakes can't be defeated! But waffles will always flop!)
Mariana:
"-"
NOE
Notes: "Kloppen" in this sentence means "to defeat"
Lorelei:
"-"

Mariana:
"Trek het je niet aan, team Wafel. Jullie hebben dapper gestreden."
(Don't blame yourself, team Waffle. You have fought bravely.)
NOE

Lorelei:
"Pannenkoeken zijn de favoriet, wafels. Jullie hadden een te grote waffel!"
(Pancakes are the favorite, waffles. You had a too big of a mouth!)
Mariana:
"-"
NOE

Lorelei:
"HA HA HA!"
(HA HA HA!)

Mariana:
"..."
NOE

Lorelei:
"Dat was een pak voor de broek van team Pannenkoek!"
(That was a good spanking by team Pancake!)
Mariana:
"-"
NOE
Notes: "Een pak voor de broek geven" is a Dutch phrase for "to give a spanking" (lit.: Give a suit for the pants)

Lorelei:
"Deelnemers aan het Splatfest kunnen hun prijzen ophalen op het plein!"
(Participants in the Splatfest can pick up their prizes on the square!)
Mariana:
"-"
NOE



French (France)
Pancake (Crêpe) vs. Waffle (Gaufre) Announcement
Perle's Dialogue
Coralie's Dialogue
Region
Perle:
« - »

Coralie:
« Parlons peu, parlons p'tit déj de champion. T'es plutôt crêpe ou gaufre ? »
NOE

Perle:
« Quand j'ai décidé de m'envoyer ma dose de sucre quotidienne avant 8 h du mat... »
Coralie:
« - »
NOE

Perle:
« Je m'enfile des crêpes par paquets de cent ! »
Coralie:
« - »
NOE

Perle:
« Le temps de dégoter un moule à gaufre, tu peux préparer un million de crêpes. »
Coralie:
« - »
NOE

Perle:
« Les crêpes, ça s'empile sans peine pis tu t'empiffres ! T'en as pas juste une ! »

Coralie:
« Et alors ? Une bonne gaufre, ça suffit largement à dire adieu à un p'tit creux ! »
NOE
Perle:
« - »

Coralie:
« Les gaufres, ça a de la consistance, ça te cale la panse à tous les coups. »
NOE
Perle:
« - »

Coralie:
« C'est pas comme ces éponges à confiote fadasses que t'appelles des crêpes. »
NOE
Perle:
« - »

Coralie:
« À peine tu mords que ça s'évapore sous les dents. C'est un mirage culinaire. »
NOE

Perle:
« Ce qu'il faut pas entendre... »
Coralie:
« - »
NOE
Perle:
« - »

Coralie:
« Chaque gaufre contient des tas de trous à bourrer à ras bord de chocolat fondu ! »
NOE
Perle:
« - »

Coralie:
« Chaque bouchée est un feu d'artifice de saveur, une explosion de succulence... »
NOE

Perle:
« Non mais, je rêve... »
Coralie:
« - »
NOE
Perle:
« - »

Coralie:
« Excuse, j'ai sauté le p'tit déj ce matin... »
NOE

Perle:
« Et vous, les amis, qu'est-ce que vous préférez ? Les crêpes ou les gaufres ? »

Coralie:
« Rendez-vous vite à la borne festive pour choisir votre camp ! »
NOE



Introduction
Perle's Dialogue
Coralie's Dialogue
Region
Perle:
« Vous préférez les crêpes ou les gaufres ? »
Coralie:
« Rendez-vous vite à la borne festive pour choisir votre camp ! »
NOE



Results
Perle's Dialogue
Coralie's Dialogue
Region
Perle:
« - »

Coralie:
« Le pouvoir des gaufres a parlé ! »
("The power of waffles has spoken!")
NOE

Perle:
« ... »
Coralie:
« - »
NOE
Perle:
« - »

Coralie:
« Tu te voyais déjà savourer la victoire, et tu te fais aplatir comme une crêpe ! »
("You could already see yourself savoring the victory, and you got flattened like a pancake!")
NOE

Perle:
« Oh, ça va... »
("Oh, I'm good...")
Coralie:
« - »
NOE
Perle:
« - »

Coralie:
« Félicitations, héroïques gaufres. Nous avons marqué l'histoire du p'tit déj. »
("Congratulations, heroic waffles. We've made breakfast history.")
NOE

Perle:
« Profitez-en... Parce que la prochaine fois, vous allez vous gaufrer ! »
("Enjoy... Because next time you're gonna freak out!")
Coralie:
« - »
NOE
Perle:
« - »

Coralie:
« Si vous avez participé au festival, les prix vous attendent sur le square ! »
("If you participated in the Splatfest, your prizes are waiting for you in the Square!")
NOE



Results if Pancake were to win
Perle's Dialogue
Coralie's Dialogue
Region

Perle:
« Les crêpes sont dans la place ! »
("Pancakes are in the place!")

Coralie:
« ... »
NOE

Perle:
« Les gaufres, ça fait tièp ! Les champions choisissent les crêpes ! »
("The waffles suck! The champions choose pancakes!")
Coralie:
« - »
NOE

Perle:
« Les gaufres choco, c'est d'la camelote ! Vive les crêpes, coco ! Et la confiote ! »
("Chocolate waffles are junk! Long live the pancakes, coco! And the jam!")
Coralie:
« - »
NOE
Perle:
« - »

Coralie:
« Mes héroïques gaufres, ne rougissez pas. Votre cause était juste. »
("My heroic waffles, don't blush. Your cause is just.")
NOE

Perle:
« Comme des crêpes, on vous a aplatis, vous vous êtes gaufrés, tous au tapis ! »
("Like pancakes, you were flattened, you freaked out, all on the mat!")
Coralie:
« - »
NOE

Perle:
« HA HA HA ! »
("HAHAHA!")

Coralie:
« ... »
NOE

Perle:
« Et en dessert, on vous sert une défaite dans vos têtes ! »
("And for dessert, we serve you a defeat in your heads!)
Coralie:
« - »
NOE

Perle:
« Si vous avez participé au festival, les prix vous attendent sur le square ! »
("If you participated in the Splatfest, the prizes are waiting for you in the Square!)
Coralie:
« - »
NOE



French (Canada)
Pancake (Crêpe) vs. Waffle (Gaufre) Announcement
Perle's Dialogue
Coralie's Dialogue
Region
Perle:
« - »

Coralie:
« Parlons peu, parlons déjeuner de champion. T'es plutôt crêpe ou gaufre? »
NOA

Perle:
« Quand je décide d'avoir ma dose de sucre quotidienne avant 8 h du matin... »
Coralie:
« - »
NOA

Perle:
« Je bouffe des crêpes par paquets de cent! »
Coralie:
« - »
NOA

Perle:
« Le temps de sortir un moule à gaufre, tu peux préparer un million de crêpes. »
Coralie:
« - »
NOA

Perle:
« Les crêpes, ça s'empile sans peine pis tu t'empiffres! T'en as pas juste une! »

Coralie:
« Et alors? Une bonne gaufre, ça suffit en masse à dire adieu à un p'tit creux! »
NOA
Perle:
« - »

Coralie:
« Les gaufres, ça a de la consistance, ça te remplit le ventre à tous les coups. »
NOA
Perle:
« - »

Coralie:
« C'est pas comme ces éponges à sirop fades que t'appelles des crêpes. »
NOA
Perle:
« - »

Coralie:
« À peine tu mords que ça s'évapore sous les dents. C'est un mirage culinaire. »
NOA

Perle:
« Ce qu'il faut pas entendre... »
Coralie:
« - »
NOA
Perle:
« - »

Coralie:
« Chaque gaufre contient des tas de trous à bourrer à ras bord de sirop d'érable! »
NOA
Perle:
« - »

Coralie:
« Chaque bouchée est un feu d'artifice de saveur, une explosion de succulence... »
NOA

Perle:
« Non mais, je rêve... »
Coralie:
« - »
NOA
Perle:
« - »

Coralie:
« Excuse, j'ai pas déjeuné ce matin... »
NOA

Perle:
« Et toi, à la maison, qu'est-ce que tu préfères? Les crêpes ou les gaufres? »

Coralie:
« Qu'est-ce que tu en penses? Va à la borne festive pour choisir une équipe! »
NOA



Introduction
Perle's Dialogue
Coralie's Dialogue
Region
Perle:
« Tu préfères les crêpes ou les gaufres? »
Coralie:
« Va à la borne festive pour choisir une équipe! »
NOA



Results
Perle's Dialogue
Coralie's Dialogue
Region
Perle:
« - »

Coralie:
« Le pouvoir des gaufres a parlé! »
NOA

Perle:
« ... »
Coralie:
« - »
NOA
Perle:
« - »

Coralie:
« Tu te voyais déjà savourer la victoire, et tu te fais aplatir comme une crêpe! »
NOA

Perle:
« Oh, ça va... »
Coralie:
« - »
NOA
Perle:
« - »

Coralie:
« Félicitations, héroïques gaufres. Nous avons marqué l'histoire du déjeuner. »
NOA

Perle:
« OK, mais t'as déjà essayé de laver un moule à gaufre? »
Coralie:
« - »
NOA
Perle:
« - »

Coralie:
« Si tu as participé au festival, n'oublie pas de récupérer tes prix au carré! »
NOA



Results if Pancake were to win
Perle's Dialogue
Coralie's Dialogue
Region

Perle:
« Les crêpes sont dans la place! »

Coralie:
« ... »
NOA

Perle:
« Les gaufres, ça fait dur, ouaip! Les champions choisissent les crêpes! »
Coralie:
« - »
NOA

Perle:
« Nos crêpes au sirop sont plates, mais nous au moins, on est smattes! »
Coralie:
« - »
NOA
Perle:
« - »

Coralie:
« Mes héroïques gaufres, ne rougissez pas. Votre cause était juste. »
NOA

Perle:
« Comme des crêpes, on vous a aplatis, vous vous êtes gaufrés, tous au tapis! »
Coralie:
« - »
NOA

Perle:
« HA HA HA! »

Coralie:
« ... »
NOA

Perle:
« Et en dessert, on vous sert une défaite dans vos têtes! »
Coralie:
« - »
NOA

Perle:
« Si tu as participé au festival, n'oublie pas de récupérer tes prix au carré! »
Coralie:
« - »
NOA



German
Pancake (Pancake) vs. Waffle (Waffel) Announcement
Perla's Dialogue
Marina's Dialogue
Region
Perla:
"-"

Marina:
"Welche Süßspeise habt ihr lieber? Pancakes oder Waffeln?"
(Which dessert do you prefer? Pancakes or waffles?)
NOE

Perla:
"Wenn ich meinen täglichen Zuckerbedarf schon vor 8 Uhr decken will, esse ich..."
(If I want to meet my daily sugar intake before 8 a.m., I'll eat...)
Marina:
"-"
NOE

Perla:
"P-A-N-C-A-K-E-S!"
Marina:
"-"
NOE

Perla:
"Statt noch das Waffeleisen zu suchen, könnte man schon Pancakes spachteln!"
(Instead of still looking for the waffle iron, you could already be spackling pancakes!)
Marina:
"-"
NOE

Perla:
"Und hat man je einen Waffel-Stapel gesehen? Nein, die kommen einzeln!"
(And have you ever seen a stack of waffles? No, they come individually!)

Marina:
"Man kriegt immer nur eine Waffel, weil man auch nur eine braucht."
(You only get one waffle at a time because you only need one.)
NOE
Perla:
"-"

Marina:
"Waffeln bleiben fest und unbeirrt, komme, was da wolle."
(Waffles stay firm and unwavering, come what may.)
NOE
Perla:
"-"

Marina:
"Pancakes sind labbrige Sirupschwämme, und Toppings kann man vergessen."
(Pancakes are soggy syrupy sponges, and you can give up on toppings.)
NOE
Perla:
"-"

Marina:
"Sie zerfallen beim Kauen, jeder Bissen enttäuscht auf ganzer Linie."
(They fall apart while chewing, each bite utterly disappointing.)
NOE

Perla:
"Jetzt gehst du aber ein bisschen zu weit."
(Now you're going a little too far.)
Marina:
"-"
NOE
Perla:
"-"

Marina:
"Waffeln haben clevere kleine Taschen für Butter und Sirup."
(Waffles have clever little pockets for butter and syrup.)
NOE
Perla:
"-"

Marina:
"Jeder dekadente Bissen ist eine Explosion aus Geschmack und--"
(Each decadent bite is an explosion of flavor and--)
NOE

Perla:
"Im Ernst jetzt?"
(Seriously?)
Marina:
"-"
NOE
Perla:
"-"

Marina:
"'tschuldigung, ich hab heute nicht gefrühstückt..."
(Sorry, I didn't eat breakfast today...)
NOE

Perla:
"Und was sagt ihr? Mögt ihr lieber Pancakes oder Waffeln?"
(And what do you say? Do you prefer pancakes or waffles?)

Marina:
"Trefft eure Wahl am Splatfest- Wahlstand!"
(Make your choice at the Splatfest terminal!)
NOE



Introduction
Perla's Dialogue
Marina's Dialogue
Region
Perla:
"Mögt ihr lieber Pancakes oder lieber Waffeln?"
(Do you prefer pancakes or waffles?)
Marina:
"Trefft eure Wahl am Splatfest- Wahlstand!"
(Make your choice at the Splatfest terminal!)
NOE



Results
Perla's Dialogue
Marina's Dialogue
Region
Perla:
"-"

Marina:
"Die Waffeln haben die Pancakes plattgemacht!"
(The waffles flattened the pancakes!)
NOE

Perla:
"..."
Marina:
"-"
NOE
Perla:
"-"

Marina:
"Wer diesen Sieg nicht hat kommen sehen, hat doch einen an der Waffel."
(Anyone who didn't see this victory coming is out of their mind.)
NOE
Notes: "Einen an der Waffel haben" translates to "have one up on the waffle". It is a figure of speech often used to say that someone is insane.

Perla:
"Argh..."
(Argh...)
Marina:
"-"
NOE
Perla:
"-"

Marina:
"Gute Arbeit, Team Waffel. Dank euch hat die richtige Seite gewonnen."
(Good job, Team Waffle. Thanks to you, the right side won.)
NOE

Perla:
"Ja, ja... Aber hast du schon mal ein Waffeleisen sauber gemacht?"
(Yeah, yeah... But have you ever cleaned a waffle iron?)
Marina:
"-"
NOE
Perla:
"-"

Marina:
"Wer beim Splatfest dabei war, bekommt seinen Preis auf dem Inkopolis-Platz!"
(Those who participated in the Splatfest will get their prize at Inkopolis Square!)
NOE



Results if Pancake were to win
Perla's Dialogue
Marina's Dialogue
Region

Perla:
"SIEG FÜR DIE PANCAKE-BANDE!"
(VICTORY FOR THE PANCAKE GANG!)

Marina:
"Ach nööö..."
(Oh nooo...)
NOE

Perla:
"Die Waffeln wurden plattgemacht, die Pancakes siegen in der Schlacht!"
(The waffles got flattened, the pancakes win the battle!)
Marina:
"-"
NOE

Perla:
"Unseren Sirup kann uns keiner nehmen, niemand wird je die Pancakes zähmen!"
(No one can take our syrup, no one will ever tame the pancakes!)
Marina:
"-"
NOE
Perla:
"-"

Marina:
"Seid stolz, Team Waffel. Ihr habt für die gute Sache gekämpft."
(Be proud, Team Waffle. You have fought for the good cause.)
NOE

Perla:
"Pancakes haben ins Schwarze getroffen, die Waffeln, die sind voll abgesoffen."
(Pancakes hit the mark, the waffles, they totally drowned.)
Marina:
"-"
NOE

Perla:
"BAHAHA!"

Marina:
"Hilfe..."
(Help...)
NOE

Perla:
"Wer diesen Sieg nicht hat kommen sehen, hat doch einen an der Waffel."
(Anyone who didn't see this victory coming is out of his mind.)
Marina:
"-"
NOE

Perla:
"Wer beim Splatfest dabei war, bekommt seinen Preis auf dem Inkopolis-Platz!"
(Those who participated in the Splatfest will get their prize at Inkopolis Square!)
Marina:
"-"
NOE



Italian
Pancake (Frittelle) vs. Waffle (Waffle) Announcement
Alga's Dialogue
Nori's Dialogue
Region
Alga:
«-»

Nori:
«Quale preferite tra questi due dolci? Waffle o frittelle?»
NOE

Alga:
«Se ho bisogno di una carica di energia zuccherosa, io scelgo...»
Nori:
«-»
NOE

Alga:
«... le frittelle!»
Nori:
«-»
NOE

Alga:
«Posso farti una torre di frittelle prima che tu trovi la piastra per il waffle.»
Nori:
«-»
NOE

Alga:
«Hai mai visto una torre di waffle! No! Te ne danno uno solo! Un misero waffle!»

Nori:
«Te ne danno uno perché ne basta uno per saziarti.»
NOE
Alga:
«-»

Nori:
«I waffle sono belli sodi e tosti di fronte a ogni avversità e attacco masticante!»
NOE
Alga:
«-»

Nori:
«Le frittelle sono spugne che non sanno di niente se non le ricopri con qualcosa.»
NOE
Alga:
«-»

Nori:
«E poi si disintegrano tra i denti, non danno alcuna soddisfazione.»
NOE

Alga:
«Adesso non esagerare...»
Nori:
«-»
NOE
Alga:
«-»

Nori:
«I waffle hanno tutte quelle fossette che puoi riempire con tante creme diverse.»
NOE
Alga:
«-»

Nori:
«Ogni boccone è un'esplosione di sapore che manda in estasi le papille gust-»
NOE

Alga:
«OK, ora ti stai lasciando prendere il tentacolo...»
Nori:
«-»
NOE
Alga:
«-»

Nori:
«Scusa, è che non ho fatto colazione...»
NOE

Alga:
«E voi a casa, preferite i waffle o le frittelle?!»

Nori:
«Correte al terminal di voto e scegliete da che parte stare!»
NOE



Introduction
Alga's Dialogue
Nori's Dialogue
Region
Alga:
«Preferite i waffle o le frittelle?»
Nori:
«Correte al terminal di voto e scegliete da che parte stare!»
NOE



Results
Alga's Dialogue
Nori's Dialogue
Region
Alga:
«-»

Nori:
«W COME WAFFLEEE! W COME... EHM... WITTORIA!»
NOE

Alga:
«Sì, vabbè...»
Nori:
«-»
NOE
Alga:
«-»

Nori:
«Le frittelle ne hanno viste delle belle! Ahahah!»
NOE

Alga:
«Ehm... dovrebbe essere un rap questo?»
Nori:
«-»
NOE
Alga:
«-»

Nori:
«Ottimo lavoro, amici dei waffle! Avete fatto la scelta giusta.»
NOE

Alga:
«Buon divertimento a pulire le piastre per i waffle!»
Nori:
«-»
NOE
Alga:
«-»

Nori:
«Se avete partecipato al festival, i vostri premi vi attendono in piazza!»
NOE



Results if Pancake were to win
Alga's Dialogue
Nori's Dialogue
Region

Alga:
«LE FRI-FRI-FRITTELLE SON PIÙ BELLE!»

Nori:
«NOOOOOO!»
NOE

Alga:
«♪ Le frittelle ridono a crepapelle! I waffle ci fanno un baf... baffol? ♪»
Nori:
«-»
NOE

Alga:
«♪ Poveri voi che fine aspra! Schiacciati sotto la vostra piastra! ♪»
Nori:
«-»
NOE
Alga:
«-»

Nori:
«Miei cari amici dei waffle, non vi abbattete. Avete fatto un'ottima gara.»
NOE

Alga:
«Altro che signori della piastra! Siete signori... dell'impiastro...»
Nori:
«-»
NOE

Alga:
«Bwahahah!»

Nori:
«...»
NOE

Alga:
«Che ti aspettavi con dei dolci che non si riesce nemmeno a pronunciare?!»
Nori:
«-»
NOE

Alga:
«Se avete partecipato al festival, i vostri premi vi attendono in piazza!»
Nori:
«-»
NOE



Russian
Pancake (Блинчики) vs. Waffle (Вафли) Announcement
Жемчик's Dialogue
Мариша's Dialogue
Region
Жемчик:
«-»

Мариша:
«Вопрос века! Что лучше на завтрак сладкого — блины или вафли?»
NOE

Жемчик:
«Ну, когда мне прямо с утра хочется чего-то сладкого, обычно я выбираю...»
Мариша:
«-»
NOE

Жемчик:
«БЛИНЧИКИ-И-И!»
Мариша:
«-»
NOE

Жемчик:
«Пока с вафельницей возишься, можно целую гору блинов напечь.»
Мариша:
«-»
NOE

Жемчик:
«А вафли обычно вообще по одной едят! По одной жалкой вафле!»

Мариша:
«Ага. Потому что больше и не нужно! И вообще, это у пчелки жалко!»
NOE
Жемчик:
«-»

Мариша:
«Вафли, они такие брутальные, такие жесткие и крепкие. М-м-м!»
NOE
Жемчик:
«-»

Мариша:
«А блины, они такие безвольные, тонкие, дунешь — рвутся сразу!»
NOE
Жемчик:
«-»

Мариша:
«Пока до рта донесешь, начинает казаться, что их уже кто-то ел!»
NOE

Жемчик:
«Эй, попридержи коней, брутальная ты моя!»
Мариша:
«-»
NOE
Жемчик:
«-»

Мариша:
«А еще в вафли можно заливать сироп, мед, джем. И все одновременно!»
NOE
Жемчик:
«-»

Мариша:
«Кусаешь — и прямо мозг взрывается от вкуса! БДЫЩ-Щ-ЩЬ!!!»
NOE

Жемчик:
«Мозг? Твой ведь еще в начальных классах разорвало, нет?»
Мариша:
«-»
NOE
Жемчик:
«-»

Мариша:
«Вот отчего действительно разрывает мозг, так это от твоего юмора!»
NOE

Жемчик:
«...и-и-и давай лучше узнаем мнение участников. Блинчики или вафли, йо?»

Мариша:
«Вперед к терминалу и выберите сторону!»
NOE



Introduction
Жемчик's Dialogue
Мариша's Dialogue
Region
Жемчик:
«Что круче — блинчики или вафли?»
Мариша:
«Скорее к терминалу и выберите сторону!»
NOE



Results
Жемчик's Dialogue
Мариша's Dialogue
Region
Жемчик:
«-»

Мариша:
«ВАФЛИ ПОБЕДИЛИ-И-И!»
NOE

Жемчик:
«БЛИН!..»
Мариша:
«-»
NOE
Жемчик:
«-»

Мариша:
«Вафли порвали блины! Ха-ха!»
NOE

Жемчик:
«А впрочем, мне по барабану...»
Мариша:
«-»
NOE
Жемчик:
«-»

Мариша:
«Отлично сработано, вафлисты! Отправили блины на свалку!»
NOE

Жемчик:
«Радуйся, радуйся. Только вафельницу теперь будешь мыть только ты!»
Мариша:
«-»
NOE
Жемчик:
«-»

Мариша:
«Участников Сплатфеста на площади ждут призы!»
NOE



Results if Pancake were to win
Жемчик's Dialogue
Мариша's Dialogue
Region

Жемчик:
«БЛИНЧИКИ В ШОКОЛАДЕ!!!»

Мариша:
«Блин!...»
NOE

Жемчик:
«Команда Жемчика с блинами наперевес на район врывается,»
Мариша:
«-»
NOE

Жемчик:
«Кто против блинов, тот ошибается и мигом в вафлю превращается!»
Мариша:
«-»
NOE
Жемчик:
«-»

Мариша:
«Блины вафли укатали в ноль. Неудачники плачут — какая боль!»
NOE

Жемчик:
«Сегодня вафлистам дали хлебнуть сиропа! А завтра вообще б...»
Мариша:
«-»
NOE

Жемчик:
«БУ-ГА-ГА!»

Мариша:
«...»
NOE

Жемчик:
«Вафли слили игру без шансов, не оправдали ничьих авансов!»
Мариша:
«-»
NOE

Жемчик:
«Участников Сплатфеста на площади ждут призы!»
Мариша:
«-»
NOE



Spanish (Spain)
Pancake (Tortitas) vs. Waffle (Gofres) Announcement
Perla's Dialogue
Marina's Dialogue
Region
Perla:
«-»

Marina:
«Vamos a plantearos dos opciones para endulzar el desayuno: tortitas o gofres.»
(We're going to suggest two options sweeten breakfast: pancakes or waffles.)
NOE

Perla:
«Cuando necesito un subidón de azúcar por la mañana, mi elección está clara.»
(When I need a sugar rush in the morning, my choice is clear.)
Marina:
«-»
NOE

Perla:
«¡Tortitas por un tubo!»
(Pancakes by the ton!)
Marina:
«-»
NOE

Perla:
«Puedo preparar cientos de ellas mientras tú buscas una plancha de hacer gofres.»
(I can prepare hundreds of them while you search for an iron to make waffles.)
Marina:
«-»
NOE

Perla:
«Y nunca he visto una pila de gofres. ¡Hay que conformarse con uno solo!»
(And I have never seen a pile of waffles. You just have to make do with a single one!)

Marina:
«Claro, porque son lo suficientemente suculentos para dejarte satisfecha.»
(Of course, because they're succulent enough to leave you satisfied.)
NOE
Perla:
«-»

Marina:
«Los gofres tienen personalidad propia. ¡Son el invento culinario definitivo!»
(Waffles have their own personality. They're the definitive culinary invention.)
NOE
Perla:
«-»

Marina:
«Las tortitas, si no las embadurnas en sirope, son una simple masa insulsa.»
(Pancakes, if they're not slathered in syrup, are just bland dough.)
NOE
Perla:
«-»

Marina:
«Se deshacen enseguida, ¡así que ni te da tiempo a saborearlas en condiciones!»
(They dissolve soon after, so you don't even have time to savor them in these conditions.)
NOE

Perla:
«Tampoco te pases...»
(Don't over do it now...)
Marina:
«-»
NOE
Perla:
«-»

Marina:
«En los huequecitos de los gofres, en cambio, se mezclan ricos ingredientes.»
(The rich ingredients, on the other hand, blend within the little pits of waffles.)
NOE
Perla:
«-»

Marina:
«¡Y te sorprenden con las más intensas explosiones de sabor a cada bocado!»
(And they surprise you with the most intense explosions of flavor in every mouthful!)
NOE

Perla:
«Estás de broma, ¿no?»
(You're joking, right?)
Marina:
«-»
NOE
Perla:
«-»

Marina:
«La verdad es que me muero de hambre y me zamparía uno ahora mismo...»
(The truth is that I'm dying of hunger and I'd gorge down one right now...)
NOE

Perla:
«Pidamos opinión a nuestra audiencia. ¿Preferís las tortitas o los gofres?»
(We ask our audience for their opinion. Do you prefer pancakes or waffles?)

Marina:
«Eso. Acercaos al terminal de voto y elegid en qué lado queréis combatir.»
(That's it. Head to the vote terminal and choose the side on which you want to battle.)
NOE



Introduction
Perla's Dialogue
Marina's Dialogue
Region
Perla:
«¿Os entusiasman más las tortitas o los gofres?»
Marina:
«¡Elegid a qué dulce bando queréis uniros pasando por el terminal de voto!»
NOE



Results
Perla's Dialogue
Marina's Dialogue
Region
Perla:
«-»

Marina:
«¡Gofres al poder!»
(Waffles in power!)
NOE

Perla:
«Rayos...»
(Darn it...)
Marina:
«-»
NOE
Perla:
«-»

Marina:
«¡Os habéis pegado un buen tortazo por defender las tortitas!»
(You've been slapped good for defending pancakes!)
NOE

Perla:
«Lo que tú digas...»
(Whatever you say...)
Marina:
«-»
NOE
Perla:
«-»

Marina:
«¡Bien hecho, equipo gofre! ¡Esta victoria pasará a la historia de los desayunos!»
(Well done, team waffle! This victory shall make breakfast history!)
NOE

Perla:
«Ya lo lamentaréis cuando tengáis que limpiar las gofreras pegajosas...»
(Y'all will be sorry when you have to clean the sticky waffle irons...)
Marina:
«-»
NOE
Perla:
«-»

Marina:
«En la plaza os aguardan los premios por haber participado en el festival.»
(The prizes for having participated in the Splatfest awate you at the Square.)
NOE



Results if Pancake were to win
Perla's Dialogue
Marina's Dialogue
Region

Perla:
«¡Tortitas al poder!»
(Pancakes in power!)

Marina:
«Nooo...»
(Nooo...)
NOE

Perla:
«Con nuestras armas de primera, no se nos resiste ninguna gofrera. ♪»
(With our primary weapons, no waffle resists us. ♪)
Marina:
«-»
NOE

Perla:
«Si no distinguís la tinta del sirope, ¡puede que seáis un poco miopes! ♪»
(If you don't distinguish ink from syrup, you might be a big nearsighted! ♪)
Marina:
«-»
NOE
Perla:
«-»

Marina:
«No os desaniméis, equipo gofre. ¡Hemos luchado por una causa justa!»
(Don't be discouraged, team waffle. We've fought for a just cause.)
NOE

Perla:
«¿Pensabais que nos daríais un planchazo?»
(Did you think that you'd even give us a bruise?)
Marina:
«-»
NOE

Perla:
«¡Jua, ja, ja!»
(Hwa, ha, ha!)

Marina:
«Ya vale...»
(We get it...)
NOE

Perla:
«¡Pues os habéis pegado un tortazo de campeonato contra las tortitas!»
(Well, y'all have been slapped hard against pancakes!)
Marina:
«-»
NOE

Perla:
«En la plaza os aguardan los premios por haber participado en el festival.»
(The prizes for having participated in the Splatfest awate you at the Square.)
Marina:
«-»
NOE



Spanish (Latin America)
Pancake (Panqueques) vs. Waffle (Waffles) Announcement
Perla's Dialogue
Marina's Dialogue
Region
Perla:
«-»

Marina:
«¿Cuál es el mejor desayuno? ¿Panqueques o waffles?»
(Which is the better breakfast? Pancakes or waffles?)
NOA

Perla:
«Si quiero consumir todo el azúcar del día antes de las 8 de la mañana, elijo...»
(If you wanna eat all of the day's sugar before 8 in the morning, pick...)
Marina:
«-»
NOA

Perla:
«¡PAN-QUE-QUEEES!»
(PAN-CAAAKES!)
Marina:
«-»
NOA

Perla:
«Puedes hacer una torre de panqueques en lo que se tarda en sacar la waflera.»
(You can make a tower of pancakes in the time it takes to take out the waffle iron.)
Marina:
«-»
NOA

Perla:
«¿Alguna vez te dieron una torre de waffles? ¡No! ¡Nada más te dan uno!»
(Have you once ever been given a tower of waffles? No! They give you nothing more than one!)

Marina:
«¡Te dan uno porque es todo lo que necesitas!»
(They give you one because that's all you need!)
NOA
Perla:
«-»

Marina:
«Los waffles se mantienen firmes frente a la adversidad.»
(Waffles stand firm in front of adversity.)
NOA
Perla:
«-»

Marina:
«Los panqueques son meras esponjas que se dejan pisotear por los condimentos.»
(Pancakes are mere sponges that are left trampled on by toppings.)
NOA
Perla:
«-»

Marina:
«Se deshacen entre los dientes, dejando un sabor fuerte a decepción.»
(They dissolve between teeth, leaving behind a strong taste of deception.)
NOA

Perla:
«Bueno, creo que ya te pasaste...»
(Well, I think you've overdone it.)
Marina:
«-»
NOA
Perla:
«-»

Marina:
«Los waffles disponen de hoyos tácticos que sirven para almacenar condimentos.»
(Waffles have tactical pits that serve to store toppings.)
NOA
Perla:
«-»

Marina:
«Cada suculento bocado florece en una expresión divina del más glorioso sab...»
(Every succulent mouthful flourishes into a divine expression of the most glorious fla...)
NOA

Perla:
«¿En serio?»
(Really?)
Marina:
«-»
NOA
Perla:
«-»

Marina:
«Perdón, es que no desayuné...»
(Sorry, I haven't had breakfast...)
NOA

Perla:
«¿Y ustedes? ¿Qué prefieren para desayunar?»
(And you? What do you prefer to have for breakfast?)

Marina:
«¡Vayan a la terminal de voto y elijan un equipo!»
(Go to the vote terminal and choose a team!)
NOA



Introduction
Perla's Dialogue
Marina's Dialogue
Region
Perla:
«¿Les gustan más los panqueques o los waffles?»
Marina:
«¡Vayan a la terminal de voto y elijan un equipo!»
NOA



Results
Perla's Dialogue
Marina's Dialogue
Region
Perla:
«-»

Marina:
«¡DAME UN WAFFLE CON TODOOO!»
(GIVE ME A WAFFLE WITH EVERYTHING ON IT!)
NOA

Perla:
«...»
Marina:
«-»
NOA
Perla:
«-»

Marina:
«¡El Equipo Waffles amasa otra victoria!»
(Team Waffles cooks up another victory!)
NOA

Perla:
«Qué original...»
(How original...)
Marina:
«-»
NOA
Perla:
«-»

Marina:
«Bien hecho, Equipo Waffles. Estamos del lado correcto de la historia.»
(Well done, Team Waffles. We're on the right side of history.)
NOA

Perla:
«¿Es que nunca te ha tocado limpiar la waflera?»
(Haven't you ever had to clean the waffle iron?)
Marina:
«-»
NOA
Perla:
«-»

Marina:
«¡Si participaron en el festival, recojan sus premios en el centro!»
(If you participate in the Splatfest, collect your prizes at the Square!)
NOA



Results if Pancake were to win
Perla's Dialogue
Marina's Dialogue
Region

Perla:
«¡PANQUEQUES PARA PERLAAA!»
(PANCAKES FOR PEAAARL!)

Marina:
«¡NOOOOOO!»
(NOOOOOO!)
NOA

Perla:
«¡Yo te sirvo los panqueques; tú, mándame los cheques!»
(I serve you pancakes; you send me the checks!)
Marina:
«-»
NOA

Perla:
«¿Waffles por mis hot cakes? ¡No me interesan esos Trueques!»
(Waffles for my hot cakes? Those exchanges don't interest me!)
Marina:
«-»
NOA
Perla:
«-»

Marina:
«Lucharon con dignidad, Equipo Waffles. Estoy orgullosa de ustedes.»
(You fought with dignity, Team Waffles. I'm proud of you all.)
NOA

Perla:
«¡Los aplastamos! Y al final, ¡un waffle aplastado es como un panqueque!»
(We crushed them! And at the end, a crushed waffle is like a pancake!)
Marina:
«-»
NOA

Perla:
«¡JA, JA!»
(HA, HA!)

Marina:
«...»
NOA

Perla:
«No me digas que ya perdiste el apetito.»
(Don't tell me you lost your appetite.)
Marina:
«-»
NOA

Perla:
«¡Si participaron en el festival, recojan sus premios en el centro!»
(If you participated in the Splatfest, collect your prizes at the Square!)
Marina:
«-»
NOA



Top 100
North America and Oceania
Pancake
Waffle
Europe
Pancake
Waffle