Rank X data
From Inkipedia, the Splatoon wiki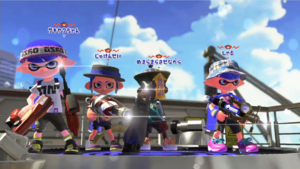 Players who have ranked up to Rank X battle for X Power rather than the Rank Meter. Players with similar X Power levels are matched together within Rank X.
On SplatNet 2, players can check X Power, most used weapon within the last 50 matches and estimate position within top 2,000 for each mode. They can also see the top player and the top player with their weapon.
After every month, for each of the four different Ranked Battle modes, 500 players with the highest X Power are announced on SplatNet 2.
X Power resets after every month. Players whose X Power ended up lower than 2,000 rank down to S+9. If X Power drops far enough that they lose after their power is lower than 1,900, players may rank down to S+9 on the spot rather than at the time of the reset.[1][2]
Monthly Ranking periods
Before every ranking period, stages roster for each of the 4 different Ranked Battle modes are announced on social media.
Each Ranking period starts at the beginning of the month at 00:00 UTC with X Power reset.
After each period, X Rank leaderboard of the top 500 players in each of the 4 different Ranked Battle Modes is announced on SplatNet 2.
Legend in X Rank leaderboard:
Player's Rank change:
  - new player/username in the ranking.


▲

 - player went up in ranking.


▼

 - player went down in ranking.


▶

 - player remained in the same ranking.

Change in weapon and stage additions
New weapons were added approximately once a week, with a ranking period of a month, while a batch of several weapons was added once a month.
Furthermore, stage additions or revamps were more likely to debut once a month at the time of the monthly reset.
Month
New additions
Stage
Weapons
May 2018
Camp Triggerfish
Neo Splash-o-matic, Foil Squeezer, New Squiffer and Glooga Dualies Deco
June 2018
Wahoo World
Carbon Roller Deco, Custom Dualie Squelchers, Rapid Blaster Pro Deco and Undercover Sorella Brella
July 2018
New Albacore Hotel
Explosher, Ballpoint Splatling, Bamboozler 14 Mk II and Tenta Sorella Brella
August 2018
Ancho-V Games
Light Tetra Dualies, Custom Hydra Splatling, Bloblobber and Nautilus 47
Month
New additions from updates
(New stages were added to Ranked Battle rosters of all modes)
Stage
Weapons
September 2018
Starfish Mainstage - revamped (4.0.0)
4.0.0: Kensa Splattershot, Kensa Splat Roller, Kensa Charger, Kensa Splatterscope and Kensa Splat Dualies
October 2018
Skipper Pavilion (4.1.0)
4.1.0: Kensa Splattershot Pro, Kensa Luna Blaster, Kensa Dynamo Roller and Kensa Sloshing Machine
November 2018
The Reef - revamped (4.2.0)
4.2.0: Kensa Splattershot Jr., Kensa L-3 Nozzlenose, Kensa Octobrush and Kensa Undercover Brella
December 2018
Blackbelly Skatepark - revamped (4.3.0)
4.3.0:
August 2019
Shellendorf Institute - revamped (5.0.0)
Ranked Battle stage limitation
The Ranked Battle stage roster is limited to eight per Ranked Battle mode. Then, at the monthly X Power reset, the stage selection refreshes to a different set of eight.
History regarding X Rank
Version history
Version
Adjustments
3.0.0

A new rank type, "X Rank" is now available.
When a player has reached X Rank in the Ranked Battle mode they are currently playing pressing in the L and R sticks at the same time while in the lobby will cause the player to strike a special pose.

3.0.1

Fixed an issue for X Rank causing the "Danger!" warning message to appear mistakenly just after the calculating period ended.

3.2.0

Fixed an issue causing Clam Blitz rank to incorrectly display as S+9 on the screen displaying Rank X positions for the previous month when a player has attained Rank X in any mode other than Clam Blitz and also has a Clam Blitz rank of between S+0 and S+8.
Fixed an issue causing an incorrect calculation period to display on the screen displaying Rank X positions for the previous month.

4.0.0

Fixed an issue occurring on the X Rank results screen while calculating X Power in which the highest X Power would temporarily be displayed incorrectly, preventing the actual number from being displayed.

4.1.0

When playing Ranked or League Battles as a pair, your rank meter, X Power, or League Power will no longer decrease when playing with fewer members on your team due to internet disconnections for an even shorter period than was previously the case.
If internet disconnections prevent a player from finishing enough matches out of the last few dozen matches played, the decrease to their rank meter or X Power for each subsequent unfinished match will be greater than it was previously.

4.4.0

Weapon specifications are taken into account when splitting an assembled group of eight players into teams for Ranked Battle, but this feature has been changed in the following ways:

The number of players with crown icons in X Rank will no longer have a significant impact on team breakdown.
The number of players using weapons from different categories such as "shooter" or "roller" won't have a significant impact on team breakdown. Instead, the specifications for each specific weapon will be given more weight when splitting up teams.

5.3.1

Adjusted settings for X Rank battles so that during times when there are many players online, players with high X Power will be more likely to match with each other.

Further changes may be made depending on how the situation develops.

Made it so that for X Rank battles, other players' names are not displayed on the screen while waiting for players to join.
Made it so that for X Rank battles, you may battle with someone even if they're blocked via console settings if that player's estimated rank is within the top 2,000.
References