Retro vs. Modern
From Inkipedia, the Splatoon wiki
Retro vs. Modern​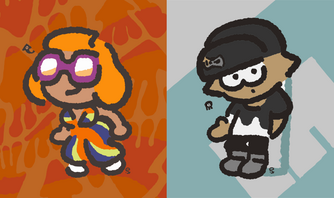 Team

 

Retro

 

Modern
Region
North America and Oceania
Start

22 September 2018

, 04:00 UTC
End

23 September 2018

, 04:00 UTC
Score method
category tally
Result type
combined
Popularity
31.17%
68.83%
Wins
%
Expression error: Unrecognized punctuation character "{".%
Solo wins
%
Expression error: Unrecognized punctuation character "{".%
Team wins
%
Expression error: Unrecognized punctuation character "{".%
Normal clout
48.77%
51.23%
Pro clout
48.21%
51.79%
Score
0
3
Winner
Modern
Region
Europe
Start

22 September 2018

, 14:00 UTC
End

23 September 2018

, 14:00 UTC
Popularity
%
Expression error: Unrecognized punctuation character "{".%
Wins
%
Expression error: Unrecognized punctuation character "{".%
Solo wins
%
Expression error: Unrecognized punctuation character "{".%
Team wins
%
Expression error: Unrecognized punctuation character "{".%
Normal clout
%
Expression error: Unrecognized punctuation character "{".%
Pro clout
%
Expression error: Unrecognized punctuation character "{".%
Score
Expression error: Unexpected < operator.
Expression error: Unexpected < operator.
Winner
Region
Start

31 May 2023

, 22:53 UTC
End

1 June 2023

, 22:53 UTC
Popularity
%
Expression error: Unrecognized punctuation character "{".%
Wins
%
Expression error: Unrecognized punctuation character "{".%
Solo wins
%
Expression error: Unrecognized punctuation character "{".%
Team wins
%
Expression error: Unrecognized punctuation character "{".%
Normal clout
%
Expression error: Unrecognized punctuation character "{".%
Pro clout
%
Expression error: Unrecognized punctuation character "{".%
Score
Expression error: Unexpected < operator.
Expression error: Unexpected < operator.
Winner
Retro vs. Modern was a Splatfest event in Splatoon 2. It was held for North America, Oceania, and Europe. It was announced on 15 September 2018. The results were given on 23 September 2018.
Details
The full name of each choice was "I'm all about the RETRO style!" and "I'm all about the MODERN style!". The team name portion of Splatfest titles was "Retro" and "Modern".
This was the first Splatfest with the major Splatfest changes introduced in version 4.0.0.
Retro vs. Modern featured the 14th Shifty Station layout, The Bouncey Twins.
A moon appeared in the sky above Inkopolis Square during this Splatfest. It was not present during any previous Splatfest, and was a reference to the Tsukimi moon viewing festival.
Gallery
Dialogue
English
Announcement
Pearl's Dialogue
Marina's Dialogue
Region

Pearl


"What's your style? Do you live for 80s rock and pixel art?"

Marina


"Or are you all about the latest tech and fashion trends?"
NOE, NOA

Pearl


"-"

Marina


"...To be honest, I'm not even sure what the point of this question is."
NOE, NOA

Pearl


"-"

Marina


"I mean, why would anyone willingly choose the old over the new?"
NOE, NOA

Pearl


"ARE YOU SERIOUSLY ABOUT TO DISRESPECT THE CLASSICS RIGHT NOW?!"

Marina


"-"
NOE, NOA

Pearl


"-"

Marina


"Look, I'm sure old stuff was all fine and good in its time, but times change."
NOE, NOA

Pearl


"-"

Marina


"Old fashions grow stale, and old tech is straight up obsolete."
NOE, NOA

Pearl


"Please. Everything comes back in style eventually. It's all cyclical, b."

Marina


"-"
NOE, NOA

Pearl


"And rackin' up high scores in Squid Jump was basically my whole childhood."

Marina


"-"
NOE, NOA

Pearl


"I still sneak over to Inkopolis Plaza some days to play the old arcade machines."

Marina


"Inkopolis Plaza? That place is a ghost town!"
NOE, NOA

Pearl


"-"

Marina


"Haven't you ever heard the saying "stay fresh"?"
NOE, NOA

Pearl


"-"

Marina


"How you gonna stay fresh while wearing your grandma's bellbottoms?"
NOE, NOA

Pearl


"YOU LEAVE GAMGAM OUT OF THIS."

Marina


"-"
NOE, NOA

Pearl


"-"

Marina


"What about you at home? Head over to the Splatfest terminal and pick a side!"
NOE, NOA



Introduction
Pearl's Dialogue
Marina's Dialogue
Region

Pearl


"What's your style? Retro or Modern?"

Marina


"Head over to the Splatfest terminal and pick a side!"
NOE, NOA



Results
Pearl's Dialogue
Marina's Dialogue
Region

Pearl


"-"

Marina


"YEEEEEEEEEEAH!"
NOE, NOA

Pearl


"NOOOOOOOOO!"

Marina


"-"
NOE, NOA

Pearl


"Whatever, I'ma go play away my sorrows with some Squid Beatz."

Marina


"If you want arcade games, we've got Squid Beatz 2 right here in the Square."
NOE, NOA

Pearl


"-"

Marina


"Note the "2". That means it's an upgrade. Which makes it better."
NOE, NOA

Pearl


"I AM ERROR."

Marina


"-"
NOE, NOA
Notes: Reference to the NPC named Error in Zelda II: The Adventure of Link, who greets the player with the same line.

Pearl


"-"

Marina


"If you participated in the Splatfest, your prizes are waiting in the Square!"
NOE, NOA



Results if Retro were to win
Pearl's Dialogue
Marina's Dialogue
Region

Pearl


"CONGLATURATION !!!"

Marina


"Conglatu...what?"
NOE, NOA
Notes: 'CONGLATURATION !!!' is a reference to the infamous Ghostbusters NES game, which features the phrase in the game's ending, down to the number of exclamation points and space before it.

Pearl


"It's a line from one of my favorite retro games."

Marina


"I just don't get the whole retro-game thing. They don't hold up well."
NOE, NOA

Pearl


"If it's a classic, it's a classic! Anyway, you're coming with me after work."

Marina


"Uh, where are we— Don't tell me...Inkopolis Plaza?!"
NOE, NOA

Pearl


"YUP. And we're not leaving till you beat my Squid Jump high score!"

Marina


"-"
NOE, NOA

Pearl


"If you participated in the Splatfest, your prizes are waiting in the Square."

Marina


"-"
NOE, NOA



Dutch
Retro (Retro) vs. Modern (Modern)
Announcement
Lorelei's Dialogue
Mariana's Dialogue
Region

Lorelei


"Wat is jouw stijl? Vind je rockmuziek uit de jaren 80 en pixelkunst gaaf?"
(What's your style? Do you think rock music from the 80s and pixel art is awesome?)

Mariana


"Of leef je in het heden en hou je van de laatste trends en de nieuwste snufjes?"
(Or do you live in the present and do you love the latest trends and the newest gadgets?)
NOE

Lorelei


"-"

Mariana


"Een beetje raar dat we aan zo'n vraag tijd besteden..."
(A bit weird that we spend time on such a question...)
NOE

Lorelei


"-"

Mariana


"Waarom zou iemand zich met oude zooi vervelen als er zoveel nieuws is?"
(Why would someone bore themselves with old mess when there's so much new stuff?)
NOE

Lorelei


"Oude zooi?! Hoe durf je de klassiekers af te kraken, Mariana?!"
(Old mess?! How dare you to criticize the classics, Marina?!)

Mariana


"-"
NOE

Lorelei


"-"

Mariana


"O, Lore... Ik weet zeker dat die primitieve dingen heel bijzonder waren... destijds."
(Oh, Pearl... I know for sure that those primitive things were very extraordinary... in those times.)
NOE

Lorelei


"-"

Mariana


"Maar dingen raken uit de mode. Oude apparaten wil niemand meer."
(But things get out of fashion. No one wants old devices anymore.)
NOE

Lorelei


"Ho, stop! Je weet best dat oude trends constant terugkeren!"
(Whoa, stop! You know well that old trends constantly return!)

Mariana


"-"
NOE

Lorelei


"Ik kan toch niet zomaar Squid Jump vergeten? Die game was mijn jeugd!"
(I can't just forget Squid Jump, right? That game was my childhood!)

Mariana


"-"
NOE

Lorelei


"Daarvoor ga ik nog regelmatig naar de speelhal op het Inkopolisplein..."
(I go to the gaming hall at the Inkopolis Square regularly because of that...)

Mariana


"Die stoffige plek?! Serieus? Daar gaat tegenwoordig niemand meer heen!"
(That dusty place?! Seriously? No one goes there nowadays!)
NOE

Lorelei


"-"

Mariana


"En jij noemt jezelf een Inkling? Ooit gehoord van het woordje 'vers'?"
(And you call yourself an Inkling? Ever heard about the word 'fresh'?)
NOE

Lorelei


"-"

Mariana


"Of 'hou je cool'? Zegt je dat iets?"
(Or 'keep yourself cool'? Does that ring a bell?)
NOE

Lorelei


"Ja! Ik hou me bij wat cool is. Beter dan dat ik constant dingen achter me laat!"
(Yes! I keep up with what's cool. Rather that than that I constantly put things behind me!)

Mariana


"-"
NOE

Lorelei


"-"

Mariana


"Pff. Wat denken jullie, kijkers? Maak je keuze bij de Splatfest-stemmachine!"
(Pff. What do you think, viewers? Make your choice at the Splatfest voting machine!)
NOE



Introduction
Lorelei's Dialogue
Mariana's Dialogue
Region

Lorelei


"Ben jij fan van alles wat modern is of hou je meer van retroklassiekers?"
(Are you fan of all things modern or do you love retro classics more?)

Mariana


"Maak je keuze bij de Splatfest-stemmachine!"
(Make your choice at the Splatfest voting machine!)
NOE



Results
Lorelei's Dialogue
Mariana's Dialogue
Region

Lorelei


"-"

Mariana


"Er is gekozen voor vooruitgang! Wat een opluchting."
(We have opted for progress! What a relief.)
NOE

Lorelei


"Neeeee! Mijn geliefde klassiekers!"
(Nooooo! My beloved classics!)

Mariana


"-"
NOE

Lorelei


"Dat betekent toch niet dat ik Squid Jump op moet geven? Toch?"
(That doesn't mean I have to abandon Squid Jump, right? Right?)

Mariana


"Als je per se arcadegames wilt, kun je het vervolg op Ika Radio spelen."
(If you necessarily want arcade games, you can play the sequel on Ika Radio.)
NOE

Lorelei


"-"

Mariana


"Het is een vervolg, wat natuurlijk betekent dat het nieuwer en beter is."
(It's a sequel, which naturally means that it's newer and better.)
NOE

Lorelei


"Maar... de pixels..."
(But... the pixels...)

Mariana


"-"
NOE

Lorelei


"-"

Mariana


"Deelnemers aan het Splatfest kunnen hun prijzen ophalen op het plein!"
(Participants in the Splatfest can pick up their prizes at the Square!)
NOE



Results if Retro were to win
Lorelei's Dialogue
Mariana's Dialogue
Region

Lorelei


"Een winnaar is jij! Een terechte overwinning voor vierkante ogen!"
(A winner is you! A justified victory for square eyes!)

Mariana


"Wat?! "Is jij"?! Zo kun je niet met taal omgaan, Lorelei!"
(What?! "Is you"?! You can't use language like that, Pearl!)
NOE
Notes: Reference to the congratulatory message 'A WINNER IS YOU' from the 1986 NES game Pro Wrestling, which plays after beating a match opponent.

Lorelei


"Pfff, boeiend! Dat is een tekst uit een van mijn favoriete retrogames!"
(Pfff, Who cares! That is a line from one of my favorite retro games!)

Mariana


"Eh, dus dit is een overwinning voor taalfouten?"
(Eh, so this is a victory of grammatical mistakes?)
NOE

Lorelei


"Klassieke taalfouten! O, en weet je waar we na de show heen gaan?"
(Classic grammatical mistakes! Oh, and do you know where we go after the show?)

Mariana


"N-Nee... Toch niet naar die zaak aan het Inkopolisplein?"
(N-No... Not to that store at the Inkopolis Square, right?)
NOE

Lorelei


"Jawel! En daar blijven we tot je mijn Squid Jump-record hebt verbroken."
(Oh yes! And we stay there until you have beaten my Squid Jump record.)

Mariana


"-"
NOE

Lorelei


"Deelnemers aan het Splatfest kunnen hun prijzen ophalen op het plein!"
(Participants in the Splatfest can pick up their prizes at the Square!)

Mariana


"-"
NOE



French (France)
Retro (Rétro) vs. Modern (Moderne)
Announcement
Perle's Dialogue
Coralie's Dialogue
Region

Perle


« Dites-nous tout : vous êtes plutôt rock des années 80 et jeux vidéo pixelisés... »
(Everyone, let us know: Are you rather 80s rock and pixelized videogames...)

Coralie


« ... ou à la pointe de la mode et amoureux de la haute définition ? »
(... or latest fashion and in love with high definition?)
NOE

Perle


« - »

Coralie


« Je dois dire que je ne vois pas vraiment l'intérêt de poser ce genre de question. »
(I have to say I don't see the interest in asking this sort of question.)
NOE

Perle


« - »

Coralie


« Pourquoi s'intéresser à des vieux trucs moisis quand on peut avoir du neuf ? »
(Why would you be interested in moldy old things when you can have new things?)
NOE

Perle


« Coralie ! Je rêve ou t'es partie pour manquer de respect aux classiques ? »
(Marina! Am I dreaming, or are you taking part in disrespecting the classics?)

Coralie


« - »
NOE

Perle


« - »

Coralie


« Mais non, mais non. Ils ont eu leur heure de gloire, je vais pas dire le contraire. »
(No, no. They had their time of glory, I'm not going to say otherwise.)
NOE

Perle


« - »

Coralie


« Mais aujourd'hui, ils sont dépassés, pour ne pas dire carrément obsolètes ! »
(But today, they've been surpassed, even completely obsoleted!)
NOE

Perle


« Jusqu'à leur grand retour sous les feux de la rampe ! C'est cyclique, Coralie. »
(Only until their grand return under the spotlights! It's cyclical, Marina.)

Coralie


« - »
NOE

Perle


« Après, faut dire que mon enfance n'a été qu'une longue partie de Saute-qui-peut. »
(After all, I have to say that my childhood was just one long game of Squid Jump.)

Coralie


« - »
NOE

Perle


« Je vais encore jouer à la borne d'arcade de la place de Chromapolis, des fois... »
(I still go to the arcade machine in Inkopolis Plaza, sometimes...)

Coralie


« La place de Chromapolis ? Mais quelle idée ! C'est mort de chez mort, là-bas ! »
(Inkopolis Plaza? What's gotten into you! It's deader than dead, there!)
NOE

Perle


« - »

Coralie


« T'es une Inkling, Perle ! Où est passée ta soif de modernité ? »
(You're an Inkling, Pearl! Where did your thirst for modernity go?)
NOE

Perle


« - »

Coralie


« Lève donc le nez de ta borne d'arcade et ouvre un peu les bras au progrès ! »
(Pull your nose out of that arcade machine and open your arms to progress!)
NOE

Perle


« Les bornes d'arcade, c'était un sacré progrès, à l'époque ! »
(Arcade machines, those were an amazing bit of progress, at the time!)

Coralie


« - »
NOE

Perle


« - »

Coralie


« Et vous, les amis, que préférez-vous ? Faites votre choix à la borne festive ! »
(And you, friends, what do you prefer? Make your choice at the Splatfest Terminal!)
NOE



Introduction
Perle's Dialogue
Coralie's Dialogue
Region

Perle


« Vous êtes plutôt modernes ou rétro ? »
(Are you more modern or retro?)

Coralie


« Rendez-vous vite à la borne festive pour choisir votre camp ! »
(Go quickly to the festive terminal to choose your side!)
NOE



Results
Perle's Dialogue
Coralie's Dialogue
Region

Perle


« - »

Coralie


« Dehors le vieux, bonjour le neuf ! »
(Out with the old, hello to the new!)
NOE

Perle


« Noooooon !!! »
(Noooooo!!!)

Coralie


« - »
NOE

Perle


« Mais je pourrai quand même continuer à jouer à Saute-qui-peut, pas vrai ? »
(But I could still play Squid Jump, right?)

Coralie


« Mieux encore ! Tu vas pouvoir découvrir la dernière version de Swing-qui-peut ! »
(Better yet! You will be able to discover the latest version of Squid Beatz!)
NOE

Perle


« - »

Coralie


« Tu vas voir, les graphismes sont à tomber par terre. »
(You'll see, the graphics will blow you away.)
NOE

Perle


« Snif... mes pixels... »
(Sniff... My pixels...)

Coralie


« - »
NOE

Perle


« - »

Coralie


« Les prix attendent les participants au festival sur le square ! »
(The prizes await the Splatfest participants in the Square!)
NOE



Results if Retro were to win
Perle's Dialogue
Coralie's Dialogue
Region

Perle


« Dommage pour toi, Coralie ! La victoire est dans un autre château ! »
(Too bad for you, Marina! Your victory is in another castle!)

Coralie


« Laisse-moi deviner... Encore une citation d'un de tes jeux préhistoriques ? »
(Let me guess... Another quote from one of your prehistoric games?)
NOE
Notes: Reference to the victory text 'THANK YOU MARIO! BUT OUR PRINCESS IS IN ANOTHER CASTLE!' from the NES game Super Mario Bros., which plays after beating the final stage of any world excluding World 8.

Perle


« Les jeux vidéo ne vieillissent pas, ils se bonifient avec l'âge ! »
(Video games don't get old, they get better with age!)

Coralie


« Si tu le dis... »
(If you say so...)
NOE

Perle


« C'est l'apanage des grands classiques ! Je vais te montrer ça après le boulot. »
(It's a wealth of great classics! I'm going to show you after work.)

Coralie


« Comment ça ? Tu vas pas m'emmener sur la place de Chromapolis, hein ? »
(How? You're not going to take me to Inkopolis Plaza, are you?)
NOE

Perle


« Si ! On partira pas avant que t'exploses mon record de Saute-qui-peut ! »
(Just that! And we're not leaving until you beat my record in Squid Jump!)

Coralie


« - »
NOE

Perle


« Les prix attendent les participants au festival sur le square ! »
(The prizes await the Splatfest participants in the Square!)

Coralie


« - »
NOE



French (Canada)
Retro (Rétro) vs. Modern (Moderne)
Announcement
Perle's Dialogue
Coralie's Dialogue
Region

Perle


« Quel est ton style? Aimes-tu les pixels et les synthétiseurs? »
(What is your style? Do you like pixels and synthesizers?)

Coralie


« Ou est-ce que tu préfères ce qui est à la fine pointe de la technologie? »
(Or do you prefer things at the cutting edge of technology?)
NOA

Perle


« - »

Coralie


« Honnêtement, je suis pas sûre de voir l'attrait de la question. »
(Honestly, I'm not sure I see the point of this question.)
NOA

Perle


« - »

Coralie


« J'veux dire, pourquoi on choisirait des vieilleries à la place du neuf? »
(That is to say, why would you choose oldies over the new?)
NOA

Perle


« EST-CE QUE T'ES VRAIMENT EN TRAIN DE DIRE DU MAL DES CLASSIQUES? »
(ARE YOU REALLY GOING TO DISS THE CLASSICS?)

Coralie


« - »
NOA

Perle


« - »

Coralie


« Bon, je suis sûre que ces trucs anciens étaient OK, mais les temps changent. »
(Well, I'm sure those ancient things were okay, but times change.)
NOA

Perle


« - »

Coralie


« La mode passe date rapidement, et la vieille technologie devient obsolète. »
(Things fall out of fashion quickly, and old technology becomes obsolete.)
NOA

Perle


« Pfff. Tout revient à la mode un jour. C'est cyclique et tout, ma chère. »
(Pfffff. Everything goes back into style eventually. It's a cycle, my dear.)

Coralie


« - »
NOA

Perle


« Et vouloir obtenir le meilleur pointage à Saute-qui-peut est toute mon enfance. »
(And trying to get the high score in Squid Jump was my entire childhood.)

Coralie


« - »
NOA

Perle


« Je sors encore parfois sur la place Chromapolis pour jouer aux arcades. »
(Sometimes I still go out to Inkopolis Plaza to play at the arcade.)

Coralie


« La place Chromapolis? C'est désert là-bas! »
(Inkopolis Plaza? That place is a desert!)
NOA

Perle


« - »

Coralie


« Je savais pas que tu aimais le rétro. Tu vas porter quoi pour le festival? »
(I didn't know that you liked retro. What are you going to wear to the Splatfest?)
NOA

Perle


« - »

Coralie


« La robe de ta grand-mère? »
(Your grandmother's dress?)
NOA

Perle


« T'AS PAS LE DROIT DE PARLER DE MA GRAND-MAMAN! »
(YOU HAVE NO RIGHT TO TALK ABOUT MY GRAMMA!)

Coralie


« - »
NOA

Perle


« - »

Coralie


« Et toi, quel style préfères-tu? Va à la borne festive pour choisir une équipe! »
(And you, which style do you prefer? Go to the Splatfest terminal and choose a team!)
NOA



Introduction
Perle's Dialogue
Coralie's Dialogue
Region

Perle


« Quel style préfères-tu? Rétro ou moderne? »
(What style do you prefer? Retro or modern?)

Coralie


« Va à la borne festive pour choisir une équipe! »
(Go to the festive terminal to choose a team!)
NOA



Results
Perle's Dialogue
Coralie's Dialogue
Region

Perle


« - »

Coralie


« OUAIIIIIIS! »
(YEEEEEEEEAH!)
NOA

Perle


« NOOOOON! »
(NOOOOOO!)

Coralie


« - »
NOA

Perle


« Peu importe, je vais aller me changer les idées en jouant à Swing-qui-peut. »
(Never mind, I'm going to cheer up by playing Squid Beatz.)

Coralie


« Si tu veux des jeux d'arcade, on a Swing-qui-peut 2 sur le carré. »
(If you want an arcade game, we have Squid Beatz 2 in the Square.)
NOA

Perle


« - »

Coralie


« Faut noter le « 2 ». Ça veut dire que c'est nouveau. Et que c'est meilleur. »
(Note the "2". It means that it's new. And that it's better.)
NOA

Perle


« JE SUIS ERREUR. »
(I AM ERROR.)

Coralie


« - »
NOA
Notes: Reference to the NPC named Error in Zelda II: The Adventure of Link, who greets the player with the same line.

Perle


« - »

Coralie


« Si tu as participé au festival, n'oublie pas de récupérer tes prix au carré! »
(If you took part in the Splatfest, don't forget to get your prize in the Square!)
NOA



Results if Retro were to win
Perle's Dialogue
Coralie's Dialogue
Region

Perle


« Désolée, Coralie, ta victoire est dans un autre festival! »
(Sorry, Marina, your victory is in another Splatfest!)

Coralie


« Mais qu'est-ce que tu radotes? Tu sonnes comme un vinyle rayé. »
(What are you babbling about? You sound like a scratched record.)
NOA
Notes: Reference to the victory text 'THANK YOU MARIO! BUT OUR PRINCESS IS IN ANOTHER CASTLE!' from the NES game Super Mario Bros., which plays after beating the final stage of any world excluding World 8.

Perle


« J'ai adapté une phrase d'un de mes jeux rétro préférés. »
(I adapted a quote from one of my favorite retro games.)

Coralie


« Je comprends pas l'attrait des jeux rétro. Ils ne sont pas très beaux. »
(I don't understand the attraction of retro games. They're not very pretty.)
NOA

Perle


« Les classiques sont les classiques. Et plus tard, on sort toutes les deux. »
(The Classics are classics. And later, both of us are going out.)

Coralie


« Euh, et où est-ce qu'on... Non, pas la place Chromapolis?! »
(Eh, where are we... No, not to Inkopolis Plaza?!)
NOA

Perle


« OUAIP! Et on partira pas sans que tu battes mon record à Saute-qui-peut! »
(YEP! And we're not leaving before you beat my record in Squid Jump!)

Coralie


« - »
NOA

Perle


« Si tu as participé au festival, n'oublie pas de récupérer tes prix au carré! »
(If you took part in the Splatfest, don't forget to get your prize in the Square!)

Coralie


« - »
NOA



German
Retro (Retro) vs. Modern (Modern)
Announcement
Perla's Dialogue
Marina's Dialogue
Region

Perla


"Was mögt ihr lieber? Rock der Achtziger und Pixel-Art?"
(What do you prefer? Eighties' rock and pixel art?)

Marina


"Oder seid ihr bei Technik und Mode immer auf dem neusten Stand?"
(Or are you always up to date with technology and fashion?)
NOE

Perla


"-"

Marina


"...Also ganz ehrlich, ich verstehe den Sinn dieser Frage nicht ganz."
(...Honestly, I don't quite understand the point of this question.)
NOE

Perla


"-"

Marina


"Wer um alles in der Welt mag denn den alten Kram lieber?"
(Who in the world likes old stuff better?)
NOE

Perla


"HAST DU DENN GAR KEINEN RESPEKT VOR DEN KLASSIKERN?!"
(DON'T YOU HAVE ANY RESPECT FOR THE CLASSICS?!)

Marina


"-"
NOE

Perla


"-"

Marina


"Ach, das war damals sicher alles total toll, aber die Zeiten ändern sich."
(Oh, all that must have been great back then, but times change.)
NOE

Perla


"-"

Marina


"Alte Mode wird öde, und Technik veraltet einfach."
(Old fashion becomes boring, and technology just becomes obsolete.)
NOE

Perla


"Also bitte. Alte Trends erleben ständig Comebacks! Nichts ist jemals total out."
(Oh please. Old trends constantly experience comebacks! Nothing is ever totally out.)

Marina


"-"
NOE

Perla


"Meine ganze Kindheit habe ich bei Squid Jump Highscores geknackt!"
(All my childhood I cracked highscores in Squid Jump!)

Marina


"-"
NOE

Perla


"Manchmal gehe ich noch rüber ins Zentrum zu den alten Automaten..."
(Sometimes I still go over to the Plaza to the old arcade machines...)

Marina


"Ins Zentrum? Da hängt doch echt niemand mehr rum!"
(To the Plaza? Nobody hangs around there anymore!)
NOE

Perla


"-"

Marina


"Hast du noch nie etwas von "spritzig bleiben" gehört?"
(Have you never heard about "staying fresh"?)
NOE

Perla


"-"

Marina


"Das versuch mal, wenn du Omas alten Unterrock trägst!"
(Try that once, when you wear grandma's old petticoat!)
NOE

Perla


"LASS OMA DA RAUS!"
(LEAVE GRANDMA OUT OF THIS!)

Marina


"-"
NOE

Perla


"-"

Marina


"Und was denkt ihr? Trefft eure Wahl am Splatfest-Wahlstand!"
(And what do you think? Make your choice at the Splatfest voting booth!)
NOE



Introduction
Perla's Dialogue
Marina's Dialogue
Region

Perla


"Was ist euer Ding? Retro oder Modern?"
(What's your thing? Retro or modern?)

Marina


"Trefft eure Wahl am Splatfest- Wahlstand!"
(Make your choice at the Splatfest terminal!)
NOE



Results
Perla's Dialogue
Marina's Dialogue
Region

Perla


"-"

Marina


"Ein Glück! Der Fortschritt ist unaufhaltsam!"
(How lucky! Progress is unstoppable!)
NOE

Perla


"Neeeeeiiiiiiin! Meine Retro-Klassiker!"
(Nooooo! My retro classics!)

Marina


"-"
NOE

Perla


"Egal, ich spiel einfach so lange Squid Beatz, bis ich mich besser fühle."
(Whatever, I'll just play Squid Beatz until I feel better.)

Marina


"Wenn du Arcade-Spiele willst, spiel doch die Fortsetzung von Squid Beatz."
(If you want arcade games, why don't you play the sequel To Squid Beatz.)
NOE

Perla


"-"

Marina


"Die ist in jeder Hinsicht schöner und besser als dein alter Kram."
(That one's in every way nicer and better than your old stuff.)
NOE

Perla


"Aber... aber... die Pixel..."
(But...but... the pixels...)

Marina


"-"
NOE

Perla


"-"

Marina


"Wer beim Splatfest dabei war, bekommt seinen Preis auf dem Inkopolis-Platz!"
(Those who participated in the Splatfest get their prize in the Inkopolis Square!)
NOE



Results if Retro were to win
Perla's Dialogue
Marina's Dialogue
Region

Perla


"Haha, Retro holt sich den Highscore!"
(Haha, Retro gets the highscore!)

Marina


"Aber bei der ollen Technik könnt ihr euch nur mit drei Buchstaben verewigen..."
(But with that old technology you only have three letters to immortalize yourselves with.)
NOE

Perla


"Das ist doch nicht wichtig! Es geht um das Gefühl an sich!"
(That's not important! It's about the feeling itself!)

Marina


"Na, wenn du das sagst..."
(Well, if you say so...)
NOE

Perla


"So was gehört einfach mit dazu! Und nach der Arbeit kommst du mit!"
(That's just part of it! And after work you'll come along!)

Marina


"W-wo gehen wir denn hin? Doch nicht etwa... ins Zentrum?"
(W-where are we going? Don't tell me... to the Plaza?)
NOE

Perla


"Na klar! Und wir gehen erst heim, wenn du mich in Squid Jump besiegt hast!"
(Of course! And we won't go home until you beat me in Squid Jump!)

Marina


"-"
NOE

Perla


"Wer beim Splatfest dabei war, bekommt seinen Preis auf dem Inkopolis-Platz!"
(Those who participated in the Splatfest get their prize in the Inkopolis Square!)

Marina


"-"
NOE



Italian
Retro (Rétro) vs. Modern (Moderno)
Announcement
Alga's Dialogue
Nori's Dialogue
Region

Alga


«Oggi parliamo di estetica: vi piace lo stile pixellato dei bei vecchi tempi?»
(Today we talk about aesthetics: do you like the pixelated style of the good old days?)

Nori


«O preferite l'alta definizione e la tecnologia più moderna?»
(Or do you prefer high definition and the latest technology?)
NOE

Alga


«-»

Nori


«Se devo essere sincera, per me non c'è neanche da chiedere...»
(If I have to be honest, for me there is not even to ask...)
NOE

Alga


«-»

Nori


«Voglio dire, davvero qualcuno preferisce le cose vecchie se le può avere nuove?»
(I mean, does anyone really prefer old things if they can have new ones?)
NOE

Alga


«Cooome? Ho sentito male o qualcuno sta mancando di rispetto ai classici?!»
(Wwwwhat? Did I hear wrong or is someone disrespecting the classics?!)

Nori


«-»
NOE

Alga


«-»

Nori


«Dai, Alga, di sicuro è uno stile che sarà stato interessante a suo tempo...»
(Come on, Pearl, it's certainly a style that will have been interesting at the time...)
NOE

Alga


«-»

Nori


«... ma ora è obsoleto. Non sarai mica come quelli che sono nostalgici di tutto?»
(...but now it's obsolete. Aren't you like those who are nostalgic for everything?)
NOE

Alga


«Freeena! Intanto non è roba obsoleta. E poi le mode tornano sempre ciclicamente.»
(Braaake! Meanwhile, it is not obsolete stuff. And then fashions always come back cyclically.)

Nori


«-»
NOE

Alga


«Da piccola ho passato una vita a cercare di battere il record di Saltaseppia!»
(As a child I spent a lifetime trying to break the Squid Jump record!)

Nori


«-»
NOE

Alga


«Ogni tanto sguscio ancora nella sala giochi di Piazza Coloropoli per giocarci...»
(Every now and then I slip into the arcade in Inkopolis Plaza to play...)

Nori


«Cooosa? Ma oggigiorno nessuno va più in postacci del genere...»
(Wwwwhat? But nowadays no one goes to places like that anymore...)
NOE

Alga


«-»

Nori


«Lì ci sono dei fossili di età imprecisata che ancora dicono "sempre in gambero".»
(There are fossils there of an unspecified age that still say "always in shrimp".)
NOE

Alga


«-»

Nori


«Non fa per me, grazie. Io sono per il progresso!»
(Not for me, thanks. I am for progress!)
NOE

Alga


«Senza i classici, la tua tecnologia fiammante non esisterebbe!»
(Without the classics, your flaming tech wouldn't exist!)

Nori


«-»
NOE

Alga


«-»

Nori


«E voi che ne pensate? Andate al terminal di voto e scegliete una squadra!»
(And what do you think? Go to the voting terminal and choose a team!)
NOE



Introduction
Alga's Dialogue
Nori's Dialogue
Region

Alga


«Preferite lo stile rétro dei classici o quello moderno ad alta definizione?»
(Do you prefer the retro style of the classics or the modern high definition one?)

Nori


«Correte al terminal di voto e scegliete da che parte stare!»
(Run to the voting terminal and choose your side!)
NOE



Results
Alga's Dialogue
Nori's Dialogue
Region

Alga


«-»

Nori


«Il progresso trionfa sulla cieca nostalgiaaa! Sìììììì!»
(Progress triumphs over blind nostalgiaaa! Yessssss!)
NOE

Alga


«I miei poveri classici... Niente più record da polverizzare...»
(My poor classics... No more records to pulverize...)

Nori


«-»
NOE

Alga


«Vabbè, vado a farmi una partitina a Saltaseppia per tirarmi su...»
(Oh well, I'm going to play a little game of Squid Jump to cheer myself up...)

Nori


«Come vuoi... Ma prima vieni con me ad aggiornarti sulle ultime uscite!»
(As you wish... But first, come with me to catch up on the latest releases!)
NOE

Alga


«-»

Nori


«La grafica pazzesca ti lascerà a bocca aperta, poco ma sicuro!»
(The crazy graphics will definitely blow your mind!)
NOE

Alga


«Voglio i miei pixeeel...»
(I want my pixeeels...)

Nori


«-»
NOE

Alga


«-»

Nori


«Se avete partecipato al festival, i vostri premi vi attendono in piazza!»
(If you attended the festival, your prizes await you in the square!)
NOE



Results if Retro were to win
Alga's Dialogue
Nori's Dialogue
Region

Alga


«SPIACENTE, NORI! LA VITTORIA È IN UN ALTRO CASTELLO!»
(SORRY, MARINA! VICTORY IS IN ANOTHER CASTLE!)

Nori


«Eh? Cos'è, una sorta di citazione di qualche tuo gioco preistorico?»
(Huh? What is it, a sort of reference to some of your prehistoric games?)
NOE
Notes: Reference to the victory text 'THANK YOU MARIO! BUT OUR PRINCESS IS IN ANOTHER CASTLE!' from the NES game Super Mario Bros., which plays after beating the final stage of any world excluding World 8.

Alga


«I retrogiochi non invecchiano mai! E sono ancora adesso il meglio!»
(Retro games never get old! And they are still now the best!)

Nori


«Ehm, certo... Se lo dici tu... Per me sono invecchiati male, ma tant'è.»
(Um, sure... If you say so... They've aged badly for me, but so be it.)
NOE

Alga


«Si chiamano CLASSICI! E ora tu vieni con me, ti porto in un bel posto.»
(They are called CLASSICS! And now you come with me, I'll take you to a nice place.)

Nori


«Ehm, non dirmi che mi vuoi portare... alla sala giochi di Piazza Coloropoli?!»
(Um, don't tell me you want to take me... to the arcade in Inkopolis Plaza?!)
NOE

Alga


«Proprio così! E non ce ne andremo fino a quando non batterai il mio punteggio!»
(That's right! And we're not leaving until you beat my score!)

Nori


«-»
NOE

Alga


«Se avete partecipato al festival, i vostri premi vi attendono in piazza!»
(If you attended the festival, your prizes await you in the square!)

Nori


«-»
NOE



Russian
Retro (Ретро) vs. Modern (Модерн)
Announcement
Жемчик's Dialogue
Мариша's Dialogue
Region

Жемчик


«Вопрос на повестке дня: какой стиль круче? Музон 80-х и пиксель-арт?»
(Question on the agenda: which style is cooler? 80s music and pixel art?)

Мариша


«Или хай-тек и последний писк моды?»
(Or hi-tech and the latest fashion trends?)
NOE

Жемчик


«-»

Мариша


«Слу-у-ушай, я не совсем понимаю... Что здесь решать-то?»
(Li-i-isten, I don't quite understand... What exactly is to be decided here?)
NOE

Жемчик


«-»

Мариша


«В смысле, кому интересно какое-то старье, правда ведь?»
(I mean, who cares about some old junk, right?)
NOE

Жемчик


«ОП! Вот это поворот! Мариша, это ты только что по классике проехалась?!»
(OP! What a twist! Marina, did you just went over the classics?!)

Мариша


«-»
NOE

Жемчик


«-»

Мариша


«Ой, ну Жемчик! Может, когда-то это все и было здорово...»
(Oh come on, Pearl! Maybe once it was all great...)
NOE

Жемчик


«-»

Мариша


«Но времена меняются! Мода и технологии не стоят на месте!»
(But times are changing! Fashion and technology don't stand still!)
NOE

Жемчик


«Йо, погоди! Мода как раз постоянно возвращается! А еще ностальгия...»
(Yo, wait! Fashion keeps comming back! And also nostalgia...)

Мариша


«-»
NOE

Жемчик


«Я в детстве в «Супер Кальмарио» сутками заигрывалась!»
(As a child, I played «Super Squidmario» for days!)

Мариша


«-»
NOE
Notes: Comes from the video game title Super Mario Bros.

Жемчик


«Даже сейчас в старый Инкополь-Сквер хожу, чтобы на автомате поиграть...»
(Even now I go to the old Inkopolis Plaza to play on the machine...)

Мариша


«Серьезно?! Но там больше никто не тусуется! В смысле, ВООБЩЕ никто!»
(Seriously?! But no one hangs out there anymore! I mean, no one AT ALL!)
NOE

Жемчик


«-»

Мариша


«Ты вообще инклинг или где? Как же «свежачком», «не тухни» и прочее?»
(Are you even inkling or what? What about «hyperfresh», «stay fresh» and all that?)
NOE

Жемчик


«-»

Мариша


«Ты еще бабушкины брюки клеш надень!»
(Put on your grandma's flared trousers on top of that!)
NOE

Жемчик


«Э, ласты прочь от моей бабушки, йо!»
(Hey, flippers off my grandma, yo!)

Мариша


«-»
NOE

Жемчик


«-»

Мариша


«Пусть решают участники! Скорее к терминалу и выберите сторону!»
(Let the participants decide! Go ahead to the terminal and choose your side!)
NOE



Introduction
Жемчик's Dialogue
Мариша's Dialogue
Region

Жемчик


«Что круче — ретро или модерн?»
(What's cooler – retro or modern?)

Мариша


«Скорее к терминалу и выберите сторону!»
(Go ahead to the terminal and choose your side!)
NOE



Results
Жемчик's Dialogue
Мариша's Dialogue
Region

Жемчик


«-»

Мариша


«УРА! Передовые технологии... э-э-э... ВПЕРЕДИ!»
(HOORAY! Advanced technologies... uh-h-h... ADVANCED!)
NOE

Жемчик


«НЕ-Е-ЕТ!!!»
(NO-O-O!!!)

Мариша


«-»
NOE

Жемчик


«Хотя и ладно. Пойду, поиграю в «Кальмар Дэнс»...»
(Though, it's alright. I'll go play «Squid Dance»...)

Мариша


«Жемчик, у нас тут на площади полно игровых автоматов в «Стайке». Новых!»
(Pearl, we have a lot of gaming machines in «The Shoal» here in the square. The new ones!)
NOE

Жемчик


«-»

Мариша


«Сиквел «Кальмар Дэнс» например, на новеньком игровом автомате!»
(For example, a «Squid Dance» sequel on a brand new gaming machine!)
NOE

Жемчик


«Ага, знаю я эти ваши новинки... автомат новый, а УГОРЬ ТОНЕТ!»
(Yeah, I know these new things... the machine is new but THE EEL'S DROWNING!)

Мариша


«-»
NOE
Notes: This is a pun on a Russian meme phrase "ИГОРЬ ТОНЕТ!" "IGOR' TONET" (directly translates as "IGOR'S DROWNING!" where Igor is a male given name) which sounds similar to the phrase "Игор-то нет" "Igor-to net" ("There's no games", a Russian equivalent of the meme phrase "PS3 has no gaems").

Жемчик


«-»

Мариша


«Участников Сплатфеста на площади ждут призы!»
(Prizes await Splatfest participants on the square!)
NOE



Results if Retro were to win
Жемчик's Dialogue
Мариша's Dialogue
Region

Жемчик


«ВСЕ ВАША БАЗА ПРИНАДЛЕЖАТЬ НАМ!!!»
(ALL YOUR BASE ARE BELONG TO US!!!)

Мариша


«Жемчик, опять ты все слова перепутала...»
(Pearl, you mixed up the word order again...)
NOE
Notes: "All your base are belong to us" is an Internet meme based on a badly translated phrase from the opening cutscene of the video game Zero Wing.

Жемчик


«Ничего я не перепутала! Кое-кто просто в классике не разбирается!»
(I didn't mix up anything! Someone just don't understand the classics!)

Мариша


«Конечно не разбираюсь, это же старье сплошное...»
(Of course I don't, it's a total old junk...)
NOE

Жемчик


«Так, будем тебя просвещать. После эфира сходим кое-куда, я все покажу.»
(Alright, it's time to enlighten you. After the broadcast, we'll go somewhere, I'll show you everything.)

Мариша


««Кое-куда»... В Инкополь-Сквер?!»
(«Somewhere»... To Inkopolis Plaza?!)
NOE

Жемчик


«Так точно, йо! И не отпущу, пока не побьешь рекорд в «Супер Кальмарио»!»
(Exactly, yo! And I won't let you go until you beat the record in «Super Squidmario»!)

Мариша


«-»
NOE

Жемчик


«Эх... участников Сплатфеста на площади ждут призы!»
(Oh... prizes await Splatfest participants on the square!)

Мариша


«-»
NOE



Spanish (Spain)
Retro (Retro) vs. Modern (Moderno)
Announcement
Perla's Dialogue
Marina's Dialogue
Region

Perla


«Confesad: ¿os alucinan la música ochentera y los videojuegos pixelados?»
(Fess up: do 80s music and pixelated video games blow you away?)

Marina


«¿O lo vuestro es ir siempre a la última en moda y tecnología?»
(Or is going for the latest in fashion and technology your thing?)
NOE

Perla


«-»

Marina


«Sinceramente, no concibo más que una respuesta para esa pregunta.»
(Honestly, I can't come up with more than one answer to this question.)
NOE

Perla


«-»

Marina


«¿De verdad a alguien puede interesarle más lo antiguo que lo nuevo?»
(Can anyone really be interested more in the old than the new?)
NOE

Perla


«¡Un poco de respeto! Las creaciones clásicas son muy dignas de admiración.»
(Have a little respect! The classic creations are very deserving of admiration.)

Marina


«-»
NOE

Perla


«-»

Marina


«A ver, Perla, no digo que todas esas cosas no estuvieran bien en su tiempo...»
(Alright, Pearl, I'm not saying that all of those things weren't good for their time...)
NOE

Perla


«-»

Marina


«¡Pero las tendencias cambian! Todo pasa de moda y se vuelve obsoleto.»
(But trends change! Everything goes out of fashion and becomes obsolete.)
NOE

Perla


«¡Y luego lo antiguo vuelve a estar en boga! ¡Es como un ciclo que se repite!»
(Then later the old becomes popular again! It's like a cycle that repeats!)

Marina


«-»
NOE

Perla


«La de monedas que me gasté de enana jugando a Brincalamar en la recreativa...»
(The coins I spent as a little girl playing Squid Jump at the arcade...)

Marina


«-»
NOE

Perla


«Aún doy vueltas por los callejones de Cromópolis a ver si la vuelven a poner.»
(I still go around by the alleys of Inkopolis to see if they put it back on.)

Marina


«¿De verdad te pasas por esos lugares que nadie ha pisado desde hace años?»
(You really go by those places that no one has stepped in for years?)
NOE

Perla


«-»

Marina


«Pensaba que los inkling siempre se pirraban por lo más moderno...»
(I thought Inklings always yearned for what's most modern...)
NOE

Perla


«-»

Marina


«Pero, viendo lo que llevas puesto, ¡lo tuyo es reciclar la ropa de tu abuela!»
(But looking at what you're wearing, you're into reusing your grandma's clothes!)
NOE

Perla


«¡Ni se te ocurra meterte con mi yaya!»
(Don't you dare bring my nana into this!)

Marina


«-»
NOE

Perla


«-»

Marina


«¿Qué opinarán nuestros espectadores? ¡Al terminal de voto a elegir bando!»
(What do our viewers think? Go to the vote terminal to choose a side!)
NOE



Introduction
Perla's Dialogue
Marina's Dialogue
Region

Perla


«¿Solo os interesa lo moderno o sois más de gustos retro?»
(Are you only interested in modern or are you more into retro tastes?)

Marina


«¡Elegid vuestra opción preferida pasándoos por el terminal de voto!»
(Choose your preferred option by going to the voting terminal!)
NOE



Results
Perla's Dialogue
Marina's Dialogue
Region

Perla


«-»

Marina


«¡Lo nuevo se impone a la nostalgia por lo antiguo! ¡Síiiii!»
(The new dominates over nostalgia for the old! Yeaaaaah!)
NOE

Perla


«¡Nooo! ¡Mis queridos clásicos!»
(Nooo! My beloved classics!)

Marina


«-»
NOE

Perla


«Pero dejarás que me consuele jugando a Brincalamar de vez en cuando, ¿no?»
(At least you'll let me console myself by playing Squid Jump every now and then, right?)

Marina


«Como mucho, te permito que juegues a la secuela de Jibia FM.»
(The most I'll allow you is playing the sequel to Squid Beatz.)
NOE

Perla


«-»

Marina


«A ver si así aprendes a apreciar los gráficos de hoy en día.»
(Let's see if you learn to appreciate today's graphics.)
NOE

Perla


«Pero los de antes tenían esos píxeles tan cuadraditos...»
(But before they had those tiny little square pixels...)

Marina


«-»
NOE

Perla


«-»

Marina


«Participantes del festival: en la plaza os esperan vuestros premios.»
(Splatfest participants: your prizes are waiting for you at the plaza.)
NOE



Results if Retro were to win
Perla's Dialogue
Marina's Dialogue
Region

Perla


«¡Hemos ganado! ¡«Retro» superado!»
(We've won! Challenge complete!)

Marina


«¿Qué clase de expresión es esa?»
(What kind of expression is that?)
NOE
Notes: Pun on "retro" and "reto" (challenge).

Perla


«Lo decían mucho en los concursos de la tele cuando yo era calamarcita.»
(They would say it a lot on game shows when I was a little squid.)

Marina


«A mí todo eso solo me recuerda tiempos prehistóricos...»
(All that only reminds me of prehistoric times...)
NOE

Perla


«Sea como sea, has perdido. Cuando termine la emisión, te vienes conmigo.»
(Anyway, you've lost. When the show ends, you're coming with me.)

Marina


«¿Contigo adónde? ¿Ya quieres llevarme a esos viejos callejones?»
(With you where? You want to take me to those old alleys?)
NOE

Perla


«No solo eso. ¡Además te pienso dar una paliza jugando a Brincalamar!»
(Not just that! I'm also thinking of giving you a beating playing Squid Jump!)

Marina


«-»
NOE

Perla


«Participantes del festival: en la plaza os esperan vuestros premios.»
(Splatfest participants: your prizes are waiting for you at the plaza.)

Marina


«-»
NOE



Spanish (Latin America)
Retro (Retrógrados) vs. Modern (Vanguardistas)
Announcement
Perla's Dialogue
Marina's Dialogue
Region

Perla


«¿Cuál es su estilo? ¿Les gusta el rock ochentero y los gráficos pixelados?»
(Which is your style? Do you like 80s rock and pixelated graphics?)

Marina


«¿O prefieren la tecnología de punta y las tendencias más nuevas?»
(Or would you prefer high-end technology and the newest trends?)
NOA

Perla


«-»

Marina


«Para ser honesta, no entiendo cuál es el chiste de la pregunta.»
(To be honest, I don't get the point of the question.)
NOA

Perla


«-»

Marina


«¿Quién preferiría lo viejo antes que lo nuevo?»
(Who would prefer the old before the new?)
NOA

Perla


«ESPERO QUE NO PIENSES EN FALTARLES EL RESPETO A LOS CLÁSICOS.»
(I HOPE YOU'RE NOT THINKING OF DISRESPECTING THE CLASSICS.)

Marina


«-»
NOA

Perla


«-»

Marina


«Mira, reconozco que lo viejo fue la onda en su época, pero los tiempos cambian.»
(Look, I get that the old was what was all the rage in its time, but times change.)
NOA

Perla


«-»

Marina


«Las tendencias pasan de moda y la tecnología se vuelve obsoleta.»
(Trends go out of fashion and technology becomes obsolete.)
NOA

Perla


«Estás loca. El estilo retro siempre vuelve a la vanguardia. Todo es cíclico.»
(You're crazy. The retro style always comes back to the forefront. It's all a cycle.)

Marina


«-»
NOA

Perla


«Y además, de pequeña yo era campeona de Brincalamar. Nadie me ganaba.»
(And anyways, when I was little, I was the champion of Squid Jump. Nobody beat me.)

Marina


«-»
NOA

Perla


«A veces paso por la plaza de Cromópolis solo para jugar un rato.»
(Sometimes I pass by Inkopolis Plaza just to play a while.)

Marina


«¿La plaza de Cromópolis? ¿En serio? Ahí ya no hay nadie.»
(Inkopolis Plaza? Really? Nobody's there anymore.)
NOA

Perla


«-»

Marina


«No sabía que te gustaba tanto lo retro. ¿Y qué te vas a poner para el festival?»
(I didn't know that you liked what's retro so much. What are you gonna put on for the Splatfest?)
NOA

Perla


«-»

Marina


«¿Los pantalones acampanados de tu abuelita?»
(Your granny's bell-bottoms?)
NOA

Perla


«¡NI SE TE OCURRA HABLAR MAL DE MI ABUELITA!»
(DON'T YOU DARE TALK BAD ABOUT MY GRANNY!)

Marina


«-»
NOA

Perla


«-»

Marina


«¿Y ustedes qué prefieren? ¡Vayan a la terminal de voto y elijan un equipo!»
(And what do you prefer? Go the the vote terminal and choose a team!)
NOA



Introduction
Perla's Dialogue
Marina's Dialogue
Region

Perla


«¿Cuál es su estilo? ¿Retro o moderno?»
(What is your style? Retro or modern?)

Marina


«¡Vayan a la terminal de voto y elijan un equipo!»
(Go to the voting terminal and choose a team!)
NOA



Results
Perla's Dialogue
Marina's Dialogue
Region

Perla


«-»

Marina


«¡VAMOOOOOOOS!»
(LET'S GOOOOOOO!)
NOA

Perla


«¡NOOOOOOOO!»
(NOOOOOOOO!)

Marina


«-»
NOA

Perla


«Voy a ahogar las penas con una partida de Jibia FM en la plaza de Cromópolis.»
(I'm gonna drown my sorrows with a game of Squid Beatz at Inkopolis Plaza.)

Marina


«Tenemos la versión nueva aquí en el centro, y es mucho mejor.»
(We have the new version here at the square, and it's much better.)
NOA

Perla


«-»

Marina


«¿Sabes por qué? ¡Porque es la versión nueva!»
(You know why? Because it's the new version!)
NOA

Perla


«Asco.»
(Disgusting.)

Marina


«-»
NOA

Perla


«-»

Marina


«¡Si participaron en el festival, recojan sus premios en el centro!»
(If you participated in the Splatfest, collect your prizes at the Square!)
NOA



Results if Retro were to win
Perla's Dialogue
Marina's Dialogue
Region

Perla


«¡Ganamos! ¡ALLÉVOY!»
(We won! HIERIGO!)

Marina


«Allé... ¿Cómo?»
(Hieri... What?)
NOA
Notes: "ALLÉVOY" is a reference to the infamous Spanish localization of Final Fantasy VII, which has this phrase said by Cloud before going to battle at the Battle Square. It is a typo of "allá voy" (literally "I'm going there"). It is also referenced in Final Fantasy XV as a joke, occasionally said by Prompto when he takes pictures.

Perla


«Es una frase de uno de mis juegos retro favoritos.»
(It's a phrase from one of my favorite retro games.)

Marina


«No entiendo esa fascinación por los juegos retro. No han envejecido bien.»
(I don't understand this fascination with retro games. They haven't aged well.)
NOA

Perla


«¡Los clásicos son los clásicos! Y otra cosa: cuando salgamos, vienes conmigo.»
(The classics are classics! And another thing: when we leave, you're coming with me.)

Marina


«¿Adónde? No... ¡¿La plaza de Cromópolis?!»
(Where? No... Inkopolis Plaza?!)
NOA

Perla


«¡Eso es! ¡Y nos quedamos hasta que logres romper mi récord en Brincalamar!»
(That's it! And we're staying until you manage to beat my high score in Squid Jump!)

Marina


«-»
NOA

Perla


«¡Si participaron en el festival, recojan sus premios en el centro!»
(If you participated in the Splatfest, collect your prizes at the Square!)

Marina


«-»
NOA



Top 100
North America and Oceania
Retro
Modern
Europe
Retro
Modern