Rock vs. Pop (2017)
From Inkipedia, the Splatoon wiki
For the Splatfest from Splatoon, see Rock vs. Pop (2015)
Rock vs. Pop​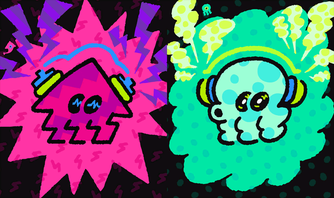 Team

 

Rock

 

Pop
Region
Japan
Start

15 July 2017

, 08:00 UTC
End

15 July 2017

, 12:00 UTC
Score method
category tally
Result type
combined
Popularity
52%
48%
Wins
%
Expression error: Unrecognized punctuation character "{".%
Solo wins
48%
52%
Team wins
51%
49%
Normal clout
%
Expression error: Unrecognized punctuation character "{".%
Pro clout
%
Expression error: Unrecognized punctuation character "{".%
Score
2
1
Winner
Rock
Region
Start

25 September 2023

, 01:55 UTC
End

25 September 2023

, 05:55 UTC
Popularity
%
Expression error: Unrecognized punctuation character "{".%
Wins
%
Expression error: Unrecognized punctuation character "{".%
Solo wins
%
Expression error: Unrecognized punctuation character "{".%
Team wins
%
Expression error: Unrecognized punctuation character "{".%
Normal clout
%
Expression error: Unrecognized punctuation character "{".%
Pro clout
%
Expression error: Unrecognized punctuation character "{".%
Score
Expression error: Unexpected < operator.
Expression error: Unexpected < operator.
Winner
Region
Start

25 September 2023

, 01:55 UTC
End

25 September 2023

, 05:55 UTC
Popularity
%
Expression error: Unrecognized punctuation character "{".%
Wins
%
Expression error: Unrecognized punctuation character "{".%
Solo wins
%
Expression error: Unrecognized punctuation character "{".%
Team wins
%
Expression error: Unrecognized punctuation character "{".%
Normal clout
%
Expression error: Unrecognized punctuation character "{".%
Pro clout
%
Expression error: Unrecognized punctuation character "{".%
Score
Expression error: Unexpected < operator.
Expression error: Unexpected < operator.
Winner
Rock vs. Pop (ロック vs ポップ) was a Splatfest event in Splatoon 2. It was held in Japan only. It was announced on 6 July 2017. The event lasted four hours. The results were given on 16 July 2017.
It was accessible by downloading the Splatoon 2 Splatfest World Premiere from the Nintendo eShop.
Details
The Splatfest World Premiere was a free demo that only allowed players to play the Splatoon 2 tutorial, see the news announcement of the Rock vs. Pop Splatfest, and choose a side. All of this could be done in advance of the Splatfest event. Unlike the full version of Splatoon 2, the Splatfest World Premiere had only two stages per two hours. For the first two hours, Starfish Mainstage and Inkblot Art Academy were playable. For the last two hours, Moray Towers and Humpback Pump Track were playable.
The Splatfest theme was two music genres, rock and pop.
Due to being available before the full release of Splatoon 2, there is no record of this Splatfest in SplatNet 2.
Trivia
Gallery
Dialogue
Announcement
ヒメ's Dialogue
イイダ's Dialogue
Region

ヒメ


「記念すべき前夜余のテーマはこいつ! どっちを聴く?! ロック vs ポップ!!」
(The theme for this memorable night is this! Which do you listen to?! Rock versus Pop!!)

イイダ


「お~! おがりますね~!!」
(Oh~! I'm grateful~!!)
NOJ

ヒメ


「対決するのは、シビれるサウンドに とどろく爆音! ぶちかませ! ヘドバントルネード! 「ロック」と!」
(The opponents are: The roar of explosive sound! Go underground! Headbang tornado! "Rock" and..!)

イイダ


「色とりどりのカラフルサウンドに つつまれて、気分もうウキウキ!「ポップ」になります!」
(Surrounded by colorful, multi-colored sounds, with an excited mood! "Pop"!)
NOJ

ヒメ


「フェスっていたら ロックっしょ! 夏! フェス! ロック! コレっきゃねーわ!!」
(If you said "festival", you said "Rock"! Summer! Festival! Rock! That's what it means for me!!)

イイダ


「夏のウキウキ感、 ポップのキラキラサウンドが サイコ~なんですって!」
(I say that in summer's excitement, the glittering sounds of pop are the be~st!)
NOJ
Notes: The Japanese name for Splatfests is just the word "festival".

ヒメ


「っつーか、 この勝負 すでに結果は 見えてんじゃね?」
(Well, we can already know how this battle is going to go, right?)

イイダ


「-」
NOJ

ヒメ


「-」

イイダ


「たとえヒメセンパイが相手でも 負けませんよ!」
(Even against Pearl-senpai, I will not lose!)
NOJ

ヒメ


「ゲキアツのロック魂みせてやっから イイダ にげんじゃねーぞ!」
(After Rock shows you its burning soul, you won't be saying that, Marina!)

イイダ


「-」
NOJ

ヒメ


「-」

イイダ


「にげませんから… センパイ早く進行してください!」
(I will not back down so... Please go on, senpai!)
NOJ

ヒメ


「いいの! いいの! とにかく勝つ! ゼッタイ勝ーつ!」
(Okay! Okay! I'm gonna win anyway! Absolute vi-ctory!)

イイダ


「-」
NOJ

ヒメ


「-」

イイダ


「ワ、 ワタシだって 負けませんから!」
(I, I will not lose!)
NOJ



Introduction
ヒメ's Dialogue
イイダ's Dialogue
Region

ヒメ


「どっちを聴く?! フェス 始まったぞーーー!」
(Which one do you listen to?! The festival has started!)

イイダ


「ロビー前のタッチパネルから投票して、 参加してくださ~い!」
(Please vote from the touch panel in front of the lobby and participate!)
NOJ



Results
ヒメ's Dialogue
イイダ's Dialogue
Region

ヒメ


「「ロック」ーーー!!」
("Ro-o-o-ck"!!)

イイダ


「ああ~… もう少しだったのに~…」
(Aah~... It was so close~...)
NOJ

ヒメ


「「ロック」のみんな、 ありがと! アツいロック魂みせてきらったかんね!」
(Everyone in team "Rock", thank you! You have shown me the hot spirit of rock!)

イイダ


「「ポップ」のみんなさんも スゴイがんばってましたよ~」
(Everyone in team "Pop" also really did their best~)
NOJ

ヒメ


「今回の前夜祭、 楽しかったなー! 次も楽しみだな!!」
(The fest this time was fun-! I'm looking forward to the next time!!)

イイダ


「もっともっと もりあげていきましょ~! みなさん よろしくお願いしいます!」
(Let's get even more excited~! Everyone, thank you very much!)
NOJ



Results if Pop were to win
ヒメ's Dialogue
イイダ's Dialogue
Region

ヒメ


「-」

イイダ


「きゃ~! 「ポップ」~~~!!」
(Kya~! "Pop"~~!!)
NOJ

ヒメ


「はぁー?! まじかよ~~~!」
(Huh?! Seriously~~!)

イイダ


「「ポップ」のみなさん、やりましたね! スゴイスゴイ! ワタシ、感動しました~」
("Pop", you did it! Amazing! I'm impressed~)
NOJ

ヒメ


「「ロック」の追い上げ、すごかったんだけどなー もーちょいだったかー!」
(It was amazing to catch up with "Rock", but it was a bit too much!)

イイダ


「-」
NOJ

ヒメ


「今回の前夜祭、楽しかったなー! 次も楽しみだな!!」
(The fest this time was fun-! I'm looking forward to the next time!!)

イイダ


「もっともっと もりあげていきましょ~! みなさん よろしくお願いします!」
(Let's get even more excited~! Everyone, thank you very much!)
NOJ



Names in other languages
Private Battle
Language
Name
Meaning
 Japanese

ロック/ポップ


Rokku/Poppu
-
 Dutch

Rock / Pop

-
 French

Rock/Pop

-
 German

Rock/Pop

-
 Italian

Rock/Pop

-
 Russian

Рок / поп


Rok / pop
-
 Spanish

Rock/Pop

-
See also
References
External links