Rocket Twintacle Octotrooper
From Inkipedia, the Splatoon wiki
Rocket Twintacle Octotrooper​
Rocket Twintacle Octotrooper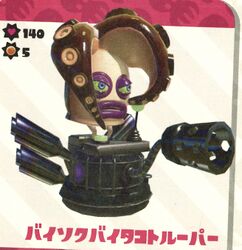 Conjecture
This article or section involves something that has not been specifically named.
The name(s) presented could be conjectural.
Rocket Twintacle Octotroopers, also referred to as Speedy Twintacle Octotroopers in The Art of Splatoon 2, are Octarian enemies appearing in Splatoon 2 and Splatoon 3. They are variants of the Twintacle Octotrooper, armed with the same weapons (and sometimes shields) but with two thrusters on each side of their vehicles, allowing them to quickly dodge left and right, somewhat similar to a dualie dodge. Like regular Twintacle Octotroopers, they have a shielded variant.
Description
Their appearances are almost identical to their standard counterparts, but their tentacles are slightly darker. Their vehicles are also slightly darker and have exhausts, allowing them to move side to side more quickly.
Appearances
Return of the Mammalians
Gallery