Sachiko Watabe
From Inkipedia, the Splatoon wiki

This page or section is under construction.
Please excuse its informal appearance while it is being worked on. We hope to have it completed as soon as possible!
Can you help us get it done?

The real world!
This article or section discusses subjects found
in real life
.
Sachiko Watabe​
Sachiko Watabe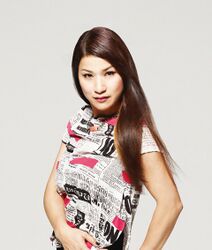 Full name
Sachiko Watabe
Native name
渡部沙智子
Pseudonym
Born
26 January 1977 (age 45)
Shindaji, Japan
Died
Occupation
Voice Actor
Singer
Role(s)
Female singer of Wet Floor
Singer of Entropical
Instrument(s)
Voice
First game
Latest game
Splatoon 2
Splatoon games worked on
Sachiko Watabe (JP: 渡部 沙智子) is the female vocalist for Wet Floor and SashiMori.
Song Credits