Salty vs. Sweet
From Inkipedia, the Splatoon wiki
How do you like your popcorn?
Salty vs. Sweet​
How do you like your popcorn?
Salty vs. Sweet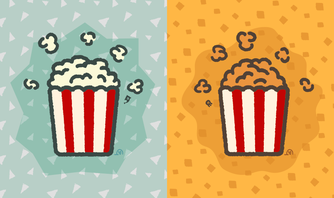 Teams

 

Salty


 

Sweet
Region
Europe
Start

7 April 2018

at 13:00 UTC
End

8 April 2018

at 13:00 UTC
Length
24 hours
Winner
Salty
Salty vs. Sweet was a Splatfest event in Splatoon 2. It was held in Europe only. It was announced on 30 March 2018. The results were given on 8 April 2018.
Details
The full name of each choice was "Popcorn should be SALTY!" and "Popcorn should be SWEET!". The team name portion of Splatfest titles was "Salty" and "Sweet".
Salty vs. Sweet featured the 9th Shifty Station layout, Grapplink Girl.
Results
Category

 

Salty

 

Sweet
Popularity
43.65%
56.35%
Solo wins
51.73%
48.27%
Team wins
53.93%
46.07%
Score
2
1
Dialogue
English
Announcement
Pearl's Dialogue
Marina's Dialogue
Region

Pearl


"Which corn would you pop for? A salty, savory delight?"

Marina


"Or a sweet cinema classic?"
NOE

Pearl


"Salty, of course! I'm representin' for the MATURE audience, here, not kids."

Marina


"Adults like sweet things, too, Pearl. Plus salty popcorn makes me so thirsty."
NOE

Pearl


"Pah! Get a drink, then! Or add some melted butter or cheese. Yum!"

Marina


"Melted cheese on popcorn? That sounds messy. And nasty."
NOE

Pearl


"Marina, you can't knock it until you've tried it. Have a little faith!"

Marina


"-"
NOE

Pearl


"-"

Marina


"I HAVE tried salty popcorn. Mixed into sweet popcorn."
NOE

Pearl


"-"

Marina


"Each salty morsel was a flavor explosion of the wrong kind. Blech!"
NOE

Pearl


"Okay, okay, No need to get so worked up. Leave that to the Splatfest teams."

Marina


"-"
NOE

Pearl


"What do y'all think? Head on over to the Splatfest Terminal and pick a side!"

Marina


"-"
NOE



Introduction
Pearl's Dialogue
Marina's Dialogue
Region

Pearl


"How do you like your popcorn? Salty or sweet?"

Marina


"Head over to the Splatfest terminal and pick a side!"
NOE



Results
Pearl's Dialogue
Marina's Dialogue
Region

Pearl


"WOOHOOO! Salty all the way!"

Marina


"Eurgh! What am I going to eat at the cinema now?"
NOE

Pearl


"Popcorn, of course! The RIGHT way!"

Marina


"-"
NOE

Pearl


"-"

Marina


"I don't think you realize how much I'd rather go hungry."
NOE

Pearl


"All the more for me, then!"

Marina


"-"
NOE

Pearl


"Hope you don't mind me smackin' my lips as I chow down!"

Marina


"I'm never going to the cinema again..."
NOE

Pearl


"If you participated in the Splatfest, your prizes are waiting in the Square!"

Marina


"-"
NOE



Dutch
Salty (Zout) vs. Sweet (Zoet)
French (France)
Salty (Sale) vs. Sweet (Sucre)
Announcement
Perle's Dialogue
Coralie's Dialogue
Region

Perle


« Sûr que si je dis cinéma, vous pensez popcorn ! Mais plutôt salé savoureux... »
(Surely if I say cinema, you think of popcorn! But would you rather it be savourily salty...)

Coralie


« ... ou sucré succulent ? »
(... or succulently sweet?)
NOE

Perle


« Je vote salé, évidemment ! C'est vrai, quoi, on n'a plus dix ans ! »
(I'm voting salty, obviously! We're not ten years old anymore!)

Coralie


« Y a pas d'âge pour le sucre, Perle ! Et puis le sel, ça donne trop soif. »
(There is no age limit for sugar, Pearl! Plus, salt makes me way too thirsty.)
NOE

Perle


« Pour ça, j'ai LA solution : agrémente tes popcorns d'une nappe de fromage fondu. »
(For that, I have JUST the solution: get your popcorn a layer of melted cheese.)

Coralie


« Du fromage fondu ?! C'est ça ta parade contre la soif ? J'aurais tout entendu... »
(Melted cheese?! Is that your idea for thirst? I've heard everything...)
NOE

Perle


« Tu fais ta maligne, mais le sucre aussi, ça donne soif. Donne sa chance au salé ! »
(You're being so smart, but sugar also makes you thirsty. Give salty a chance!)

Coralie


« - »
NOE

Perle


« - »

Coralie


« J'ai déjà goûté, figure-toi ! Un grain salé tombé dans mon popcorn sucré ! »
(I've already tried it, you know! A grain of salt fell in my sweet popcorn!)
NOE

Perle


« - »

Coralie


« Tu parles d'un piège ! Après ça, chaque bouchée avait le goût de l'angoisse... »
(You speak of a trap! After that, each mouthful had a taste of anguish...)
NOE

Perle


« Ouh là, faut se calmer, Coralie ! Ouvre tes papilles au sel de la vie ! »
(Oh cod, calm down, Marina! Open your taste buds to the salt of life!)

Coralie


« - »
NOE

Perle


« De toute façon, c'est le festival qui va régler la question une fois pour toutes ! »
(In any case, it's the Splatfest that will decide the outcome once and for all!)

Coralie


« - »
NOE



Introduction
Perle's Dialogue
Coralie's Dialogue
Region

Perle


« Alors, les amis ? Votre popcorn, vous le préférez salé ou sucré ? »
(So, everyone? Do you prefer your popcorn salty or sweet?)

Coralie


« Foncez à la borne festive pour faire entendre votre voix ! »
(Go to the Splatfest terminal to make your voice heard!)
NOE



Results
Perle's Dialogue
Coralie's Dialogue
Region

Perle


« YOUHOU ! C'est que j'appelle une victoire qui ne manque pas de sel ! »
(YOOHOO! That's what I call a victory that doesn't miss any salt!)

Coralie


« Aïe... Mais qu'est-ce que je vais bien pouvoir grignoter au ciné, maintenant ? »
(Aw... But what will I snack on at the cinema now?)
NOE

Perle


« Du popcorn, évidemment... couvert de délicieux cristaux de sel fondants ! »
(Popcorn, obviously... covered with delicious crystals of salt that melt in your mouth!)

Coralie


« - »
NOE

Perle


« - »

Coralie


« Jamais de la vie ! Si c'est comme ça, je préfère encore m'en passer ! »
(Never in my life! If it's like that, I would rather no popcorn!)
NOE

Perle


« Oh mais personne te force, tu sais. »
(Oh but no one's forcing you, you know.)

Coralie


« - »
NOE

Perle


« Par contre, faudra pas m'en vouloir si j'engloutis le mien sous ton nez ! »
(On the other hand, it won't annoy me if I devour mine under your nose!)

Coralie


« Merci pour ton soutien, Perle... »
(Thanks for your support, Pearl...)
NOE

Perle


« Les prix attendent les participants au festival sur le square ! »
(The prizes await the Splatfest participants in the square!)

Coralie


« - »
NOE



Italian
Announcement
Alga's Dialogue
Nori's Dialogue
Region

Alga


«Come vi piacciono i popcorn? Belli salati e gustosi?»
(How do you like your popcorn? Well-salted and tasty?)

Nori


«Oppure dolci come i film romantici che vado sempre a vedere al cinema?»
(Or sweet like the romance movies I always go seeing at the theater?)
NOE

Alga


«Salati, ovviamente! Ci sono già i tuoi film a essere sdolcinati!»
(Salty, of course! Your movies are already sickly sweet enough!)

Nori


«La dolcezza non è mai abbastanza, Alga. E poi i popcorn salati fanno venire sete!»
(Sweetness is never enough, Pearl. And salty popcorn makes you thirsty anyway!)
NOE

Alga


«Beh, fatti un bel set con la bibita, no? E magari del formaggio extra! Sluuurp!»
(Well, you can take a drink combo, couldn't you? And maybe some extra cheese! Sluuurp!)

Nori


«Formaggio e popcorn?! Bleeeurgh! E poi mi impiastrerei tutta!»
(Cheese and popcorn? Uuurgh! I would get all messy afterwards!)
NOE

Alga


«Fidati di me, Nori, e fai una prova. Dopo mi ringrazierai!»
(Trust me, Marina, and try it. You'll thank me then!)

Nori


«-»
NOE

Alga


«-»

Nori


«Ho già provato i popcorn salati. Me li hanno dati per sbaglio al cinema.»
(I've already tried salty popcorn. They gave me it at the movies by accident.)
NOE

Alga


«-»

Nori


«Ero pronta a un'esplosione di dolcezza e invece… Urgggh! Sale ovunque!»
(I was ready for an explosion of sweetness and instead… Urghhh! Salt everywhere!)
NOE

Alga


«Uff… quanto la fai lunga… lasciamo che siano gli aspolpatori a decidere!»
(Oof… how much do you drag it… Let our spectators (lit. octopustators) decide!)

Nori


«-»
NOE

Alga


«È tempo di decidere! Correte al terminal di voto e scegliete da che parte stare!»
(It's time to decide! Head to the voting terminal and pick your side!)

Nori


«-»
NOE



Introduction
Alga's Dialogue
Nori's Dialogue
Region

Alga


«Quali popcorn vi piacciono? Salati oppure dolci?»
(Which popcorn do you like? Salty or sweet?)

Nori


«Correte al terminal di voto e scegliete da che parte stare!»
(Head to the voting terminal and pick your side!)
NOE



Results
Alga's Dialogue
Nori's Dialogue
Region

Alga


«Sìììììì! Beccati questo, Nori! Hai un conto… salato da pagare!»
(Yessssss! Take this, Marina! You have a… salty bill to pay!)

Nori


«Oh, nooo! Ora cosa sgranocchierò al cinema?»
(Oh, nooo! And what will I munch on at the movies now?)
NOE

Alga


«I popcorn, ovviamente! Ma d'ora in avanti, quelli giusti!»
(Popcorn, of course! But from now on, the correct one!)

Nori


«-»
NOE

Alga


«-»

Nori


«Mai! Piuttosto mi mangio il bracciolo della poltrona!»
(Never! I'd rather eat the seat's armrest!)
NOE

Alga


«Ancora meglio! Più popcorn per me!»
(Even better! More popcorn for me!)

Nori


«-»
NOE

Alga


«Squisitamente salati. Da leccarsi i tentacoli!»
(Exquisitely salty. Tentacle-smacking!)

Nori


«Non andrò mai più al cinema…»
(I'll never go to the movies any more…)
NOE

Alga


«Se avete partecipato al festival, i vostri premi vi attendono in piazza!»
(If you've taken part in the Splatfest, your prizes are waiting for uou in the square!)

Nori


«-»
NOE



Top 100
Gallery
Names in other languages
Salty vs. Sweet

| Language | Name | Meaning |
| --- | --- | --- |
|  Dutch | Zout vs. Zoet | Salt vs. Sweet |
|  French (NOE) | Sel vs. Sucre | Salt vs. Sugar |
|  German | Salzig vs. Süß | Salty vs. Sweet |
|  Italian | Sale vs. Zucchero | Salt vs. Sugar |
Private Battle
Language
Name
Meaning
 Japanese

塩味/甘味


Shioaji / Kanmi
Salty / Sweet
 Dutch

Zout / Zoet

Salty / Sweet
 French

Sel/Sucre

Salty/Sweet
 German

Salzig/Süß

Salty/Sweet
 Italian

Salato/Dolce

Salty / Sweet
 Russian

Попкорн соленый / сладкий


Popkorn solyonyy / sladkiy
Salty / sweet popcorn
 Spanish

Saladas/Dulces

Salty/Sweet
See also
External links