Splatoon 2 Switch event Demo
| | |
| --- | --- |
| | This article or section discusses events, locations, or objects found in real life. |
This page involves something that has not been specifically named.
The name(s) presented in this article could be conjectural.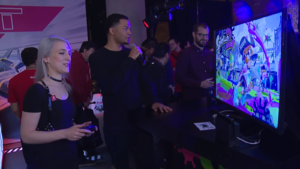 The Splatoon 2 Switch event Demo was a demo of Splatoon 2 featured at Nintendo Switch hands on events. It was the first publicly playable version of Splatoon 2, for the press and later the public.
Description
Similar to the E3 Demo, the Splatoon 2 Demo allowed for eight players to play a tutorial and two rounds of Turf War in a local LAN connection all on the new map The Reef. Many were set up in Switch hands on events around the world. The main version featured several Switches connected to a TV each using a Switch Pro Controller, and some Switches in Handheld mode.
Gameplay
The demo starts of with a start screen that the player must press
and
at the same time to start the demo. They would than complete a tutorial taking place in The Reef. The player then must chose between the Splattershot, Splat Roller, Splat Charger or the Splat Dualies, before playing two matches against other players in the event in The Reef.
Each player was name, ranging from "Player 1" to "Player 8." Players 1 through 4 were always on a team, and players 5 through 8 were similarly grouped on the opposing team. Each player began as an Inklings depicted in promotional materials, all with Ink Recovery Up, Quick Respawn and Special Saver all chosen so they would have as long as possible to experience the game. These abilities are the same ones used for the starting clothes in Splatoon and the Testfires.
Gallery
References