Splatoon Live in Makuhari -Shiokalive-
Jump to navigation
Jump to search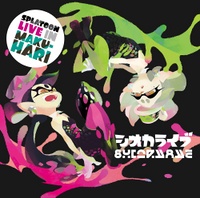 The real world!




This article or section discusses events, locations, people, or objects found in real life.
Splatoon Live in Makuhari -シオカライブ- (Shiokalive, meaning "Squid Sisters Live") is a live album by the Squid Sisters.[1] It contains recordings of the performances from Niconico Tokaigi 2016 and Cho-ongakusai 2016. Additionally, it includes in-game music that was not released on Splatune and a demo version of City of Color.[2] It also comes with the translations for the spoken dialogue between songs at the concerts and the lyrics to all the songs performed. It was released in Japan on 13 July 2016.
It debuted at #8 on the Orion Albums Chart and at #11 on the Billboard Japan Hot Albums chart.[3] It sold 10,345 copies during its launch week, with an additional 2,157 copies reported to have been sold in its second week.[4]
It was followed up by the release of Octotune, which included a recording of the Haicalive concert at Niconico Tokaigi 2018, and another concert album, Splatoon 2 Live in Makuhari -Tentalive-, which includes a recording of the Squid Sisters' performance at Niconico Cho Party 2016.
Tracks
* Backstage is a hidden track, playing after track 40.[6]
Lyrics
From the booklet included with the album. As with the lyrics that came with Splatune, these lyrics are nonsensical; the Japanese hiragana and katakana simply give the pronunciation.
イマ・ヌラネバー! (Now or Never!)
"

Gostik goshikyu chaazusaabi
Gostik goshikyu stoozareeshi
Moishi koyuuru mongushaahi
Jaade joogi

Woncha mochutta (wini geeta)
Woncha konyuura (wini dasti)
Moishi konyuuru (jani deeru)
Jaare chaade

La~ La la la la la~ (x2)

Gostik goshikyu chaazusaabi
Gostik goshikyu stoozareeshi
Moishi konyuuru mongushaahi
Jaade joogi joogi
Tudaa

"
"

ゴスティックゴシッキュ チャーズサービ
ゴスティックゴシッキュ ストーザレーシ
モイシコユール モングシャーヒ
ジャーデ ジョーギ

ウォンチャモチュッタ (ウィ二 ゲータ)
ウォンチャコ二ューラ (ウィ二 ダスティ)
モイシコ二ュール (ジャ二 デール)
ジャーレ チャーデ

La~ La la la la la~ (x2)

ゴスティックゴシッキュ チャーズサービ
ゴスティックゴシッキュ ストーザレーシ
モイシコ二ュール モングシャーヒ
ジャーデ ジョーギ ジョーギ
トゥダー

"
---
トキメキ☆ボムラッシュ (Bomb Rush Blush)
"

Megeparapi gera weriweriweriweri bora
Megeparacho gera merimerimerimeri nyu

Chore chorekkira pakerati deritchon nyurumeru
Rikkyorakkyore wiriwiri nyu
Nyuru me me meremerenyu

Dekkyanshi dera ritchere cherira
Boreborebore we keraponi
Chorape chorapenape yutcho morabinyu

Dekkyanshi dere ritchere cherira
Geregeregere meranyuru
Chorape chorape yoritche nyurumeri

"
"

めげぱらぴ げら うぇりうぇりうぇりうぇり ぼら
めげぱらちょ げら めりめりめりめり にゅ

ちょれ ちょれっきらぱけらてぃ でりっちょんにゅるめる
りっきょらっきょれ うぃりうぃりにゅ
にゅる め め めれめれにゅ

でっきゃんし一 でら りっちぇれ ちぇりら
ぼれぼれぼれ うぇけらぽに
ちょらぺ ちょらぺなぺ ゆっちょもらびにゅ

でっきゃんし一 でれ りっちぇれ ちぇりら
げれげれげれ めらにゅる
ちょらぺ ちょらぺ よりっちぇ にゅるめり

"
---
スミソアエの夜 (Tide Goes Out)
"

Moranife teyuruni merikeraninshu
(Matounushushu)
Rattinsha uyuruni
(Ranityurare tyurare) Meremerenu

Rattinu tyurirutouyu
Kireritoura kirikirini
Merankerashe yuueniruuenirune

Wanoyurarshueru tiretirenu narinushu
Wanoyurarshururu miremirenu furimukuyu
Raretyurare tyutte mieruni uneratoune
Medekyuera kyuera kerarnife

"
"

もらにふぇ てゆるに めりけらにんしゅ
(まとぅぬしゅしゅ)
らってぃんしゃ うゆるに
(らにてゅられ てゅられ) めれめれぬ

らってぃぬ てゅりるとぅゆ
きれりとぅら きりきりに
めらんけらしぇ ゆうぇにるうぇにるね


わのゆらりしゅえる てぃれてぃれぬ なりぬしゅ
わのゆらりしゅるる みれみれぬ ふりむくゆ
られてゅられ てゅって みえるに うねらとぅね
めできゅえら きゅえら けらるにふぇ

"
---
マリタイム・メモリー (Maritime Memory)
"

Tyurirurimyohe wiru-wini
Yuwarinishe nahemohi

Tyurirurimyohe wiru-wini yuwari
Yuweri fiyumeno shechu

Tyurirumyohe wiru-wini
Yuwarinishe nahemohi

Tyuriruratche wiru-wini yuweni

Fihananneni
Fihananneni nienoweni

Nyoehiniherahe nawenoni shumeri
Hihana fiha

Fihanamifa nyuenoweni
Fihanamifa nyuenowena

Nyoehiniherahe nawenoni nyuenu

Mya weni marei mirekyarahire
Juri yu mirekerason

Kire hyari yoriherahe nyurahera
Nunnyura unera yuraferaso

Fihanamifa nyuenoweni
Fihanamifa nyuenowena

Nyoehiniherahe nawenoni nyumeri
Hihana fiha nieno

Fihanamifa nyuenoweni
Fihanamifa nyuenowena

Nyoehiniherahe nawenoni yuweni

"
"

てゅりるりみょへ うぃるうぃに
ゆわりにしぇ なへもひ

てゅりるりみょへ ういるうぃに ゆわり
ゆうぇり ふぃゆめのしぇちゅ

てゅりるりみょへ うぃるうぃに
ゆわりにしぇ なへもひ

てゅりるらっちぇ うぃるうぃに ゆうぇに

ふぃはなんねに
ふぃはなんねに にえのうぇに

にょえひにへらへ なうぇのに しゅめり
ひはな ふぃは

ふぃはな みふぁ にゅえのうぇに
ふぃはな みふぁ にゅえのうぇな

にょえひにへらへ なうぇのに にゅえぬ

みゃ うぇに まれぃ みれきゃらひれ
じゅり ゆ みれけらそん

きれ ひゃり よりへらへ にゅらへら
ぬんにゅら うねら ゆらふぇらそ

ふぃはな みふぁ にゅえのうぇに
ふぃはな みふぁ にゅえのうぇな

にょえひにへらへ なうぇのに にゅめり
ひはな ふぃは にえの

ふぃはな みふぁ にゅえのうぇに
ふぃはな みふぁ にゅえのうぇな

にょえひにへらへ なうぇのに ゆうぇに

"
---
Credits
Composed by
Sound Effects by
Vocal & Voice by
Live Arrange & Directed by
Guitar by
Bass by
Drums by
Keyboard by
Live Recorded by
Live Mixing Engineer
Live Stage Directed by
Live Stage Coordinated by
Recorded & ProTools Operated by
Mastered By
Gallery
Album booklet
External links
References