Splatune (Splatoon Original Soundtrack)
Jump to navigation
Jump to search
| | |
| --- | --- |
| | This article or section discusses events, locations, or objects found in real life. |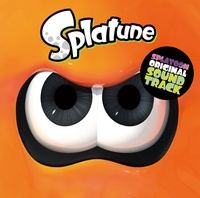 Splatune is the original soundtrack for Splatoon, released in Japan on 21 October 2015. It features two discs with 61 tracks total, consisting of 37 in-game tracks, ten jingle tracks, and fourteen sound effect tracks.[1][2][3] Also included are four alternate covers, lyrics to the music by the Squid Sisters, and three articles on some of the famous musicians and their music.
It was later accompanied by Splatoon Live in Makuhari, and received a full sequel in the form of Splatune 2.
Commercial performance
It debuted at #2 on both the Oricon Albums Chart and the Billboard Japan Hot Albums chart.[4] It sold 24,355 copies within its first day of release,[5] going on to sell an estimated total of 43,000 copies during its launch week[6] (an earlier estimate by Oricon stated 42,649 copies were sold).[7] At the end of the year, it was #46 on the Billboard Japan Hot Albums Year End chart[8], as well as #71 on Oricon's Yearly Sales Ranking for 2015.[9]
Tracks
Disc 1
Disc 2
Track 36 contains a hidden track: Wii U Menu Start Up (starts at 1:51).
Changes
Some songs contain slight changes in arrangement from the versions used in the game.
Splattack! (Jam Session) fades out, unlike the file in the game, which cuts out abruptly.
Inkopolis News has a different beginning jingle and ends properly.
Lookin' Fresh uses all four versions of the song, which use the same record scratch transition used when pressing the shoulder buttons in Booyah Base.
Visiting Inkopolis includes the jingle that plays whenever the train makes a stop in Inkopolis Plaza.
Plaza starts with the main speaker music before fading into the background to play the jingles that play from other speakers in Inkopolis Plaza and then fading back in before the song finally fades out.
All Hero Mode level music does not contain the percussion track that plays when an enemy spots the player. However, Inkstrike Shuffle and Octoling Rendezvous still retain any additional instrumentation that is added in these scenarios.
Inkstrike Shuffle loops differently.
Octoweaponry contains all three versions that coincide with the three phases of each boss.
I am Octavio contains all three variations on the song: the one that plays during the first phase, the one that plays on subsequent phases before the final one, and the music that plays when a missile is fired.
Lyrics
From the booklet included with Splatune. They are all nonsensical; the Japanese hiragana simply gives the pronunciation.
"

Ya weni marei mirekyarahire
Juri yu mirekerason

Kire hyari yoriherahe nyurahera
Nunnyura unera yurawera nyimerani

Chopperipo shurashurafe
Nannyuruni renifaferahi

Nana nyuruni weranira shuraharahi
Nyurunirehara fe fe fe

Ya weni marei mirekyarahire
Juri yu mirekerason

Kire hyari yoriherahe nyurahera
Nunnyura unera yurawera fimera

Na nire jute mirekyaraherya
Nire yu mirekerason

Kire hyari nuriherahe nyurahera
Nunnyura unera yurawera fimerani

"
"

や うぇに まれぃ みれきゃらひれ
じゅり ゆ みれけらそん

きれ ひゃり よりへらへ にゅらへら
ぬんにゅら うねら ゆらうぇら にぃめらに

ちょっぺりぽ しゅらしゅらふぇ
なんにゅるにれ にふぁふぇらひ

なんにゅるに うぇらにら しゅらはらひ
にゅるにれはら ふぇ ふぇ ふぇ

や うぇに まれぃ みれきゃらひれ
じゅり ゆ みれけらそん

きれ ひゃり よりへらへ にゅらへら
ぬんにゅら うねら ゆらうぇら ふぃめら

な にれ じゅて みれきゃらへりゃ
にれ ゆ みれけらそん

きれ ひゃり ぬりへらへ にゅらへら
ぬんにゅら うねら ゆらうぇら ふぃめらに

"
---
"

Tyurirurimyotte winiwini
Yuwarinicche nawemohi

Tyurirurimyohe winiwini yuwani
Yuweni yuwenu na nanihenu

Fihananneni
Fihanenneni nienoweni

Noehinyuherahe nanuenoni shumeri
Hihana fiha nyueni

Fihana mifa nienoweni
Fihana mifa nienowena

Nyoehinuherahe nawenoni nyumeri
Fihana mifa nyueni

Hey! × 6

"
"

てゅりるりみょって うぃにうぃに
ゆわりにっちぇ なうぇもひ

てゅりるりみょへ うぃにうぃに ゆわに
ゆうぇに ゆうぇぬ な なにへぬ

ふぃはなんねに
ふぃはなんねに にえのうぇに

のえひにゅへらへ なぬぇのに しゅめり
ひはな ふぃは にゅえに

ふぃはな みふぁ にえのうぇに
ふぃはな みふぁ にえのうぇな

にょえひぬへらへ なうぇのに にゅめり
ふぃはな みふぁ にゅえに

Hey! × 6

"
---
"

Winyi weria t'yutteratesokamo
Hyarihyari herahora finyinyi

Winyi weria t'yutterateni wenoa
Nyinyineno

Hey! × 6

Honyahirae nyurunino
Wenenino noni wenenoo

Honyahirae hyururino
Wiinyi weenuu nononinu

Menifirae nainea
Nonowineni nononeo

Honyahi wiiniinee
Honyahi niiniinuunuuna na

"
"

うぃにぃ うぇりあ とゅってらてそかも
ひゃりひゃり へらほら ふぃにぃにぃ

うぃにぃ うぇりあ とゅってらてに うぇのあ
にぃにぃねの

Hey! × 6

ほにゃひらえ にゅるにの
うぇねにの のに うぇねのお

ほにゃひらえ ひゅるりの
うぃーにぃ うぇーぬー ののにぬ

めにふぃらえ ないねあ
ののうぃねに ののねお

ほにゃひ うぃーにーねえ
ほにゃひ にーにーぬーぬーな な

"
Articles
Also included in the booklet are several fictional articles on some of the 'key artists' about the creation of their most popular titles.
Japanese
Squid Squad
■ナワバリバトルを体現する、最強の4人組!
突然のように見えて、振り返ると必然であった。忘れもしない軟体暦2014年、Squid Squadは鮮烈なデビューを飾る。当時は曲名さえ誰も知らなかった"Splattack!"のライヴ・ヴァージョンがネットで公開されるや否や、ナワバリバトルに明け暮れる若者はこぞって音楽プレイヤーにダウンロードし、この曲はあっという間にバトルの定番BGMにノシ揚がった。僕も初めてこの曲に出会った時の、トルネードでやられたような感覚を今でも覚えている。真っ白になった僕の頭の中を彼らはあっという間に100.0%塗りつぶしてしまった。コテンパンにやられたのにスガスガしい、不思議な体験。そしてついに彼らの楽曲が1枚のアルバムとしてここにリリースされる。"ついに"ではあるんだけど、"いまさら"感は全くない。まさに"いつまでもカラフルで、ちょっぴりセピア"な彼らのキャッチ・コピーそのままだ。
♪Splattack! (Jam Session)
Splattack!誕生のキッカケとなったジャム・セッションの録音を今回なんと特別収録!ライヴ翌日のスタジオ、いつも通り打ち上げに一番遅くまで残ったベースのIKKANは、いつも通り一番早くにスタジオに来ていた。彼が1人でベースを弾いているところに、続けてマッチングしてきたメンバーが参加していくことで形成されたこのグルーヴは、こうして聴いている僕にも彼らの心臓の鼓動を伝えてくれる。バトル開幕直後の、息の合った4人チームで生み出すインク・ストリームのような仕上がり。この後の彼らの音楽シーンでの活躍のまさにスタート地点だ。
♪Splattack!
僕が彼らを知ったのは今では"幻のゼロ番シングル"とも言われているアマチュア時代のデモ・テープ(残念ながら今の所リリースはされていない)だ。そのころから荒削りでどこかなけるICHIYAのギターリフは健在で、茹で上がりそうなそのパッションには、将来の爆発を予感させるものがあった。そのデモ・テープが今アルバムのプロデューサーであるGISSANの目に留まり、ファースト・シングルであるこの"Splattack!"に繋がっていくことは、彼らのファンなら既にご存知のことだろう。デビュー曲でありながら代表曲。この曲抜きにもはやは語れない。
♪Ink or Sink
バンドにとって"ヒット曲の次の曲"がイカに難しイカは、想像に難くない。だが、僕らがアゲまくったハードルをカラストンビにも掛けず、彼らはスーパージャンプさながらこの曲で飛び越えていった。守りに入ってしまうバンドが多い状況下で、彼らは常にチームの勝利だけを見据えたフォーメーションで二曲目に臨んだ。白眉なのはウニなのにイカしてる、最年少メンバーのドラムのMURASAKI。ドラムは後衛のチャージャーに例えられることがあるけど、この曲ではまるでブラスターを構えたように、果敢に前線をグイグイ押し上げていく。彼自身の頭のスパイクのスティックで刻まれる高速ビートで、バトル中にタッチパネルを連打する指にも思わず力がこもる。関係ないけど、ライヴでスティックを投げるのは、嬉しいけど危ないのでやめてほしい。
♪Seaskape
もはや向かうところ敵なしの彼らがリリースした、イカしてスカした踊り食いサウンド。レディ・セット・ゴーからの、いきなりのフル・スロットル。そして後半戦のノシイカのような広く伸びのある展開。モンガラキャンプ場での野外ライヴにて、この曲で浸透圧がアガりきったファン達が思わず池にダイヴしまくったのは記憶に新しい。繰り返されるバトルの中での"ゾーン"のような体験に、僕らをあっという間に連れてさらってくれる、チョーシノリノリ、お墨付きの一曲。誰にも言ってないけど、僕の走馬灯のBGMはこの曲にもう決めている。
♪Kraken Up
ハイカラシティの永遠に終わらない夏をそのまま沖漬けにしたような、究極のアッパー・チューン。初めてラジオでこの曲がかかった際、デカラインを走る車の平均速度が10km/h上がったのは今では有名な話。この曲に限らずだが、聴いているだけでべチャ、バシャ、トプン、脳内でバトルの色んなシーンのサウンドがオート再生される。(やっつけるよりもやられるシーンの再生回数が多いのは、僕だけだろうか?)このトロピカルなサウンドと軽快なボーカルは、バトルでやられても思わず笑顔にしてくれる。そんなハッピーな一曲だ。
♪Metalopod
紅一点のシンセのNAMIDAは、いつだってこのバンドに色気を与えてくれる。クリアリング無用で爆走するギター・ベース・ドラムのダークなリフに、そんな彼女が必死で追加する少しおどけたサビ。このせめぎ合いはガチでエクストリームなバトルさながら。脳に汗かく一進一退の緊張感がたまらない。パッと聴いたときは異質に感じるかもしれないが、聴けば聴くほど彼ららしさが伝わってくるスルメ曲[10]。なんだか一周して胎教に流したくすらなってきた。
♪Now or Never!
説明不要。問答無用。ゲージMAXからのスペシャルウェポン。言わずと知れたライヴの鉄板曲で、フロアはイカ焼きになるほど盛り上がる。ちょうど60秒の曲だけど、バトルで聴くたび短くも長くも感じる、なんとも不思議な曲。3600フレームの中の攻防は、聴いただけで漏斗からインクを噴出してしまいそう。というか、この文章を書きながら聴いてたらチョット漏れた。単なるBGMに留まらず、ナワバリバトルの展開をも左右する欠かせない一曲。この曲が無い時ってどんな風にバトルしてたっけ?僕にはもう思い出せないや。
さてさて、イカがだったろう?僕も今回アルバムと言う形で聴く事で、彼らSquid Squadのチーム・ワークに改めて外套膜が震えた。曲ごとにメンバーは自分のブキを持ち替え、さらにその一曲の中でも4人の役割がめまぐるしく入れ替わる。その中で生み出される底の見えない無限の可能性は、これからも僕らをナワバリバトルの向こう側へ連れて行ってくれる事だろう。アップデートし続け、ヒットチャートを塗り替えてきた彼ら。Squid Squadの今後に、ぜひぜひ期待したい!
text by スズケ ゲソロウ(Fish and Chips)
---
Translation
Squid Squad
■The strongest quartet, the embodiment of Turf War!
Though it may have seemed sudden, it was inevitable. Squid Squad made their striking debut in the unforgettable year of 2014 M.E. (Mollusc Era). When the live version of Splattack! was released on the internet, no one even knew what it was called, but all the young people playing Turf War were downloading it to their music players. The song instantly became the standard for battle music. I remember when I first heard it - it was like getting hit by an Inkstrike. My mind had gone blank, they'd inked 100.0% of it. It was an amazing experience, leaving me feeling defeated but refreshed nonetheless. They're finally releasing an album. Yes, "finally", not "too late". It's like their catchphrase, "Colorful forever, with a smidge of sepia."
♪Splattack! (Jam Session)
The jam session that led to the creation of Splattack! - what a special edit! After a live show, IKKAN, Squid Squad's bass player, had stayed at the celebration party 'til the very end, but still came first to the studio as usual. At first, just his bass is heard, then the others gradually join in. Listening to this groove, I can hear their hearts beating. They've created the feeling of a beautiful ink stream made by a unified, four-person team right at the start of a battle. This is when they start to come into the musical spotlight.
♪Splattack!
The reason I knew them is a demonstration tape from their amateur career, which is called as "the single no. zero which is unknown to the public". (Unfortunately, it's not released yet right now.) ICHIYA's touching guitar riff, like as a rough diamond, has been since that days too. I had an intuition of their explosive popularity in future, from his boiling passion. That demonstration tape caught GISSAN's eye, the producer of the album, and led to the first single Splattack!. I'm sure you knew this story obviously since you became a fan of them. It's their debut music and their representative music. You can't talk about them without this music.
♪Ink or Sink
You can imagine easily that "the music after hit music" is too difficult to create for every musician. However, they were paying no attention to our big expectations to the squid beak, they went higher with this music as like a super jump. Most musicians are likely to make a defence in such a situation. On the other hand, they looked ahead to only the team's victory and made a formation for the second music. The finest is MURASAKI, the youngest member as a drum player, he is a cool and edgy urchin. Drums are sometimes likened as a charger in the rear guard, but this music is pushing up the front like as a daring blaster doing. By his fast beats using his own spikes as sticks, our fingers will get enthusiastic button-mashing the touch screen in the battle. By the way, I don't hope that drummers throw their sticks away, it's a danger even if it makes us glad.
♪Seaskape
It's a cool and edgy dancing seafood sound the irresistible quartet released. Going in full-throttle without notice from "ready, set, and go". And the latter half makes large and wide sounds like a pressed squid. It is still fresh in my memory that all of the audiences with high ink pressures through the music dived into the lake at their outdoor live show in Camp Triggerfish. In the recurring battle, again and again, you can instantly get into the "zone" experience through this music guaranteeing of your HYPE. I haven't told that to anyone yet, I have decided my Last-Breath theme is this.
♪Kraken Up
It's like a never-ending Inkopolis summer marinated in soy sauce, an ultimate upper tune. You know the famous story that the cars running Urchin Underpass got faster by 10km/h on average when this music had been broadcasted in radio for the first time. It is not limited to this, you can hear many sounds of the battle like "SPLAT!" "SLOSH!" "DROP" in your brain when you listen to this music. (Is it only for me that I hear more sounds getting defeated than winning?) These tropical sounds and lilting vocal makes me smile involuntarily even if I got defeated. So it's happy music.
♪Metalopod
NAMIDA the synthesizer player, also the only woman in the group, always makes the band brilliant. A dark riff of the guitar, the bass, and the drum, making a roaring noisily around without any clearing, with a burlesque bridge she's adding as hard as she can. This conflict is similar to an extreme ranked battle. The brain jolting feeling is so great like a fluctuating battle in the tense atmosphere. You could feel something different in kind for the first time, but you will realize the awesomeness of them by listening and listening, like dried shredded squid. I would like to let it be prenatal music since I thought over.
♪Now or Never!
No explanation needed. No question needed. A special weapon from the maximum special gauge. The mainstream hit music needless to say. The audiences in the live music hall will be so hawt like grilled squids. It's just in 60 seconds, but I sometimes feel it longer, or shorter in battles, really amazing music. The conflict in 3600 frames is likely making me leaking ink from my hyponome. Well, I've leaked a bit while writing these sentences with the music. It's not just only music, it's also a deciding factor for the Turf War. Do you remember how we fought when this music wasn't released yet? I don't.
Alright then, how was it? Since I heard their music as an album this time, the Squid Squad's team-work made my squid mantle vibrated again. They change their weapons for each music and change their role rapidly even in a piece of music. Their immeasurable potential born from that likely takes me over the Turf War. Those who have continued the updating and inked over the hit chart. I'm really looking forward to the Squid Squad's future. Stay fresh.
text by Gesorou Suzuke (Fish and Chips)
---
Japanese
シオカラーズ
■時代を創るアイドルの、けして止まらない進化。
彗星のように現れ、瞬く間に日常となったように見えるシオカラーズ。今となっては、彼女らのいないハイカラシティを想像する事すら出来ない。だが実は、下積みの期間も短くない。彼女らは地方出身と言う事もあり、都会のスピード感にはなかなか馴染めなかった。不安、孤独、別離、郷愁。デビューまでの長いトレーニングの期間を経て、彼女らはデビュー曲の"ハイカラシンカ"でついにその殻を破る。一万年に渡る我々インクリングの進化の歴史を詰め込んだこの曲。その歌詞さながらに一足飛びにスターダムを駆け上がり、まさに時代を彩る存在となった。
"キミ色に染めて"の曲名が示す通り、彼女らは透明で何色にでも染まる。普段はおちゃらけているが、歌っている時の彼女らは我々とセカイを媒介する透明なメディアだ。陰と陽、静と動、ボケとツッコミ。二色のインクの境界にバトルの前線が生まれるように、二つのエネルギーの動的な平衡の中にこそ、生命の輝きが生まれる。この輝きを求めて、我々は古来よりナワバリバトルを繰り返してきたのだ。そのアオリとホタルのバランスは、民衆の想いの増幅器として作用し、途切れかけていたマツリを現代にカスタマイズして再誕させる。そして彼女らはその巫女となった。この時こそ、二人がアイドルとして完成した瞬間だろう。フェスのために二人がいるのか、二人のためにフェスがあるのか。その答えはどちらでもいい。全ては混ざり合い、輝き、そしてはじけるのだ。
彼女らを語る際にもちろん外せないのが、聴けば天国歌えば極楽、みなさんご存知"シオカラ節"だ。ハイカラ線の発車メロディにも使われている、全インクリングのDNAに刻み込まれたこの曲。そこに還ることはもう叶わない、全ての生命が孵りし母となる海。この唄には古来よりその海への"愛"と"畏れ"の二つの渦巻く思いが込められてきた。従姉妹同士の彼女らはもともとシオカラ地方の出身。この曲を民謡選手権で歌い、そこの審査員をしていた Shy-Ho-Shy の目にとまり、二人は夢を追って上京する事となる。マイクを逆さに持ってしまう失態をもカバーするその声量と、正反対ながら息の合った二人の掛け合いは、当時から高い完成度であった。その思い出の曲を歌いたいという彼女らのたっての希望で、このバージョンが作られることとなる。鮫皮太鼓を電子のリズムに置き換えて、これもまた鮮やかに彼女らは現代に蘇らせる。一度聴いたら忘れられないこのメロディは、いつの時代でも民衆を虜にしてきた。そしてそれは、これからもきっと変わらない。
初音源化の"マリタイム・メモリー"は二人の新しい一面を見せてくれる。明るいイメージの彼女らが歌うメロウなバラード。少女と女性のあいだの十七歳という今でしか歌えない、その儚さが美しい。ちなみに途中で入るラップは、レコーディング中に"ボロは着てても心は錦、艶やかな声は衰えておらん"と乱入した謎の老人のもの。スタッフは急いで追い出したそうだが、後で聴き返すと"意外とイイ"とのことで採用が決まったらしい。何故か不思議とマッチするこの合いの手は、彼女らの声にいつも以上の大きな安心感をもたらしている。自然豊かなシオカラ地方の息づかいが遠くに聴こえるようで、大事なものを呼び覚ましてくれる。
歌は世につれ、世は歌につれ。時代がアイドルを求め、そしてアイドルは時代を創る。いつか彼女らの歌を聴いて、我々はきっと今という時代を振り返る。時代を共有するため、これからも我々は歌い、踊り、遊び続ける。シオカラーズとともに。
【ワタヌキ マスミ(音楽評論家)】
---
Translation
Squid Sisters
■The never ending evolution of idols creating the times.
Squid Sisters, has come into sudden prominence and infiltrated our ordinary lives. Today, we can't even imagine the Inkopolis without them. But actually, their amateur career wasn't a short while. As they are provincial, couldn't get used to the bustling city quickly. Uneasiness, loneliness, partings, and homesickness. Through the long training time to their debut, they finally have broken out of their shell with the debut music City of Color. The music is filled with our ten thousand years of history and evolution[11]. They have risen to stardom in a single leap like as the lyrics, and our times totally got beautifully colored by them.
Like as the title of Ink Me Up, they are transparent and can get any color. Usually, they are funny, but they are a kind of transparent media between us and the world when they are singing. Light and dark, stillness and motion, Boke and Tsukkomi. Like as a front line of battles born from the borderline between two colors, the spark of life will be born from the equilibrium between two streams of energy. We have repeated Turf Wars again and again from ancient times since we desired such brilliance. The balance of Callie and Marie is working as an amplifier for people's feelings and made a rebirth of the "abandoned festival" modernized. Then, they became the shrine maidens for the festival. That's the moment they got complemented as idols. Are they serving the festival? Or the festival is standing for them? Who cares about the truth? It shines, sparkles, and blends, till all are one.
When you talk Squid Sisters, you are talking about the heavenly melody, Calamari Inkantation everybody knows. It's used for Inkopolis line's train melody also, the music engraved on the DNA of all Inklings. Even though we can't return there, a mother of all life, the sea. This song has been filled with the storming feelings of "love" and "revere" from ancient times. Originally, they are cousins born from Calamari County. they sang this music in a Youth Folk-Singing Contest and caught the eyes of Shy-Ho-Shy, one of the committees. then, they came up to Inkopolis for the dream. Their powerful voice enough to compensate the fault of holding the microphone upside down, and perfect duo although contrary personalities. That has been highly complete from these days. Their earnest hope to sing the memorial music led to make this version. Replacing the shark-skinned taiko drum with a synthesized rhythm, they made a rebirth of this today, too. This unforgettable melody has attracted people of all ages. And, it will continue from now.
Maritime Memory, it's the first time of mastering, shows a new side of them. A mellow ballad is sung by them who have a cheerful impression. The song can be sung during only seventeen, the time between a girl and a woman. That fragility makes beauty. By the way, the scat in the middle of this music was sung by a weird old man broke into the recording studio with saying "Though my clothes may be tattered, my heart is pure and nothing escapes my razor-sharp gaze." The staff tried to drive him away in a hurry, but they realized "It's not so bad. Yes, good" since they listened again after that. So they decided to use him. The interludes making harmony with Squid Sisters for some reason gives great relief to their voice. We can feel the breath of Calamari County, a place full of nature through this music. Calling up something precious.
Songs change with the times, the times change with songs. The times calls idols, then, idols make the times. Someday, we'll hear their song and look back over the past "now". To share the times, we'll go on singing, dancing, and playing forever and ever. With Squid Sisters.
【Masumi Watanuki (Music commentator)】
---
Japanese
OCTOTOOL & DJ Octavio
■地下流通の幻の音源、ついに地上へ!
ハイカラな音楽キッズならその名を一度は聞いたことがあるだろう、そう、"OCTOTOOL"である。このたびマスター音源が発掘され、ここにディスク化される運びとなった。この音源の歴史は古く、一説には数十年前にとあるマニアが旧式の無線機で電波をキャッチしたのが始まりと言われている。その信憑性は定かではないが、長らく音楽ファンの間でこの音源はコピーを繰り返しこっそりと流通し続けていた。改めて彼ら(もちろん詳細は不明だが、ここでは便宜上"彼ら"と呼ぶことにする)が広く一般にも知られるようになったのは、軟体暦2014年11月6日の"イカスツリー電波ジャック事件"である。オオデンチナマズがいなくなったことには興味を示さなかったガールズ&ボーイズも、爆音で奏でられた聞いたことのないスタイルの音楽には、そのエンペラを傾けないわけにはいかなかったことであろう。そんな矢先に何とも都合良く音源がイカスツリー横のゴミ捨て場から見つかり、この度のリリースと相成った訳だ。
音楽的にはイカの様式とは全く独自の進化を遂げており、まるでオーパーツのような存在である。アルバムもたった一枚(独自編集の海賊版であり、こう形容するのは正しくなイカもしれないが)しか存在せず、そのメンバーの経歴、人数、すべての正体は不明。この音楽スタイルは古くから"勤勉"と形容されてきた。聞き慣れない言葉に感じるだろう、そもそも現在の我々の辞書には載っていない言葉なのである。言語学者に聞くところによると"享楽"の対義語らしいが、そんな概念が存在するとは我々には想像すらつかない。そんな謎だらけの彼らではあるが、その音楽はまさに雄弁である。様々な音源(どうやって鳴らしているか分らない物も多い)をツギハギした、タコ足配線のようなブレイク・ビーツが、一種の様式美としてここに結実している。でたらめな中に感じる規則性が、ポイズンボールのように聞く者の心を絡みとって離さない中毒性をもたらす。(かくいう筆者もエンペラにタコができるほど聴きこむことで生活リズムが狂い、毎朝七時キッカリに起きてしまうという真に乱れた生活を送ってしまっていた…)
"Eight-Legged Advance"の規律正しいビートの繰り返しの中には、シンプルながら彼らの真骨頂が感じられる。新しい冒険の幕開けのような、まさにこのアルバムのオープニング・チューンとしてふさわしい一曲だ。"Tentacular Circus"は例の電波ジャック事件の際に流れたことで、聞き覚えのある諸君も多いだろう。足元に注意しないと落っこちてしまいそうな、妙なバランスとスピード感の同居した美しいコラージュ。"Cephaloparade"の、音色を包丁で刺身にして盛り合わせた上にベースをヴォイスで奏でるという狂気、"Tornado Shuffle"のインクにセンプクし続けていたくなるような、ハイ・プレッシャーな中にあるどこか憎めない生真面目なユーモア。その一方で"Tacozones Rendezvous"のエキゾチックでめまぐるしいサウンドが醸す、うっすら甘酸っぱい胸のトキメキ。彼らの見せる様々な形態は、その歴史の深みを感じさせる。"Octoweaponry"は、ユーモラスな咆哮の中に一方で迫りくる恐怖も感じさせる。三段階でトラックが追加されていく展開は、お約束的だが盛り上がらずにはいられない。彼らの集大成と言っても良いトラックだ。そして何と言っても"I am Octavio"。この一曲はOCTOTOOLのプロデューサーである"DJ Octavio"によるもの(らしい)。もちろん彼の正体も不明だが、この一曲で彼のカリスマを理解するには十分だ。必要以上に荘厳な幕開けと、その後の踊り倒せと言わんばかりのビートとビートの波状攻撃。そのエッジーなビートは我々をイカソーメンのように切り刻む。そしてこの波を潜り抜けた後の静けさの、なんだかツーンとくるセツナサ。
私は彼らが再び地上に現れ、新たな音楽をぶちまけてくれることを期待せずにはいられない。どこかに囚われてでもいない限り、きっと彼らは新しい音楽を生み出しているはずだ。ここではないどこかの地平で鳴り響くような、これらの楽曲。このアルバムのリリースにより、音楽シーンに留まらず、我々のカルチャーに大きな化学変化が起きるのではないか?私はそんなほのかな期待をしている。
オキモト ツケル(月刊タッドポール編集長)
---
Translation
Turquoise October & DJ Octavio
■The music sources which is unknown to the public from the underground, finally come out under the sun!
If you are trendy young people loving music, you may know the name. Yes, it's "Turquoise October". The master music sources were unearthed this time, so it will be released as a CD. The history of these music sources is long. Some people said that it has begun since a nerd caught an electrical wave with an old model radio. Although the credibility is not clear, these music sources have been duplicated again and again for music fans for a long time and circulated covertly. The opportunity of them (of course we don't know the details, I call as "they" for convenience.) getting well‐known again was the broadcast signal intrusion of Inkopolis Tower incident on 6th November Mollusc Era 2014. The boys and girls, who didn't show any interest in the vanishing of the Great Zapfish, couldn't help lending their squid fin to the roaring music never heard. In such time, fortunately, the music sources were found from the dust box next to the Inkopolis Tower, and being released this time.
As a piece of music, it's totally different from squid's one and has evolved in unique ways. Like as an out of place artifact. There is only one album (it's pirate edition by some editor, so it maybe is incorrect that I call it as an album) and nothing is unveiled like the number of members, their career, and their identity. This style of music was called "diligence" from old time. You can feel it as an unfamiliar word. Basically, it's the word doesn't repose on our dictionary today. According to some linguist, it seems to be the antonym of "indolence". We can't even imagine such a concept exists. Although they are such mysterious people, the pieces of music are totally eloquent. Patching up many kinds of sound sources (we can't understand many of them what makes sounds), it led to break beats like octopus legs as the beauty of sophisticated process and form. The regularity in the randomness is tangling up the listeners like as a Disruptor and brings the addictiveness. (As for me, my life rhythm went mad since I've listened again and again enough to get a bump on my squid fin. My life is truly irregular as I get up just 7 am every morning...)
The recurring regular simple beats in the Eight-Legged Advance makes me feel their essence. Like as a beginning of a new adventure, it's the appropriate music to the opening tune for this album. Tentacular Circus was broadcasted in the broadcast signal intrusion of Inkopolis tower incident. So it may be fresh in your memory. A beautiful collage including strange balance and speed, giving a feeling like as I'll fall down unless I watch my step. Cephaloparade has a kind of insanity slicing the tones into sashimi and dishing up with voice bass line. Tornado Shuffle is including innocent and serious humor in high pressure making us want to be hiding in ink puddle. On the other hand, Tacozones Rendezvous's exotic and bustling sounds produce sour‐sweet excitement. Their various form tells us their long history. Octoweaponry has humorous roars. These are also telling us the threat of terror. Adding tracks in three steps, it's a typical stream but makes us can't help getting into swing. It's the compilation of their tracks. And it's the I am Octavio, this music was made by "DJ Octavio"[6] the producer of Turquoise October (it seems to be). Of course, his identity isn't unveiled, but this music tells us something enough to understand his charisma. Too much impressive opening more than necessary, and attacks in waves of beats and beats like as making us dance. Those edgy beats make squid soup outta us[7]. And then, silence, hot, and spicy sorrow after the waves.
I can't help looking forward to them rising up again and showing new music. They should be producing new music unless they are imprisoned somewhere. These pieces of music like as roaring from the horizontal line of somewhere out of here. I'm hoping our music scene, furthermore, our culture will get a chemical change by this album release.
Tsukeru Okimoto (Monthly TADPOLE chief editor)
Credits
Music By
Toru Minegishi (disk 1 track 1-12, 15-22, 25, disk 2 track track 5-12, 14-18, 36)
Shiho Fujii (disk 1 track 13, 14, 23, 24, disk 2 track 1-4, 13, 19, 20, 35)
Sound Effects By
Performers
Recorded & ProTools Operated By
Takashi Koiwa (disk 1 track 1-8, 13, 14, disk 2 track 1, 3, 4, 19, 20; as Takashi Koiwa (SIGN SOUND LLC))
Mixed & ProTools Operated By
Takashi Koiwa (disk 1 track 13, 14; as Takashi Koiwa (SIGN SOUND LLC))
Mastering Engineer
Gallery
Album Booklet
Interchangeable Album Covers
References