Squid Girl
From Inkipedia, the Splatoon wiki
For the gear brand, see The SQUID GIRL.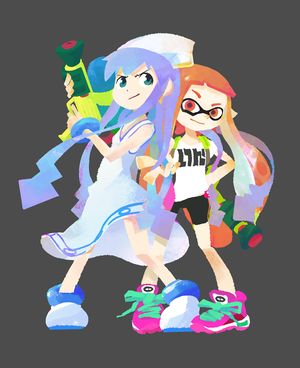 Squid Girl, also known as Shinryaku! Ika Musume (侵略!イカ娘 Invade! Squid Girl) is a Japanese comic series by artist Masahiro Anbe about a young squid girl that emerges from the ocean in order to invade Earth to punish them for polluting the ocean, but ends up working at a shop nearby in order to work off a debt. The series has also been adapted to animation.
Squid Girl outfit announcement
On April 1st, Masahiro posted a drawing of an Inkling wearing a School Uniform to his Twitter account.[1] This was followed in May with Squid Girl and Splatoon crossover artworks by Masahiro, including artworks in the comic magazine, Weekly Shounen Champion.
A page in the Weekly Shounen Champion magazine announced an upcoming Splatoon release:
"
そしてついに「侵略!イカ娘」コラボコスチューム制作開始! 無料アップデートでオリジナルコスチュームの配信が決定! 果たしてどんなビジュアルに!?配信開始予定の8月を待て!
"

— Weekly Shounen Champion
In English, this translates as:
"
And finally, the "Squid Girl" collaboration costume production has begun!

It has been determined this original costume will be delivered as a free update! What is it expected to look like? Wait for the planned distribution to start in August!

"

— Weekly Shounen Champion (Translation)
SQUID GIRL Gear
Main article: SQUID GIRL Gear
On 5 August 2015, three pieces of gear based on Squid Girl were released, including the SQUID GIRL Hat, SQUID GIRL Tunic, and SQUID GIRL Shoes.
Gallery
References