Super Mushroom vs. Super Star
From Inkipedia, the Splatoon wiki
Super Mushroom vs. Super Star​
Super Mushroom vs. Super Star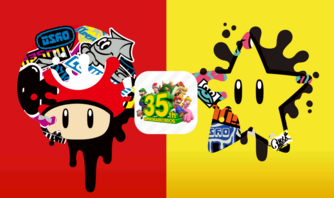 Team

 

Super Mushroom

 

Super Star
Region
Global
Start

15 January 2021

, 22:00 UTC
End

17 January 2021

, 22:00 UTC
Score method
category tally
Result type
combined
Popularity
31.80%
68.2%
Wins
%
Expression error: Unrecognized punctuation character "{".%
Solo wins
%
Expression error: Unrecognized punctuation character "{".%
Team wins
%
Expression error: Unrecognized punctuation character "{".%
Normal clout
53.41%
46.59%
Pro clout
54.12%
45.88%
Score
2
1
Winner
Super Mushroom
Region
Start

30 November 2022

, 15:19 UTC
End

2 December 2022

, 15:19 UTC
Popularity
%
Expression error: Unrecognized punctuation character "{".%
Wins
%
Expression error: Unrecognized punctuation character "{".%
Solo wins
%
Expression error: Unrecognized punctuation character "{".%
Team wins
%
Expression error: Unrecognized punctuation character "{".%
Normal clout
%
Expression error: Unrecognized punctuation character "{".%
Pro clout
%
Expression error: Unrecognized punctuation character "{".%
Score
Expression error: Unexpected < operator.
Expression error: Unexpected < operator.
Winner
Region
Start

30 November 2022

, 15:19 UTC
End

2 December 2022

, 15:19 UTC
Popularity
%
Expression error: Unrecognized punctuation character "{".%
Wins
%
Expression error: Unrecognized punctuation character "{".%
Solo wins
%
Expression error: Unrecognized punctuation character "{".%
Team wins
%
Expression error: Unrecognized punctuation character "{".%
Normal clout
%
Expression error: Unrecognized punctuation character "{".%
Pro clout
%
Expression error: Unrecognized punctuation character "{".%
Score
Expression error: Unexpected < operator.
Expression error: Unexpected < operator.
Winner
Super Mushroom (Super size) vs. Super Star (Invincibility) was a Splatfest event in Splatoon 2 held to celebrate the 35th anniversary of the Super Mario Bros. series. It was announced during the Super Mario Bros. 35th Anniversary Direct on 3 September 2020 and was announced in-game on 28 December 2020 at 02:00 UTC.[1] The results were given on 17 January 2021.
Details
On the 21st of July 2020, the 3rd anniversary of Splatoon 2's release, along with the announcement of the Mayo vs. Ketchup rematch, the Japanese Splatoon Twitter announced that three additional Splatfests were planned to be held before the end of the year.[2]
The Splatfest theme was about two power-ups from the Super Mario Bros. series: the Super Mushroom, which grants super size, and the Super Star, which grants invincibility.
The full name of each choice was "SUPER MUSHROOM" and "SUPER STAR". The team name portion of Splatfest titles was "Super Mushroom" and "Super Star".
Merchandise
Splatfest T-shirts based on the artwork for the event were made available to purchase at the My Nintendo Store soon after the announcement. They are also available on Nintendo's online stores for South Korea and Hong Kong. Additionally, Splatfest keychains can be bought for 100 Platinum Points in North America, Europe, and Japan.[3]
Super Mario Bros. 35th Anniversary medals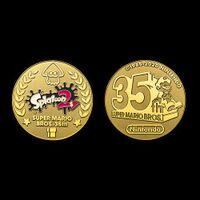 To celebrate the Super Mario Bros. 35th Anniversary, special medals were available for participants in North America,[4] Europe,[5] Japan,[6] and Oceania.[7]
Medals were awarded to top 100 players of each team in Japan and Europe, the top 35 players of each team in North America and the top 10 players of each team in Oceania. In Japan, additional 100 random players received the medals as well.
On 9 December 2020, Nintendo of Japan[8] revealed further information about the collectible medals within Japan. On 21 December 2020, Nintendo of America revealed the Splatoon 2 Online Challenge with further details on rules, sign-up and legitability. On 12 January 2021 Nintendo of Europe Twitter mentioned details about the medals within Europe[9] and on 13 January 2021 Nintendo AU NZ mentioned details about the medals within Oceania.[10]
Super Mushroom vs. Super Star featured four Shifty Station layouts that rotate each rotation, with dynamic gimmicks: Cannon Fire Pearl, The Bunker Games, The Bouncey Twins and The Chronicles of Rolonium.
Continuing from Trick vs. Treat (2020), the increased 100× Battle rates that were originally advertised for Chaos vs. Order were still in effect for this Splatfest.[11]
Trivia
This is the first Splatfest with an original theme since Chaos vs. Order - the event that was officially dubbed as the final one. This was referenced by Marina in the announcement dialogue.

Marina's confusion at Chaos vs. Order not being the final Splatfest suggests that the previous three rematch Splatfests are considered non-canonical. This is further backed up with how Chaos vs. Order was described as the previous Splatfest in the Japanese dialog, despite the three Splatfests in between.

Each Shifty Station available in this Splatfest has some sort of mechanic equivalent to Mario mechanics. Ink Cannons are similar to cannons on airship courses, containment chambers are similar to one-time bonus rooms, Bounce Pads are similar to trampolines, and Rolonium is similar to Koopa Troopa shells that Mario can kick.
The ink colors for this Splatfest are absent from being chosen in Private Battles. This trait is shared with Raph vs. Donnie and Hello Kitty vs. My Melody.
Gallery
Dialogue
Translation needed




Complete French (France and Canada), Italian, Japanese, Russian and Spanish (Spain and Latin America) translations. edit
English
Announcement
Pearl's Dialogue
Marina's Dialogue
Region

Pearl:
"Back like we never left—it's Mario time!"

Marina:
"We're celebrating the Super Mario Bros. 35th Anniversary, Splatfest style!"
NOE, NOA

Pearl:
"Would you rather go big and have Super Mushroom power?"

Marina:
"Or would you rather have Super Star power and be invincible?"
NOE, NOA
Pearl:
"-"

Marina:
"Hold up, though, Pearl. Wasn't the Splatocalypse the FINAL Splatfest?"
NOE, NOA

Pearl:
"It was, but... It's Mario! We gotta throw a party!"
Marina:
"-"
NOE, NOA
Pearl:
"-"

Marina:
"True that! OK, back to business..."
NOE, NOA
Pearl:
"-"

Marina:
"Pearl, I'm guessing you're Team Super Star?"
NOE, NOA

Pearl:
"What?! No way. Super Mushroom for life!"
Marina:
"-"
NOE, NOA
Pearl:
"-"

Marina:
"Oh, really? I thought maybe you wouldn't want to, uh, admit..."
NOE, NOA

Pearl:
"ADMIT WHAT?!"
Marina:
"-"
NOE, NOA
Pearl:
"-"

Marina:
"Um... Just, uh... You know, that you're not... Eh... Big...enough...already?"
NOE, NOA

Pearl:
"Listen, Marina. I'm already huge. I'm already unstoppable. Why not go bigger!"
Marina:
"-"
NOE, NOA
Pearl:
"-"

Marina:
"Oh, right... Because there's no such thing as invincible-er?"
NOE, NOA

Pearl:
"Exactly."
Marina:
"-"
NOE, NOA
Pearl:
"-"

Marina:
"Got it."
NOE, NOA
Pearl:
"-"

Marina:
"In that case..."
NOE, NOA
Pearl:
"-"

Marina:
"It's Team Super Star for me! Star power here I come."
NOE, NOA

Pearl:
"You're already a star, Marina. We're an unstoppable duo!"
Marina:
"-"
NOE, NOA

Pearl:
"We're Off the Hook, never shook, win every fight like a shark bite!"
Marina:
"-"
NOE, NOA
Pearl:
"-"

Marina:
"Can't argue with that. But I'm also really into running super fast and sparkles."
NOE, NOA

Pearl:
"C'mon, Marina. One time. Let's fight for the same team!"
Marina:
"-"
NOE, NOA
Pearl:
"-"

Marina:
"Can't do it, Pearl. The star is calling..."
NOE, NOA
Pearl:
"-"

Marina:
"DOOT DOOT DOOT, DA-DOOT DOOT, DA-DOODLE-OOT!"
NOE, NOA

Pearl:
"Get big, bust bricks, don't you ever forget!"
Marina:
"-"
NOE, NOA

Pearl:
"Stomping trouble double size, blowing up before your very eyes!"
Marina:
"-"
NOE, NOA
Pearl:
"-"

Marina:
"Agree to disagree?"
NOE, NOA

Pearl:
"Agreed. Let's-a go, Super Mushrooms!"
Marina:
"-"
NOE, NOA
Pearl:
"-"

Marina:
"Jump up, Super Stars!"
NOE, NOA

Pearl:
"By the way, this is a 48-hour Splatfest, so be ready to give it your all."
Marina:
"-"
NOE, NOA
Pearl:
"-"

Marina:
"Hit the turf splattin' and don't let up!"
NOE, NOA

Pearl:
"Now head over to the Splatfest terminal and pick your favorite power-up."

Marina:
"Do it for Mario! And make sure to equip your Splatfest Tee and level it up."
NOE, NOA



Introduction
Pearl's Dialogue
Marina's Dialogue
Region
Pearl:
"The Super Mario Bros. 35th Anniversary Splatfest Collabaganza has begun!"
Marina:
"Let's-a go! Head over to the Splatfest terminal and pick a side!"
NOE, NOA



Results
Pearl's Dialogue
Marina's Dialogue
Region

Pearl:
"Super Mushrooms goin' big!"

Marina:
"Dang it..."
NOE, NOA

Pearl:
"Big ups to all my teammates! So much for "invincible.""

Marina:
"Whatever. I'm proud of my Super Stars! We lost, but we still shined bright."
NOE, NOA

Pearl:
"True that. Splatfests are the best!"
Marina:
"-"
NOE, NOA
Pearl:
"-"

Marina:
"You said it, Pearl! That was so. Much. Fun."
NOE, NOA
Pearl:
"-"

Marina:
"I'm kinda bummed that I can't call myself a Super Star after today, though..."
NOE, NOA

Pearl:
"What?! Put a cork in that right now."
Marina:
"-"
NOE, NOA
Pearl:
"-"

Marina:
"..."
NOE, NOA

Pearl:
"You'll always be a star to me, Marina. You light up my life!"
Marina:
"-"
NOE, NOA
Pearl:
"-"

Marina:
"I... I don't know what to say..."
NOE, NOA
Pearl:
"-"

Marina:
"*sniff* Thank you, Pearl. *sniff* That was really...big of you."
NOE, NOA

Pearl:
"I see what you did there..."
Marina:
"-"
NOE, NOA
Pearl:
"-"

Marina:
"Seriously though, Pearl. What would happen to us if I lost my touch?"
NOE, NOA

Pearl:
"Whoa, whoa. Hold up, Marina. You've ALWAYS had the goods."
Marina:
"-"
NOE, NOA

Pearl:
"Your beats are the best! I've never wanted to rap on anything else."
Marina:
"-"
NOE, NOA
Pearl:
"-"

Marina:
"I appreciate that, Pearl."
NOE, NOA
Pearl:
"-"

Marina:
"But what if I wasn't a super DJ anymore... What if I lose my shine?"
NOE, NOA

Pearl:
"Marina! Get those negative thoughts outta your head. For real!"
Marina:
"-"
NOE, NOA

Pearl:
"If that happened, we'd work together to power you back up. We're a team!"
Marina:
"-"
NOE, NOA
Pearl:
"-"

Marina:
"Off the Hook?"
NOE, NOA

Pearl:
"Never shook!"
Marina:
"-"
NOE, NOA
Pearl:
"-"

Marina:
"Win every fight?"
NOE, NOA

Pearl:
"LIKE A SHARK BITE!"
Marina:
"-"
NOE, NOA

Pearl:
"If you played in the Splatfest, your Sea Snails are waiting in the square!"

Marina:
"Off the Hook signing off. Love you all!"
NOE, NOA



Results if Super Star were to win
Pearl's Dialogue
Marina's Dialogue
Region
Pearl:
"-"

Marina:
"Super Stars are unstoppable!"
NOE, NOA

Pearl:
"You gotta be squiddin' me..."
Marina:
"-"
NOE, NOA
Pearl:
"-"

Marina:
"We did it, team! We moved fast, sparkled hard, and proved invincible!"
NOE, NOA

Pearl:
"Sparkled...hard? Whatever... My Super Mushrooms lost but still came up big!"
Marina:
"-"
NOE, NOA

Pearl:
"Splatfests are the best!"
Marina:
"-"
NOE, NOA
Pearl:
"-"

Marina:
"You said it, Pearl! That was so. Much. Fun."
NOE, NOA
Pearl:
"-"

Marina:
"Although, I will say... Splattin' for 48 hours straight was tough."
NOE, NOA

Pearl:
"No kidding! It has been quite a while since we had a Splatfest."
Marina:
"-"
NOE, NOA
Pearl:
"-"

Marina:
"That's for sure... I won today, but it was hard. What if my star is fading?"
NOE, NOA

Pearl:
"What?! Put a cork in that right now."
Marina:
"-"
NOE, NOA
Pearl:
"-"

Marina:
"..."
NOE, NOA

Pearl:
"You'll always be a star to me, Marina. You light up my life!"
Marina:
"-"
NOE, NOA
Pearl:
"-"

Marina:
"I... I don't know what to say..."
NOE, NOA
Pearl:
"-"

Marina:
"*sniff* Thank you, Pearl. *sniff* That was really...big of you."
NOE, NOA

Pearl:
"I see what you did there..."
Marina:
"-"
NOE, NOA
Pearl:
"-"

Marina:
"Seriously, though, Pearl. What would happen to us if I lost my touch?"
NOE, NOA

Pearl:
"Whoa, whoa. Hold up, Marina. You've ALWAYS had the goods."
Marina:
"-"
NOE, NOA

Pearl:
"Your beats are the best! I've never wanted to rap on anything else."
Marina:
"-"
NOE, NOA
Pearl:
"-"

Marina:
"I appreciate that, Pearl."
NOE, NOA
Pearl:
"-"

Marina:
"But what if I wasn't a super DJ anymore... What if I lose my shine?"
NOE, NOA

Pearl:
"Marina! Get those negative thoughts outta your head. For real!"
Marina:
"-"
NOE, NOA

Pearl:
"If that happened, we'd work together to power you back up. We're a team!"
Marina:
"-"
NOE, NOA
Pearl:
"-"

Marina:
"Off the Hook?"
NOE, NOA

Pearl:
"Never shook!"
Marina:
"-"
NOE, NOA
Pearl:
"-"

Marina:
"Win every fight?"
NOE, NOA

Pearl:
"LIKE A SHARK BITE!"
Marina:
"-"
NOE, NOA

Pearl:
"If you played in the Splatfest, your Sea Snails are waiting in the square!"

Marina:
"Off the Hook signing off. Love you all!"
NOE, NOA



Dutch
Announcement
Lorelei's Dialogue
Mariana's Dialogue
Region

Lorelei:
"Terug alsof we nooit zijn weggeweest! Het is Mario-tijd!"
(Back as if we never left! It is Mario time!)

Mariana:
"We vieren het 35-jarig jubileum van Super Mario Bros. met een Splatfest!"
(We celebrate the 35 year anniversary of the Super Mario Bros. with a Splatfest)
NOE

Lorelei:
"Pak je het groot aan met de kracht van de superpaddenstoel?"
(Are you going big with the power of the Super Mushroom?)

Mariana:
"Of wil je de kracht van de superster om onverslaanbaar te zijn?"
(Or do you want the power of the Super Star to be invincible?)
NOE
Lorelei:
"-"

Mariana:
"Wacht even, Lorelei... De Splatocalypse was toch het laatste Splatfest?"
(Hold on, Pearl... The Splatocalypse was the last Splatfest, right?)
NOE

Lorelei:
"Uh, ja... dat klopt, ja... maar... Het is Mario! Dat mogen we niet missen!"
(Er, yes... that is right, yes... but... It is Mario! We cannot miss that!)
Mariana:
"-"
NOE
Lorelei:
"-"

Mariana:
"Dat is ook weer zo! Oké, ter zake..."
(That is also true! Okay, to the point...)
NOE
Lorelei:
"-"

Mariana:
"Lore, ik neem aan dat jij je aansluit bij team Ster?"
(Pearl, I assume that you join team Star?)
NOE

Lorelei:
"Wat?! Echt niet. Niks zo cool als een superpaddenstoel!"
(What?! Not really. Nothing as cool as a Super Mushroom!)
Mariana:
"-"
NOE
Lorelei:
"-"

Mariana:
"O, echt waar? Ik dacht, misschien wil je niet, eh... toegeven dat, eh..."
(Oh, really? I thought, maybe you do not want, er... admit that, er...)
NOE

Lorelei:
"Wat toegeven?"
(Admit what?)
Mariana:
"-"
NOE
Lorelei:
"-"

Mariana:
"Eh, nou... Dat je... eh... Weet je... dat je misschien niet zo groot bent?"
(Er, well... that you... er... You know... that you maybe are not that big?)
NOE

Lorelei:
"Mariana, ik ben een echte gigant. Maar groter groeien kan altijd!"
(Marina, I am a real giant. But [you] can always grow bigger!)
Mariana:
"-"
NOE
Lorelei:
"-"

Mariana:
"O, juist... En onverslaanbaarder dan onverslaanbaar kun je niet worden?"
(Oh, right... And you cannot become more invincible that invincible?)
NOE

Lorelei:
"Precies!"
(Exactly!)
Mariana:
"-"
NOE
Lorelei:
"-"

Mariana:
"Ik snap 't."
(I get it.)
NOE
Lorelei:
"-"

Mariana:
"In dat geval..."
(In that case...)
NOE
Lorelei:
"-"

Mariana:
"Team Ster is mijn team! Eindelijk ben ík de superster!"
(Team Star is my team! Finally I am the super star!)
NOE

Lorelei:
"Je bent al een ster, Mariana. We zijn een onverslaanbaar duo!"
(You are already a star, Marina. We are an invincible duo!)
Mariana:
"-"
NOE

Lorelei:
"Wij zijn Tentacool, we hebben één doel! Aan elkaars zijde trekken we ten strijde!"
(We are Off the Hook, we have one goal! By each other's side we have the strength to battle!)
Mariana:
"-"
NOE
Lorelei:
"-"

Mariana:
"Klinkt goed. Maar ik ben ook wel fan van snel rennen en van glitters."
(Sounds good. But I am also fairly fan of running fast and glitters.)
NOE

Lorelei:
"Kom op, Mariana. Laten we voor één keertje voor hetzelfde team vechten!"
(Come on, Marina. Let's for one time fight for the same team!)
Mariana:
"-"
NOE
Lorelei:
"-"

Mariana:
"Nee Lorelei, dat gaat niet... Ik hoor de lokroep van de ster al..."
(No Pearl, that won't work... I hear the luring call of the star already...)
NOE
Lorelei:
"-"

Mariana:
"DOE DOE DOE, DA-DOE DOE, DA-DOEDE-OE!"
(DOO DOO DOO, DA-DOO DOO, DA-DOODU-OO!)
NOE

Lorelei:
"Gigagroeispurt, van groots naar groter! Paddenstoel voor mij, liefst met boter!"
(Giga growth spurt, from grand to grander! Mushroom for me, preferably with butter!)
Mariana:
"-"
NOE

Lorelei:
"Dubbel zo groot, geen woord gelogen, ik groei, ik groei, ik groei voor je ogen!"
(Double so big, no word is a lie, I grow, I grow, I grow before you eyes!)
Mariana:
"-"
NOE
Lorelei:
"-"

Mariana:
"Eens zien of je nog zo blij bent na wat grondoorlogen..."
(Let's see if you are still so happy after some Turf Wars...)
NOE

Lorelei:
"Pff, alsof wij gaan verliezen. Let's-a go, paddenstoeltjes van me!"
(Pff, as if we are going to lose. Let's-a go, little mushrooms of me!)
Mariana:
"-"
NOE
Lorelei:
"-"

Mariana:
"Laat ze sterretjes zien, supersterren!"
(Show them little stars, Super Stars!)
NOE

Lorelei:
"Dit is trouwens een Splatfest dat 48 uur duurt, dus bereid jullie voor..."
(This is a Splatfest that last 48 hours by the way, so prepare youself...)
Mariana:
"-"
NOE
Lorelei:
"-"

Mariana:
"Twee dagen niets dan kliederen en kladderen!"
(Two days nothing than to mess about and to make blots!)
NOE

Lorelei:
"Kies bij de Splatfest-stemmachine je favoriete power-up."
(Choose your favorite power-up at the Splatfest voting machine.)

Mariana:
"Doe het voor Mario! En vergeet niet om je Splatfest-T-shirt alvast aan te doen."
(Do it for Mario! And do not forget to wear your Splatfest T-shirt in advance.)
NOE



Introduction
Lorelei's Dialogue
Mariana's Dialogue
Region
Lorelei:
"Het Splatfest voor 35 jaar Super Mario Bros. is begonnen!"
(The Splatfest for 35 year Super Mario Bros. has begun!)
Mariana:
"Let's-a go! Op naar de Splatfest-stemmachine om een kant te kiezen!"
(Let's-a go! To the Splatfest voting machine to choose a side!)
NOE



Results
Lorelei's Dialogue
Mariana's Dialogue
Region

Lorelei:
"Team Paddenstoel wint groots!"
(Team Mushroom wins grand!)

Mariana:
"Hè verdikkie..."
(Aww shucks...)
NOE

Lorelei:
"Groot applaus voor mijn teamgenoten! 'Onverslaanbaar', ha!"
(Big applause for my teammates! 'Invincible', ha!)

Mariana:
"Pfft. Ik ben toch trots op mijn supersterren! Ze straalden allemaal."
(Pffft. I do am proud of my Super Stars! They all shined.)
NOE

Lorelei:
"Dat is waar. Er gaat niks boven Splatfests!"
(That was true. Nothing beats Splatfests!)
Mariana:
"-"
NOE
Lorelei:
"-"

Mariana:
"Helemaal waar, Lorelei! Dat was weer zóóó tof!"
(Totally true, Pearl! That was sooo cool again!)
NOE
Lorelei:
"-"

Mariana:
"Al had ik gehoopt dat ik me na vandaag een superster had mogen noemen..."
(Although I had hoped that after today I could have called myself a superstar...)
NOE

Lorelei:
"Watte?! Waar heb je het over?"
(What?! What are you talking about?)
Mariana:
"-"
NOE
Lorelei:
"-"

Mariana:
"..."
NOE

Lorelei:
"Voor mij was jij altijd al een ster, Mariana! Niemand straalt zoals jij!"
(For me you were always a star already, Marina! No one shines like you do!)
Mariana:
"-"
NOE
Lorelei:
"-"

Mariana:
"Ik... Ik weet niet wat ik moet zeggen..."
(I... I do not know what I should say...)
NOE
Lorelei:
"-"

Mariana:
"D-Dank je, Lorelei... Je bent mijn... grootste vriendin."
(T-Thank you, Pearl... You are my... biggest friend.)
NOE

Lorelei:
"Je... grootste? Je bent toch geen grapjes aan het maken, hè..."
(Your... biggest? You are not kidding, right...)
Mariana:
"-"
NOE
Lorelei:
"-"

Mariana:
"Hèhè... Maar serieus, Lorelei... Wat doen we als ik niet meer cool ben..."
(Hèhè... But seriously, Pearl... What do we do if I am not cool anymore...)
NOE

Lorelei:
"Ho even, Mariana, niet zo snel. Dat gaat nooit gebeuren!"
(Hold on, Marina, not so fast. That will never happen!)
Mariana:
"-"
NOE

Lorelei:
"Jij hebt de beste beats! Ik heb nog nooit ergens anders overheen willen rappen!"
(You have the best beats! I have never wanted to rap over anything else!)
Mariana:
"-"
NOE
Lorelei:
"-"

Mariana:
"Dat vind ik fijn om te horen, Lore."
(That I like to hear, Pearlie.)
NOE
Lorelei:
"-"

Mariana:
"Maar wat als ik geen super-dj meer zou zijn... Als ik mijn glans verlies?"
(But what if I cannot be a super DJ anymore... If I lose my shine?)
NOE

Lorelei:
"Mariana! Kap eens met dat negatieve gedoe! Serieus!"
(Marina! Quit it with that negative fuss! Seriously!)
Mariana:
"-"
NOE

Lorelei:
"Als dat gebeurt, zorgen we er samen voor dat je er weer bovenop komt!"
(If that happens, together we make sure that you get back on top!)
Mariana:
"-"
NOE
Lorelei:
"-"

Mariana:
"Tentacool..."
(Off the Hook...)
NOE

Lorelei:
"We hebben één doel!"
(We have one goal!)
Mariana:
"-"
NOE
Lorelei:
"-"

Mariana:
"Aan elkaars zijde...?"
(By each other's side...?)
NOE

Lorelei:
"Trekken we ten strijde!"
(We have the strength to battle!)
Mariana:
"-"
NOE

Lorelei:
"Deelnemers aan het Splatfest kunnen hun prijzen ophalen op het plein!"
(Participants in the Splatfest can pick up their prizes in the square!)

Mariana:
"Tentacool zegt tabee. Wees lief, allemaal!"
(Off the Hook says farewell. Be kind, everyone!)
NOE



Results if Super Star were to win
Lorelei's Dialogue
Mariana's Dialogue
Region
Lorelei:
"-"

Mariana:
"Team Ster is onverslaanbaar!"
(Team Star is invincible!)
NOE

Lorelei:
"Dit meen je niet..."
(You cannot be serious...)
Mariana:
"-"
NOE
Lorelei:
"-"

Mariana:
"Het is ons gelukt, team! We waren snel, glitterend en niet te stoppen!"
(We did it, team! We were fast, glittering and not to be stopped!)
NOE

Lorelei:
"Glitterend...? Pfft, mijn superpaddenstoelen zijn grootse verliezers!"
(glittering...? Pfft, my Super Mushrooms were grand losers!)
Mariana:
"-"
NOE

Lorelei:
"Er gaat niks boven Splatfests!"
(Nothing beats Splatfests!)
Mariana:
"-"
NOE
Lorelei:
"-"

Mariana:
"Helemaal waar, Lorelei! Dat was weer zóóó tof!"
(Totally true, Pearl! That was sooo cool again!)
NOE
Lorelei:
"-"

Mariana:
"Al moet ik wel toegeven, zo'n knokpartij van 48 uur was wel hard werk..."
(Although I have to admit, such a brawl that last 48 hours was hard work...)
NOE

Lorelei:
"Vertel mij wat! Het vorige Splatfest was ook al even geleden, natuurlijk."
(You tell me! The last Splatfest was a while ago, of course.)
Mariana:
"-"
NOE
Lorelei:
"-"

Mariana:
"Maar echt... Ik vond het zwaar. Wat als ik niet meer zo straal als vroeger?"
(But for real... I thought it was tough. What if I do not shine as much as I used to?)
NOE

Lorelei:
"Watte?! Waar heb je het over?"
(What?! What are you talking about?)
Mariana:
"-"
NOE
Lorelei:
"-"

Mariana:
"..."
NOE

Lorelei:
"Voor mij was jij altijd al een ster, Mariana! Niemand straalt zoals jij!"
(For me you were always a star already, Marina! No one shines like you do!)
Mariana:
"-"
NOE
Lorelei:
"-"

Mariana:
"Ik... Ik weet niet wat ik moet zeggen..."
(I... I do not know what I should say...)
NOE
Lorelei:
"-"

Mariana:
"D-Dank je, Lorelei... Je bent mijn... grootste vriendin."
(T-Thank you, Pearl... You are my... biggest friend.)
NOE

Lorelei:
"Je... grootste? Je bent toch geen grapjes aan het maken, hè..."
(Your... biggest? You are not kidding, right...)
Mariana:
"-"
NOE
Lorelei:
"-"

Mariana:
"Hèhè... Maar serieus, Lorelei... Wat doen we als ik niet meer cool ben..."
(Hèhè... But seriously, Pearl... What do we do if I am not cool anymore...)
NOE

Lorelei:
"Ho even, Mariana, niet zo snel. Dat gaat nooit gebeuren!"
(Hold on, Marina, not so fast. That will never happen!)
Mariana:
"-"
NOE

Lorelei:
"Jij hebt de beste beats! Ik heb nog nooit ergens anders overheen willen rappen!"
(You have the best beats! I have never wanted to rap over anything else!)
Mariana:
"-"
NOE
Lorelei:
"-"

Mariana:
"Dat vind ik fijn om te horen, Lore."
(That I like to hear, Pearlie.)
NOE
Lorelei:
"-"

Mariana:
"Maar wat als ik geen super-dj meer zou zijn... Als ik mijn glans verlies?"
(But what if I cannot be a super DJ anymore... If I lose my shine?)
NOE

Lorelei:
"Mariana! Kap eens met dat negatieve gedoe! Serieus!"
(Marina! Quit it with that negative fuss! Seriously!)
Mariana:
"-"
NOE

Lorelei:
"Als dat gebeurt, zorgen we er samen voor dat je er weer bovenop komt!"
(If that happens, together we make sure that you get back on top!)
Mariana:
"-"
NOE
Lorelei:
"-"

Mariana:
"Tentacool..."
(Off the Hook...)
NOE

Lorelei:
"We hebben één doel!"
(We have one goal!)
Mariana:
"-"
NOE
Lorelei:
"-"

Mariana:
"Aan elkaars zijde...?"
(By each other's side...?)
NOE

Lorelei:
"Trekken we ten strijde!"
(We have the strength to battle!)
Mariana:
"-"
NOE

Lorelei:
"Deelnemers aan het Splatfest kunnen hun prijzen ophalen op het plein!"
(Participants in the Splatfest can pick up their prizes in the square!)

Mariana:
"Tentacool zegt tabee. Wees lief, allemaal!"
(Off the Hook says farewell. Be kind, everyone!)
NOE



French (France)
Announcement
Perle's Dialogue
Coralie's Dialogue
Region

Perle:
« Ça vous manquait ? À nous aussi ! Vas-y Coralie, à toi l'honneur ! »
(Did you miss it? So did we! Let's go, Marina, do the honors!)

Coralie:
« Hiii ! On organise un festival pour les 35 ans de Super Mario Bros. ! »
(Yeeee! We're throwing a festival for the 35th anniversary of Super Mario Bros.!)
NOE

Perle:
« Dites un peu : vous êtes plutôt champi et grande poussée de croissance... »
(Tell me: are you rather a "mush and big growth spurt"...)

Coralie:
« ... ou bien étoile et invincibilité conquérante ? »
(... or a "star and conquering invincibility"?)
NOE
Perle:
« - »

Coralie:
« Une seconde... La Splatocalypse, c'était pas censé être le dernier festival ? »
(One second... The Final Fest, wasn't that said to be the last Splatfest?)
NOE

Perle:
« Ouais, non mais là, c'est l'anniv de Mario ! Faut qu'on marque le coup ! »
(Yeah, but c'mon, it's Mario's birthday! We gotta commemorate it!)
Coralie:
« - »
NOE
Perle:
« - »

Coralie:
« OK, ça me va comme ça ! Alors, voyons un peu... »
(Okay, I can roll with that! So, let's have a look...)
NOE
Perle:
« - »

Coralie:
« J'imagine que pour toi, Perle, c'est tout vu ! Super étoile, pas vrai ? »
(I'm guessing for you, Pearl, it's obvious! Super Star, right?)
NOE

Perle:
« Alors là, t'as tout faux ! Équipe champi sans hésitation ! »
(Well now, you got it all wrong! Team mush with no hesitation!)
Coralie:
« - »
NOE
Perle:
« - »

Coralie:
« Ah bon ? C'est drôle, je pensais que t'aurais peur qu'on croie que, euh... »
(Oh yeah? That's funny, I thought you'd be afraid that everyone thinks that, ehh...)
NOE

Perle:
« Qu'on croie quoi, exactement ? »
(That everyone thinks what, exactly?)
Coralie:
« - »
NOE
Perle:
« - »

Coralie:
« Eh bien, tu sais... que tu n'assumais pas... enfin... ta taille actuelle, et que... »
(Um well, you know... that you have not reached... err... your final size, and that...)
NOE

Perle:
« C'est juste une question de logique, Coralie... Je suis DÉJÀ invincible. »
(It's just a question of logic, Marina... I'm ALREADY invincible.)
Coralie:
« - »
NOE
Perle:
« - »

Coralie:
« Alors tu te dis qu'on peut toujours être plus grand, mais pas plus invincible ? »
(So you're saying one can always be bigger, but not more invincible?)
NOE

Perle:
« Voilà. »
(There you go.)
Coralie:
« - »
NOE
Perle:
« - »

Coralie:
« Mouais, soit. »
(Myeah, alright.)
NOE
Perle:
« - »

Coralie:
« Bon, eh ben... »
(Well, ehm...)
NOE
Perle:
« - »

Coralie:
« Ce sera donc l'équipe étoile pour moi ! »
(It's gotta be team star for me!)
NOE

Perle:
« Mais toi aussi, t'es déjà invincible, Coralie ! On est les Tenta-Cool ! »
(But you too, you're already invincible. Marina! We're Off the Hook!)
Coralie:
« - »
NOE

Perle:
« Il suffit qu'on déboule ! La victoire est nôtre ! Et tant pis pour les autres ! »
(We just gotta get out there! Victory is ours! And too bad for the others!)
Coralie:
« - »
NOE
Notes: The first line that Pearl says rhymes with "Off the Hook", and the other two rhyme with each other
Perle:
« - »

Coralie:
« C'est sûr ! Mais filer comme le vent en scintillant, c'est quand même sympa ! »
(That's for sure! But running like the wind all sparkling, that's kinda nice!)
NOE

Perle:
« Allez, fais pas semblant. On a qu'à être dans la même équipe, pour une fois ! »
(C'mon, don't pretend. We just gotta be on the same team, for once!)
Coralie:
« - »
NOE
Perle:
« - »

Coralie:
« Désolée, Perle... je crois que c'est trop tard. J'ai la mélodie dans la tête. »
(Sorry, Pearl... I think it's too late. I've already got the song in my head.)
NOE
Perle:
« - »

Coralie:
« TA TA TA, TA TA TATA, TA, TA TA TA, TA TA TATA, TA... »
NOE

Perle:
« Te laisse pas embobiner, Coralie ! Tu vas trop le regretter ! »
(Don't get wound up, Marina! You're gonna regret it!)
Coralie:
« - »
NOE

Perle:
« Ton étoile, elle te permet même pas de casser des blocs ! »
(Your star, it doesn't even let you break blocks!)
Coralie:
« - »
NOE
Perle:
« - »

Coralie:
« Oui mais tu scintiiiiilles... »
(Yes but you spaaaaaaaarkle...)
NOE

Perle:
« OK, j'abandonne. Let's-a go, mes petits champis ! »
(Okay, I give up. Let's-a go, my little mushies!)
Coralie:
« - »
NOE
Perle:
« - »

Coralie:
« Les super étoiles au firmament ! »
(Super stars in the sky!)
NOE

Perle:
« Pis on aura le temps d'en profiter, le festival durera 48 heures ! »
(And we're gonna have the time to enjoy it, the Splatfest is going to last 48 hours!)
Coralie:
« - »
NOE
Perle:
« - »

Coralie:
« Deux jours entiers de lutte acharnée ! »
(Two whole days of fierce battles!)
NOE

Perle:
« Alors direction la borne festive pour choisir votre camp ! »
(So go over to the Splatfest terminal and choose your side!)

Coralie:
« Mario compte sur vous ! Et n'oubliez pas d'améliorer votre t-shirt festif ! »
(Mario is counting on you! And don't forget to upgrade your Splatfest Tee!)
NOE



Introduction
Perle's Dialogue
Coralie's Dialogue
Region
Perle:
« Le festival des 35 ans de Super Mario Bros. a commencé !!! »
Coralie:
« Youhou ! Direction la borne festive pour choisir votre camp ! »
NOE



Results
Perle's Dialogue
Coralie's Dialogue
Region

Perle:
« Youhou ! C'est qui les champions ? C'est les champis ! »
(Yoohoo! Who are the champions? It's the mushrooms!)

Coralie:
« Mais mais mais... on était invincibles... »
(But but but... We were invincible...)
NOE
Notes: The French word for mushroom, "champignon", sounds a lot like the word "champion"

Perle:
« Eh oui, le problème, avec l'étoile, c'est que ça dure pas longtemps... »
(Eh yea, the problem, with the star, is that it doesn't last long...)

Coralie:
« On a peut-être perdu, mais au moins, on a brillé de mille feux ! »
(We might have lost, but at least, we shined a thousand lights!)
NOE

Perle:
« T'as raison, Coralie ! Et puis l'important dans un festival, c'est de s'éclater ! »
(You're right, Marina! And the most important thing in a Splatfest, it's to explode!)
Coralie:
« - »
NOE
Perle:
« - »

Coralie:
« Bien dit, Perle ! J'en ai savouré chaque minute ! »
(Well said, Pearl! I savored every minute!)
NOE
Perle:
« - »

Coralie:
« C'est juste un peu triste de ne plus être une étoile. J'aimais bien scintiller... »
(It's just a little sad to not be a star anymore. I really liked sparkling...)
NOE

Perle:
« Pff, Coralie ! Arrête un peu, tu veux ? »
(Pff, Marina! Stop it, would you?)
Coralie:
« - »
NOE
Perle:
« - »

Coralie:
« Hein ? »
(Huh?)
NOE

Perle:
« Tu seras toujours une étoile à mes yeux, OK ? Tu illumines ma vie ! »
(You will always be a star in my eyes, okay? You light up my life!)
Coralie:
« - »
NOE
Perle:
« - »

Coralie:
« Perle... Je... Je ne sais pas quoi dire... »
(Pearl... I... I don't know what to say...)
NOE
Perle:
« - »

Coralie:
« Snif, merci, Perle... T'es la plus grande amie que j'aie jamais eue. »
(Sniff, thank you, Pearl... You're the greatest friend I ever had.)
NOE
Notes: "La plus grande amie" could mean "the greatest friend" figuratively, or "the largest/tallest friend" physically

Perle:
« La plus grande, ouais... si on veut. »
(The largest, yeah... If you say so.)
Coralie:
« - »
NOE
Perle:
« - »

Coralie:
« N'empêche, ça m'inquiète, parfois. Imagine que je perde tout mon talent... »
(Still, it worries me, sometimes. Imagine if I lost all my talent...)
NOE

Perle:
« Je t'arrête tout de suite, ça n'arrivera JAMAIS. »
(I'm stopping you right there, that will NEVER happen.)
Coralie:
« - »
NOE

Perle:
« T'as le rythme dans la peau, Coralie ! Jamais je rapperais sur un autre beat. »
(You have rhythm in your skin, Marina! I would never rap on another beat.)
Coralie:
« - »
NOE
Perle:
« - »

Coralie:
« Oh, Perle... c'est trop gentil ! »
(Oh, Pearl... that's too nice!)
NOE
Perle:
« - »

Coralie:
« Mais je pourrais perdre la main, tu sais. Tous les jours, des étoiles s'éteignent... »
(But I could lose my touch, you know. Every day, there are stars that wink out...)
NOE

Perle:
« Ouah, ça suffit les idées noires ! Toute façon, je vois pas le problème. »
(Wah, that's enough of these dark thoughts! Anyway, I don't see the problem.)
Coralie:
« - »
NOE

Perle:
« Si tu t'éteins, on te rallumera ! Rien ne nous résiste, à nous ! Et pourquoi ? »
(If you wink out, we'll just light you back up! Nothing can stop us two! And why?)
Coralie:
« - »
NOE
Perle:
« - »

Coralie:
« Parce qu'on est les Tenta-Cool ? »
(Because we're Off the Hook?)
NOE

Perle:
« Il suffit qu'on déboule ! »
(We just gotta get out there!)
Coralie:
« - »
NOE
Perle:
« - »

Coralie:
« La victoire est nôtre ! »
(Victory is ours!)
NOE

Perle:
« Et tant pis pour les autres ! »
(And too bad for the others!)
Coralie:
« - »
NOE

Perle:
« Si vous avez participé au festival, les prix vous attendent sur le square ! »
(If you took part in the Splatfest, your prizes are waiting in the square!)

Coralie:
« C'était les Tenta-Cool, ciao à tous, vous êtes les meilleurs ! »
(We were Off the Hook, ciao everyone, you're the best!)
NOE



Results if Super Star were to win
Perle's Dialogue
Coralie's Dialogue
Region
Perle:
« - »

Coralie:
« TA TA TA, TA TA TATA, TA ! Youhouu ! Les étoiles sont invinciiiibles ! »
(TA TA TA, TA TA TATA, TA! Yoohoo! The stars are invinciiiible!)
NOE

Perle:
« Hein ? Mais non... normalement, c'est les champis, les champions ! »
(Huh? But no... normally, the mushrooms are the champions!)
Coralie:
« - »
NOE
Notes: The French word for mushroom, "champignon", sounds a lot like the word "champion"
Perle:
« - »

Coralie:
« Vous avez été étincelantes, mes petites étoiles ! Rien n'a pu vous arrêter ! »
(You were brilliant, my little stars! Nothing could stop you!)
NOE

Perle:
« Et vous, vous avez été grandioses, les champis ! Carrément à la hauteur. »
(And you, you were grand, you mushies! Downright standing tall.)
Coralie:
« - »
NOE

Perle:
« Et puis l'important dans un festival, c'est de s'éclater ! »
(And the most important thing in a Splatfest, it's to explode!)
Coralie:
« - »
NOE
Perle:
« - »

Coralie:
« Bien dit, Perle ! J'en ai savouré chaque minute ! »
(Well said, Pearl! I savored every minute!)
NOE
Perle:
« - »

Coralie:
« Pourtant, c'était pas de tout repos de s'asperger pendant 48 heures ! »
(Still, it wasn't easy spraying around for 48 hours!)
NOE

Perle:
« D'autant qu'on avait un peu perdu l'habitude ! »
(Especially since we've lost the habit a little!)
Coralie:
« - »
NOE
Perle:
« - »

Coralie:
« C'est un peu triste de ne plus être une étoile, en fait. J'aimais bien scintiller... »
(It's a little sad to not be a star anymore, actually. I really liked sparkling...)
NOE

Perle:
« Pff, Coralie ! Arrête un peu, tu veux ? »
(Pff, Marina! Stop it, would you?)
Coralie:
« - »
NOE
Perle:
« - »

Coralie:
« Hein ? »
(Huh?)
NOE

Perle:
« Tu seras toujours une étoile à mes yeux, OK ? Tu illumines ma vie ! »
(You will always be a star in my eyes, okay? You light up my life!)
Coralie:
« - »
NOE
Perle:
« - »

Coralie:
« Perle... Je... Je ne sais pas quoi dire... »
(Pearl... I... I don't know what to say...)
NOE
Perle:
« - »

Coralie:
« Snif, merci, Perle... T'es la plus grande amie que j'aie jamais eue. »
(Sniff, thank you, Pearl... You're the greatest friend I ever had.)
NOE
Notes: "La plus grande amie" could mean "the greatest friend" figuratively, or "the largest/tallest friend" physically

Perle:
« La plus grande, ouais... si on veut. »
(The largest, yeah... If you say so.)
Coralie:
« - »
NOE
Perle:
« - »

Coralie:
« N'empêche, ça m'inquiète, parfois. Imagine que je perde tout mon talent... »
(Still, it worries me, sometimes. Imagine if I lost all my talent...)
NOE

Perle:
« Je t'arrête tout de suite, ça n'arrivera JAMAIS. »
(I'm stopping you right there, that will NEVER happen.)
Coralie:
« - »
NOE

Perle:
« T'as le rythme dans la peau, Coralie ! Jamais je rapperais sur un autre beat. »
(You have rhythm in your skin, Marina! I would never rap on another beat.)
Coralie:
« - »
NOE
Perle:
« - »

Coralie:
« Oh, Perle... c'est trop gentil ! »
(Oh, Pearl... that's too nice!)
NOE
Perle:
« - »

Coralie:
« Mais je pourrais perdre la main, tu sais. Tous les jours, des étoiles s'éteignent... »
(But I could lose my touch, you know. Every day, there are stars that wink out...)
NOE

Perle:
« Ouah, ça suffit les idées noires ! Toute façon, je vois pas le problème. »
(Wah, that's enough of these dark thoughts! Anyway, I don't see the problem.)
Coralie:
« - »
NOE

Perle:
« Si tu t'éteins, on te rallumera ! Rien ne nous résiste, à nous ! Et pourquoi ? »
(If you wink out, we'll just light you back up! Nothing can stop us two! And why?)
Coralie:
« - »
NOE
Perle:
« - »

Coralie:
« Parce qu'on est les Tenta-Cool ? »
(Because we're Off the Hook?)
NOE

Perle:
« Il suffit qu'on déboule ! »
(We just gotta get out there!)
Coralie:
« - »
NOE
Perle:
« - »

Coralie:
« La victoire est nôtre ! »
(Victory is ours!)
NOE

Perle:
« Et tant pis pour les autres ! »
(And too bad for the others!)
Coralie:
« - »
NOE

Perle:
« Si vous avez participé au festival, les prix vous attendent sur le square ! »
(If you took part in the Splatfest, your prizes are waiting in the square!)

Coralie:
« C'était les Tenta-Cool, ciao à tous, vous êtes les meilleurs ! »
(We were Off the Hook, ciao everyone, you're the best!)
NOE



French (Canada)
Announcement
Perle's Dialogue
Coralie's Dialogue
Region

Perle:
« Et on est de retour comme si on était jamais parties, grâce à notre Mario! »
(And we're back like we never left, thanks to our very own Mario!)

Coralie:
« On célèbre le 35e anniversaire de Super Mario Bros.! Avec un festival! »
(We are celebrating the 35th anniversary of Super Mario Bros.! With a Splatfest!)
NOA

Perle:
« Est-ce que tu préfères grandir avec un super champignon? »
(Would you rather grow big with a Super Mushroom?)

Coralie:
« Ou tu aimerais mieux utiliser une super étoile et être invincible? »
(Or would you prefer using a Super Star and being invincible?)
NOA
Perle:
« - »

Coralie:
« Attends, Perle... Je croyais que la Calpocalypse était le DERNIER festival? »
(Wait, Pearl... I thought the Final Fest was the LAST Splatfest?)
NOA

Perle:
« Oui, mais... C'est de Mario qu'on parle! Faut fêter ça en grand! »
(Yeah, but... It's Mario we're talking about! We gotta celebrate big!)
Coralie:
« - »
NOA
Perle:
« - »

Coralie:
« T'as bien raison! OK, de retour à notre programmation... »
(You're right! Okay, back to our program...)
NOA
Perle:
« - »

Coralie:
« Perle, j'imagine que tu es dans le camp super étoile, non? »
(Pearl, I imagine you're in team Super Star, no?)
NOA

Perle:
« Quoi?! Pas du tout! Les super champignons, c'est toute ma vie! »
(What?! Not at all! The Super Mushrooms, it's my entire life!)
Coralie:
« - »
NOA
Perle:
« - »

Coralie:
« Oh, vraiment? J'aurais pas pensé que tu veuilles bien admettre que... »
(Oh, really? I wouldn't think that you would want to admit that...)
NOA

Perle:
« ADMETTRE QUOI?! »
(ADMIT WHAT?!)
Coralie:
« - »
NOA
Perle:
« - »

Coralie:
« Euh... Juste que... Tu sais, t'es pas très... Euh, grande? Haute de taille? »
(Eh... Just that... you know, you're not very... ehh, big? Tall of stature?)
NOA

Perle:
« Écoute, Coralie. Je suis déjà grande et au top. Je veux l'être encore plus! »
(Listen, Marina. I'm already large and in charge. I want to be even more so!)
Coralie:
« - »
NOA
Perle:
« - »

Coralie:
« Oh ouais... Car on ne peut pas devenir plus invincible, pas vrai? »
(Oh yeah... Because you can't become more invincible, not right?)
NOA

Perle:
« En plein dans le mille! »
(Right on the money!)
Coralie:
« - »
NOA
Perle:
« - »

Coralie:
« J'ai compris. »
(I understand.)
NOA
Perle:
« - »

Coralie:
« Dans ce cas... »
(In that case...)
NOA
Perle:
« - »

Coralie:
« J'vais être avec l'équipe Super étoile! La célébrité, me voilà! »
(I'm gonna be with team Super Star! Being famous, that's me!)
NOA

Perle:
« Mais t'es déjà une célébrité, Coralie. On est un duo imbattable! »
(But you're already a celebrity, Marina! We're an unbeatable duo!)
Coralie:
« - »
NOA

Perle:
« On est Tentacool, on gagne les foules. Même quand il y a de la houle! »
(We're Off the Hook, we win crowds over. Even when the pressure's on!)
Coralie:
« - »
NOA
Notes: Pearl's lines rhyme with "Off the Hook" and each other
Perle:
« - »

Coralie:
« Je dirai pas le contraire. Mais j'aime aussi courir vite et les trucs brillants. »
(I was not saying otherwise. But I also like running fast and shiny things.)
NOA

Perle:
« Allez, Coralie. Juste une fois. Soyons dans la même équipe! »
(C'mon, Marina. Just onece. Let's be on the same team!)
Coralie:
« - »
NOA
Perle:
« - »

Coralie:
« Je peux pas, Perle. L'étoile... Elle m'attire! »
(I can't Pearl. The star... It attracts me!)
NOA
Perle:
« - »

Coralie:
« DOOT DOOT DOOT, DA-DOOT DOOT, DA-DOODLE-OOT! »
NOA

Perle:
« Deviens immense, casse des briques, n'oublie jamais ça! »
(Get huge, break bricks, never forget that!)
Coralie:
« - »
NOA

Perle:
« Écrase tout sur ton passage, car les ennemis, ils n'ont pas été sages! »
(Crush everything underfoot, because the enemies, they weren't nice!)
Coralie:
« - »
NOA
Notes: Pearl's lines rhyme with each other
Perle:
« - »

Coralie:
« On s'entend pour pas être d'accord? »
(Agree to disagree)
NOA

Perle:
« D'accord. Vers la droite pour la victoire, les super champignons! »
(Agreed. Right to victory, Super Mushrooms!)
Coralie:
« - »
NOA
Perle:
« - »

Coralie:
« Plus vite, plus loin, plus brillantes! Vive les super étoiles! »
(Faster, farther, shinier! Long live the Super Stars!)
NOA

Perle:
« En passant, c'est un festival de 48 heures, alors prépare-toi comme il faut! »
(By the way, it's a 48-hour Splatfest, so prepare yourselves well!)
Coralie:
« - »
NOA
Perle:
« - »

Coralie:
« Encre-moi ces territoires et rends Bows... euh, Charbitre fier! »
(Ink that Turf for me and make Bows... er, Judd proud!)
NOA

Perle:
« Qu'est-ce que tu en penses? Va à la borne festive pour choisir une équipe! »
(What do you think? Go to the Splatfest terminal to choose your team!)

Coralie:
« Fais-le pour Mario! Enfile ton t-shirt de festival et améliore-le. »
(Do it for Mario! Grab your Splatfest Tee and upgrade it.)
NOA



Introduction
Perle's Dialogue
Coralie's Dialogue
Region
Perle:
« Le festival des 35 ans de Super Mario Bros. a commencé!!! »
Coralie:
« C'est parti! Va à la borne festive pour choisir une équipe! »
NOA



Results
Perle's Dialogue
Coralie's Dialogue
Region

Perle:
« Youhou! C'est qui les champions? C'est les super champignons! »
(Yoohoo! Who are the champions? It's the Super Mushrooms!)

Coralie:
« Mais mais mais... on était invincibles... »
(But but but.. we were invincible...)
NOA
Notes: The French word for mushroom, "champignon", sounds a lot like the word "champion"

Perle:
« Eh oui, le problème, avec l'étoile, c'est que ça dure pas longtemps... »
(Eh yea, the problem, with the star, is that it doesn't last long...)

Coralie:
« On a peut-être perdu, mais au moins, on a brillé de mille feux! »
(We might have lost, but at least, we shined a thousand lights!)
NOA

Perle:
« T'as raison, Coralie! Et puis l'important dans un festival, c'est de s'amuser! »
(You're right, Marina! And the most important thing in a Splatfest, it's to have fun!)
Coralie:
« - »
NOA
Perle:
« - »

Coralie:
« Bien dit, Perle! J'en ai savouré chaque minute! »
(Well said, Pearl! I savored every minute!)
NOA
Perle:
« - »

Coralie:
« C'est juste un peu triste de ne plus être une étoile. J'aimais bien scintiller... »
(It's just a little sad to not be a star anymore. I really liked sparkling...)
NOA

Perle:
« Pff, Coralie! Arrête un peu, tu veux? »
(Pff, Marina! Stop it, would you?)
Coralie:
« - »
NOA
Perle:
« - »

Coralie:
« Hein? »
(Huh?)
NOA

Perle:
« Tu seras toujours une étoile à mes yeux, OK? Tu illumines ma vie! »
(You will always be a star in my eyes, okay? You light up my life!)
Coralie:
« - »
NOA
Perle:
« - »

Coralie:
« Perle... Je... Je ne sais pas quoi dire... »
(Pearl... I... I don't know what to say...)
NOA
Perle:
« - »

Coralie:
« Snif, merci, Perle... T'es la plus grande amie que j'aie jamais eue. »
(Sniff, thank you, Pearl... You're the greatest friend I ever had.)
NOA
Notes: "La plus grande amie" could mean "the greatest friend" figuratively, or "the largest/tallest friend" physically

Perle:
« La plus grande, ouais... si on veut. »
(The largest, yeah... If you say so.)
Coralie:
« - »
NOA
Perle:
« - »

Coralie:
« N'empêche, ça m'inquiète, parfois. Imagine que je perde tout mon talent... »
(Still, it worries me, sometimes. Imagine if I lost all my talent...)
NOA

Perle:
« Je t'arrête tout de suite, ça n'arrivera JAMAIS. »
(I'm stopping you right there, that will NEVER happen.)
Coralie:
« - »
NOA

Perle:
« T'as le rythme dans la peau, Coralie! Jamais je rapperais sur un autre beat. »
(You have rhythm in your skin, Marina! I would never rap on another beat.)
Coralie:
« - »
NOA
Perle:
« - »

Coralie:
« Oh, Perle... c'est trop gentil! »
(Oh, Pearl... that's too nice!)
NOA
Perle:
« - »

Coralie:
« Mais je pourrais perdre la main, tu sais. Tous les jours, des étoiles s'éteignent... »
(But I could lose my touch, you know. Every day, there are stars that wink out...)
NOA

Perle:
« Ouah, ça suffit les idées noires! De toute façon, je vois pas le problème. »
(Wah, that's enough of these dark thoughts! Anyway, I don't see the problem.)
Coralie:
« - »
NOA

Perle:
« Si tu t'éteins, on te rallumera! Rien ne nous résiste, à nous! Et pourquoi? »
(If you wink out, we'll just light you back up! Nothing can stop us two! And why?)
Coralie:
« - »
NOA
Perle:
« - »

Coralie:
« Parce qu'on est les Tentacool? »
(Because we're Off the Hook?)
NOA

Perle:
« On gagne toujours les foules! »
(We win crowds over!)
Coralie:
« - »
NOA
Perle:
« - »

Coralie:
« Même s'il y a... »
(Even when...)
NOA

Perle:
« DE LA HOULE! »
(THE PRESSURE'S ON!)
Coralie:
« - »
NOA

Perle:
« Si tu as participé au festival, n'oublie pas de récupérer tes prix au carré! »
(If you took part in the Splatfest, your prizes are waiting in the square!)

Coralie:
« C'était les Tentacool, ciao à tous! On vous aime! »
(We were Off the Hook, ciao everyone! We love you!)
NOA



Results if Super Star were to win
Perle's Dialogue
Coralie's Dialogue
Region
Perle:
« - »

Coralie:
« DOOT DOOT DOOT! Youhouu! Les étoiles sont invinciiiibles! »
(DOOT DOOT DOOT! Yoohoo! The stars are invinciiiible!)
NOA

Perle:
« Hein? Mais non... normalement, c'est les champignons, les champions! »
(Huh? But no... normally, the mushrooms are the champions!)
Coralie:
« - »
NOA
Notes: The French word for mushroom, "champignon", sounds a lot like the word "champion"
Perle:
« - »

Coralie:
« Vous avez été étincelantes, mes petites étoiles! Rien n'a pu vous arrêter! »
(You were brilliant, my little stars! Nothing could stop you!)
NOA

Perle:
« Et vous, vous avez été grandioses, les champignons! Vraiment à la hauteur. »
(And you, you were grand, you mushies! Truly standing tall.)
Coralie:
« - »
NOA

Perle:
« Et puis l'important dans un festival, c'est de s'amuser! »
(And the most important thing in a Splatfest, it's to have fun!)
Coralie:
« - »
NOA
Perle:
« - »

Coralie:
« Bien dit, Perle! J'en ai savouré chaque minute! »
(Well said, Pearl! I savored every minute!)
NOA
Perle:
« - »

Coralie:
« Pourtant, c'était pas de tout repos de s'asperger pendant 48 heures! »
(Still, it wasn't easy spraying around for 48 hours!)
NOA

Perle:
« En plus, on avait un peu perdu l'habitude! »
(Plus, we lost the habit a little!)
Coralie:
« - »
NOA
Perle:
« - »

Coralie:
« J'ai gagné aujourd'hui, mais que se passera-t-il si mon étoile s'éteint? »
(I won today, but what will happen if my star winks out?)
NOA

Perle:
« Pff, Coralie! Arrête un peu, tu veux? »
(Pff, Marina! Stop it, would you?)
Coralie:
« - »
NOA
Perle:
« - »

Coralie:
« Hein? »
(Huh?)
NOA

Perle:
« Tu seras toujours une étoile à mes yeux, OK? Tu illumines ma vie! »
(You will always be a star in my eyes, okay? You light up my life!)
Coralie:
« - »
NOA
Perle:
« - »

Coralie:
« Perle... Je... Je ne sais pas quoi dire... »
(Pearl... I... I don't know what to say...)
NOA
Perle:
« - »

Coralie:
« Snif, merci, Perle... T'es la plus grande amie que j'aie jamais eue. »
(Sniff, thank you, Pearl... You're the greatest friend I ever had.)
NOA
Notes: "La plus grande amie" could mean "the greatest friend" figuratively, or "the largest/tallest friend" physically

Perle:
« La plus grande, ouais... si on veut. »
(The largest, yeah... If you say so.)
Coralie:
« - »
NOA
Perle:
« - »

Coralie:
« N'empêche, ça m'inquiète, parfois. Imagine que je perde tout mon talent... »
(Still, it worries me, sometimes. Imagine if I lost all my talent...)
NOA

Perle:
« Je t'arrête tout de suite, ça n'arrivera JAMAIS. »
(I'm stopping you right there, that will NEVER happen.)
Coralie:
« - »
NOA

Perle:
« T'as le rythme dans la peau, Coralie! Jamais je rapperais sur un autre beat. »
(You have rhythm in your skin, Marina! I would never rap on another beat.)
Coralie:
« - »
NOA
Perle:
« - »

Coralie:
« Oh, Perle... c'est trop gentil! »
(Oh, Pearl... that's too nice!)
NOA
Perle:
« - »

Coralie:
« Mais je pourrais perdre la main, tu sais. Tous les jours, des étoiles s'éteignent... »
(But I could lose my touch, you know. Every day, there are stars that wink out...)
NOA

Perle:
« Ouah, ça suffit les idées noires! De toute façon, je vois pas le problème. »
(Wah, that's enough of these dark thoughts! Anyway, I don't see the problem.)
Coralie:
« - »
NOA

Perle:
« Si tu t'éteins, on te rallumera! Rien ne nous résiste, à nous! Et pourquoi? »
(If you wink out, we'll just light you back up! Nothing can stop us two! And why?)
Coralie:
« - »
NOA
Perle:
« - »

Coralie:
« Parce qu'on est les Tentacool? »
(Because we're Off the Hook?)
NOA

Perle:
« On gagne toujours les foules! »
(We win crowds over!)
Coralie:
« - »
NOA
Perle:
« - »

Coralie:
« Même s'il y a... »
(Even when...)
NOA

Perle:
« DE LA HOULE! »
(THE PRESSURE'S ON!)
Coralie:
« - »
NOA

Perle:
« Si tu as participé au festival, n'oublie pas de récupérer tes prix au carré! »
(If you took part in the Splatfest, your prizes are waiting in the square!)

Coralie:
« C'était les Tentacool, ciao à tous! On vous aime! »
(We were Off the Hook, ciao everyone! We love you!)
NOA



German
Announcement
Perla's Dialogue
Marina's Dialogue
Region

Perla:
"Wir sind wieder da – denn es ist Mario- Zeit! Bist du bereit, Marina?"
(We're back - because it's Mario time! Are you ready, Marina?)

Marina:
"Wir feiern das 35-jährige Jubiläum von Super Mario Bros. mit einem Splatfest!"
(We celebrate the 35th anniversary of Super Mario Bros. with a Splatfest!)
NOE

Perla:
"Wärt ihr lieber groß dank Superpilz?"
(Would you rather be big thanks to Super Mushroom?)

Marina:
"Oder lieber unbesiegbar dank Superstern?"
(Or rather invincible thanks to Super Star?)
NOE
Perla:
"-"

Marina:
"Warte mal, Perla. War die Splatocalypse nicht eigentlich das letzte Splatfest...?"
(Hold up, Pearl. Wasn't Splatocalypse the final Splatfest...?)
NOE

Perla:
"Äh, na ja... Schon irgendwie. Aber es geht um Mario! Da ist 'ne Party Pflicht!"
(Uh, well... Kind of. But it's about Mario! A party is a must!)
Marina:
"-"
NOE
Perla:
"-"

Marina:
"Da sagst du was... Also gut, dann weiter!"
(You said it... All right, let's move on!)
NOE
Perla:
"-"

Marina:
"Perla, du bist doch bestimmt in Team Superstern, oder?"
(Pearl, you must be on Team Super Star, right?)
NOE

Perla:
"Was?! Nö! Superpilz für immer!"
(What?! No! Super Mushroom forever!)
Marina:
"-"
NOE
Perla:
"-"

Marina:
"Oh, echt? Ich dachte, vielleicht willst du nicht zugeben, dass, äh..."
(Oh, really? I thought maybe you didn't want to admit that, uh....)
NOE

Perla:
"WAS DENN ZUGEBEN?!"
(ADMIT WHAT?!)
Marina:
"-"
NOE
Perla:
"-"

Marina:
"Na ja... Also, äh... Dass du... Du weißt schon... Nicht so wirklich groß bist?"
(Well... Well, uh... That you... You know... You're not really that tall?)
NOE

Perla:
"Ich bin schon unbesiegbar und auch 'ne Riesennummer. Aber größer geht immer!"
(I am already invincible and also a huge hit. But bigger is always possible!)
Marina:
"-"
NOE
Perla:
"-"

Marina:
"Anders als "unbesiegbar", was sich nicht steigern lässt?"
(Unlike "invincible", which can't be improved?)
NOE

Perla:
"Genau erkannt."
(Precisely.)
Marina:
"-"
NOE
Perla:
"-"

Marina:
"Alles klar."
(All right.)
NOE
Perla:
"-"

Marina:
"Tja..."
(Well...)
NOE
Perla:
"-"

Marina:
"Dann bin ich in Team Superstern! Der neue aufsteigende Stern!"
(Then I'm on Team Super Star! The new rising star!)
NOE

Perla:
"Das bist du doch jetzt schon. Und zusammen hält uns nichts auf!"
(You already are. And together, nothing can stop us!)
Marina:
"-"
NOE

Perla:
"TentaCool, das sind wir, herrschen über das Revier!"
(Off the Hook, that's us, ruling over the turf!)
Marina:
"-"
NOE
Perla:
"-"

Marina:
"Stimmt ja. Aber ich lauf gern schnell, und der ganze Glitzer dann noch!"
(True. But I like to run fast, and all the glitter on top!)
NOE

Perla:
"Komm schon, Marina. Nur ein Mal. Wir beide in Team Superpilz!"
(Come on, Marina. Just once. You and me on Team Super Mushroom!)
Marina:
"-"
NOE
Perla:
"-"

Marina:
"Geht nicht, Perla. Der Beat ruft..."
(No can do, Pearl. The beat is calling...)
NOE
Perla:
"-"

Marina:
"Duu duu duu, da-duu duu, da-dudel-oo duu duu duu, da-duu duu, da-dudel-oo!"
NOE

Perla:
"Groß rausgekommen, Steine bersten, mit Pilz gehört man zu den Ersten!"
(Come out big, bursting bricks, with Mushroom you are among the first!)
Marina:
"-"
NOE

Perla:
"Gegner plätten, doppelt groß, mit Pilz geht's erst so richtig los!"
(Flatten opponents, double size, with mushroom it really starts!)
Marina:
"-"
NOE
Perla:
"-"

Marina:
"Das sehe ich anders."
(I don't see it that way.)
NOE

Perla:
"Auch recht. Los, ihr Superpilze!"
(Fair enough. Come on, you Super Mushrooms!)
Marina:
"-"
NOE
Perla:
"-"

Marina:
"Lasst sie Sternchen sehen, Supersterne!"
(Let them see stars, Super Stars!)
NOE

Perla:
"Dieses Splatfest geht übrigens 48 Stunden, also gebt alles!"
(By the way, this Splatfest lasts 48 hours, so give it your all!)
Marina:
"-"
NOE
Perla:
"-"

Marina:
"Färbt das Revier und hört nicht auf!"
(Ink the turf and don't stop!)
NOE

Perla:
"Auf zum Splatfest-Wahlstand und wählt euer liebstes Power-up!"
(Head to the Splatfest terminal and pick your favorite power-up!)

Marina:
"Für Mario! Zieht euer Splatfest-Shirt an und levelt es schön auf!"
(For Mario! Put on your Splatfest Tee and level it up nicely!)
NOE



Introduction
Perla's Dialogue
Marina's Dialogue
Region
Perla:
"Das Splatfest zum 35-jährigen Jubiläum von Super Mario Bros. läuft!"
(The Super Mario Bros. 35th Anniversary Splatfest is on!)
Marina:
"Entscheidet euch am Splatfest- Wahlstand für eine Seite!"
(Choose a side at the Splatfest terminal!)
NOE



Results
Perla's Dialogue
Marina's Dialogue
Region

Perla:
"Ganz große Leistung, Team Superpilz!"
(Big performance, Team Super Mushroom!)

Marina:
"Ach nö..."
(Oh no...)
NOE

Perla:
"So viel zum Thema "unbesiegbar"..."
(So much for "invincible"...)

Marina:
"Ich bin trotzdem stolz auf meine Supersterne! Ihr habt echt geglänzt!"
(I'm still proud of my Super Stars! You all really shined!)
NOE

Perla:
"Stimmt. Splatfeste sind einfach das Beste!"
(True. Splatfests are simply the best!)
Marina:
"-"
NOE
Perla:
"-"

Marina:
"Da hast du recht, Perla! Das hat wieder echt Spaß gemacht!"
(You're right, Pearl! That was really fun again!)
NOE
Perla:
"-"

Marina:
"Wäre trotzdem schön, wenn mein Team gewonnen hätte..."
(Would still have been nice if my team had won...)
NOE

Perla:
"Jetzt mach dir doch keinen Kopf..."
(Now don't worry about it...)
Marina:
"-"
NOE
Perla:
"-"

Marina:
"..."
NOE

Perla:
"Du bist auf jeden Fall ein Stern in meinem Leben, Marina. Ein ganz heller."
(You are definitely a star in my life, Marina. A very bright one.)
Marina:
"-"
NOE
Perla:
"-"

Marina:
"Ich... Ich weiß nicht, was ich sagen soll..."
(I... I don't know what to say...)
NOE
Perla:
"-"

Marina:
"Danke, Perla... Schnief... Du bist wirklich großherzig..."
(Thank you, Pearl... Sniff... You are really big-hearted...)
NOE

Perla:
"Das konntest du dir nicht verkneifen, hm? Aber so gefällst du mir!"
(You couldn't resist that, huh? But I like you this way!)
Marina:
"-"
NOE
Perla:
"-"

Marina:
"Hihi. Aber im Ernst, was wäre, wenn ich es mal nicht mehr draufhabe?"
(Hihi. But seriously, what if I don't have it in me anymore?)
NOE

Perla:
"Jetzt mach mal halblang, Marina. Das wird niemals passieren!"
(Now hold on, Marina. That will never happen!)
Marina:
"-"
NOE

Perla:
"Deine Beats sind die besten! Ich will zu nix anderem rappen!"
(Your beats are the best! I don't want to rap to anything else!)
Marina:
"-"
NOE
Perla:
"-"

Marina:
"Das ist sehr lieb, Perla."
(That's very sweet, Pearl.)
NOE
Perla:
"-"

Marina:
"Aber was, wenn ich kein super DJ mehr wäre? Wenn mein Stern verblasst?"
(But what if I wasn't a super DJ anymore? If my star faded?)
NOE

Perla:
"Marina! Denk doch so was nicht! Das wird nicht passieren!"
(Marina! Don't think like that! This won't happen!)
Marina:
"-"
NOE

Perla:
"Und wenn doch, würden wir als Team daran arbeiten, ist doch klar!"
(And if it did, we would work on it as a team, that's for sure!)
Marina:
"-"
NOE
Perla:
"-"

Marina:
"TentaCool?"
(Off the Hook?)
NOE

Perla:
"Das sind wir!"
(That's us!)
Marina:
"-"
NOE
Perla:
"-"

Marina:
"Herrschen über das Revier!"
(Ruling over the turf!)
NOE

Perla:
"SPRITZIG!"
(FRESH!)
Marina:
"-"
NOE

Perla:
"Wer beim Splatfest dabei war, bekommt seinen Preis auf dem Inkopolis-Platz!"
(Those who participated in the Splatfest will get their prize at Inkopolis Square!)

Marina:
"TentaCool meldet sich ab. Wir lieben euch!"
(Off the Hook signing off. We love you!)
NOE



Results if Super Star were to win
Perla's Dialogue
Marina's Dialogue
Region
Perla:
"-"

Marina:
"Supersterne sind unbesiegbar!"
(Super Stars are invincible!)
NOE

Perla:
"Ich fass es ja nicht..."
(I can't believe it...)
Marina:
"-"
NOE
Perla:
"-"

Marina:
"Wir waren glitzerschnell und unbesiegbar!"
(We were sparkingly fast and invincible!)
NOE

Perla:
"Glitzer... schnell? Meinetwegen. Aber ihr wart auch groß, Team Superpilz!"
(Sparkingly... fast? Whatever. But you were big too, Team Super Mushroom!)
Marina:
"-"
NOE

Perla:
"Splatfeste sind das Beste!"
(Splatfests are the best!)
Marina:
"-"
NOE
Perla:
"-"

Marina:
"Da hast du recht, Perla! Das hat wieder echt Spaß gemacht!"
(You're right, Pearl! That was really fun again!)
NOE
Perla:
"-"

Marina:
"Aber 48 Stunden Splatfest sind schon auch hart."
(But 48 hours of Splatfest are also tough.)
NOE

Perla:
"Echt mal! Das letzte Splatfest ist auch schon 'ne Weile her gewesen."
(For real! It's been a while since the last Splatfest.)
Marina:
"-"
NOE
Perla:
"-"

Marina:
"Diesmal habe ich gewonnen, aber es war anstrengend. Was, wenn ich nachlasse?"
(I won this time, but it was exhausting. What if I start to fall behind?)
NOE

Perla:
"Jetzt mach dir doch keinen Kopf..."
(Now don't worry about it...)
Marina:
"-"
NOE
Perla:
"-"

Marina:
"..."
NOE

Perla:
"Du bist auf jeden Fall ein Stern in meinem Leben, Marina. Ein ganz heller."
(You are definitely a star in my life, Marina. A very bright one.)
Marina:
"-"
NOE
Perla:
"-"

Marina:
"Ich... Ich weiß nicht, was ich sagen soll..."
(I... I don't know what to say...)
NOE
Perla:
"-"

Marina:
"Danke, Perla... Schnief... Du bist wirklich großherzig..."
(Thank you, Pearl... Sniff... You are really big-hearted...)
NOE

Perla:
"Das konntest du dir nicht verkneifen, hm? Aber so gefällst du mir!"
(You couldn't resist that, huh? But I like you this way!)
Marina:
"-"
NOE
Perla:
"-"

Marina:
"Hihi. Aber im Ernst, was wäre, wenn ich es mal nicht mehr draufhabe?"
(Hihi. But seriously, what if I don't have it in me anymore?)
NOE

Perla:
"Jetzt mach mal halblang, Marina. Das wird niemals passieren!"
(Now hold on, Marina. That will never happen!)
Marina:
"-"
NOE

Perla:
"Deine Beats sind die besten! Ich will zu nix anderem rappen!"
(Your beats are the best! I don't want to rap to anything else!)
Marina:
"-"
NOE
Perla:
"-"

Marina:
"Das ist sehr lieb, Perla."
(That's very sweet, Pearl.)
NOE
Perla:
"-"

Marina:
"Aber was, wenn ich kein super DJ mehr wäre? Wenn mein Stern verblasst?"
(But what if I wasn't a super DJ anymore? If my star faded?)
NOE

Perla:
"Marina! Denk doch so was nicht! Das wird nicht passieren!"
(Marina! Don't think like that! This won't happen!)
Marina:
"-"
NOE

Perla:
"Und wenn doch, würden wir als Team daran arbeiten, ist doch klar!"
(And if it did, we would work on it as a team, that's for sure!)
Marina:
"-"
NOE
Perla:
"-"

Marina:
"TentaCool?"
(Off the Hook?)
NOE

Perla:
"Das sind wir!"
(That's us!)
Marina:
"-"
NOE
Perla:
"-"

Marina:
"Herrschen über das Revier!"
(Ruling over the turf!)
NOE

Perla:
"SPRITZIG!"
(FRESH!)
Marina:
"-"
NOE

Perla:
"Wer beim Splatfest dabei war, bekommt seinen Preis auf dem Inkopolis-Platz!"
(Those who participated in the Splatfest will get their prize at Inkopolis Square!)

Marina:
"TentaCool meldet sich ab. Wir lieben euch!"
(Off the Hook signing off. We love you!)
NOE



Italian
Announcement
Alga's Dialogue
Nori's Dialogue
Region

Alga:
«Sembra ieri che ci siamo salutati, e invece eccoci di nuovo qui... con Mario!»

Nori:
«Oggi festeggiamo il 35º anniversario di Super Mario Bros. a modo nostro! Yuppi!»
NOE

Alga:
«Preferireste diventare giganteschi con un super fungo...?»

Nori:
«Oppure essere invincibili e sbaragliare tutti con la super stella?»
NOE
Alga:
«-»

Nori:
«Un momento, Alga... ma la Splatocalypse non doveva essere l'ultimo festival?»
NOE

Alga:
«Beh, sì... ma stiamo parlando di Mario, capisci? Non possiamo non festeggiare!»
Nori:
«-»
NOE
Alga:
«-»

Nori:
«Hai proprio ragione. Allora torniamo a parlare di cose serie...»
NOE
Alga:
«-»

Nori:
«Alga, tu di sicuro sei per la squadra super stella, vero?»
NOE

Alga:
«Cosa? Proprio per niente! Io voto super fungo tutta la vita!»
Nori:
«-»
NOE
Alga:
«-»

Nori:
«Davvero? No perché... pensavo non volessi ammettere che...»
NOE

Alga:
«Ammettere cosa?»
Nori:
«-»
NOE
Alga:
«-»

Nori:
«Beh... ecco... che... che... non sei... molto... grande...?»
NOE

Alga:
«Io sono già invincibile e sono anche una stella. Così diventerò ancora più grande!»
Nori:
«-»
NOE
Alga:
«-»

Nori:
«In effetti... non si può diventare ancora più invincibile di invincibile...»
NOE

Alga:
«Appunto.»
Nori:
«-»
NOE
Alga:
«-»

Nori:
«Capito.»
NOE
Alga:
«-»

Nori:
«Allora...»
NOE
Alga:
«-»

Nori:
«Vuol dire che io sarò nella squadra super stella!»
NOE

Alga:
«Nori, tu sei già una stella. Siamo una coppia inarrestabile!»
Nori:
«-»
NOE

Alga:
«♪ Siamo le Tenta Cool, non ci butti giù! Vinciamo la baruffa, tu a fare muffa! ♪»
Nori:
«-»
NOE
Alga:
«-»

Nori:
«Quello è vero... ma mi piace l'idea di correre in giro tutta psichedelica!»
NOE

Alga:
«Dai, Nori, per una volta potremmo stare dalla stessa parte!»
Nori:
«-»
NOE
Alga:
«-»

Nori:
«Non si può Alga, il glitter mi chiama...»
NOE
Alga:
«-»

Nori:
«Sento già la musica che cambia ritmo...»
NOE

Alga:
«Non te la prendere con me quando dovrai alzare la testa per guardarmi in faccia.»
Nori:
«-»
NOE

Alga:
«♪ Ti schiaccio con il mio piedone di te non resta nemmeno l'alone! ♪»
Nori:
«-»
NOE
Alga:
«-»

Nori:
«Mi pare che ci siamo capite...»
NOE

Alga:
«Capite! Let's-a go, super funghi!»
Nori:
«-»
NOE
Alga:
«-»

Nori:
«Forza, super stelle!»
NOE

Alga:
«A proposito, questo festival dura 48 ore, state pronti a dare il meglio!»
Nori:
«-»
NOE
Alga:
«-»

Nori:
«Splattiamo più che possiamo!»
NOE

Alga:
«Ora tutti al terminal di voto a scegliere il vostro potenziamento preferito!»

Nori:
«Fatelo per Mario! E non dimenticate di indossare la maglietta del festival!»
NOE



Introduction
Alga's Dialogue
Nori's Dialogue
Region
Alga:
«È cominciato il grande festival per il 35º anniversario di Super Mario Bros.!»
Nori:
«Correte al terminal di voto e scegliete da che parte stare!»
NOE



Results
Alga's Dialogue
Nori's Dialogue
Region

Alga:
«Grandissimi, super funghi!»

Nori:
«Accidenti...»
NOE

Alga:
«Un applauso per tutti i miei compagni di squadra... e voi, altro che invincibili!»

Nori:
«Sono fiera delle mie super stelle. Abbiamo perso, ma abbiamo brillato!»
NOE

Alga:
«Questo è vero, devo ammetterlo. I festival sono troppo divertenti!»
Nori:
«-»
NOE
Alga:
«-»

Nori:
«Eh sì, Alga. Ma - che - divertimento!»
NOE
Alga:
«-»

Nori:
«Mi dispiace non potermi definire una super stella da oggi...»
NOE

Alga:
«Cosa? Ma falla finita!»
Nori:
«-»
NOE
Alga:
«-»

Nori:
«...»
NOE

Alga:
«Sei sempre stata una vera stella per me! Illumini la mia vita!»
Nori:
«-»
NOE
Alga:
«-»

Nori:
«N-Non dirmi così, Alga...»
NOE
Alga:
«-»

Nori:
«Mi fai commuovere, lo sai... Sniff... che belle parole...»
NOE

Alga:
«Ti ho vista, là in campo! Sei stata fantastica!»
Nori:
«-»
NOE
Alga:
«-»

Nori:
«Eheh... In effetti, Alga, che ne sarebbe di noi se perdessi il mio tocco?»
NOE

Alga:
«Ehi, ehi! Stai calma, Nori! Non lasciarti abbattere per una sconfitta!»
Nori:
«-»
NOE

Alga:
«♪ Vai a ritmo strepitoso! E io ci faccio un rap armonioso! ♪»
Nori:
«-»
NOE
Alga:
«-»

Nori:
«Grazie, Alga...»
NOE
Alga:
«-»

Nori:
«E se non fossi più una brava DJ...?! La mia stella comincia ad affievolirsi?»
NOE

Alga:
«Nori! Basta con questi pensieri negativi!»
Nori:
«-»
NOE

Alga:
«Se succedesse, ci daremmo da fare per tornare sulla cresta dell'onda insieme!»
Nori:
«-»
NOE
Alga:
«-»

Nori:
«Le Tenta Cool?»
NOE

Alga:
«Non ci butti giù!»
Nori:
«-»
NOE
Alga:
«-»

Nori:
«Vinciamo la baruffa?»
NOE

Alga:
«TU A FARE MUFFA!»
Nori:
«-»
NOE

Alga:
«Se avete partecipato al festival, i vostri premi vi attendono in piazza!»

Nori:
«Le Tenta Cool vi salutano. Vi amiamo!»
NOE



Results if Super Star were to win
Alga's Dialogue
Nori's Dialogue
Region
Alga:
«-»

Nori:
«Super stelle invincibili!»
NOE

Alga:
«Non ci posso credere...»
Nori:
«-»
NOE
Alga:
«-»

Nori:
«Che squadra, ragazzi! Siamo corsi tutti sbrillanzosi verso la vittoria!»
NOE

Alga:
«Sbrilla... che? Vabbè... Noi super funghi abbiamo perso, ma siamo stati grandi!»
Nori:
«-»
NOE

Alga:
«I festival sono troppo divertenti!»
Nori:
«-»
NOE
Alga:
«-»

Nori:
«Eh sì, Alga. Io mi sono divertita un sacco!»
NOE
Alga:
«-»

Nori:
«Anche se... splattare per 48 ore di fila non è stato facile.»
NOE

Alga:
«Beh, certo... era passato un po' di tempo dall'ultimo festival.»
Nori:
«-»
NOE
Alga:
«-»

Nori:
«Eheh... In effetti, Alga, è stata dura. La mia stella si starà affievolendo?!»
NOE

Alga:
«Cosa? Ma falla finita!»
Nori:
«-»
NOE
Alga:
«-»

Nori:
«...»
NOE

Alga:
«Sei sempre stata una vera stella per me! Illumini la mia vita!»
Nori:
«-»
NOE
Alga:
«-»

Nori:
«N-Non dirmi così, Alga...»
NOE
Alga:
«-»

Nori:
«Mi fai commuovere, lo sai... Sniff... che belle parole...»
NOE

Alga:
«Ti ho vista, là in campo! Sei stata fantastica!»
Nori:
«-»
NOE
Alga:
«-»

Nori:
«In effetti, Alga, che ne sarebbe di noi se perdessi il mio tocco?»
NOE

Alga:
«Ehi, ehi! Stai calma, Nori! Non esagerare adesso!»
Nori:
«-»
NOE

Alga:
«♪ Vai a ritmo strepitoso! E io ci faccio un rap armonioso! ♪»
Nori:
«-»
NOE
Alga:
«-»

Nori:
«Grazie, Alga...»
NOE
Alga:
«-»

Nori:
«E se non fossi più una brava DJ...?! La mia stella non brilla più come prima?»
NOE

Alga:
«Nori! Basta con questi pensieri negativi!»
Nori:
«-»
NOE

Alga:
«Se succedesse, ci daremmo da fare per tornare sulla cresta dell'onda insieme!»
Nori:
«-»
NOE
Alga:
«-»

Nori:
«Le Tenta Cool?»
NOE

Alga:
«Non ci butti giù!»
Nori:
«-»
NOE
Alga:
«-»

Nori:
«Vinciamo la baruffa?»
NOE

Alga:
«TU A FARE MUFFA!»
Nori:
«-»
NOE

Alga:
«Se avete partecipato al festival, i vostri premi vi attendono in piazza!»

Nori:
«Le Tenta Cool vi salutano. Vi amiamo!»
NOE



Japanese
Announcement
ヒメ's Dialogue
イイダ's Dialogue
Region

ヒメ:
「どっちになりたい? スーパーキノコで巨大化 vs スーパースターで無敵!!」
(Which do you want to become? Giant with Super Mushroom versus Invincible with Super Star!!)

イイダ:
「きゃ~! スーパーマリオ35周年コラボフェスですね!!」
(Whoa~! It's a Super Mario 35th anniversary collaboration Splatfest!!)
NOJ

ヒメ:
「対決するのは、 デカさこそ正義?! 天まで高く!! 「スーパーキノコで巨大化」と!」
(The opponents will be: Hugeness is justice?! Tall up to the heavens!! "Giant with Super Mushroom" and..!)

イイダ:
「そのキラメキは 無敵の証! 「スーパースターで無敵」になります!」
(Those sparkles are a proof of invincibility! "Invincible with Super Star"!)
NOJ
ヒメ:
「-」

イイダ:
「ていうかヒメセンパイ フェスってこの前 「ファイナルだー!!」って やってませんでしたか?」
(By the way, Pearl-senpai, wasn't it said that the previous Splatfest was the "Final" one?)
NOJ

ヒメ:
「ん?たしかに… まーでも久しぶりのフェスだしな! 思いっきし 楽しんじゃおーぜ!!」
(Hm? Sure... But, it's been a while since we had a Splatfest! Let's just have fun!!)
イイダ:
「-」
NOJ
ヒメ:
「-」

イイダ:
「ウフフ そ~ですよね~♪」
(Hoho Tha~t's right~♪)
NOJ
ヒメ:
「-」

イイダ:
「今回のフェスですけど やっぱりセンパイは「無敵」派ですか?」
(In this Splatfest, surely senpai is on team "Invincible"?)
NOJ

ヒメ:
「なに言ってんだよイイダー どっちかっつったら 「巨大化」に決まってんだろ?!」
(What are you talking about, Marina- if you know what's what, it's gotta be "Giant", right?!)
イイダ:
「-」
NOJ
ヒメ:
「-」

イイダ:
「… … … … … ヒメセンパイ 気にしてるんですか?」
(... ... ... ... ... Didn't you notice, Pearl-senpai?)
NOJ

ヒメ:
「ん? 何をだよ?」
(Hm? Notice what?)
イイダ:
「-」
NOJ
ヒメ:
「-」

イイダ:
「エッ?! ア~… イヤ~ ホラ… センパイ大きくなりたいのかな~ と思いまして…」
(Ehh?! Ah~... oh~ my... people will think~ senpai wants to be bigger...)
NOJ

ヒメ:
「そりゃそーだろ! だってアタシは無敵だからな!! 無敵のヤツに 無敵かさねても意味ねーじゃん!」
(That's exactly right! That's because I'm already invincible!! Becoming invincible is meaningless if you're an invincible person!)
イイダ:
「-」
NOJ
ヒメ:
「-」

イイダ:
「なるほど~ たしかに!!」
(I understand~ Certainly!!)
NOJ

ヒメ:
「そーゆーイイダも だんぜん「巨大化」派だろ?」
(If you say that, Marina, does that mean you too are on team "Giant"?)
イイダ:
「-」
NOJ
ヒメ:
「-」

イイダ:
「エエ~ ワタシは「無敵」がいいですよ~ ゼッタイ「無敵」!! だって… だって… …」
(Eh~ I prefer "Invincible"~ Absolutely "Invincible"!! Because... Because... ...)
NOJ
ヒメ:
「-」

イイダ:
「…だってセンパイは キラキラだし? カッコイイうえに やさしいし? なにもかもがムテキですよ?」
(...because senpai is glittering? Super cool high above and gentle? Invincible to everything?)
NOJ
ヒメ:
「-」

イイダ:
「そんな無敵のセンパイと肩を並べるには ワタシも無敵になりたいって思うじゃないですか…」
(I want to become invincible so I could stand side-by-side with that invincible senpai, I think...)
NOJ

ヒメ:
「何ブツブツ言ってんだよ…」
(What are you prattling off about...)
イイダ:
「-」
NOJ

ヒメ:
「ウチら 「無敵のテンタクルズ」だぜ?! 「2人で無敵」なんだよ!! わかってんのか?!」
(Are we not "The invincible Off the Hook"?! What about "Invincible duo"!! don't you understand?!)
イイダ:
「-」
NOJ
ヒメ:
「-」

イイダ:
「?!★#ッ!!♪!!!」
(?!*#-!!♪!!!)
NOJ

ヒメ:
「だからイイダ 一緒に「巨大化」にしようぜ… な?」
(So, Marina, let's be "Giant" together, yeah... huh?)
イイダ:
「-」
NOJ
ヒメ:
「-」

イイダ:
「ウウ~ センパイのキラキラがまぶしい…」
(Oooh~ Senpai's glittering is dazzling...)
NOJ
ヒメ:
「-」

イイダ:
「でも… ワタシはまだまだなんです! もっと強くなって センパイと並ぶ 最強無敵のDJ になるんです!」
(But... I have made up my mind! I will become the most invincible DJ and become stronger to stand together with senpai!)
NOJ

ヒメ:
「オオッ?! 無敵なのに最強を目指すって なんか オモシれーな!」
(Ohh?! You're setting your eyes on being the best by becoming invincible? This is getting interesting!)
イイダ:
「-」
NOJ

ヒメ:
「そんじゃー今度のフェスは 巨大化した無敵と 最強の無敵 の勝負ってことだな!!」
(Soo, this Splatfest will be the game that decides whether giant or invincible is the most invincible!!)
イイダ:
「-」
NOJ
ヒメ:
「-」

イイダ:
「う~ん ナニかよくわからないことになりましたが そういうことですかね~」
(Um~m, I didn't quite understand all of that, but if you say so~)
NOJ

ヒメ:
「ウシッ! ひさびさのフェスだかんな! 負けねーぞ イイダ!」
(Hngh! It's the first Splatfest in a while! I won't lose, Marina!)
イイダ:
「-」
NOJ
ヒメ:
「-」

イイダ:
「こっちこそ! 負けませんよ~♪」
(Me neither! I will not lose~♪)
NOJ

ヒメ:
「今回は ワールドワイドに48時間のフェスだ! しょっぱなから ガンガンに アゲてくぜーーー!!!」
(This time, it's a 48-hour worldwide Splatfest! It's gonna start getting crazy up in here---!!!)
イイダ:
「-」
NOJ
ヒメ:
「-」

イイダ:
「はい! ってアレ? 48時間ですか?! はやく準備始めなくっちゃ!」
(Yes! -huh? It's 48 hours?! I have to start preparing quickly!)
NOJ

ヒメ:
「…てなワケでみんな、 どちらかに投票ヨロシク!」
(...So, everyone please go cast your vote!)

イイダ:
「投票したらフェスT借りれているか カスタマイズでチェックしてくださいね!」
(Once you've voted, please check out the customizable Splatfest Tee that you will be borrowing!)
NOJ



Introduction
ヒメ's Dialogue
イイダ's Dialogue
Region
ヒメ:
「スーパーマリオ35周年コラボ!! 全世界合同フェス 始まったぞーーー!」
イイダ:
「ロビー前のタッチパネルから投票して、 参加してくださ~い!」
NOJ



Results
ヒメ's Dialogue
イイダ's Dialogue
Region

ヒメ:
「「スーパーキノコ」!!」
("Super Mushroom"!!)

イイダ:
「う~ん… あと少しだったのに~…」
(Um~ph... It was so close~...)
NOJ

ヒメ:
「「スーパーキノコ」派のみんな、ありがと! スーパーなバトル イカしてたぜ!」
(Everyone on team "Super Mushroom", thank you! Your battles were Super and lively!)

イイダ:
「「スーパースター」派のみなさんも とてもがんばってましたよ~」
(Everyone in team "Super Star" also totally did their best~!)
NOJ
Notes: Pearl is making a pun on the word いかしてた, "have been lively" by emphasizing イカ, "squid".

ヒメ:
「やっぱフェスは 最高だな!!!」
(That Splatfest was absolutely the best!!!)
イイダ:
「-」
NOJ
ヒメ:
「-」

イイダ:
「ハイ! 楽しかったですね~♪」
(Yes! It was so much fun~♪)
NOJ
ヒメ:
「-」

イイダ:
「でも ワタシが「最強無敵のDJ」を名乗るには まだまだだな~って痛感しちゃいました…」
(But I feel a lot like I have not achieved the title of "best invincible DJ" yet~)
NOJ

ヒメ:
「ったくよー フェスの結果で落ちこむなよー イイダは「最強」なんて 目指す必要ねーよ!」
(Don't let the Splatfest result get you down, Marina - you shouldn't set your sights on "strongest"!)
イイダ:
「-」
NOJ
ヒメ:
「-」

イイダ:
「エ…?」
(Eh...?)
NOJ

ヒメ:
「イイダは アタシにとって「最高」のDJなんだ! 最高なヤツと一緒なら 最強なんてメじゃねーよ!」
(Marina, you're the "best" DJ in my opinion! We couldn't be the "best" together if you were the "strongest"!)
イイダ:
「-」
NOJ
ヒメ:
「-」

イイダ:
「ヒメセンパイ… ワタシ… ワタシ…」
(Pearl-senpai... I... I...)
NOJ
ヒメ:
「-」

イイダ:
「エ~~~ン!! ヒメ… センパ… ウ゛ワ~~~ン!!!」
(Wa~~~ahh!! Pearl... senpai... w- wa~~~ahh!!!)
NOJ

ヒメ:
「ア゛ー!!! すぐ泣くーーー! おいカメラ! そう!アタシに向けたまま!」
(Ah-!!! She started crying all of a sudden---! Hey, cameraman! Yes! Keep facing me!)
イイダ:
「-」
NOJ
ヒメ:
「-」

イイダ:
「グスン… ヒック… ありがとうございます~ ワタシ もっともっと がんばります~」
(Sniff... Hic... Thank you very much~ I will keep doing my very best~)
NOJ

ヒメ:
「でもなイイダ アタシにとって「最高」であり続ける ってーのは 最強になるより 難しーぜ!!」
(But, Marina - It would be harder for me to stay the best than to become the strongest!!)
イイダ:
「-」
NOJ

ヒメ:
「ただ イイダが最高のトラックを作る限り アタシも 最高のラップで応え続けっからよ!」
(But, Marina, when you keep making the the best tracks up to your limit, that's what makes me keep answering them with the best raps!)
イイダ:
「-」
NOJ
ヒメ:
「-」

イイダ:
「ハイ!! あ… でも そ~なると…」
(Yes!! Ah... but for tha~t to happen...)
NOJ
ヒメ:
「-」

イイダ:
「じゃあ… じゃあワタシがヒメセンパイにとって 最高のDJじゃなくなったら ど~なるんですか?!」
(Well... well what will I do if I can't become the best DJ for Pearl-senpai?!)
NOJ

ヒメ:
「ハア? 全国のちびっこ達でも わかるよーなこと聞くんじゃねーよ!!」
(Huh?! Don't ask all of the nation's kids what to do!!)
イイダ:
「-」
NOJ

ヒメ:
「そん時は また「2人でいっしょに」 最高を目指す! それだけだろ?!」
(If that time comes, we'll set our sights on becoming the best together as a duo! Is that all?!)
イイダ:
「-」
NOJ
ヒメ:
「-」

イイダ:
「ヒメセンパイ… ワタシ… ワタシ…」
(Pearl-senpai... I... I...)
NOJ

ヒメ:
「ちょ! ちょ!! もう泣くなよ!!!」
(Hey! Hey!! Don't cry again!!!)
イイダ:
「-」
NOJ
ヒメ:
「-」

イイダ:
「エヘヘ♪ ヨ~シ! イカすトラック ガンガン作りますよ~!!!」
(Hehehe♪ Alri~ght! I'll be lively and make the maddest tracks~!!!)
NOJ
Notes: Marina is copying Pearl's speech patterns, and even her signature pun of emphasizing イカ, "squid" in the word いかす, "to be lively"

ヒメ:
「オウ! ぶちかましてこーぜ!!」
(Oh! That's cheating!!)
イイダ:
「-」
NOJ

ヒメ:
「あ、 フェスに参加した人は 広場で スーパーサザエ もらえるってよ!」
(Ah, everyone who participated in the Splatfest can receive their Super Sea Snails in the square!)

イイダ:
「これからもテンタクルズを よろしくお願いします!」
(We've been Off the Hook, thanks for tuning in!)
NOJ



Results if Super Star were to win
ヒメ's Dialogue
イイダ's Dialogue
Region
ヒメ:
「-」

イイダ:
「きゃ~! 「スーパースター」~~~!!」
(Whoa~! "Super Star"~~~!!)
NOJ

ヒメ:
「ゲッ?! まじかよーーー!」
(Huh?! You gotta be kidding---!)
イイダ:
「-」
NOJ
ヒメ:
「-」

イイダ:
「「スーパースター」派のみなさん、やりましたね! キラキラかがやく立ち回り ステキでした~!」
(Everyone on team "Super Star", you did it! Your running around was amazingly sparkly and shining~!)
NOJ

ヒメ:
「「スーパーキノコ」派もがんばったの、見てたからな! もーちょいだったかー!」
("Super Mushroom" did their best, too, I know it! It was so close-!)
イイダ:
「-」
NOJ

ヒメ:
「やっぱフェスは 最高だな!!!」
(That Splatfest was absolutely the best!!!)
イイダ:
「-」
NOJ
ヒメ:
「-」

イイダ:
「ハイ! 楽しかったですね~♪」
(Yes! It was so much fun~♪)
NOJ
ヒメ:
「-」

イイダ:
「でも48時間ぶっ続けって やっぱり大変で… ヒメセンパイに ついていくので精一杯でしたよ~」
(But going on for 48 hours was pretty hard... Pearl-senpai, you looked like you gave it your all~)
NOJ

ヒメ:
「ワリーワリー 久しぶりのフェスで トバしちまったな…」
(It's been a long while since I got so worn out by a Splatfest...)
イイダ:
「-」
NOJ
ヒメ:
「-」

イイダ:
「「最強無敵のDJになる!」って言いましたけど まだまだだな~って痛感しちゃいました…」
(I said "I want to become the strongest invincible DJ!!", but I feel a lot like I haven't reached that yet...)
NOJ

ヒメ:
「なーに言ってんだよ… っつーか イイダは「最強」なんて 目指す必要ねーよ!」
(What are you saying... I mean, Marina, you shouldn't be setting your sights on "strongest")
イイダ:
「-」
NOJ
ヒメ:
「-」

イイダ:
「エ…?」
(Eh...?)
NOJ

ヒメ:
「イイダは アタシにとって「最高」のDJなんだ! 最高なヤツと一緒なら 最強なんてメじゃねーよ!」
(Marina, you're the "best" DJ in my opinion! We couldn't be the "best" together if you were the "strongest"!)
イイダ:
「-」
NOJ
ヒメ:
「-」

イイダ:
「ヒメセンパイ… ワタシ… ワタシ…」
(Pearl-senpai... I... I...)
NOJ
ヒメ:
「-」

イイダ:
「エ~~~ン!! ヒメ… センパ… ウ゛ワ~~~ン!!!」
(Wa~~~ahh!! Pearl... senpai... w- wa~~~ahh!!!)
NOJ

ヒメ:
「ア゛ー!!! すぐ泣くーーー! おいカメラ! そう!アタシに向けたまま!」
(Ah-!!! She started crying all of a sudden---! Hey, cameraman! Yes! Keep facing me!)
イイダ:
「-」
NOJ
ヒメ:
「-」

イイダ:
「グスン… ヒック… ありがとうございます~ ワタシ もっともっと がんばります~」
(Sniff... Hic... Thank you very much~ I will keep doing my very best~)
NOJ

ヒメ:
「でもなイイダ アタシにとって「最高」であり続ける ってーのは 最強になるより 難しーぜ!!」
(But, Marina - It would be harder for me to stay the best than to become the strongest!!)
イイダ:
「-」
NOJ

ヒメ:
「ただ イイダが最高のトラックを作る限り アタシも 最高のラップで応え続けっからよ!」
(But, Marina, when you keep making the the best tracks up to your limit, that's what makes me keep answering them with the best raps!)
イイダ:
「-」
NOJ
ヒメ:
「-」

イイダ:
「ハイ!! あ… でも そ~なると…」
(Yes!! Ah... but for tha~t to happen...)
NOJ
ヒメ:
「-」

イイダ:
「じゃあ… じゃあワタシがヒメセンパイにとって 最高のDJじゃなくなったら ど~なるんですか?!」
(Well... well what will I do if I can't become the best DJ for Pearl-senpai?!)
NOJ

ヒメ:
「ハア? 全国のちびっこ達でも わかるよーなこと聞くんじゃねーよ!!」
(Huh?! Don't ask all of the nation's kids what to do!!)
イイダ:
「-」
NOJ

ヒメ:
「そん時は また「2人でいっしょに」 最高を目指す! それだけだろ?!」
(If that time comes, we'll set our sights on becoming the best together as a duo! Is that all?!)
イイダ:
「-」
NOJ
ヒメ:
「-」

イイダ:
「ヒメセンパイ… ワタシ… ワタシ…」
(Pearl-senpai... I... I...)
NOJ

ヒメ:
「ちょ! ちょ!! もう泣くなよ!!!」
(Hey! Hey!! Don't cry again!!!)
イイダ:
「-」
NOJ
ヒメ:
「-」

イイダ:
「エヘヘ♪ ヨ~シ! イカすトラック ガンガン作りますよ~!!!」
(Hehehe♪ Alri~ght! I'll be lively and make the maddest tracks~!!!)
NOJ
Notes: Marina is copying Pearl's speech patterns, and even her signature pun of emphasizing イカ, "squid" in the word いかす, "to be lively"

ヒメ:
「オウ! ぶちかましてこーぜ!!」
(Oh! That's cheating!!)
イイダ:
「-」
NOJ

ヒメ:
「あ、 フェスに参加した人は 広場で スーパーサザエ もらえるってよ!」
(Ah, everyone who participated in the Splatfest can receive their Super Sea Snails in the square!)

イイダ:
「これからもテンタクルズを よろしくお願いします!」
(We've been Off the Hook, thanks for tuning in!)
NOJ



Russian
Announcement
Жемчик's Dialogue
Мариша's Dialogue
Region

Жемчик:
«Марио! Вот мы и снова вместе! Вместе с Марио!»

Мариша:
«Йоу! Мы отмечаем 35-летний юбилей Super Mario Bros.! Новый Сплатфест!»
NOE

Жемчик:
«Вы хотите вырасти и обрести мощь супергриба?»

Мариша:
«Или обладать неуязвимостью суперзвезды?»
NOE
Жемчик:
«-»

Мариша:
«Жемчик, а разве Сплатокалипсис не был последним Сплатфестом?»
NOE

Жемчик:
«Ну да... был... Но это же Марио! Мы не можем оставаться в стороне!»
Мариша:
«-»
NOE
Жемчик:
«-»

Мариша:
«Согласна! Тогда перейдем к делу...»
NOE
Жемчик:
«-»

Мариша:
«Полагаю, Жемчик, тебе больше по душе суперзвезда?»
NOE

Жемчик:
«Ха, а вот и нет! Супергриб решает!»
Мариша:
«-»
NOE
Жемчик:
«-»

Мариша:
«Правда? А я думала, что ты, может, не захочешь признавать, что...»
NOE

Жемчик:
«ПРИЗНАВАТЬ ЧТО?!»
Мариша:
«-»
NOE
Жемчик:
«-»

Мариша:
«Э... ну, как бы это сказать... Что ты не очень... большая.»
NOE

Жемчик:
«Мариша, я уже гигант! И меня не остановить! И я хочу большего!»
Мариша:
«-»
NOE
Жемчик:
«-»

Мариша:
«Ну да... Ведь неуязвимоплюхомета не существует, так ведь?»
NOE

Жемчик:
«Так.»
Мариша:
«-»
NOE
Жемчик:
«-»

Мариша:
«Понятно.»
NOE
Жемчик:
«-»

Мариша:
«Тогда...»
NOE
Жемчик:
«-»

Мариша:
«Я стану суперзвездой!»
NOE

Жемчик:
«Ты и так звезда, Мариша! Против нашего дуэта нет приема!»
Мариша:
«-»
NOE

Жемчик:
«Дуэт Off the Hook — реальный дуплет, победу зубами мы вырываем!»
Мариша:
«-»
NOE
Жемчик:
«-»

Мариша:
«С этим не поспоришь. Но мне хочется быстро бежать и блистать.»
NOE

Жемчик:
«Да ладно, Мариша. Один разок всего! Сыграем за одну команду!»
Мариша:
«-»
NOE
Жемчик:
«-»

Мариша:
«Не могу, Жемчик... Меня зовет моя звезда...»
NOE
Жемчик:
«-»

Мариша:
«Та-да, та-да, та-ду! Ду-ду, ду-ду, ду-та!»
NOE

Жемчик:
«Стать большим, крушить, ломать! Всех мы будем удивлять!»
Мариша:
«-»
NOE

Жемчик:
«Стать гигантом на глазах, все проблемы в пыль умять!»
Мариша:
«-»
NOE
Жемчик:
«-»

Мариша:
«Каждому свое?»
NOE

Жемчик:
«Йоу! Вперед, супергрибочки!»
Мариша:
«-»
NOE
Жемчик:
«-»

Мариша:
«Суперзвезды, пора блистать!»
NOE

Жемчик:
«Кстати, Сплатфест длится 48 часов, так что придется попотеть!»
Мариша:
«-»
NOE
Жемчик:
«-»

Мариша:
«Пора плюхать все и всех направо и налево!»
NOE

Жемчик:
«Вперед к терминалу и выберите сторону!»

Мариша:
«Поздравим Марио! И не забудьте надеть Сплатфест-майку!»
NOE



Introduction
Жемчик's Dialogue
Мариша's Dialogue
Region
Жемчик:
«Сплатфест, посвященный 35-летнему юбилею Super Mario Bros., стартовал!»
Мариша:
«Помчали! Вперед к терминалу и выберите сторону!»
NOE



Results
Жемчик's Dialogue
Мариша's Dialogue
Region

Жемчик:
«Супергрибы выросли как на дрожжах!»

Мариша:
«Да что ж такое...»
NOE

Жемчик:
«Огромное спасибо всем моим соратникам! И «неуязвимым» тоже!»

Мариша:
«А я горжусь суперзвездами! Даже проиграв, мы не потеряли блеска!»
NOE

Жемчик:
«Согласна. Сплатфесты — это круть!»
Мариша:
«-»
NOE
Жемчик:
«-»

Мариша:
«Жемчик, дело говоришь! Это было круто. Очень. Очень-очень!»
NOE
Жемчик:
«-»

Мариша:
«Но мне немножко грустно, что я больше не суперзвезда...»
NOE

Жемчик:
«Что?! Заканчивай молоть чушь!»
Мариша:
«-»
NOE
Жемчик:
«-»

Мариша:
«...»
NOE

Жемчик:
«Мариша, для меня ты всегда будешь суперзвездой! Ты классная!»
Мариша:
«-»
NOE
Жемчик:
«-»

Мариша:
«У меня... нет слов.»
NOE
Жемчик:
«-»

Мариша:
«Жемчик, спасибо тебе... Я так... так тронута.»
NOE

Жемчик:
«Я видела тебя в деле...»
Мариша:
«-»
NOE
Жемчик:
«-»

Мариша:
«Хе-хе. Что бы мы делали, если бы у меня пропал талант, а, Жемчик?»
NOE

Жемчик:
«Мариша, у тебя таланта выше крыши! Ты всегда была креативщицей!»
Мариша:
«-»
NOE

Жемчик:
«Лучше твоих битов просто нет! Мой рэпчик ложится на них идеально!»
Мариша:
«-»
NOE
Жемчик:
«-»

Мариша:
«Спасибо, Жемчик.»
NOE
Жемчик:
«-»

Мариша:
«Но если так случится, что мой талант угаснет? Моя звезда зайдет?..»
NOE

Жемчик:
«Мариша! Выкинь ты весь этот негатив из головы! Серьезно!»
Мариша:
«-»
NOE

Жемчик:
«Как зайдет, так и снова взойдет! Я помогу! Мы ведь команда!»
Мариша:
«-»
NOE
Жемчик:
«-»

Мариша:
«Дуэт Off the Hook?»
NOE

Жемчик:
«Реальный дуплет!»
Мариша:
«-»
NOE
Жемчик:
«-»

Мариша:
«Победу зубами...»
NOE

Жемчик:
«МЫ ВЫРЫВАЕМ!»
Мариша:
«-»
NOE

Жемчик:
«А участников Сплатфеста на площади ждут круть-улитки!»

Мариша:
«Дуэт Off the Hook прощается с вами. Всех любим, всех обнимаем!»
NOE



Results if Super Star were to win
Жемчик's Dialogue
Мариша's Dialogue
Region
Жемчик:
«-»

Мариша:
«Суперзвезд не остановить!»
NOE

Жемчик:
«Да чтоб мне щупальце...»
Мариша:
«-»
NOE
Жемчик:
«-»

Мариша:
«Мы это сделали! Со сверхсветовой скоростью неуязвимые летали!»
NOE

Жемчик:
«Летали?... Ладно. Мои супергрибочки проиграли, но были на высоте.»
Мариша:
«-»
NOE

Жемчик:
«Сплатфесты — это круть!»
Мариша:
«-»
NOE
Жемчик:
«-»

Мариша:
«Жемчик, дело говоришь! Это было круто. Очень. Очень-очень!»
NOE
Жемчик:
«-»

Мариша:
«Хотя, надо сказать, плюхать 48 часов подряд было непросто.»
NOE

Жемчик:
«Да уж! Последний Сплатфест уже давненько был.»
Мариша:
«-»
NOE
Жемчик:
«-»

Мариша:
«Да, было сложно. Я выиграла сегодня, но с трудом. Моя звезда заходит?»
NOE

Жемчик:
«Что?! Заканчивай молоть чушь!»
Мариша:
«-»
NOE
Жемчик:
«-»

Мариша:
«...»
NOE

Жемчик:
«Мариша, для меня ты всегда будешь суперзвездой! Ты классная!»
Мариша:
«-»
NOE
Жемчик:
«-»

Мариша:
«У меня... нет слов.»
NOE
Жемчик:
«-»

Мариша:
«Жемчик, спасибо тебе... Я так... так тронута.»
NOE

Жемчик:
«Я видела тебя в деле...»
Мариша:
«-»
NOE
Жемчик:
«-»

Мариша:
«Хе-хе. Что бы мы делали, если бы у меня пропал талант, а, Жемчик?»
NOE

Жемчик:
«Мариша, у тебя таланта выше крыши! Ты всегда была креативщицей!»
Мариша:
«-»
NOE

Жемчик:
«Лучше твоих битов просто нет! Мой рэпчик ложится на них идеально!»
Мариша:
«-»
NOE
Жемчик:
«-»

Мариша:
«Спасибо, Жемчик.»
NOE
Жемчик:
«-»

Мариша:
«Но если так случится, что мой талант угаснет? Моя звезда зайдет?..»
NOE

Жемчик:
«Мариша! Выкинь ты весь этот негатив из головы! Серьезно!»
Мариша:
«-»
NOE

Жемчик:
«Как зайдет, так и снова взойдет! Я помогу! Мы ведь команда!»
Мариша:
«-»
NOE
Жемчик:
«-»

Мариша:
«Дуэт Off the Hook?»
NOE

Жемчик:
«Реальный дуплет!»
Мариша:
«-»
NOE
Жемчик:
«-»

Мариша:
«Победу зубами...»
NOE

Жемчик:
«МЫ ВЫРЫВАЕМ!»
Мариша:
«-»
NOE

Жемчик:
«А участников Сплатфеста на площади ждут круть-улитки!»

Мариша:
«Дуэт Off the Hook прощается с вами. Всех любим, всех обнимаем!»
NOE



Spanish (Spain)
Announcement
Perla's Dialogue
Marina's Dialogue
Region

Perla:
«¡Aquí estamos otra vez! ¡Y nada menos que en honor a Mario!»

Marina:
«¡Venimos a celebrar el 35.º aniversario de Super Mario Bros. con un festival!»
NOE

Perla:
«Venga, al grano. ¡Ha llegado la hora de la pregunta decisiva! ¿Qué preferís?»

Marina:
«¿Un superchampiñón que os haga crecer o una superestrella que os dé poder?»
NOE
Perla:
«-»

Marina:
«Un momento, Perla... ¿No habíamos celebrado ya el último festival?»
NOE

Perla:
«Sí... supongo. ¡Pero Mario es Mario y hay que celebrarlo por todo lo alto!»
Marina:
«-»
NOE
Perla:
«-»

Marina:
«¡Tienes toda la razón! Centrémonos entonces.»
NOE
Perla:
«-»

Marina:
«A ver, déjame adivinar: tú eres más de la superestrella, ¿verdad?»
NOE

Perla:
«¡¿Yo?! ¡Pero qué dices! Yo voy con el superchampiñón, clarísimamente.»
Marina:
«-»
NOE
Perla:
«-»

Marina:
«¿Ah, sí? Pensaba que igual no querrías reconocerlo... en público, o algo.»
NOE

Perla:
«¡¿Reconocer el qué?!»
Marina:
«-»
NOE
Perla:
«-»

Marina:
«Eso... Ya sabes, ¿no? Que eres... algo pequeña y... te gustaría crecer.»
NOE

Perla:
«¡Si ya soy muy grande! Pero mejor que me vean de lejos para darles ventaja.»
Marina:
«-»
NOE
Perla:
«-»

Marina:
«Qué generoso por tu parte...»
NOE

Perla:
«¿A que sí?»
Marina:
«-»
NOE
Perla:
«-»

Marina:
«No tienes remedio...»
NOE
Perla:
«-»

Marina:
«Bien, pues las cartas están echadas.»
NOE
Perla:
«-»

Marina:
«¡Yo iré a por todas con el equipo superestrella!»
NOE

Perla:
«Pero si ya eres toda una estrella. Somos el mejor dúo. ¡Cefalopop por siempre! ♪»
Marina:
«-»
NOE

Perla:
«¡Definitivamente! Luchando contra la corriente, como dos buenas valientes. ♪»
Marina:
«-»
NOE
Perla:
«-»

Marina:
«Somos un buen equipo, sí. ¡Pero hoy voy con la invencibilidad y el brillo alocado!»
NOE

Perla:
«Veeenga, Marina. ¡Luchemos en el mismo equipo por una vez!»
Marina:
«-»
NOE
Perla:
«-»

Marina:
«No puedo, Perla... ¡Tengo que apoyar a la superestrella!»
NOE
Perla:
«-»

Marina:
«¡La música que suena cuando se activa es demasiado pegadiza!»
NOE

Perla:
«¿Y lo que mola poder cargarte ladrillos y bloques sin despeinarte?»
Marina:
«-»
NOE

Perla:
«¡Y dar pisotones enormes! ¡Aplastarlo todo a tu paso! ¿No te tienta?»
Marina:
«-»
NOE
Perla:
«-»

Marina:
«No me vas a convencer...»
NOE

Perla:
«¡Vale! Al menos lo he intentado. En fin, ¡a por todas, superchampiñones!»
Marina:
«-»
NOE
Perla:
«-»

Marina:
«¡Brillemos como nunca, superestrellas!»
NOE

Perla:
«Por cierto, un recordatorio: el festival dura 48 horas, ¡preparaos!»
Marina:
«-»
NOE
Perla:
«-»

Marina:
«¡Entintadlo todo y no os rindáis!»
NOE

Perla:
«Ya podéis ir al terminal de voto y elegir vuestro potenciador preferido.»

Marina:
«¡Hacedlo por Mario! Y acordaos de poneros la camiseta del festival.»
NOE



Introduction
Pearl's Dialogue
Marina's Dialogue
Region
Pearl:
"¡El festival está en marcha! ¡A celebrar esos 35 años de Super Mario Bros.!"
Marina:
"¡Pasaos por el terminal de voto para elegir un bando!"
NOE



Results
Perla's Dialogue
Marina's Dialogue
Region

Perla:
«¡El equipo superchampiñón es el supercampeón!»

Marina:
«No vale...»
NOE

Perla:
«¡Enhorabuena, equipo! Hemos vencido a esos «invencibles» de pacotilla.»

Marina:
«Hemos perdido, ¡pero hemos brillado con intensidad hasta el último segundo!»
NOE

Perla:
«Ahí llevas razón, Marina. Jo, ¡qué bien nos lo pasamos en los festivales!»
Marina:
«-»
NOE
Perla:
«-»

Marina:
«¿Verdad? Ha sido divertido a más no poder.»
NOE
Perla:
«-»

Marina:
«Aunque me da un poco de penita no poder decir que soy una superestrella...»
NOE

Perla:
«¡No digas bobadas, Marina!»
Marina:
«-»
NOE
Perla:
«-»

Marina:
«¡¿Eh?!»
NOE

Perla:
«Para mí siempre serás toda una superestrella. ¡Brillas como nadie!»
Marina:
«-»
NOE
Perla:
«-»

Marina:
«Me dejas sin palabras, Perla...»
NOE
Perla:
«-»

Marina:
«¡Mil gracias! No esperaba tal cumplido. Jo, ¡qué grande eres!»
NOE

Perla:
«Ja, no se te escapa una, Marina.»
Marina:
«-»
NOE
Perla:
«-»

Marina:
«Ahora en serio, Perla... ¿Qué sería de nosotras si un día dejo de molar?»
NOE

Perla:
«¡Lo que me faltaba por oír! Pero si eres una artistaza, Marina.»
Marina:
«-»
NOE

Perla:
«Tienes un sentido del ritmo increíble. ¡Haces que cantar me resulte más fácil!»
Marina:
«-»
NOE
Perla:
«-»

Marina:
«¡No tenía ni idea!»
NOE
Perla:
«-»

Marina:
«¿Entonces no crees que dejaría de ser una estrella si ya no fuese tan buena?»
NOE

Perla:
«Tienes que dejar de ser tan negativa, Marina. ¡No te rayes tanto!»
Marina:
«-»
NOE

Perla:
«Si perdieses fuelle, ¡uniríamos fuerzas para que volvieses a ser la de antes!»
Marina:
«-»
NOE
Perla:
«-»

Marina:
«¿Cefalopop por siempre?»
NOE

Perla:
«¡Definitivamente!»
Marina:
«-»
NOE
Perla:
«-»

Marina:
«¿Luchando contra la corriente?»
NOE

Perla:
«¡Como dos buenas valientes!»
Marina:
«-»
NOE

Perla:
«Bien, ya sabéis: si habéis participado en el festival, ¡a la plaza a por premios!»

Marina:
«Las Cefalopop nos despedimos ahora. ¡Os queremos!»
NOE



Results if Super Star were to win
Perla's Dialogue
Marina's Dialogue
Region
Perla:
«-»

Marina:
«¡Nuestro equipo ha saltado al superestrellato!»
NOE

Perla:
«Lo que hay que aguantar...»
Marina:
«-»
NOE
Perla:
«-»

Marina:
«¡Bien hecho, equipo! Hemos sido raudos e imparables; ¡una victoria brillante!»
NOE

Perla:
«No habéis brillado tanto... En fin, hemos perdido, ¡pero hemos estado enormes!»
Marina:
«-»
NOE

Perla:
«Ah... ¡Qué bien nos lo pasamos en los festivales!»
Marina:
«-»
NOE
Perla:
«-»

Marina:
«¿A que sí? Ha sido divertido a más no poder.»
NOE
Perla:
«-»

Marina:
«Aunque 48 horas entintando me han dejado bastante cansada...»
NOE

Perla:
«¡Ya te digo! Será la falta de práctica. Ha llovido desde la última vez...»
Marina:
«-»
NOE
Perla:
«-»

Marina:
«No sé si será eso. Habremos ganado, pero me noto apagada.»
NOE

Perla:
«¡No digas bobadas, Marina!»
Marina:
«-»
NOE
Perla:
«-»

Marina:
«¡¿Eh?!»
NOE

Perla:
«Para mí siempre has sido y serás toda una estrella. ¡Brillas como nadie!»
Marina:
«-»
NOE
Perla:
«-»

Marina:
«Me dejas sin palabras, Perla...»
NOE
Perla:
«-»

Marina:
«¡Mil gracias! No esperaba tal cumplido. Jo, ¡qué grande eres!»
NOE

Perla:
«Ja, no se te escapa una, Marina.»
Marina:
«-»
NOE
Perla:
«-»

Marina:
«Ahora en serio, Perla... ¿Qué sería de nosotras si un día dejo de molar?»
NOE

Perla:
«¡Lo que me faltaba por oír! Pero si eres una artistaza, Marina.»
Marina:
«-»
NOE

Perla:
«Tienes un sentido del ritmo increíble. ¡Haces que cantar me resulte más fácil!»
Marina:
«-»
NOE
Perla:
«-»

Marina:
«¡No tenía ni idea!»
NOE
Perla:
«-»

Marina:
«¿Entonces no crees que dejaría de ser una estrella si ya no fuese tan buena?»
NOE

Perla:
«Tienes que dejar de ser tan negativa, Marina. ¡No te rayes tanto!»
Marina:
«-»
NOE

Perla:
«Si perdieses fuelle, ¡uniríamos fuerzas para que volvieses a ser la de antes!»
Marina:
«-»
NOE
Perla:
«-»

Marina:
«¿Cefalopop por siempre?»
NOE

Perla:
«¡Exactamente!»
Marina:
«-»
NOE
Perla:
«-»

Marina:
«¿Luchando contra la corriente?»
NOE

Perla:
«¡Como dos buenas valientes!»
Marina:
«-»
NOE

Perla:
«Bien, ya sabéis: si habéis participado en el festival, ¡a la plaza a por premios!»

Marina:
«Las Cefalopop nos despedimos ahora. ¡Os queremos!»
NOE



Spanish (Latin America)
Announcement
Perla's Dialogue
Marina's Dialogue
Region

Perla:
«Estamos de vuelta para el cumpleaños de nuestro amigo... ¡Mario!»
(We're back for the birthday of our friend... Mario!)

Marina:
«¡Celebramos el 35.° aniversario de Super Mario Bros. con un festival especial!»
(We're celebrating the 35th anniversary of Super Mario Bros. with a special Splatfest!)
NOA

Perla:
«¿Prefieren vivir a lo grande con un superchampiñón?»
(Do you prefer to live big with a Super Mushroom?)

Marina:
«¿O prefieren volverse invencibles con el poder de una superestrella?»
(Or do you prefer to turn invinsible with the power o a Super Star?)
NOA
Perla:
«-»

Marina:
«Oye, Perla, ¿no se supone que el Splatocalipsis fue el festival final?»
(Hey, Pearl, wasn't the Splatocalypse supposed to be the final Splatfest?)
NOA

Perla:
«Sí, pero... ¡es Mario! ¡Se merece una fiesta!»
(Yeah, but... it's Mario! He deserves a party!)
Marina:
«-»
NOA
Perla:
«-»

Marina:
«¡Cierto! Bueno, como decíamos...»
(True! Well, as we were saying...)
NOA
Perla:
«-»

Marina:
«Perla, ¿supongo que tú vas con las superestrellas?»
(I suppose you're going with Super Star, Pearl?)
NOA

Perla:
«¿Cómo? ¡Ni loca! ¡Superchampiñones por siempreee!»
(Huh? No way! Super Mushroom for liiife!)
Marina:
«-»
NOA
Perla:
«-»

Marina:
«¿De verdad? Yo pensé que a lo mejor no querías, este... reconocer que...»
(Really? I thought that you'd maybe wouldn't want, uh... to recognize that...)
NOA

Perla:
«¿RECONOCER QUÉ?»
(RECOGNIZE WHAT?)
Marina:
«-»
NOA
Perla:
«-»

Marina:
«No, nada, solo eso de que... no eres... tan grande como tal vez... ¿quisieras?»
(No, nothing, just that... you aren't.. as big as maybe... you'd want to be?)
NOA

Perla:
«Mi querida Marina, soy grandísima. Soy imparable. ¡Por qué no hacerme gigante!»
(My dear Marina, I'm super big. I'm unstoppable. Why not make myself even bigger?)
Marina:
«-»
NOA
Perla:
«-»

Marina:
«Ah, claro. Porque no hay otro nivel de invencibilidad, ¿no?»
(Ah, of course. Because there's no other level of invincibility, right?)
NOA

Perla:
«Exacto.»
(Exactly.)
Marina:
«-»
NOA
Perla:
«-»

Marina:
«Entendido.»
(Understood)
NOA
Perla:
«-»

Marina:
«En ese caso...»
(In that case...)
NOA
Perla:
«-»

Marina:
«¡Yo voy con las superestrellas! ¡Quiero ese poder estelar! ¡Yuju!»
(I'm going with Super Star! I want that star power! Yoo-hoo!)
NOA

Perla:
«Ya eres una estrella, Marina. ¡Somos un dúo sin igual!»
(You're already a star, Maina. We're a duo unlike any other!)
Marina:
«-»
NOA

Perla:
«¡Tentáculos fuertes con ventosas, somos Cefalopop, siempre victoriosas!»
(Strong tentacles with suction cups, we're Off the Hook, always victorious!)
Marina:
«-»
NOA
Perla:
«-»

Marina:
«Totalmente de acuerdo. Pero me gustan la velocidad y las cosas brillantes.»
(I fully agree. But I like the speed and shiny things.)
NOA

Perla:
«Ay, Marina, ¿por qué no podemos jugar en el mismo equipo por una vez?»
(Agh, Marina, why can't we play on the same team for once?)
Marina:
«-»
NOA
Perla:
«-»

Marina:
«No puedo, mi Perlita. La estrella me llama...»
(I can't, my Pearlie. The star calls me...)
NOA
Perla:
«-»

Marina:
«¡TIN TIN TIN TI-RÍN TIN TIRÍ-RIRÍ, TIN TIN TIN TI-RÍN TIN TIRÍ-RIRÍ!»
NOA

Perla:
«¡No vas a romper ningún bloque si no tienes ese tamaño súper!»
(You're not gonna break any blocks if you're not super-sized!)
Marina:
«-»
NOA

Perla:
«¡Nadie puede con los champiñones, grandes, fuertes, campeones!»
(No one can handle mushrooms, big, strong, victorious!)
Marina:
«-»
NOA
Perla:
«-»

Marina:
«Creo que estamos de acuerdo en que estamos en desacuerdo.»
(I think we both agree to disagree.)
NOA

Perla:
«De acuerdo. ¡Vamos, mis superchampiñones!»
(Agreed. Let's go, my Super Mushrooms!)
Marina:
«-»
NOA
Perla:
«-»

Marina:
«¡Brillen fuerte, superestrellas!»
(Shine bright, Super Stars!)
NOA

Perla:
«Por cierto, este festival dura 48 horas, ¡así que prepárense para darlo todo!»
(By the way, this Splatfest last 48 hours, so let's get ready to give it our all!)
Marina:
«-»
NOA
Perla:
«-»

Marina:
«¡Lancen esa tinta y no bajen la guardia!»
(Throw that ink and don't let your guard down!)
NOA

Perla:
«Ahora, ¡vayan a la terminal de voto y elijan su potenciador favorito!»
(Now, head to the vote terminal and choose your favorite power up!)

Marina:
«¡Háganlo por Mario! Y no olviden equipar la camiseta festiva para mejorarla.»
(Do it for Mario! And don't forget to equip your Splatfest Tee to level it up.)
NOA



Introduction
Pearl's Dialogue
Marina's Dialogue
Region
Pearl:
"¡Ya comenzó la supercelebración del 35.° aniversario de Super Mario Bros.!"
Marina:
"¡Vamooos! ¡Vayan a la terminal de voto y elijan un equipo!"
NOA



Results
Perla's Dialogue
Marina's Dialogue
Region

Perla:
«¡Victoria a lo grande para los superchampiñones!»
(Big-time victory for the Super Mushrooms!)

Marina:
«Ay, no...»
NOA

Perla:
«¡Felicidades enormes a mi equipo!»
(A huge congratulations to my team!)

Marina:
«Pues yo estoy orgullosa de mis superestrellas. Perdimos, pero brillamos.»
(Well, I'm proud of my Super Stars. We lost, but we shined.)
NOA

Perla:
«Eso es. ¡Los festivales son la onda!»
(That's right. Splatfests are off the hook!)
Marina:
«-»
NOA
Perla:
«-»

Marina:
«Bien dicho, Perla. ¡Me superencantó!»
(Well said, Pearl. I loved it so much!)
NOA
Perla:
«-»

Marina:
«Pero qué decepción que a partir de hoy ya no soy una superestrella...»
(But it's such a shame that starting today, I'm not a superstar anymore...)
NOA

Perla:
«¡¿Qué?! ¡De eso nada, Marina!»
(What?! No way, Marina!)
Marina:
«-»
NOA
Perla:
«-»

Marina:
«...»
NOA

Perla:
«Siempre serás mi superestrella. ¡Me iluminas la vida!»
(You'll always be my superstar. You brighten my life!)
Marina:
«-»
NOA
Perla:
«-»

Marina:
«No... No sé qué decir...»
(I... I don't know what to say...)
NOA
Perla:
«-»

Marina:
«*snif* Gracias, Perla. *snif* Eres una... "gran" amiga.»
(*sniff* Thanks, Pearl. *sniff* You're a... "great" friend.)
NOA

Perla:
«Qué graciosa...»
(How funny...)
Marina:
«-»
NOA
Perla:
«-»

Marina:
«Pero en serio... ¿qué nos pasaría si perdiera esa magia?»
(But seriously... what would happen to us if I lost that magic?)
NOA

Perla:
«No, no, no, Marina. ¡Esa magia tuya no se pierde! Tienes un talento especial.»
(No, no, no, Marina. Your kind of magic does not get lost! You have a special talent.)
Marina:
«-»
NOA

Perla:
«¡Me niego a ponerle rimas a un ritmo que no sea tuyo!»
(I refuse to put rhymes with a beat that isn't yours!)
Marina:
«-»
NOA
Perla:
«-»

Marina:
«Te lo agradezco, Perla.»
(Thank you, Pearl.)
NOA
Perla:
«-»

Marina:
«Pero ¿qué pasaría si no fuera una DJ famosa? ¿Qué pasa si pierdo mi brillo?»
(But what would happen if I wasn't a famous DJ? What would happen if I lost my shine?)
NOA

Perla:
«¡Marina! ¡Quítate esa idea de la cabeza!»
(Marina! Get that idea out of your head!)
Marina:
«-»
NOA

Perla:
«Si eso ocurriera, trabajaríamos juntas para recuperarlo. ¡Somos un equipo!»
(If that ever happens, we'd work together to get it back. We're a team!)
Marina:
«-»
NOA
Perla:
«-»

Marina:
«¿Tentáculos fuertes?»
(Strong tentacles?)
NOA

Perla:
«¡Con ventosas!»
(With suction cups!)
Marina:
«-»
NOA
Perla:
«-»

Marina:
«¡Somos Cefalopop!»
(We're Off the Hook!)
NOA

Perla:
«¡SIEMPRE VICTORIOSAS!»
(ALWAYS VICTORIOUS!)
Marina:
«-»
NOA

Perla:
«¡Si participaron en el festival, recojan sus premios en el centro!»
(If you participated in the Splatfest, collect your prizes at the Square!)

Marina:
«¡Y eso es todo! ¡Cuídense, los queremos!»
(That's all! Take care, we love you!)
NOA



Results if Super Star were to win
Perla's Dialogue
Marina's Dialogue
Region
Perla:
«-»

Marina:
«¡Las superestrellas somos imparables!»
(Super Stars are unstoppable!)
NOA

Perla:
«Cómo es posible...»
(How is that posssible...)
Marina:
«-»
NOA
Perla:
«-»

Marina:
«¡Lo logramos, equipo! ¡Una victoria brillante y veloz!»
(We did it, team! A shining and speedy victory!)
NOA

Perla:
«¿Veloz...? En fin, mis champiñones perdieron, pero son un equipo tremendo.»
(Speedy...? Anyway, my mushrooms lost, but they're a great team.)
Marina:
«-»
NOA

Perla:
«¡Los festivales son la onda!»
(Splatfests are off the hook!)
Marina:
«-»
NOA
Perla:
«-»

Marina:
«Bien dicho, Perla. ¡Me superencantó!»
(Well said, Pearl. I loved it so much!)
NOA
Perla:
«-»

Marina:
«Aunque... debo admitir que 48 horas seguidas de combates cansan bastante.»
(Although, I must admit that 48 straight hours of battles are really tiring.)
NOA

Perla:
«¡Es verdad! Hacía mucho que no celebrábamos un festival.»
(That's true! We hadn't celebrated a Splatfest in a long while.)
Marina:
«-»
NOA
Perla:
«-»

Marina:
«Aunque me hace pensar... ¿Será que mi estrella se está atenuando?»
(Although that makes me think... Could my star be dimming?)
NOA

Perla:
«¡¿Qué?! ¡De eso nada, Marina!»
(What?! No way, Marina!)
Marina:
«-»
NOA
Perla:
«-»

Marina:
«...»
NOA

Perla:
«Siempre serás mi superestrella. ¡Me iluminas la vida!»
(You'll always be my superstar. You brighten my life!)
Marina:
«-»
NOA
Perla:
«-»

Marina:
«No... No sé qué decir...»
(I... I don't know what to say...)
NOA
Perla:
«-»

Marina:
«*snif* Gracias, Perla. *snif* Eres una... "gran" amiga.»
(*sniff* Thanks, Pearl. *sniff* You're a... "great" friend.)
NOA

Perla:
«Qué graciosa...»
(How funny...)
Marina:
«-»
NOA
Perla:
«-»

Marina:
«Pero en serio... ¿qué nos pasaría si perdiera esa magia?»
(But seriously... what would happen to us if I lost that magic?)
NOA

Perla:
«No, no, no, Marina. ¡Esa magia tuya no se pierde! Tienes un talento especial.»
(No, no, no, Marina. Your kind of magic does not get lost! You have a special talent.)
Marina:
«-»
NOA

Perla:
«¡Me niego a ponerle rimas a un ritmo que no sea tuyo!»
(I refuse to put rhymes with a beat that isn't yours!)
Marina:
«-»
NOA
Perla:
«-»

Marina:
«Te lo agradezco, Perla.»
(Thank you, Pearl.)
NOA
Perla:
«-»

Marina:
«Pero ¿qué pasaría si no fuera una DJ famosa? ¿Qué pasa si pierdo mi brillo?»
(But what would happen if I wasn't a famous DJ? What would happen if I lost my shine?)
NOA

Perla:
«¡Marina! ¡Quítate esa idea de la cabeza!»
(Marina! Get that idea out of your head!)
Marina:
«-»
NOA

Perla:
«Si eso ocurriera, trabajaríamos juntas para recuperarlo. ¡Somos un equipo!»
(If that ever happens, we'd work together to get it back. We're a team!)
Marina:
«-»
NOA
Perla:
«-»

Marina:
«¿Tentáculos fuertes?»
(Strong tentacles?)
NOA

Perla:
«¡Con ventosas!»
(With suction cups!)
Marina:
«-»
NOA
Perla:
«-»

Marina:
«¡Somos Cefalopop!»
(We're Off the Hook!)
NOA

Perla:
«¡SIEMPRE VICTORIOSAS!»
(ALWAYS VICTORIOUS!)
Marina:
«-»
NOA

Perla:
«¡Si participaron en el festival, recojan sus premios en el centro!»
(If you participated in the Splatfest, collect your prizes at the Square!)

Marina:
«¡Y eso es todo! ¡Cuídense, los queremos!»
(That's all! Take care, we love you!)
NOA



Top 100
North America and Oceania
Super Mushroom