Competitive:Supernova II
From Inkipedia, the Splatoon wiki
Unofficial!




This article discusses content that is not part of the official Splatoon series canon but is part of the community or competitive gaming space.
Splatoon​
Supernova II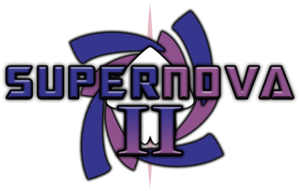 Supernova II was a Splatoon online tournament held on May 21st, 2016.[1] Alongside three other tournaments, Supernova II functioned as a qualifier for the Splatoon Anniversary Invitational.
Standings
The standings for the event are as follows:[2]
Rules
The tournament featured a set of rules similar to its previous iteration.
Group Stage[3]
Teams competed against each other in a round-robin style bracket composed of sixteen different groups.
Seeding was done manually by the TOs (Tournament Organizers), with emphasis on separating the top teams into different groups.
This stage lasted 5 rounds per group. Each round had a time limit of 30 minutes (35 for the first round). For each match, both teams were to play a Best-of-3 set of games against each other; the first team to win 2 games would win the set.
The top 2 teams from each group moved on to the next stage.
Final Stage[4]
Winning teams from the previous stage were seeded into a single-elimination bracket.
No two teams who were from the same group in the Group Stage would be paired off against each other, nor would they be located on the same side of the bracket.
Each round had a time limit of 40 minutes (50 for the Grand Finals).
All matches in this stage were a Best-of-5 sets, with the exception of the Grand Finals, which were a Best-of-7 set.
References