Tableturf Battle
From Inkipedia, the Splatoon wiki
Tableturf Battle​
Tableturf Battle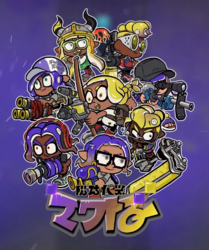 Type
Online Multiplayer or Single player with CPU's[1]
Players
2
Ranked
Yes
Weapons
All
Controllers
Joy-Con

Nintendo Switch Pro Controller

Release Date

9 September 2022
Tableturf Battle is an in-universe collectible card game inspired by Turf War battles, but turn-based and designed for two players. Both players use the cards in their custom decks to add ink patterns to a grid-like board, competing to have the most ink on the board at the end of the game.
Tableturf Battle is popular in the Splatlands and can be played in Splatsville's Tableturf Battle Dojo.
History
Tableturf Battle was announced on 10 August 2022 during the Splatoon 3 Direct. It was released with the launch of Splatoon 3.
Cards
Main article: List of Tableturf Battle cards in Splatoon 3
There are currently 175 cards to collect. The cards are based on weapons, characters, and other Splatoon concepts such as Tower Control.
Attributes
The face of every card has:
a name at the top,
an illustration in the center,
an 8-by-8 square grid containing an ink pattern in the lower-right corner,
a number inside a diamond in the lower-left corner equal to the number of squares the pattern covers, and
a Special Attack cost, indicated by the number of Special Space squares that are shown at the bottom.
The ink pattern depicted in the grid is added to the board when the card is played. Most card patterns contain exactly one Special Space, indicated by their unique color.
A card's Special Attack cost is typically proportionate to its size, roughly equal to one Special Point per three spaces (rounded up). Cards that do not feature a Special Space have a lower Special Attack cost than other cards of the same size.
There are three levels of card rarity: Common, Rare, and Fresh. The color of the card's name and the diamond in the lower-left corner correspond to this rarity, being either purple, yellow, or multi-colored respectively.
Each card has a sequence number that is not shown on the card but can be used for sorting. For example, the .52 Gal card is No. 7.
Each card has an upgrade level that affects the card's appearance. The level is indicated using one, two, or three stars.
Acquiring cards
Every player receives a Starter Deck from Staff at the Tableturf Battle Dojo upon speaking to them for the first time.[2] This deck is always comprised of these 15 cards in this order.
Starter Deck
Players can earn either normal or "fresh" card packs by increasing their Tableturf Battle rank[3] or catalog level. The Shell-Out Machine also has a 4% chance to dispense normal packs, but currently does not offer the opportunity to dispense fresh card packs. The player can find up to seven card packs by exploring Alterna as well. A pack contains five random cards,[3] with a fresh pack containing one guaranteed Fresh card. Players cannot own more than one copy of a card;[3] duplicates are converted to a certain number of card bits based on their rarity.[3][4] Players can spend card bits to acquire new cards or upgrade the appearance of existing cards.[3]
Upgrading cards
Upgrading a card from ★ to ★★ changes its background image.[5]
Upgrading a card from ★★ to ★★★ adds a holographic foil layer.[5]
Decks
A deck contains 15 cards. A player can save up to 16 decks, assigning a name and a card sleeve design to each one. When selecting or editing a deck, the total number of spaces covered by the ink patterns of cards in the deck is shown.
When the player receives the Starter Deck, it is automatically saved to their first deck slot with the name "Starter Deck" and the default sleeves.
Sleeves
New sleeves can be unlocked by reaching certain Tableturf ranks or by defeating a (non-jellyfish) rival 30 times on Level 3.
Crusty Sean's sleeve design is available as a Wandercrust reward.
Rules
A game lasts 12 turns. Each turn, working simultaneously, both players choose a card from a hand of four cards and decide where to place that card's ink pattern on the board. Players may also pass, discarding one card from their hand and gaining a Special Point.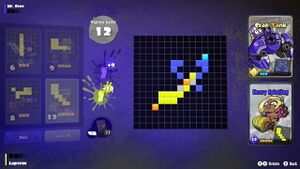 Ink placement
A card's ink pattern must be placed orthogonally or diagonally adjacent to spaces that already contain the player's ink. On a normal turn, it cannot overlap existing ink.
If both players try to place their ink patterns in the same spot, one of two things happens:
If the two cards have different numbers, then the card with the larger ink pattern is placed first, and the card with the smaller ink pattern is placed second. The smaller pattern covers up the larger one.[6][7] However, Special Spaces can only be covered by other Special Spaces.
If the two cards have the same number, then both cards add their ink patterns to the board at the same time. Spaces where the patterns overlap become neutral walls and cannot be inked again. Special Spaces do not become walls unless both are on the exact same square.
Special Spaces and Special Attacks
When a Special Space on the board has no empty spaces adjacent to it (including diagonally), the space begins to glow with a fiery effect. When this happens, the player that the space belongs to earns a Special Point. Special points can also be earned when passing turns.
A player can spend Special Points to play a card as a Special Attack, allowing the card's ink pattern to be placed over existing ink (but not Special Spaces or Walls) and replace it. When a card is played as a Special Attack, its ink pattern must be placed orthogonally or diagonally adjacent to one of the player's own Special Spaces on the board.
End of game
The player with more ink spaces on the board at the end of the game wins. However, the player who resigns always loses, regardless of how many ink spaces they have.
Rank and rewards
Players earn Tableturf Points at the end of each game. 40 points are awarded for a loss or draw, while 100, 115, or 130 points are awarded for a win against a Splatsville rival, depending on the rival's level. For a computer-controlled player, 115, 130 or 150 points can be awarded. This value is fixed for each player that appears, seemingly at random. No points are awarded for resigning (giving up).
At certain point thresholds, the player's Tableturf Rank increases, allowing access to new opponents and unlocking new Tableturf Battle stages (for use when testing out decks in the editor), as well as Splashtag and Emote options.[3]
Tableturf Battle Rank Rewards
Points Needed
Rank
Reward
Total
Diff.
0
N/A
1
Rival: Baby Jelly
100
100
2
Rival: Cool Jelly
250
150
3
Pack of cards
400
150
4
Rival: Aggro Jelly
550
150
5
Stage: Thunder Point
700
150
6
Title: Fun - Tableturf Battler
850
150
7
Rival: Sheldon
1000
150
8
Stage: X Marks the Garden
1150
150
9
Pack of cards
1300
150
10
Banner: Rank 10
1500
200
11
Rival: Gnarly Eddy
1750
250
12
Sticker: Tableturf Battle sticker 1
2050
300
13
Rival: Jel La Fleur
2400
350
14
Stage: Square Squared
2810
410
15
Rival: Mr. Coco
3270
460
16
Pack of cards
3790
520
17
Rival: Harmony
4370
580
18
Stage: Lakefront Property
5000
630
19
Rival: Judd
5690
690
20
Card Sleeves: Rank 20
6440
750
21
Rival: Li'l Judd
7250
810
22
Stage: Double Gemini
8120
870
23
Pack of cards
9060
940
24
Rival: Murch
10060
1000
25
Banner: Rank 25
11130
1070
26
Rival: Shiver
12260
1130
27
Stage: River Drift
13460
1200
28
Decoration: Tri-Stringer card shield
14730
1270
29
Rival: Frye
16070
1340
30
Emote: Card Shark, and Badge: Rank 30
17480
1410
31
Rival: Big Man
18960
1480
32
Sticker: Tableturf Battle sticker 2
20510
1550
33
Pack of cards
22140
1630
34
Rival: Staff
23840
1700
35
Stage: Box Seats
25620
1780
36
Sticker: Tableturf Battle sticker 3
27480
1860
37
Decoration: Trizooka card shield
29420
1940
38
Rival: Cuttlefish
31440
2020
39
Sticker: Tableturf Battle sticker 4
33540
2100
40
Card Sleeves: Rank 40 and Badge: Rank 40
35720
2180
41
Rival: Agent 1 (Callie)
37990
2270
42
Sticker: Tableturf Battle sticker 5
40340
2350
43
Decoration: Smallfry card shield
42780
2440
44
Rival: Agent 2 (Marie)
45310
2530
45
Sticker: Tableturf Battle sticker 6
47930
2620
46
Banner: Rank 46
50640
2710
47
Rival: Clone Jelly
53450
2810
48
Sticker: Tableturf Battle sticker 7
56350
2900
49
Card Sleeves: Rank 49
59683
3333
50
Title: The Strongest - Card Gamer and Badge: Rank 50
Gallery
Opponents
Players can battle their way to the top by challenging the 'Splatsville locals', a group of computer controlled Tableturf opponents. The 'Splatsville locals' are comprised of "Baby Jelly", "Cool Jelly", "Aggro Jelly", Sheldon, Gnarly Eddy, Jel La Fleur, Mr. Coco, Harmony, Judd, Li'l Judd, Murch, Shiver, Frye, Big Man, "Staff", Cuttlefish, Agent 1, Agent 2, and "Clone Jelly".
Each of the 'Splatsville locals' have 3 difficulty rankings (Rank 1, Rank 2, and Rank 3). When a new 'Splatsville local' is unlocked, only Rank 1 is available for the player to challenge. When the player has beaten a 'Splatsville local' three times at a particular Rank, the next sequential Rank is unlocked.
Some player avatars holding a small spread of cards can be played against; they gather by groups of three to the right of Hotlantis and around the Battle Dojo. Each takes the form of a computer opponent using that player's deck. Beating them can award either 115, 130 or 150 exp, as shown before challenging them. AIs awarding 150 exp have a much more aggressive playstyle.
A free update to Splatoon 3 will allow online play against other human players sometime in the future.[1]
Computer-controlled opponents
Main article: List of Tableturf Battle rivals in Splatoon 3
There are nineteen Splatsville Locals to fight in Tableturf Battle, each of whom wields a unique deck of cards. When the player wins against a rival three times, they unlock access to level 2 for that opponent, then once they are beaten another three times at level 2; level 3 is unlocked.
Stages
There are eight stages:
| Icon | Name | Spaces |
| --- | --- | --- |
| | Box Seats | 100 |
| | Double Gemini | 249 |
| | Lakefront Property | 240 |
| | Main Street | 234 |
| | River Drift | 245 |
| | Square Squared | 225 |
| | Thunder Point | 240 |
| | X Marks the Garden | 245 |
Quotes
"
Remember the discovery of the Tableturf Battle minigame in our Splatoon 3 Direct? SRL here - we wanted to make sure this competitive card game didn't get lost in the shuffle, so to speak. Collect cards, build out your deck, and see who can ink the most 2D table turf to win!

Of course, Tableturf Battle is deeper than that, and we've discovered that an official manual exists! Nothing beats field research, but you can get a tentacle up by reading through the manual carefully before starting a battle. Did you even KNOW there are Special Attacks?

"
Gallery
Tableturf Battle machines on the upper floor of the Battle Lobby.

Deep Cut playing Tableturf Battle, from the Winter 2022 issue of Nintendo Magazine
Rules
Trivia
Some cards have similar postures to the weapon illustrations from Splatoon or other promotional material.
The player may not challenge Sheldon, Gnarly Eddy, Jel La Fleur, Mr. Coco, Harmony, or Murch without first having spoken to them.
If a player tries to battle against any member of Deep Cut or the New Squidbeak Splatoon (including Cuttlefish) before completing Return of the Mammalians, the Staff tells them the character they wish to battle is not available. The player must complete Return of the Mammalians to challenge these characters.
During Splatfests, players cannot play against Shiver, Frye, or Big Man.
Also during Splatfests, Baby Jelly, Cool Jelly, and Aggro Jelly have their bodies colored to the teams that Shiver, Frye, and Big Man are representing, respectively, showing they are backing those teams.
All non-jellyfish Splatsville locals use their own card in their deck. Additionally, some of them use character cards of other characters they are associated with.

Each member of Deep Cut also uses the other two members' cards.
Agents 1 and 2 each have both Callie and Marie in their deck as a reference to their true identity as the Squid Sisters. In addition, Agent 1 uses DJ Octavio's card and Marie uses Sheldon's card, both in reference to their affiliations in Octo Canyon.
Judd uses Li'l Judd's card.

The cards based off of special weapons are the only cards to lack a Special Space.

The ink pattern on all such cards covers exactly 12 spaces, and the cost to play them as a special attack is three special points (lower than the cost of other cards with similarly sized ink patterns).

Each rival's deck (other than the jellyfish) follows a certain theme.

The starter deck includes the "basic" weapons of nine different classes including the two introduced in Splatoon 3, and the Splat Bomb could be considered the "basic" sub weapon. The other cards reflect the fundamental parts of other aspects of the game.
Sheldon's deck is solely themed after weaponry, with no cards themed after brands, Octarians, or Salmonids, referencing his status as the world's premier weapon salesman.
Gnarly Eddy's deck seems to focus on cards with a similar shape to his own character card, and other cards such as Luna Blaster that synergize well with them.
Most of Jel La Fleur's cards are of gear brands, befitting of his reputation as a connoisseur of fashion.
Mr. Coco's deck features remarkably few brands compared to Gnarly Eddy and Jel La Fleur, focusing instead on heavy weapons and other "heavy" things such as the Big Shot, befitting his titanic stature.
Harmony's deck seems to have no specific theme, perhaps reflecting the wide assortment of items found at Hotlantis or simply her blasé attitude toward deck building.
Judd's deck features the Tower Control, Rainmaker, and Power Clam cards, referencing three of the four modes of Anarchy Battles.
Almost all of Li'l Judd's cards are directly themed after Salmon Run Next Wave. The two exceptions are his own card and the Inkjet, with the latter being one of the special weapons available during shifts. His card sleeves also follow this theme.
Most of Murch's cards have diagonal patterns, similarly to his own card.
Shiver wields both Stringer-based cards, and her Maws, Flipper-Flopper, and Reefslider cards may reference her shark theming.
Frye's deck has little theming apart from wielding both Splatana-based cards, but the inclusion of the Steel Eel in her deck might reference her eel theming.
Big Man's deck consists primarily of explosives, possibly referencing his boss battle in which he throws out many such explosives, as well as the Triple Inkstrike, in the form of the Manta Storm.
Staff has the lowest total ink coverage of any Splatsville local, taking advantage of the claustrophobic board on which she is fought. Her deck seems to have little theming outside of this.
Cuttlefish's deck consists solely of characters and enemies found in the Crater, as this is where he assists the player in Return of the Mammalians, and his Bamboozler card references his signature weapon which he uses as a cane.
Agent 1 has every roller-based card in reference to her preferred weapon class, as well as a few Octarian-based cards, referencing her brief time working for the Octarians in Octo Canyon.
Agent 2 has every charger-based card in reference to her preferred weapon class, and her Undercover Brella card may reference the parasol she holds in Octo Canyon and Return of the Mammalians.

There are only eight cards in the base game that do not appear in any rival's deck: Sploosh-o-matic, Splash-o-matic, .52 Gal, Jet Squelcher, H-3 Nozzlenose, Glooga Dualies, Slammin' Lid, and Mudmouth.

Cards added after the initial game launch do not appear in any decks.

CPU-controlled players that the player may choose to face appear holding the Tri-Stringer, Splatana Stamper, Smallfry, and Trizooka cards in their hands.
The Killer Wail 5.1 card is visually incorrect. On it, it shows an Inkling holding a Sloshing Machine using the Killer Wail 5.1, but the Sloshing Machine's special is the Booyah Bomb.

This fits in with prerelease material, which showed the Sloshing Machine's special to be the Killer Wail 5.1.

In Splatoon 2's Sunken Scroll number eight, it shows that Jelfonzo was both a newcomer and victor in an annual card game tournament based in Inkopolis, which could be Tableturf.
Names in other languages
Language
Name
Meaning
 Japanese

陣取大戦ナワバトラー


jintori taisen nawabatorā
Great Territory Wars: Turf-Battler
 Dutch
Slijkslag
From slijk ("mud") and slag ("battle" and, from card games, "the winning of cards from players by one player")
 French (NOE)
Cartes & Territoire
Cards & Territory
 German
Revierdecks
Turf decks
 Italian
Splattanza
 Russian

Карты и район


Karty i rayon
Cards and region[note 1]
 Spanish (NOA)
Combate carterritorial
From combate ("combat," "battle"), carta ("playing card") and territorial (which is also the term used for Turf Wars)
 Spanish (NOE)
Lucha carterritorial
From lucha ("fight"), carta ("playing card") and territorial (which is also the term used for Turf Wars)
 Chinese (Simplified)

占地斗士


zhàndì dòushì
Turf Fighter
 Chinese (Traditional)

占地鬥士


zhàndì dòushì
Turf Fighter
 Korean

영역 배틀러


yeongyeok baeteulleo
Turf Battler
Stage names in other languages
Box Seats
Language
Name
Meaning
 Japanese

こぢんまりスタジアム


kojinmari sutajiamu
Small Stadium
 Dutch
Afgemeten arena
Measured arena
 French
Gradins gredins
 German
Kompakt-Stadion
Compact Stadium
 Italian
Stadio accogliente
Cozy stadium
 Russian

Уютный стадион


Uyutnyy stadion
Cozy stadium
 Spanish (NOA)
Gradas agradables
Nice bleachers
 Spanish (NOE)
Graderío agradable
Nice bleachers
 Chinese (Simplified)

小巧竞技场


xiǎoqiǎo jìngjì chǎng (Mandarin)
Small Arena
 Chinese (Traditional)

小巧競技場


xiǎoqiǎo jìngjì chǎng (Mandarin)
Small Arena
 Korean

아담 스타디움


adam seutadium
Adam Stadium
Double Gemini
Language
Name
Meaning
 Japanese

ふたごアイランド


futago airando
Twin Island
 Dutch
Tweelingeilanden
Twin islands
 French
Jumelles aquatiques
Aquatic binoculars
 German
Gemini-Inseln
Gemini Islands
 Italian
Isole gemelle
Twin Islands
 Russian

Острова Близнецы


Ostrova Bliznetsy
Twin Islands
 Spanish
Gemelos acuáticos
Aquatic twins
 Chinese (Simplified)

双子岛


shuāngzi dǎo (Mandarin)
Twin Islands
 Chinese (Traditional)

雙子島


shuāngzi dǎo (Mandarin)
Twin Islands
 Korean

쌍둥이 아일랜드


ssangdungi ailraendeu
Twin Island
Lakefront Property
Language
Name
Meaning
 Japanese

ぽっかりレイク


pokkari reiku
Gaping Lake
 Dutch
Kempkloof
Kemp gorge
 French
Rives du risque
Shores of risk
 German
Schlundsee
Maw Lake
 Italian
Villa in riva al lago
Villa by the lake
 Russian

Озеро Зев


Ozero Zev
Lake Zev
 Spanish
Laguna raruna
Weird lagoon
 Chinese (Simplified)

轻飘湖


qīngpiāo hú (Mandarin)
Light Lake
 Chinese (Traditional)

輕飄湖


qīngpiāo hú (Mandarin)
Light Lake
 Korean

두둥실 레이크


dudungsil reikeu
Dudungsil Lake
Main Street
Language
Name
Meaning
 Japanese

まっすぐストリート


massugu sutorīto
Straight Street
 Dutch
Hoofdstraat
Main Street
 French
Rue principale
Main Street
 German
Hauptstraße
Main Road
 Italian
Via principale
Main Street
 Russian

Главная улица


Glavnaya ulitsa
The Main Street
 Spanish
Calle principal
Main Street
 Chinese

正直大道


zhèngzhí dàdào (Mandarin)
Integrity Avenue
 Korean

직진 스트리트


jikjin seuteuriteu
Straight Street
River Drift
Language
Name
Meaning
 Japanese

うねうねリバー


uneune ribā
Undulating River
 Dutch
Kronkelrivier
Winding River
 French
Torrent tortueux
Winding stream
 German
Schlängelfluss
Snaking River
 Italian
Torrente tortuoso
Winding stream
 Russian

Змеиная река


Zmeinaya reka
Snake river
 Spanish
Cauce serpenteante
Meandering riverbed
 Chinese (Simplified)

扭转河


niǔzhuǎn hé (Mandarin)
Twist River
 Chinese (Traditional)

扭轉河


niǔzhuǎn hé (Mandarin)
Twist River
 Korean

구불구불 리버


gubulgubul ribeo
Meandering River
Square Squared
Language
Name
Meaning
 Japanese

ましかくスクエア


mashikaku sukuea
Square Square
 Dutch
Kwadraatplein
Squared square
 French
Square de l'espoir
Square of Hope
 German
Viereck-Plaza
Quadrangle Plaza
 Italian
Piazza spiazzata
Displaced square
 Russian

Квадратная площадь


Kvadratnaya ploshchad'
Square area
 Spanish
Esplanada cuadrada
Square esplanade
 Chinese (Simplified)

正方广场


zhèngfāng guǎngchǎng (Mandarin)
Square Square
 Chinese (Traditional)

正方廣場


zhèngfāng guǎngchǎng (Mandarin)
Square Square
 Korean

정사각형 스퀘어


jeongsagakhyeong seukweeo
Square Square
Thunder Point
Language
Name
Meaning
 Japanese

かみなりステーション


kaminari sutēshon
Lightning Station
 Dutch
Donderstation
Thunder station
 French
Clairière de l'éclair
Grade of lightning
 German
Blitz-Station
Blitz station
 Italian
Punta Tuono
Point Thunder
 Russian

Грозовой мыс


Grozovoy mys
Thunder cape
 Spanish
Central de rayos
Station of lightnings
 Chinese (Simplified)

雷霆车站


léitíng chēzhàn (Mandarin)
Thunder Station
 Chinese (Traditional)

雷霆車站


léitíng chēzhàn (Mandarin)
Thunder Station
 Korean

번개 스테이션


beongae seuteisyeon
Lightning Station
X Marks the Garden
Language
Name
Meaning
 Japanese

ばってんガーデン


batten gāden
X-Mark Garden
 Dutch
Kruistuin
Cross garden
 French
Jardin des plaintes
Garden of complaints
 German
X-Garten
X Garden
 Italian
Giardino X
Garden X
 Russian

Сад X


Sad X
Garden X
 Spanish
Jardín marcado
Marked garden
 Chinese (Simplified)

罚分花园


fáfēn huāyuán (Mandarin)
Penalty Garden
 Chinese (Traditional)

罰分花園


fáfēn huāyuán (Mandarin)
Penalty Garden
 Korean

가위표 가든


gawipyo gadeun
Scissor Garden
Translation notes
↑ The word "region" comes from the Russian name of Turf War, which is "Бой за район" "Boy za rayon" (Battle for the region).
References
↑ 1.0 1.1 12 NEW Splatoon 3 Details: Shiver's Identity, No More Spawn Camping, Card Game Online Later & More!