Tide Goes Out (song)
From Inkipedia, the Splatoon wiki





Tide Goes Out​
Tide Goes Out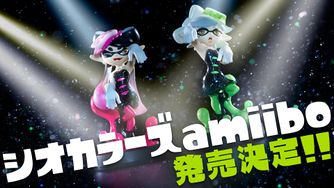 Tide Goes Out is a song performed by Marie.
Description
Tide Goes Out is a slow, serene song, mirroring Marie's laid-back and relaxed personality. The song was first revealed on 29 April 2016 during the second live Squid Sisters performance at Cho-Ongakusai 2016, alongside Callie's solo song, Bomb Rush Blush. The following day, it was revealed that the new songs would be unlockable with the newly-revealed Squid Sisters amiibo figures.[1], which were released on 8 July 2016. Scanning them allows the player to watch performances of Squid Sisters songs as if they were in a Splatfest, and Tide Goes Out is exclusive to the Marie amiibo. During the performance, Callie simply sits down, while Marie performs her song solo.
In Splatoon 2, Tide Goes Out can be unlocked to listen in Squid Beatz 2 from the Marie amiibo. The original song, however, cannot be heard anywhere else in the base game.
Lyrics
The booklet included with Splatoon Live in Makuhari -Shiokalive- gives the official lyrics for Tide Goes Out. The lyrics are nonsensical; the Japanese hiragana simply gives the pronunciation.
Tide Goes Out Lyrics
"

Moranife teyuruni merikeraninshu
(Matounushushu)
Rattinsha uyuruni
(Ranityurare tyurare) Meremerenu

Rattinu tyurirutouyu
Kireritoura kirikirini
Merankerashe yuueniruuenirune

Wanoyurarshueru tiretirenu narinushu
Wanoyurarshururu miremirenu furimukuyu
Raretyurare tyutte mieruni uneratoune
Medekyuera kyuera kerarnife

"
"

もらにふぇ てゆるに めりけらにんしゅ
(まとぅぬしゅしゅ)
らってぃんしゃ うゆるに
(らにてゅられ てゅられ) めれめれぬ

らってぃぬ てゅりるとぅゆ
きれりとぅら きりきりに
めらんけらしぇ ゆうぇにるうぇにるね


わのゆらりしゅえる てぃれてぃれぬ なりぬしゅ
わのゆらりしゅるる みれみれぬ ふりむくゆ
られてゅられ てゅって みえるに うねらとぅね
めできゅえら きゅえら けらるにふぇ

"
Music video
Music videos for both Tide Goes Out and Bomb Rush Blush were released on 20 July 2016, in anticipation for the Callie vs. Marie Splatfest. The Tide Goes Out video features Marie dancing in various stages during the night time Splatfest theme. The dance is the same one from the Marie amiibo performance.
Remixes and covers
Tidal Rush
The song Tidal Rush by DJ Octavio, featuring Callie vs. Marie, is an extensive remix of both Tide Goes Out and DJ Octavio's Bomb Rush Blush remix. It is used during phase three of the final battle of Splatoon 2, which is named after Tide Goes Out.
Low Tide
The song Low Tide, the theme that plays when the player talks to Marie for the first time in Octo Canyon, is a slower remix of Tide Goes Out using similar instrumentation to Cap'n Cuttlefish's Theme.
Samples and interpolations
Fresh Start
There is a short motif of Marie singing Tide Goes Out in Fresh Start.
Gallery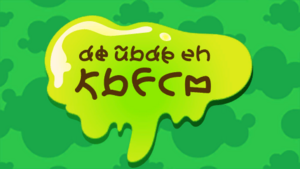 Etymology
Names in other languages
Language
Name
Meaning
 Japanese

スミソアエの夜


Sumisoae no Yoru
Night Dressed with Vinegared Miso
 Korean

스미소아에의 밤


seumisoae-ui bam
Night Dressed with Vinegared Miso
References