User:Brycerw11
From Inkipedia, the Splatoon wiki
Hello there, I am Brycerw11 (talk), a bad Splatoon player, who just likes making ink related puns. Although, I'm not very good at making them. I first started playing Splatoon on the Splatoon 2 Global Testfire.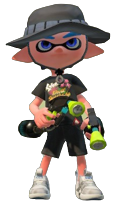 My Splatoon Players
Splatoon 1 Player
I have played Splatoon 1, but I'm only Level 12, as I joined after Splatoon 2s release. I have not been able to play ranked. My Nintendo Network ID is Brycerw11.
Splatoon 2 Player
I've played Splatoon 2 a lot more than Splatoon 1.
Ranks
Currently I am level 33, and my Ranks are;
Splat Zones: A-
Tower Control: B+
Rainmaker: C+
Clam Blitz: B-
Splatfests
Splatfests
Splatfest Theme
My Choice
The Winner
Additional Notes
Chaos vs Order
Order
Chaos
Although I wanted Order to win, I think Chaos turned out to be a better theme for Splatoon 3
Super Mushroom vs Super Star
Super Star
Super Mushroom
I am still salty we lost this, come on people, a Super Star gives invinciblity.
Splatfests
Splatfest Theme
Possible Choices
My Choice
The Winner
Final Clout
Final Clout Pro
My Splatfest Title
Final Notes
Which ones the best?
Rock, Paper, Scissors
Scissors
Rock
225181
0
Ruler +3
We had the moral victory!
Which would you rather bring to a deserted island?
Gear, Grub, Fun
Grub
Gear
198908
8092
Ruler +2
I'm beginning to think this is just a popularity contest.
My Favorites
General
| | |
| --- | --- |
| | This user is a fan of Marie. |
Favorite Modes
Tower Control and Splat Zones
Favorite Maps
Splatoon 1
Mahi Mahi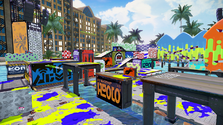 Oh boy, what happened in the change to Splatoon 3.
Splatoon 2
The Reef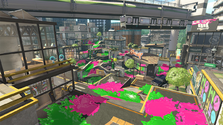 Good map.
Splatoon 3
Eeltail Alley
Good map, I like how the bridge is thinner that The Reef's.
My Contributions
I haven't done much, but I have added several pages to the wiki my favorite is: Shel-drone, in addition to a bunch of files I have added too.
Barnsquids
10 Edits Barnsquid


This Barnsquid was awarded to Brycerw11
on 1 August 2022 for making 10 mainspace edits on Inkipedia.
About
My Other NIWA Wiki Accounts
Other Links
My Youtube: bananaguybry
Sendou.ink: Brycerw11