User:ChessMaster/Candy Cane vs Gingerbread Man
From Inkipedia, the Splatoon wiki
  Candy Cane vs. Gingerbread Man  ​
 

Candy Cane vs. Gingerbread Man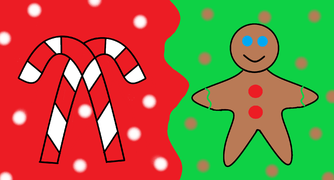 Start Time:

Dec. 26, 2020 5:00 U.S Eastern Time

Color Set:

Sweater vs. Sock

Popularity:

57.14%

 

 

42.86%

Battles x4:

40%

 

 

60%

Turf Inked Percent Average:

37.53%

 

 

42.86%

Points:

255

 

 

325

Winner:

Gingerbread Man
Minifest After: User:ChessMaster/White Chocolate vs. Milk Chocolate

RESULTS ARE IN!

Are you stuck at home because of restrictions? Might as well turn on that switch and tune in to ChessMaster's Christmas minifest! This Splatfest asks what holiday treat do you prefer? The peppermint taste of a candy cane, or the sweetness of a gingerbread man! Thanks to CherryAudino75 for the art!
How to join
1. Of course you got to friend me to join! Code -> SW-8511-6854-7798 (My name should be BLZ*Jimmy)
2.To tell me what team you want to join, tell me on this pages talk page.(To go there click on Discussion. It should be above the title.)
3. Get ready for the Minifest!
Info
I will start the Minifest Private battle 5 minutes before 5 pm U.S Eastern Time. At 5 pm, It will start!
I will hold battles till I leave the game.
You are free to wear whatever gear you want! You can use the Splatfest Tee Replica if you want, but you are not required to.
The winner will be crowned the following monday on this page!
If the lobby is needs it, I will need players to spectate (I will spectate for the first few but then others will need to.I want to participate in my own Minifest!)
If it needs it (Say 3 for team candy cane and 1 for gingerbread man) I will move over people to the other team (To make it 2 for gingerbread to make it equal)
If random people join, I will make them onto the team that needs it but it will not affect popularity.
The stages will be random but when a stage happens, I will remove that stage from the random rotation.
If there are disconnects, then I will void the match ONLY if it's the losing team and the losing team's player disconnected before the final 15 seconds. If the disconnected team wins, then the match will count. The match will also not count if the losing team wins!
Make concept art for this! Other people are much better than me at drawing!
I will post additional information if I need to later on!
Start and Result times
Start -> December 26, 2020 at 5 pm U.S Eastern Time
Result -> December 28, 2020
People who have picked a team
Team Candy Cane
Team Gingerbread Man
What I could use
People :)
Barnsquid
The Barnsquid awarded to those who vote.
Candy Cane vs Gingerbread Man Barnsquid

This Barnsquid was awarded to (user) for voting

in the Candy Cane vs Gingerbread Man Minifest!
Also here is the Barnsquid winners get!
Candy Cane vs Gingerbread Man winner Barnsquid

This Barnsquid was awarded to (User)

for winning in ChessMaster's Minifest!