User:Christopher Fritz
Jump to navigation
Jump to search
Wiki data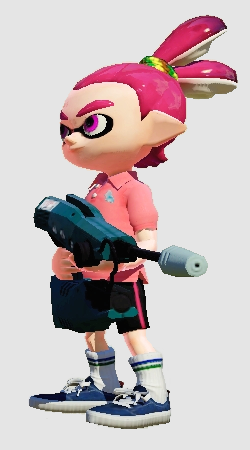 Not online much, so contributions to Inkipedia may be minimal.
Splatoon data
Play style
When I'm playing Turf Wars against a low-level team (all level 10 and under), and I have at least one high level player on my team (over level 20), I play looking at the Turf Map on the GamePad only. It's an interesting way to play!
Splat Fest
I have a page showing Splatfest Squid Sister Colors. Apparently, the Squid Sisters' colors do not match up with the team colors. For example, Fox Udon was pink, but Callie is wearing a light purple. Compare with Callie for Marshmallow, which was also pink.
Although I can only vote in NOA, here are my picks:
| Region | Sister | Team | Reason |
| --- | --- | --- | --- |
| NOJ | | Bread | Quicker and easier to prepare meals from. |
| NOA | | Cats | Prefer cats over dogs. |
| NOE | | Pop | My J-Pop CD's vastly outnumber my J-Rock CD's. |
| NOJ | | Red Fox Udon | Never had the specific products, but when it comes down to udon vs soba... |
| NOA | | Roller Coasters | Not really a water person. |
| NOE | | Sleeping | Not really a food person. |
| NOJ | | KIRIN Lemon Tea | Never had the products, but I'm not really a milk person. |
| NOA | | Marshmallows | If I have to eat either, I'll pick marshmallows. |
| NOE | | North Pole | Santa! |
| NOJ | | Ant | Hard choice as I'm a procrastinator, but also a worker and a saver... |
| NOA | | Autobots | I don't know anything about Transformers, but the ink color is pink. |
| NOE | | Singer | I neither sing nor dance, but would rather listen to a song than watch dancing. |
Projects
Current Stages Bot

I've written and am currently testing/finalizing code for a Current Stages bot. If this were run on Inkipedia's server, it can reliably list on the main page what the current stages and rank mode are. (I can run it on my own server, but my server is occasionally hit by a denial-of-service attack for unknown reasons.) You can view sample output from the program, but keep in mind that it's not on a scheduled job to keep updated right now, so it will be outdated.
The code currently maintains a list of images to use for stages. Before this goes live, we would want to standardize the file names for the stage images. (And ensure the stage list and individual pages use the same images as each other.) This can also simplify the infobox template because it would no longer need to be passed the name of the image to show.

Inkipedia main page

I feel Inkipedia's home page is a bit of a mess with poor use of space and containing items that probably shouldn't be on the main page. I'm reviewing potential ways to improve the main page, so I can provide constructive criticism.