User:DJParticle/Advanced Technology
Jump to navigation
Jump to search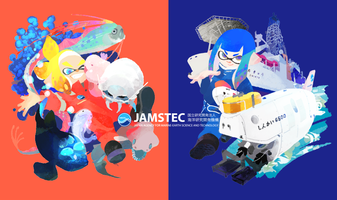 This Splatfest was announced on April 1, otherwise known as "April Fool's Day". Because of that, there was some question at first as to whether this Splatfest was real. After hype for this Splatfest continued beyond April 1, we had the answer to that question.
This Splatfest was announced as early as it was because this was obviously a Splatfest planned far in advance, and the first Splatfest sponsored not by a corporate entity, but rather a government organization: JAMSTEC
JAMSTEC is the Japan Agency for Marine-Earth Science and Technology. Basically, they are a team of government-funded scientists who research marine science, and what better way to get kids interested in marine science, than to tie it in with one of Japan's best-loved video game franchises that happens to revolve around anthropomorphic marine life? This Splatfest asked players what they look forward to most in terms of marine science: the discovery of previously unknown marine life, or the futuristic technology used for said discovery? Being a tech geek, I had to go for Team Future Tech!
As for an idea of how long this had been brewing, the Autobomb's design was even based off the look of the DSV Shinkai 6500 submarine.
But I had a fear about this Splatfest, as Team Zen would not be happening for this event, as he would be out of town. I desperately sent "Looking For Group" messages on Discord, Twitter, anywhere I had connections with the greater Splatoon community. No dice.
I prepared to be in for the long haul, until the day before Splatfest, I finally got a team together...until Splatfest started, my stream was up, and one of my teammates just...didn't show up.
No. Not again. I audibly swallowed and got myself into a solo queue, and... surprisingly, not only did I match up quicker than on Team Lemon (still not at fast as NA or EU Splatfests, but fast enough that I didn't get too bored), but I was winning more matches!
After all was said and done, and a short period where it WAS connecting as slowly as Team Lemon, I Queened out in about 6 and a half hours with a winning record, my fastest Japanese Splatfest Queenout time, in solo queue, since Team Fries! Is the 15-hour curse finally broken? It would seem so.
And to cap off this weekend of eventual good fortune, Marina got her first ever 3-0 Splatfest sweep! Technology ended up being the lifeblood of this Splatfest!
Version 3.0.0 came shortly after this Splatfest ended, and with it came some new music, a new rank, new stages, code for a whole new expansion... and a new concept in Splatfests!
Related Images
Screenshots
Splatfest Art