User:DJParticle/Bamboo Shoot Village
Jump to navigation
Jump to search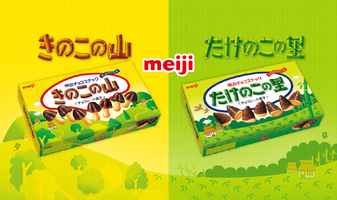 Another repeat Splatfest from the first game, to follow Rock vs. Pop and Money vs. Love. Except this was the first to be sponsored, and given the 40-year-old meme behind these snacks, it's understandable. They say liking the same candy could bring people together, and liking differing candies can tear people apart.
Now, I've always had a love of Japanese candies and snacks, from my first Pocky stick to the countless bags of Kasugai Gummies...and I even did find the Choco Flake in America. My stomach has seen hundreds of bottles of Ramune and salty goodness of shrimp and rice crackers. I bow to the shrine of Mitsuwa and regularly visit United Noodle.
Despite all that, I had tried neither Meiji Mushroom Mountain nor Bamboo Shoot Village. Not that I hadn't seen them before, I just...never tried them.
So for the first time ever, I sought them out, and if you could believe it, not a single Asian market inside the Twin Cities beltway had them. Even the largest of said stores, huge supermarkets like Sun Foods...nothing.
Defeated, I asked my local geek connections, and they gave me a few recommendations. I ended up having to go miles outside the beltway, to Minnesota's Largest Candy Store in Jordan, MN, to even find ONE of them... Mushroom Mountain. Eager to try it, I opened it as soon as I got back into the car. The candies were basically a big mushroom-shaped glob of chocolate...on a pretzel/Pocky-like short stick. They were delicious! With the lack of the other kind, I was all set to back Pearl on Team Mushroom!
On my stream that Friday night when voting opened, I instead took the time to level up my other Splatfest Tee that voting opened for, and never got to formally choose my team that night for this Splatfest.
Enter Saturday, and a trip to the Mall of America. My partner and I usually walk a few laps around the mall on a weekly basis, and stop in and buy stuff when it strikes our fancy. About halfway through the walk it hit me...there are a few candy stores here, why not hit them up. It'Sugar and Candy-O both have import candies, why not look.
No dice.
But there was one more stop...and I didn't even realize it until halfway through our walk. There's a Japanese pop-culture shop in the mall called Tomodachi, and they tend to have a small selection of candies and snacks as well. So we stopped there and I took a look.
There they were...Bamboo Shoot Village! I bought a box and decided to make that my dessert after Buffalo Wild Wings. Again, delicious! But this time, these candies had a better balance of cookie (more like a shortbread this time) and chocolate, as these are more dipped in chocolate rather than topped with a glob of chocolate.
As for Dana (my partner)...she's a chocolate fiend, and she thought the Bamboo Shoot version "tastes like sand"!
"They do NOT taste like sand!," I replied, "They are yummy and delicious!"
The meme... uh-oh! *heh* Guess it's time to ink it out on the splatterfield!
After a slow start of losses on both our sides, things eventually picked up for me, and I started winning more, and especially against Team Mushroom! Sadly, since Bamboo had the popular vote, I was only able to meet Team Mushroom on the splatterfield 9 times, of which I won 7.
Dana, on the other hand, suffered loss...after loss...after loss.
Before I Queened out, I was already calling it a sweep for Marina. Watching other streamers only reinforced that view as I constantly saw Team Bamboo Shoot winning and Team Mushroom losing.
When the results came, I was live on stream at the time doing more matches for Team Adventure, and I streamed the results live. When I saw the battle results, I was SHOCKED!
We literally lost by about 0.45%! That's the closest battle result I've seen since Team Lemon lost in November (0.2% difference). So whereas Marina didn't win...she *was* only a handful of wins away from sweeping.
Afterward, Dana and I agreed to disagree about the candies, and even in the face of Splatfest Law, the Mushroom candies *are* still delicious. We spent the rest of the night laughing over "tech support" scammers getting pwned by white-hatters on YouTube.
We beat the meme. May a candy never come between us ever again! *heh*
Related Images
Screenshots
Splatfest Art