User:DJParticle/Baseball
Jump to navigation
Jump to search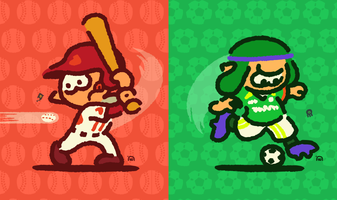 This choice was no contest for me.
I grew up with Baseball. My dad was a Little League baseball coach (and played Little League himself in the late 1950s/early 1960s) who led kids' Pee Wee teams to numerous undefeated seasons, and brought a consistently last-place Little League team to their first local championship title in decades. Back in the day, he may not have been much of an athlete himself (save for candlepin bowling - he was literally a pro in that), but he knew baseball.
A lot of that rubbed off on me. I played on that Pee-Wee team. I collected baseball cards. I'm also a fan of the Boston Red Sox.
A LONG-SUFFERING fan from the days when the "Curse of the Bambino" was alive and well. I was watching live when Bill Buckner bobbled that grounder and lost the 1986 series for the Sox for a Mets win. Granted, the Mets have never won the World Series since. A fitting punishment!
Anyway...yeah, I went with Team Baseball, and a lot off people figured Baseball would have the popular vote easily, with Baseball being "America's Pasttime", and America having far more players than Australia. I did tell people though that Soccer is (finally) on the rise in the USA, and there's hardly any Baseball in Australia, and that could make up the difference. Also, Baseball hasn't truly been "America's Pasttime" for decades, having yielded that spot to the NFL long ago. After all, the top sporting event in the USA on an annual basis is the Super Bowl, not the World Series.
Team Particle dug right in when Splatfest started, and we hardly got any mirror matches, so yeah, Baseball was not getting the popular vote. In fact, it wasn't even close, with Team Soccer getting that honor 60%-40%. Looks like my prediction in that matter was correct.
Hell, the Twin Cities, Minnesota metro area is building its 5th major league sport-specific stadium, and it's for their Major League Soccer team, the Minnesota United FC. Soccer is finally getting the recognition in America it deserves.
Too bad Team Soccer didn't splat as well though, as Team Baseball took both battle categories to win the Splatfest.
Time for a nice snack to celebrate...perhaps a big bowl of popcorn?
Related Images
Screenshots
Splatfest Art