User:DJParticle/Challenger
Jump to navigation
Jump to search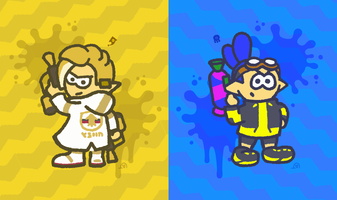 Another sponsored Splatfest for Japan, this time from the publisher of the Splatoon manga, CoroCoro.
By this point in North America, Viz had only put out the first few episodes of Season 1 of the manga, while in Japan, Season 2 was coming to a close soon, leading to a grand battle between the manga's protagonists (Team Blue), and that season's main antagonists (The Kings).
Team Blue, of course, is led by the ever-perky "genki guy" known only as "Goggles", who just thinks Turf War is the best thing ever, and win or lose, he always has fun playing it.
The Kings, the reigning champions, are led by "Emperor". "Emperor" is self-centered, cocky, and not even close to a model of good sportsmanship. He is canonically the first inkling to ever wield Dualies, and consequently, he is the best at their use.
This was not the first time the game and the manga crossed paths. Back in November 2017, CoroCoro magazine released a code that, when entered into the Japanese version of the game, would give you access to the outfit worn by "Emperor" in the manga. This time, since Season 2 was coming to a climax, they wanted to know who Inkopolis Square was rooting for? The Champion team... or the Challenger team.
Of course, Pearl and Marina phrased it more generically, preferring a champion's hard work and a challenger's unending drive respectively, but the use of "Emperor" and "Goggles" to represent the teams told more of the true intent of the Splatfest.
The choice was clear to me. I always liked "Goggles" and his sportsmanship, and his willingness to take a loss and say "Damn, you really got us that time! That was fun!"
"Emperor", on the other hand, is just a jerk. Team Challenger it is!
On the day of Splatfest, we got Team Zen back together on the splatterfield and...truth be told, we struggled a bit for a Queenout time of about 3 hours 25 minutes. Later, I'd do my own Splatfest stream for funsies, and noticed that in random matching I was...actually getting matches fairly regularly. Has the curse of Team Lemon worn off?
I was pleasantly relieved when it turned out Team Challenger won both popular vote and single play. Though it explains why we struggled in team play, it showed that the average player also sided with Goggles.
We all...need to be more like Goggles! :)
Related Images
Screenshots
Splatfest Art