User:DJParticle/Comedy
Jump to navigation
Jump to search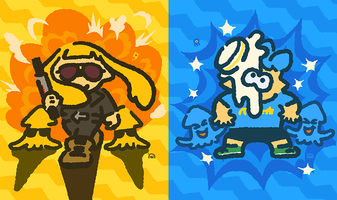 In a world... where squids battle it out for control of territory... one woomy... takes it upon herself... to buck the trend... in an action-packed world...
And decide to go with Marina and laugh it up with Team Comedy!
This was the first all-region Splatfest since Mayo vs. Ketchup, and the first since Callie vs. Marie to have all three regions amalgamate their results together. This fact posed one burning question... since Pearl tends to win in the West, and Marina tends to win in the East, who would come out on top?
As for me, I had to decide which one I wanted to Queen out, and I chose my American squid, but since Zen chose Action, I would not be on a Team Zen this time around.
By this time, I had started streaming on Twitch, and I decided this would be my first ever streamed Splatfest. I was using an ElGato HD60S on a 2014 Mac Mini. A bit below the system requirements, but I had a way to coax it into working. That day, I had to install the new macOS patch, which I did with no trouble.
Except...after the update, I could no longer coax the capture box into working. Sadly, there would be no stream that night.
There would also be no team, as I struggled to try to get an alternate team together. I started randoming, then joined other streamers' teams as they came up (much thanks to LoneWolf1600 and NineLivesNate for that, by the way). Wasn't any record Queenout time, but I was done within a few hours.
The next morning, I decided to try some different things with the capture card. It turned out it wasn't the card or the computer, but the convoluted setup I had. After re-wiring it for more direct connections, the capture card worked better than ever, and I no longer had to 'coax' it into working.
At that point, I had come close to Queening out my Japanese toon, so I decided to stream that Queenout, and the beginning of my Euro toon, so I could say I did a Splatfest stream. I ended up streaming my Euro Queenout long after Splatfest ended in the other two regions, during a time when no one else was streaming Splatfest.
I hadn't intended it, but I got the triple-Queenout! It felt good!
What else felt good was the answer to that age-old question. Whose Splatfest streak would snap? Well, due to the fact that Japan players outnumber the other two regions considerably, the results followed the Eastern pattern. Marina took it for Team Comedy!
NA/AUS: "Yay! Marina's catching up!"
EU: "Yes! Marina finally won one!"
Japan: "WTF?!? IIDA WON AGAIN?!?"

Can't please everyone, I guess.
Related Images
Screenshots
Splatfest Art