User:DJParticle/Donnie
Jump to navigation
Jump to search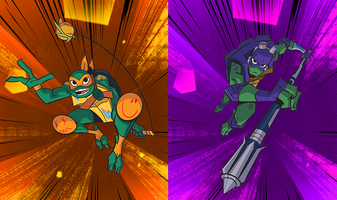 It's time for Round 2!
Anyone who knows me knows I love parties, whether it be of the real life kind, or the squid kind. I always do the party room circuit at conventions (in fact, I ended my Team Dumpling run before Queenout so I could party). So you'd think I'd be a natural fit for Team Mikey.
But Donatello is a geek. Donatello is a mechanical genius. We geeks need to stick together. Team Donnie it is!
Not to mention, they actually killed Donatello in the original comic series, having gotten his shell bashed in by Bebop and Rocksteady in 2015. So there is that "memorial" aspect to this choice. (Again, the original comic series, that started in 1984, is NOT for kids!)
Granted, he got better within a few issues (you know how comic book death works), but still..
For this round, we didn't even get to choose our teams until that Wednesday morning, so very limited time to grind the Splatfest Tee. I think I only got 2 rounds on each shirt before the Splatfest started.
I ended up having a rather dynamic team once Splatfest got rolling on stream. Not everyone could stay for the whole thing, but it went a lot easier than it did for Team Leo. We were winning far more often, and it gave me hope. No mirror matches on either side of the fence (at first), so I figured the voting was close. After all was said and done, We had teams until I got to about 30/99 Champion, and I had to solo the rest, so I got a feel for both sides. Ended up with my 3rd best PB. When I Queened out my Eurotoon the next day, we had a team for the full run, and got a new 2nd best PB. My brain was high from hope.
After hosting a couple other streamers, I literally ran out of people to host around 01:00 ET, as no one else was streaming Splatfest, so I hopped back on the stream myself, and was originally planning to only go until someone else popped on. But then I got an active chat...and still later a team!
A team made up of myself, a couple rather good players from Central Europe.... and a 10-year old girl from the UK.
It took me a while to figure out that said girl was still only a beginner, but once I did, I saw this in a whole new light. You only get better by challenging yourself, and having someone on the team who was only inking 100-300p was definitely that, but there was one fact that really made me proud of this team: We were still occasionally winning matches!
But the highlight was the final match. When the power levels popped up, we were 1800. Our adversaries were 1970. I thought we were kibble. But then came that final 30 seconds. You know how you feel when it seems the opposing team suddenly takes a level in badass in those last 30 seconds to come back from "Danger" to win the match?
Well, in that match...we WERE that team! What a way to end the stream, and my participation in that Splatfest!
And as for the results...it was the first time Marina won a Western Splatfest by only taking both battle categories! A true coup indeed! Could the Splatfest win meme finally be broken? That remains to be seen.
Related Images
Screenshots