User:DJParticle/Donnie (Finals)
Jump to navigation
Jump to search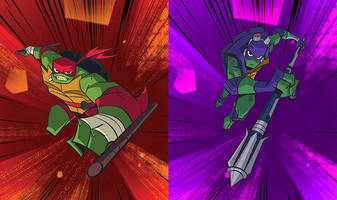 This is it, the finals! After 2 weeks of splatting it out, we finally end this first ever Splatfest tournament!
Needless to say, since I went with Team Donnie the prior week, I stayed with him for these finals. A classic battle of brawn vs. brain. So, just how many geeks are out there who can play the game well?
I decided to be on Team Zen for this one, and we actually coordinated our streams with a third teammate for a three-way stream collab. It was really fun, and I hope we can do it again soon...but we struggled in splat battle. Even with Zen and Kat, who are two very good players, it took us over 3 and a half hours to finally Queen out!
This wasn't looking good.
I took some time out to handle another Splatfest that was going on at the same time, then got some rest, planning to once again take up Donnie's defense the next night with my Eurosquid. And take it up I did.
FOUR HOURS LATER, I Queened out my Eurosquid. Granted, I mostly lost to my own team, but it still wasn't looking good in the long run. It seemed that with all the mirror matches, we'd obviously have popularity. Around 1am my time, I did one last stream when no one else was streaming Splatfest, but this time I didn't manage to put a team together for it, and I called it a Splatfest a couple hours later when I could host one of the waking Europeans.
But then came the results. RAPH TOOK POPULARITY?!? Crap! Wonder why I was getting so many mirror matches then. That's strange.
Stranger still...DONNIE WON BATTLES!! Again, Marina won a Western Splatfest by battles alone.
Wow...it seems the idol win meme may finally be broken! Time will tell!
Related Images
Screenshots