User:DJParticle/Fries
Jump to navigation
Jump to search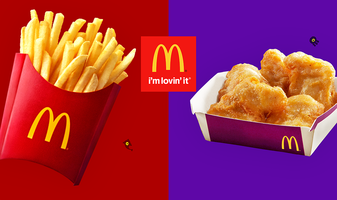 Shortly before the Flight vs. Invisibility Splatfest started, news came out that Japan was getting their first sponsored Splatfest the weekend after. McDonald's decided to have the denizens of Inkopolis Square splat it out to see which is better: Fries or McNuggets.
After Team Flight's victory, I tried to keep the love for Pearl going by urging those of us who were on Team Flight to support Pearl's new team, Team Fries, by making posts in the North American square cheering them on. Since McDonald's fries are the food of the gods (well, to me, anyway), I had no problem with this, making posts declaring "Team Flight for Team Fries"! After all, if we couldn't actually splat in it, we can show our support via the greater Splatoon community.
But wait, I thought... the Switch isn't region-locked!
Holy crap... we CAN splat in this!!!
So I started researching how to do it, and gathered up a lot of the information that is now compiled in my Multiregion FAQ. I opted for the hard way, getting the Japanese version from the eShop, while my partner decided to mail-order it, understanding that it would not come in time for Splatfest.
Within minutes, my new Level 1 Japanese Inkling was standing in the Square, sporting a Team Fries Splatfest Tee.
Dear Zapfish, what have I just done?
My partner decided later on that she wanted to splat for Team McNuggets after all, and I bought a THIRD copy of the Japanese version, my second from the eShop, for her Switch.
Friday afternoon, before Splatfest, we decided to actually go to McDonald's and represent our respective teams. I got myself 2 large fries, and she got 2 10-packs of McNuggets. It was strange as a meal, but it hit the spot.
Splatfest started well into the wee hours at 1am Central Time Friday night, and I played until I Queened out. I got a lot more lost connections in the lobby than I was used to, but it wasn't too bad. My partner paused about halfway and finished up after a good sleep. To show moral support, I played more while she finished up so she wouldn't be playing alone.
The results came sharp at 3am Saturday night, and my partner had some extra McNuggets to celebrate.
Also, just for fun, while the Splatfest was live, I wondered if anyone on Twitch was playing this Splatfest, and found an American user, living in Japan, who was busily splatting for Team McNuggets. After watching his stream, and liking it a lot, I followed him...the next week, I subbed to him. Little did I know what ELSE I was getting into, but that's a story for later.
Oh, and that extra hard copy of the Japanese version? We sold it on eBay. *heh*
Related Images
Screenshots
Splatfest Art