User:DJParticle/Front Roll
Jump to navigation
Jump to search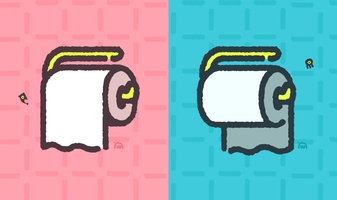 The announcement came a week prior that this would be the next Splatfest theme, but strangely enough, I didn't see any announcement about it on my North American copy of the game. I had been busily using the past few weeks to get my Japanese squid up to level parity with my North American one, and had just finished, and what a grind it was.
It then dawned on me. Oh no. Oh oh no! Sure enough, this was a Europe-only Splatfest! The first of its kind!
So I did what I had to do. I had decided that I was not going to miss a Splatfest! Soon afterward, my new Level 1 European Inkling was standing in Inkopolis Square sporting a Team Front Roll Splatfest Tee.
Dear Zapfish, I did it again!
Why Team Front Roll? Simply put, because that was how the inventor of the toilet paper roll intended it to be, and who am I to argue with that?
This time, however, my partner did not join me in purchasing yet another version of the game. At this point, I was living, eating, and breathing Splatoon so much, and had so many play sessions filled with salt, that it was starting to grate on her a bit. She still thinks I'm nuts for it.
Splatfest started bright and early Saturday morning at 9am Central Time, and I dug right in, pausing only to spend time at a local gaming convention... that I brought my Switch to. I decided to see how connecting to a European Splatfest would fare on the hotel wireless. The answer: no problem whatsoever. I took myself to about 42/99 Champion before we left the convention.
I spent the wee hours of Saturday evening finishing up my Queen run, and connections got a bit harder to get, possibly because as a region, Europe's player pool is the smallest, averaging only about 140,000 people, and I was playing during a time when most of Europe was probably sleeping in. I did eventually make it to Queen, and slept.
When the results finally came in at 11am Central Time Sunday morning, I wasn't home (was at brunch with friends), but I did have my phone with me. I celebrated while my friends looked at me like a grew an extra head.
I had another long grind for level parity ahead of me. But first...
Related Images
Screenshots
Splatfest Art