User:DJParticle/Grown-Up
Jump to navigation
Jump to search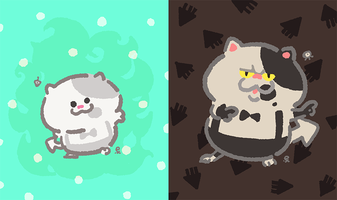 This was a Splatfest that played on either nostalgia or naievity. If you're a kid, you either like your life as it is, or you just can't wait for the autonomy of adulthood. If you're an adult, you either like your life as it is, or long for the days when you didn't have so many responsibilities.
This was also the final Europe-only Splatfest, of which there were only two in the entire Clout Era. I guess for the final month before the last Splatfest, they decided to let each region have one last exclusive blowout! Which is a bit too bad, because Pride Month is also a thing in Europe, but depending on who you ask, they made up for it by releasing the official artwork, showing Pearl and Marina gazing into each other's eyes...
...yeah, I'm a "Pearlina" shipper. I admit it. *heh*
As for the pros and cons of both sides...as a kid, you have little to no responsibilities, but have the rule of parental authority. You don't have to get a job, but you have to go to school. Everything is new, everything is exciting, and you have the vitality of youth on your side.
Whereas as an adult, you have responsibilities, but you answer to no one who isn't a municipal authority. You have to get a job, but it gets you money, which you didn't get from school. Everything is familiar, but comfort comes from that familiarity. You may not have your youth, but you have your experience.
Kids get a lot of free time, but adults get to define what they do with their own free time, and can spend their own money to do it.
Basically, as an adult, you can still choose to be young at heart when the need arises. It's the best of both worlds, and that's why I chose Team Grown-Up. You'd think someone like me who's nearing age 50 would beg to be young again, and whereas I do, I'd want to be more like 21-25...not 10-15. Still an adult.
I didn't get much sleep before this Splatfest. I had finished the previous one at about 04:45 EDT, did post-prod until about 05:30 EDT, and slept. Woke up at 07:30 EDT to start fresh at 08:00...except I had the start time wrong, and it wasn't starting until 10:00. So after messaging my social media to say I was too early, I went back to bed for another 90 minutes...
I finally got underway when Splatfest opened at 10:00 EDT Saturday morning.
The ink colors for this Splatfest were interesting. On the splatterfield, it almost looked like a liquid creme de menthe, or chocolate mint ice cream.
The Shifty Station was again the same one from the other Splatfests that weekend, so cue more drownings by Booyah Bomb! *heh*
I had Zordias the Ink Machine with me for this run, and after a slow start, we ended up starting what would be an 11-win streak! *yay* Followed right after by a 7-loss streak... *boo* The fact that they started giving us randos under level 20 didn't help matters either. Queened out at 2 hours 12 minutes with one 10x win, but these days, that's not enough to crack my Top 10. Was damn close though.
Looking at the Twittersphere, I noticed that 10x and 100x wins were kinda 50/50 between the two teams. Team Kid definitely had the popularity, and Twitch videos showed Team Grown-Up doing ok in Normal mode, but getting killed in Pro mode. Again, a small sample overall, but it was enough for me to call the Splatfest for Team Kid...
...and once again I was dead wrong. I went 0-3 on Splatfest predicting this month. My mental algorithms really failed me. *heh* Turns out in Pro mode, Team Grown-Up won by a HUGE margin....well, huge for a clout category, anyway. When it comes to the battle categories, I haven't seen a drubbing like that since Gherk-OUT vs. Gherk-IN!
So as adults, we have the experience, we have the reflexes steeled from decades of gaming, we have the mental acuity for strategy. But the good thing about the other team is that...even when you're a kid, you'll be an adult soon enough. *heh*
Now get off our lawn! ...and prepare for the SPLATOCALYPSE!!
Related Images
Screenshots
10x Wins