User:DJParticle/Hello Kitty
Jump to navigation
Jump to search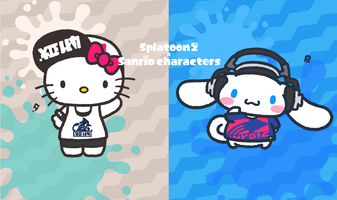 It was only a matter of time before Japan got their own Splatfest tournament, but frankly, I never expected this to be the theme. Unlike the Ninja Turtles tournament, Sanrio main characters number far more than four. I guess they simply picked the four most popular characters at the time (though some may argue that Badtz-Maru should have been here...but to each their own). Hello Kitty vs. Cinnamoroll first week, My Melody vs. Pompompurin second week.
Also unusual in this tournament is that it would take a week off between the semis and the finals. Likely because the Mario Tennis demo is being run that break weekend, and I guess they don't want Splatfest to interfere. I can see that.
Well, since Hello Kitty is THE face of Sanrio, and since I simply like cats, I had to go with "Kitty-chan".
Turns out Team Hello Kitty has... white ink! Hmm, could that be as much of a factor in the East as it apparently was in the West? Attracting the better players? Turns out it was the same white from Chicken vs. Egg, but at least paired with the blue, it didn't so much make courses look like someone cracked an egg over it, as it did make it look like a snowy landscape. It was actually rather...pretty.
But the biggest surprise was yet to come. Whereas I had a "Team Zen/Particle" lined up for this, we first lost our other regular beforehand to internet access issues, then we lost our other streamer friend because she couldn't stay awake for it.
So I had to go it alone. Again. I strapped in for the long haul again, ready for the 6-to-15-hour Queenout to begin.
First match... DING! Quick matching!
Hmm...ok. Would be nice if the rest of Splatfest went that way, but it probably wo--
DING! 2nd match! Quick matching!
Something's up here...
DING! 3rd match! Quick matching!
Then it hit me...this is the first Splatfest in Japan since 3.0 came out! Did they actually fix it so-- Could it be that they--
DING! 4th match! Quick matching!
HALLELUJAH!!! Turned out the rest of the run to Queen went that quick, with few disconnects, for a Queenout time of 3 hours 18 minutes! My fastest yet for a Japanese solo-matched Splatfest!
And to add more joy to the moment, we won! Turns out the white ink attracts the better players in Japan, too! This means that, since I want Hello Kitty to go all the way, I'll be splatting for her in the finals too!
My high was dulled a bit a couple days later, as Nintendo revealed that there was a matching bug in this Splatfest, where teams of vastly different Splatfest Power rankings were being matched together. Granted, I never experienced it, but they did explain that they fixed it for the next Splatfest. I really hope that my quick matching wasn't simply due to this bug. If I end up matching as quickly in solo play in the next one, I just may have to edit part of my Splatoon 2 Multiregion FAQ
Time will tell...
Related Images
Screenshots