User:DJParticle/Latest Model
Jump to navigation
Jump to search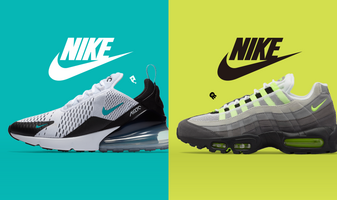 So I had an event on World of Warcraft planned out for the night of March 23, mainly because I figured that since Splatfests are usually a "beginning of the month" thing, I was safe scheduling something long after Splatfests were done for the m--
What? A SECOND Japanese Splatfest in March?!? Damn! I had it all planned out too!
Well, another fashion Splatfest, sponsored by Nike. This is the first Splatfest where I can honestly say I didn't really have a preference one way or the other. When I buy shoes, I just go with what looks purple and good. So after deciding that I thought the Most Popular model (Air Max 95) looked bland, I went for the Newest model (Air Max 270), and I also made sure that all 3 of my inklings had both sets of shoes, as lookalikes were featured in the SplatNet 2 shop. This was my first time choosing Pearl's team since Team Film. Sorry, Marina.
In the leadup week, I wanted to stop by the Mall of America and have my picture taken with both sets of shoes. True to form, though, they were sold out of "Most Popular". I wasn't really surprised, to be frank, so at least I took the picture with my team's shoe. I was happy.
Team Zen was back for this Splatfest, and we dug right in. By this time, we've all been noticing that the Shifty Station features a new gimmick each month, but the Grapplink hooks were a big ho-hum. I just simply didn't use them as much as I thought I would, as you could still get everywhere just fine without them. As Shifty Stations went, this was underwhelming, right up there with the one that only had inkrails as the "gimmick".
After all that, though, true to Eastern form, Marina's team won yet again, though just barely. It was the closest Eastern Splatfest, battlewise, since the Lemon Splatfest in November. Afterward, I had to redo my "Splatfest record" graphic.
Never expected a region to have 2 Splatfests in a month.
At least we got to keep the shoes...
Related Images
Screenshots
Other Images