User:DJParticle/Love
Jump to navigation
Jump to search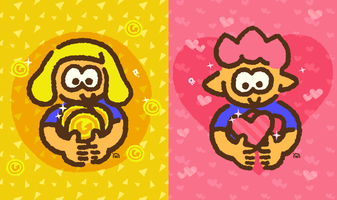 After the European Splatfest was announced regarding pickles on burgers, with no American Splatfest announced, I gave up on a special Valetine's Day themed Splatfest, as it would take place after Valentine's Day. I was wrong.
What we did get, is only the second Splatoon 2 Splatfest recycled from a Splatoon Splatfest (The first being Rock vs. Pop, which was Europe's first Splatoon fest and Japan's first Splatoon 2 fest). When this Splatfest first happened on October 31, 2015 in Japan, Team Money, sponsored by Marie, won the popular vote, but Team Love, sponsored by Callie, won enough in the battle category to make up the popularity deficit and win the Splatfest.
Now it was time for a rematch, this time in America. Pearl, who canonically comes from big money, expectedly took Team Money, while Marina and her sweet demeanor took Team Love. Siding with Marina again, I eagerly awaited this Splatfest rematch, including going back to the '60s with my Splatfest art: a hippie inkling giving the peace sign with a flower crown in her tenta-hair.
No Team Zen for this one, as he chose Team Money, but Team Particle was ready to stream when Splatfest started, and we noticed a lot of Love v Love matches, which warmed my heart knowing that most players sided with Love. But my heart sank at the same time, knowing what usually happens to teams that win the popular vote.
We even splatted against a Team Money team with user names like "MoneyIsReal", "LoveIsFake", "IAmRich", and "YouArePoor". We beat them. That victory felt damn good!
Queenout time 3 hours 21 minutes, my 4th best at the time, so respectively fast for me. I would later join other streamers' teams to help them Queen out, but I had a weird feeling about this Splatfest.
When the results came in...I think I visibly squeed! Love wins yet again.
But then again, as we all know... love always wins.
Related Images
Screenshots
Splatfest Art