User:DJParticle/Retro
Jump to navigation
Jump to search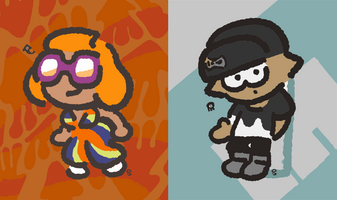 So Nintendo finally decided to do something about the lopsided Splatfest results. Pearl was winning way too often. Marina just lost 5 in a row between the three regions.
So they came up with a new RAD way to do Splatfests. Instead of the other two categories being battles won in Solo and Team play, they introduced a new mechanic called "Clout", which is based not only on whether you won or lost, but also by how much you ink and how well you match with the rest of your teammates.
Wait..did they just...REWARD meme teams? More than that, they are now acknowledging that losing teams can still play well and get rewarded!
AWESOME!!
And the Splatfest Tees will keep generating chunks even when full? TUBULAR!
If you didn't guess from my choice of words, I went with Team Retro. The whole aesthetic to me is just simply... MOST EXCELLENT! There was more color in the 1980s (then grunge happened), and it just hasn't fully come back... despite the best efforts of Lady Gaga and Nicki Minaj.
When I started this Splatfest, I wasn't sure what to expect with all the changes. I especially love that I no longer need to get a full team together to splat with my friends. The news ticker is a nice touch, and lets me know how the teams are doing. The jumbotron pix are a cute addition too, and puts well-deserved teams in the spotlight.
It felt...more like a huge festival event than ever before.
And then there's the Shifty Station...far too many times to count did I bounce off the pads just to mistime my landing and fall into the abyss, and I wasn't alone. Control of that small mid platform was key, and probably the smallest "mid" I have seen of any map thus far, It was extremely odd, quirky... and actually kinda fun.
And to top it all off, my Eurotoon Queenout was a new personal best for me, at 2 hours 27 minutes...getting closer to that "one rotation" Queenout time *heh*
The results, despite the idol meme, were rather predictable. We all knew Marina was going to sweep. Just about everyone I knew on Team Retro said they were getting their butts killed more often than not. I guess after Pearl mocked Marina with "just stop losing all the time!", Marina just responded with "oh, it's ON!" And ON it was! The best I could do was sigh and collect my 42 snails.
...bogus...
Related Images
Screenshots