User:DJParticle/Salsa
Jump to navigation
Jump to search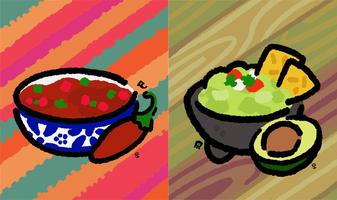 Upon first seeing this Splatfest, you wouldn't think these two toppings would be pitted against each other. After all, people tend to like both on their Tex/Mex food. It's not like the two are mutually exclusive or anything. It's just a fact of life: salsa and guacamole both belong on Tex/Mex food.
So asking which one is better seems to be like a moot point...
However, the Splatfest was asking which is better as a dip, and some missed that part. I chose salsa. After all, have you ever heard of "Chips 'n' Guac"? Guacamole, by itself, IMHO isn't enough flavor for just a dip. Put it on sandwiches, put it in a burrito, put it on a taco...but as a dip? I need more! I need spice! I need tomatoey goodness! I need onions! I need chunky chompy flavor!
Apparently, there are people who prefer Guacamole as a dip as well, and they were willing to defend their honor on the splatterfield! I will never understand them. Poor unfortunate flavorless souls. *lol*
The Splatfest started out ok enough, but that Shifty Station from the week before was back, and continued to be a source of misery for me. Luckily I had a team of good players from the Twitch community to back me up...
...even if my 10x record is now 0-7. Will I ever win one?
I got the Queenout at 2 hours 35 minutes, which is on the higfher end of my Top 10 List. But once again, Dana got it 10 minutes before I did, and this time, we didn't break group from each other. Still curious how she's getting larger Synergy Bonuses than I am.
It was still a struggle though. Our victories were hard fought and close, while our losses were more often than not due to us getting massively outclassed...not to mention all the mirror matches we had being on the popular team. Pro players were having an easier time, it seemed.
Because of that, I called the Normal category for Team Guac with an overall win for Team Salsa.
I was wrong.
I was DEAD wrong.
But I was wrong in a good way.
Turns out Pearl finally got her first win under the new system, and we not only won, but WASTED Team Guac in a three-category sweep. There were no 50.xx-49.xx victories here, either. Pearl's win was about as decisive as her win with Team Gherk-OUT. Blew me away.
Then again, I should have expected no less from Team Salsa. What can I say? We were...
...RED HOT! ;)
Related Images
Screenshots