User:DJParticle/Salty
Jump to navigation
Jump to search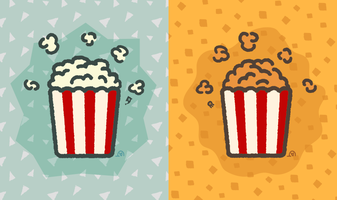 After the Chicken vs. Egg Splatfest, our entire struggling team was feeling a bit haggard, a bit tired, and a bit annoyed, to the point where we nicknamed the entire thing "Saltfest".
Well, all jokes aside, here's the real "Saltfest", as the Nintendo powers that be asked us all how we prefer our popcorn: salty or sweet.
Naturally, I chose Team Salty. Don't get me wrong, I love Cracker Jack and caramel corn (in fact, the Team Sweet tees said "CARAMEL" on them in inkling script), but when I think popcorn, I don't think of that little box with the crappy surprise inside, I think of going to the Riverview Theater, getting myself a big vat of popcorn with real butter (which has a salt base)....and slathering it with salt-based cheese dust. It just isn't the movies without salty popcorn.
I didn't have a team, simply because I don't know enough people with the Europe version yet (though that is changing slowly), but I started right in streaming with solo matching as soon as Splatfest opened.
Now, one thing you need to know about European lobbies: they're generally easier than their North American counterparts. Video games simply aren't as much of a cultural phenomenon in the EU as it is in the USA or Japan, and all the better players tend to form their own teams and participate in Splatfest that way. As a result, solo lobbies become, on the whole, rather easy.
That resulted in something I didn't think would ever happen. I got another new personal best Queenout record of 2 hours 41 minutes, shaving 9 minutes off my prior record.
And of course, with Pearl sponsoring Team Salty, and the EU being... the EU, Pearl won both battle categories, and I celebrated with a huge bowl of Smartfood, though I was surprised Team Sweet got the popular vote.
I guess Europe is just a sweeter place to be. Makes sense...all the best chocolate comes from there, after all. A win-win situation!
Related Images
Screenshots
Splatfest Art