User:DJParticle/Socks
Jump to navigation
Jump to search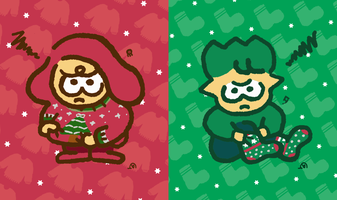 After this Splatfest was revealed, I admit to being a bit puzzled. Yes, it was a holiday themed Splatfest, and North America only getting the previous one made sense, as Halloween is a far bigger deal in America than it is in Europe, due to old stigmas.
Christmas, on the other hand, migrated to Europe long before most Americans even saw a person of European descent, so it would seem odd that this Splatfest, revolving around gaudy holiday wear, was exclusive only to North American copies of the game. Even Europeans looked at the situation like "what the hell?"
That said, the meme of the "ugly holiday sweater" does run strong in America, but for this Splatfest, I had to go with Marina again. You can hide socks, and they still keep your toes toasty warm!
Also, whereas "Squidmas" was previously canonized in the "Naughty vs. Nice" Splatfest in the original Splatoon, this new Splatfest canonized the Octarian equivalent, "Octivus", which Marina celebrates. Strangely enough, these holidays still have yet to be mentioned in either the European or Japanese versions of the game.
Again, the same Shifty Station from the week before, and this time, the whole team had the advantage, as we got Team Zen back together! We won a lot at first, but a more people got used to the Shifty Station, the wins started to drop off, again taking over 3 and a half hours to Queen out.
And as the final insult to this ugly Splatfest, Team Sweater swept! Pearl's second sweep. By this point, many players resolved themselves to the pattern of Pearl winning in the West, and Marina winning in the East.
This dynamic would face its biggest challenge in the next month!
Related Images
Screenshots
Splatfest Art