User:DJParticle/Treat
Jump to navigation
Jump to search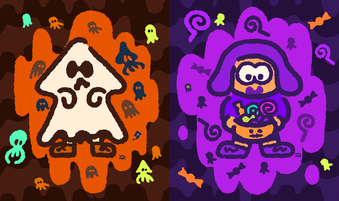 Where to start for this one...
First...this is the first time we have had an event like this, in either version of the game. The closest we had was the final Splatfest of Splatoon, which was also a 48-hour Splatfest, but didn't feature any special stage/plaza decorations, just a new song.
But Splatoween was different. They went all out for this one with spooky decorations on both the square and the stages, special festive gear...even Off The Hook and the Jellyfish were cosplaying. It was to be one of four Splatfests (the other three are still to come) that have a "special" designation in the game's code. Truly an event among events. But we'll get more into the "special designation" part later.
As for the Splatfest itself, they gave us our Splatfest Tees two weeks in advance, like the Squid vs. Octopus contest. Me, being an old Kandy Kid from the 1990s, had to choose Team Treat. Besides, Tricks are just mean. You're supposed to disguise yourself and prank the dead, not the living.
When Splatfest started, I liked the little effects they added in addition to the decorations...the spooky game start noise when you first click the ZL/ZR buttons, the ghostly apparitions, the film-scratch effects at the start of each match. This was a lot of effort for a one-time event in a game over a year old, and it was glorious!
Then I started my first Queenout, with my Japanese toon. At the time, Splatfest hadn't opened yet in America, and as usual, it paired me with the closest players available (Europeans). There was just one problem...
We kept getting paired with Japanese teams from Team Trick...
We kept getting our butts wasted as a result.
Final Queenout was 3:24...ouch.
I did my second Queen run with my Eurotoon. At that time, Splatfest was open in every region, and we had an ace in the hole, as one of the best Australian players from my Twitch community joined us. We still struggled with Japanese teams, but still won enough to manage a shockingly short Queenout time of 2:04.
Even more shocking, my partner Dana ended up playing a match without the rest of us due to a lobby snafu, and won one where I lost...she Queened out in 1:58 as a result.
She...has a shorter PB...than I do... Um... O.o
Anyway...by this point I was starting to notice that overall Team treat was winning more matches, but when Trick would win, they were blowouts, heavy victories...compared to Team Treat, whose victories were more often than not sqeakers and last-minute wins. It seemed possible that the clout from Trick's blowouts could tilt the battle categories their way, despite losing more often.
The third Queen run, for my American toon, initially started out worse than the first run, literally getting to Fiend 20 loss points at a time. Help came in the form of a hardcore Canadian gamer from my Twitch community, and we salvaged the run to 3:15 thanks partly to him, and partly to the fact that after the first couple hours, Japanese opponents were no longer a concern, as Splatfest closed in that region at that time.
I'm glad to see the matching servers are still region agnostic but...they failed us a lot this Splatfest. STOP MATCHING US AGAINST GODS, ZAPFISH DAMMIT!!
I ended up having one 10x match per run...and lost all three of them. Someday I shall see my toon on the big board...someday...
I called the Splatfest for Team Trick, taking Popularity and Pro, based on my own experience and watching numerous Twitch streamers from both teams. I held off on calling a sweep because by and large, Treat players in Normal Mode tended to play better and had a better chance at holding off the clout onslaught.
Well, I was nearly correct on two of three. I was 1% off on the popular vote. I was pretty much on the nose for Normal Mode, though the actual difference in percentages was less than half a percent...but I couldn't believe it when I saw the Pro numbers...
Treat!! At approx. 52-48! Treat's Pro teams were the better ones after all!
Send out Marina's Candy Corn Tenta-Missiles in celebration! That's 3 victories in a row for Marina, and the post-Splatfest banter was pretty upbeat on both sides of the studio, even in the Japanese banter.
But there is still one unanswered question, and it comes from what the English Splatfest banter WOULD have been if Team Trick had won...
Marina would have said to her team, "Nice try, Team Treat. We'll get 'em next year."
Wait... "Next year"??
Isn't the final Splatoon 2 Splatfest JULY 2019?!? That is decidedly BEFORE next Halloween!
Ah! We go back to the OatmealDome leak of the 4 "special" Splatfests!
Could it be that those 4 "special" Splatfests are "special" for a reason? Think of it...3 more elaborate seasonal Splatfests, placed, say, one approximately every 2-4 months?...
...that, maybe, REPEAT ON AN ANNUAL BASIS?
Think of it...Marina's comment of "next year", the dichotomy of the elaborate work for how soon the game's end-of-support is, the special code...and the fact that Nintendo wants the Switch to last 10 years. What better way to extend the life of Splatoon 2 than to keep Splatfests going, quarterly, in some form for years to come, with minimal further work needed by the devs, even after monthly Splatfests cease to be?
Could we be splatting out Trick vs. Treat AGAIN next year at this time?
If that is the coming future for Splatoon 2, I welcome it.
Related Images
Screenshots