User:DJParticle/Waffle
Jump to navigation
Jump to search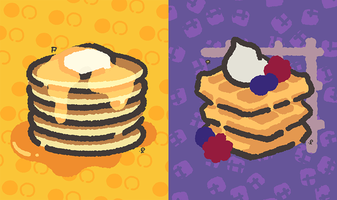 Who's up for some hot battered breakfast?
For centuries, Europeans have been frying up cake batter for breakfast, serving it with various fruits, butter, and of course maple syrup! When they colonized across the world, they took these traditions with them, but over those years, we never could decide which is actually the better way to serve them?
Pancakes are just what the name says it is...batter is poured into a frying pan. Cook one side, flip, cook the other. Simple, right? Granted, the toppings don't always stay on, though, so how else can you prepare them?
Waffles require a special griddle and iron to prepare to get that trademarked cross-hatch shape, so they may be a bit tougher to prepare, but in the end, you have a cake that's thicker, more crisp, and can actually hold its toppings!
Here in America, we have a chain of restaurants for each of these (The International House of Pancakes (IHOP) and Waffle House), but of course, both places serve both types. It all depends on which sounds more appetizing to you.
Because I don't want to fight with my food or toppings, I chose Team Waffle.
It's also been a while since I chose Marina's team. Last time I did, she swept with Team Save It. I told myself the meme is dead, but now the last 3 Splatfests had ended with the unpopular team winning all battle categories. I started to fear for the stats, despite the popularity.
It was obvious Team Waffle had the votes, as evidenced by all the mirror matches I had, but the competition was far more fierce than the weekend before. There were no sub-2-hour Queenouts here.
There was also the fact that the randos didn't know what to do with the Shifty Station. Hell, some of my crew didn't either, though a Splatling from my gang did do effective wall defense, but we sadly lost her halfway through the first run.
We barely got our victories, while Team Pancake often stomped us. I gave up Normal Mode for a loss, though Pro looked promising for Waffle after watching someone on Team Pancake get loss...after loss...after loss on Pro. Sadly that elation would be short lived, as near the end of Splatfest, Pancake was racking up the Pro Clout.
In my predictions, I called it for Team Pancake, sighing in the possibility that perhaps the meme wasn't dead after all.
But get out the wooden stakes, folks!
Marina ended up getting her FIFTH sweep! Granted, it was just barely, as all three categories were basically 51-49 wins...even popularity! In that sense, it was likely the closest sweep in Splatoon 2! Marina now leads Pearl not only in the cumulative, but also in sweeps!
This also means of the last 10 Splatfests across all regions, Marina has won 8
Marina wining is suddenly a cross-region meme! And she has yet to lose at all in Europe in the Clout Era!
And there's no waffling around that fact!
Related Images
Screenshots
10x Wins