User:DJParticle/Warm
Jump to navigation
Jump to search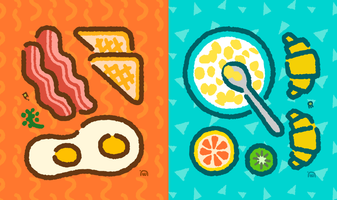 By the time this Splatfest started, I already knew that November would give me three weeks in a row of Splatfests, a first for Splatoon 2. When voting opened, I listened to my stomach. My stomach said, "You like bacon! Bacon is warm!... BACON!"
So this was no contest. Bacon is the Light and the Way, so I chose Team Bacon-- er, Team Warm Breakfast.
At first I noticed the odd start and end times. Starts Saturday morning at 10am Central Time, ends Sunday morning at 9am Central Time? A 23-hour Splat-- ah! It's taking the overnight time change into account, which happens during Splatfest. Europe had already ended their Daylight Time, hence the "later" start time.
All in all, it was a rather uneventful Splatfest, Queening out in just under 4 hours for my fastest Queenout time to that date, leaving plenty of time during the day to enjoy the Mall of America!
The next morning, after the results were finalized, my partner and I celebrated with a nice hot breakfast at IHOP. A rather calm end to a rather calm Splatfest weekend.
Little did I know...hell was approaching...
Related Images
Screenshots
Splatfest Art