User:Mr Squid/sandbox/Main page
From Inkipedia, the Splatoon wiki
Welcome to Inkipedia, the free and editable Splatoon wiki!
We have 1,008 articles since May 24, 2015 and you can help by editing them!
Countdowns
Splatoon 2 will be released in 2017/07/21 00:00|Available now!
Featured Article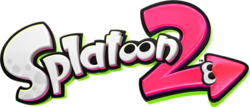 Splatoon 2 (スプラトゥーン2 Supuratūn 2) is a third-person shooter developed and published by Nintendo, and the sequel to the Wii U game Splatoon. The game features battles between Inklings, using weaponized ink to cover territory and "splat" opponents. While it was teased on October 20, 2016 during the reveal trailer for the Nintendo Switch game console, Nintendo did not officially confirm this or any other game showcased in the video as being in development at the time. The title was officially unveiled on January 13th, 2017 at the Nintendo Switch Presentation in Tokyo, Japan. The game is currently planned for a Summer 2017 release.
Inkipedia Newsline

The first issue of the Inkipedia newspaper, Inkipedia Newsline, is coming in September! It is where you can participate in fun activities, conpetitions, and games, as well as reading interesting Splatoon and Inkipedia information, all made by users like you. See here for more information!
Weapon and Gear set of the day
Coming soon! Each day there will be a different weapon and gear set for certain modes!