User:Octoling E s3
From Inkipedia, the Splatoon wiki
About
"Weak? HA! I will PROVE my true strength to you!"
-Octoling E
'Sup, YourUsername? Octoling E here.
Name: Octoling E
Gender: Female
Eye Color: s2: Red s3: Magenta Pupil + Pink Iris + Green Ring
Ink Color: Varies (the color I use for my character the most is pink)
Species: Octoling
Hairstyle: s2: Tentacurl s3: Tentatwists
Rank: A-
SRNW Title: Profreshional +2
Likes and Facts
Favorite Bands and Their Songs (Splatoon)
Squid Squad: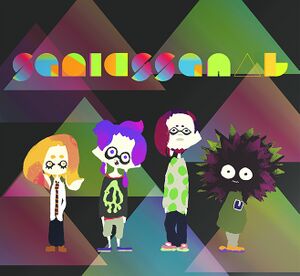 Chirpy Chips: Blitz It!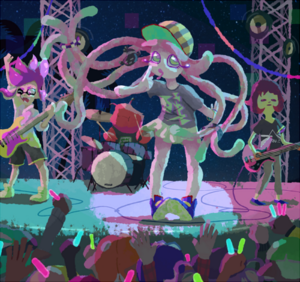 Squid Sisters:

Calamari Inkantation 3MIX w/ Deep Cut and DJ Octavio

Wave Goodbye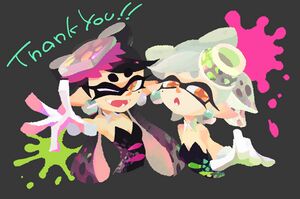 DJ Octavio: S3 ver.)

Turquoise October (No picture was found):


(The only good Single Player songs that don't need a DLC.)
My real online username is Octoling E, and I've been playing since 2018, I've also played Splatoon 2 for over 1,700 hours! (good lord) I can't go on the Discord and if I make up an idea for an Inkfest, someone will need to host it in my place. I might still might to be able to play a match from time to time, though. (I still expect full credit for the Inkfest idea though!) The person who helped me with the event will get credit for helping with the planning and hosting aspects of the event though. Thank you for accepting me as part of the community!!! ;)
Userboxes (a different way!)
Barnsquids
10 Edits Barnsquid


This Barnsquid was awarded to Octoling E s3
on November 24, 2022 for making 10 mainspace edits on Inkipedia.
50 Edits Barnsquid


This Barnsquid was awarded to Octoling E s3
on November 27, 2022 for making 50 mainspace edits on Inkipedia.
Inkfests
I'm going to have a Inkfest collab with @Jacobearth! The theme? Stringer vs. Splatana! Some of the details are still being worked on, but the link to the Inkfest's page is the Discussion part of the page. Hope to see you there!
Trivia
My Gear
Clothing: White Urchin Rock Tee
Shoes: I have to check. sry :(
Freshest Fit #1/ Main Fit:
Weapon: Splatana Wiper
Headgear: BlobMob Mask
Clothing: Black Tee
Shoes: Arrow Toesies Blu

New info coming soon. Stay safe, keep inking, and stay fresh! ;)