User:Skylar
From Inkipedia, the Splatoon wiki
This is a user page!


Please do not edit it this without asking the user first, unless if it contains anything that violates Inkipedia's policy.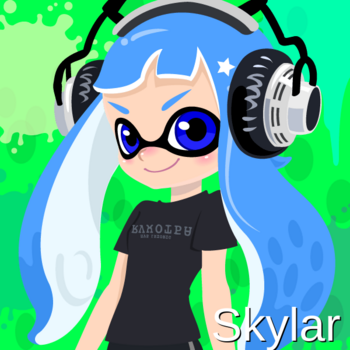 About Me
Hi, welcome to my profile!
I'm just a random squid kid called Skylar. I know a bunch of random trivia about Splatoon (and Nintendo games in general), so I mostly add to those sections. I'm a decent Splatoon player, and I love using weapons with Kraken! If you need help with something, you can ask me and I'll try my best to help.
Wiki status: Hiatus. Probably permanent. This account is basically dead, I don't edit this wiki any more.
What I'm doing now
Just about nothing. (See above.)

My Splatoon Stats

Equipment

I don't remember all my Splatfest ranks so I guessed for these, but I think most of them were defender.

Splatfest Statistics
Team
Result
Rank
Date
Reward
Wins x2

Cats
Lose
Cat Fiend
July 4, 2015

3

Water Slides
Lose
Water Slide Fiend
July 18, 2015

3

Wins x4

Marshmallows
Win
Marshmallow Defender
August 7, 2015

10

Decepticons
Win
Decepticons Fangirl
August 28, 2015

4

Art
Win
Art Defender
September 19, 2015

10

Cars
Win
Car Fiend
October 10, 2015

10

Wins x6

Ninjas
Lose
Ninja Champion
October 31, 2015

5

Burgers
Win
Burger Defender
December 5, 2015

10

Naughty
Win
Naughty Defender
December 18, 2015

10

Past
Win
Past Defender
January 16, 2016

10

Pokémon Blue
Win
Pokémon Blue Champion
February 19, 2016

16

Wins x6

Snowmen
Lose
Snowman Defender
March 19, 2016

5

Patrick
Win
Patrick Champion
April 23, 2016

10

Costume Party
Lose
Costume Defender
May 14, 2016

5

Night Owl
Win
Night Owl Fangirl
June 24, 2016

4

Callie
Lose
Callie Defender
July 22, 2016

5

Team Cat Barnsquid


This Barnsquid was awarded to Skylar
on 00:05, 5 July 2015 (UTC) for supporting Team Cat during the first North American Splatfest.

Team Water Slides Barnsquid


This Barnsquid was awarded to Skylar
on 00:05, 5 July 2015 (UTC) for supporting Team Water Slide during the second North American Splatfest.

Team Marshmallow Barnsquid


This Barnsquid was awarded to Skylar
on 00:05, 5 July 2015 (UTC) for supporting Team Marshmallow during the third North American Splatfest.

Team Decepticons Barnsquid


This Barnsquid was awarded to Skylar
on 00:05, 5 July 2015 (UTC) for supporting Team Decepticons during the fourth North American Splatfest.

Team Art Barnsquid


This Barnsquid was awarded to Skylar
on 00:05, 5 July 2015 (UTC) for supporting Team Art during the fifth North American Splatfest.

Team Ninjas Barnsquid


This Barnsquid was awarded to Skylar
on 00:05, 5 July 2015 (UTC) for supporting Team Ninjas during the seventh North American Splatfest.

Team Burger Barnsquid


This Barnsquid was awarded to Skylar
on 00:05, 5 July 2015 (UTC) for supporting Team Burger during the eighth North American Splatfest.

Team Naughty Barnsquid


This Barnsquid was awarded to Skylar
on 00:05, 5 July 2015 (UTC) for supporting Team Naughty during the ninth North American Splatfest.

Team Blue Barnsquid


This Barnsquid was awarded to Skylar
on 00:05, 5 July 2015 (UTC) for supporting Team Blue during the eleventh North American Splatfest.

My Signatures

This is all the different signatures that I've used.

Skylar (talk)