User:SplatNerdAgent4
From Inkipedia, the Splatoon wiki
(This account is basically cancelled, but I do make some suggestions in discussion pages... I'm much more active in the Wars Wiki.) Hey, there! I'm SplatNerdAgent4 here! I'm a big fan of Splatoon and I want to learn more about the series as well as share my knowledge! I've never played Splatoon, but I have played Splatoon 2 and the Octo Expansion all the way through. I've also discovered some neat stuff, but not much. I prefer Octolings over Inklings, Marina over Pearl, Marie over Callie (by just a hair), and Squid Sisters over Off the Hook by a slight bit. My Agent 3 is Male with blue eyes and light skin, my Agent 4 is Female with the OG hair, orange eyes, and light skin, and my Agent 8 is Male with the Mohawk hair, red eyes, and light skin. (You can clearly tell I'm light skinned.) I'm actually female despite having so many male agents. My New Agent 3 is a female octoling with the default Splatoon 3 octogirl hair, pink eyes with pink pupils, and the third darkest skin. Also, I don't have a discord. I like the Splat Roller best. (I also recently a NSO membership again.) (I also use my brother's account.) SPLATOON 3 HYPE!!
Other Wiki Accounts
https://nookipedia.com/wiki/User:SplatNerdBekahboo# https://www.ssbwiki.com/User:SmashNerd https://warswiki.org/wiki/User:SamiStan
Pages
Custom Idols | Turf and Tide (custom band)
Free Rick Roll:
https://m.youtube.com/watch?v=dQw4w9WgXcQ
Barnsquid
I think I made 10 edits... I think...
10 Edits Barnsquid


This Barnsquid was awarded to SplatNerdAgent4
on 15:05, 6 March 2020 (UTC) for making 10 mainspace edits on Inkipedia.
Creator's Barnsquid


This Barnsquid was awarded to SplatNerdAgent4
on 19:15, 18 March 2020 (UTC) for creating barnsquids
Ketchup Barnsquid


This Barnsquid was awarded to SplatNerdAgent4
16:35, 3 July 2020 (UTC) for supporting Team Ketchup in the Mayo vs. Ketchup Splatfest
This Barnsquid was awarded to SplatNerdAgent4
16:35, 3 July 2020 (UTC) for supporting Team Star in the Mushroom vs. Star Splatfest
Agent Pics
Other things
| | |
| --- | --- |
| | This user is a fan of Marie. |





Inky​
Inky





Pearl Plush​
Pearl Plush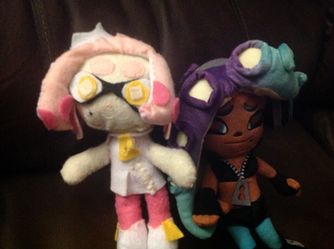 Turf and Tide​
Turf and Tide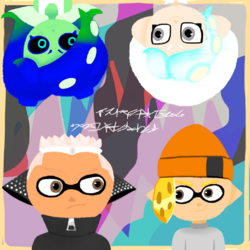 Species
Inkling (John and Rick)
Octoling (Kat and Ciara)
Height
Hair color
Yellow
White
White
Blue to Green
Eye color
Brown (John and Rick)
Gray (Kat)
Cyan (Ciara
Age
25 (John)
34 (Rick)
12 (Kat)
16 (Ciara)
Gender
Male (John and Rick)
Female (Kat and Ciara)
Relations
Location
Inkopolis Central
Shop
Members