User:Squiddy Girl/Sandbox
From Inkipedia, the Splatoon wiki
Squiddy Girl​
Squiddy Girl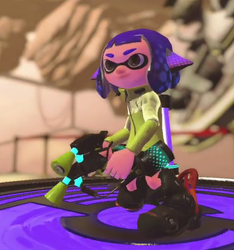 | | |
| --- | --- |
| Species | |
| Height | |
| Hair color | any color |
| Eye color | blue |
| Age | |
| Gender | |
| Relations | |
| Location | Inkopolis |
| Shop | |
| Members | |
"
For some reason, I like Turf War so much that...Ooh,sunglasses! *puts on* DIE DIE DIE!!!
"

— Squiddy Girl's random lousy joke
Hi. This my sandbox, and well uh I WANT TO SPLAT EVERYONE!!!!JK blame those shades over there...hehe...ANOTHER BAD JOKE WHAT
Marie: Agent 4. Hey.
Me: Ummmmmmmmmmmmm why are you calling me agent 4?
Marie: Dramatic tension, except for the 'hey'.
Me: OK that's weird
Marie: Ugh, where did Callie go to now? I swear she was here when I entered the chatroom.
Me: Probably brainwa-
Marie: WAIT WAIT WAIT HOLD UP! I have a call.
Me: From who?
Marie: 'Unidentified'.
Unidentified: You...leave..now!
Marie: WHO ARE YOU WE DIDN'T ADD YOU IN THE CHAT
Me: Callie?
Unidentified: YOU WILL REGRET CORRECTLY GUESSING MY NAME
Me: I didn't guess. It's like, obvious who you are.
Marie: Callie! Remember! That heavenly-wait, we can't sing. We're like, in a chatroom.
Callie: HAHAHAHAHAHAHA! I can't believe you actually believed that!
Marie: Callie I swear if you do that again-
Me: OK Squid Sisters stop fighting!
Marie: Squiddy Girl is right. NO FIGHTING
Callie: haha still can't believe you fell for that.
Marie: Apparently, you need a little help to remember.
Marie: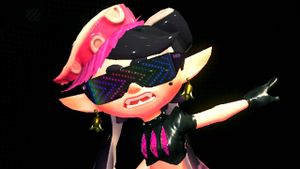 Me: Oooh, using pics to introduce ourselves!
Me: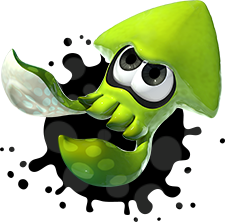 Callie:
Marie:
Callie: Squiddy Girl is that your squid form
Me: yes
Marie: Guess what, guys! I found Gramps in Marina's chat room!
Callie: OMG. What's next, he goes to the Chirpy Chips' concert?
Me: Actually, that's not far from the truth.
Callie: What are you sayin'?
Marie: She means, listening to **** Dudes Be ***** Sleepin on that chat
Callie: oh
Me: ok guys stop blabbering about him.
Callie and Marie: sorry
Me: aw its fine
Marie: Squiddy, we're at a live concert. Sheldon will record us.
Sheldon: Hi Squiddy Girl! Here's the Squid Sisters' live concert footage. I put it in a gif
Sheldon: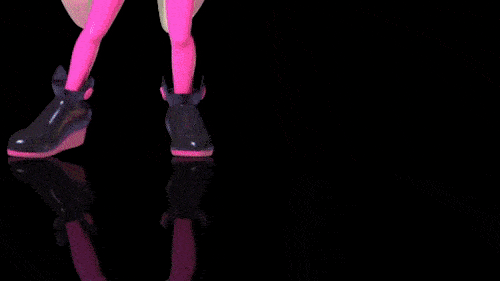 Callie: wow... so many fans! Here's some memorable moments from that concert!
Callie:
Callie:
Marie: CALLIE!
Callie: What?
Marie: Stop that!
Me: STOP FIGHTING YA CRAZY SQUIDS
Marie: where's Sheldon?
Callie: I think he left.
Marie: wait a sec got a call...will quote it.
Marie: "Who needs squids when octos rock? Not this kid-squids are a shock!"
Marie: HARSH
Callie: omg what did your contacts say?
Me: SPILL IT MARIE
Marie: DJ
Me: sounds like the octos I fought in the kettles
Callie: OMG THIS JUST GOT SKETCHY-WHO'S CALLING MARIE?
Marie: calm down.
Callie: will do.
Me: I'm calling Marina.
Me: What I said: Marina, somebody's calling Marie-he's really sketchy. What she said: DJ Octavio is calling people in pranks-probably just him.
Callie: OMG OMG OMG
Marie: just a prank. Honestly, Callie!
Callie: secure this chat so he can't get in
Me: secured.
Marie: Callie! THE CD OF OUR CONCERT CAME OUT!
Marie: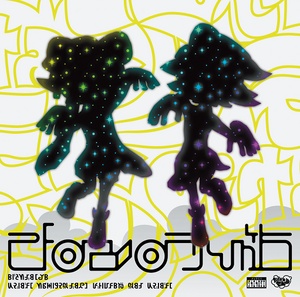 Callie: cool!
Me: look at the back guys!
Marie: here's the back.
Marie:
Callie and Squiddy Girl: Awesome

Me: wait guys, you need to see this
Me: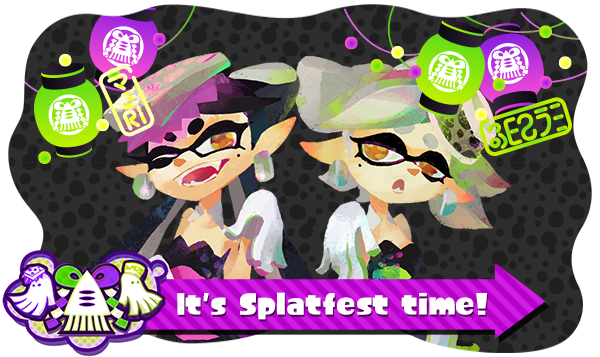 Callie: THE THEME IS...?
Marie: the website says it's Squid Sisters vs.Off The Hook
Callie: showdown time!
Me: Marie that's the Splatfest idea page. It's Chaos vs. Order.
Callie: ooh Marie! lookit the new issue of Calamazones, Inkopolis' most famous magazine!
Callie:
Marie: OOH, OUR CONCERT NEWS!
Me: look at the 'pop idols' section of the book!
Me: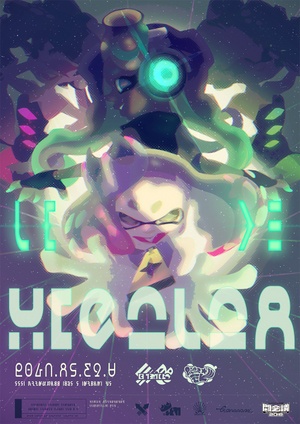 Marie: wait lookit this page
Marie: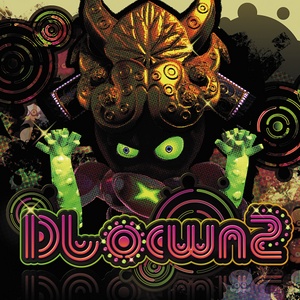 Callie: DJ Octavio is now a pop star to Inklings? wow, cool, and I can't believe it's in Calamazones!
Marie: ok
Marie: Callie, check out these designs I recommend you to wear!
Marie:
Callie: nice! sunglasses are very...retro! But tattoos...
Me: Marie lookit!
Me: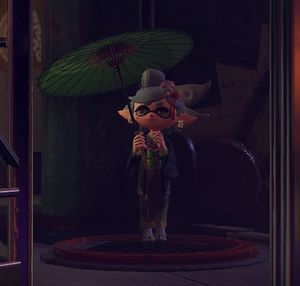 Callie: caught dancing!
Marie: was just a Splatfest dance party...
Squiddy Girl and Callie: lol
Callie: Well Marie i'm not the best dancer either
Callie:
Me: Me neither. But I can't find a pic!
Marie: hehe
Callie: look at this recording of Calamari Inkantation, Squiddy!
Callie:
Me: It's invalid. We can't share music in this chatroom.
Marie: uugh! Inkopolis News time! Sheldon will send you the pictures of the news as it happens.
Sheldon: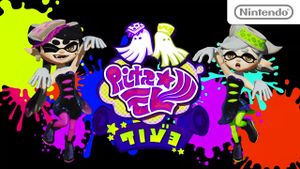 Sheldon: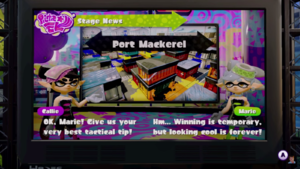 Sheldon: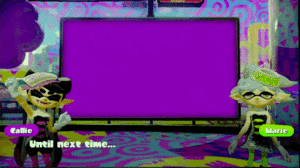 Me: so, all you do now is give tips for stages on the news?
Callie: after a SUPAFRESH intro pic!
Marie: Callie, we only agreed to that because our old one was getting complaints on how uncreative it was
Callie: but it's cooler than the rest of the news--nice, Sheldon, you turned our outro into a gif! Cool, even though you have to click to animate it!
Me: he left
Callie: Oh right.
Marie: *slaps hand to head*
Callie: yo remember this one Marie?
Callie: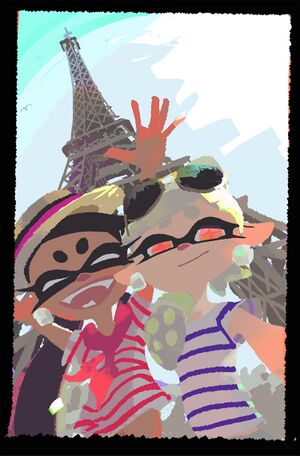 Marie: oh yeah! we went to paris back in the day
Me: I know, I saw your concert
Marie: OMG OMG
Callie: what Marie?
Marie:
Callie: wow, we have so many fans that people are cosplaying as us!
Me: keep up the good music guys.
Callie: OMG I HAVE AN OCTARIAN FILE
Callie:
Callie
---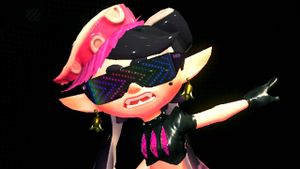 Was found undercover as an agent. Was captured and brainwashed. After coming in audible range of Tidal Rush and was hit by a charger, she replied, "Yeah!" and was never seen in Octarian territory again.
---

Me and Marie: uum ok don't worry
Callie: *gulps* ok
Me: NO GULPING
Marie: ya, we got your back
Callie: sure?
Me: Duh!
Marie: Callie....Ever since those shades...You haven't been yourself.
Callie: I don't want to hear his voice anymore! I don't want to close my eyes...
Me: DJ Octavio's voice?
Callie: Every day I hear him say from the grate that, to be fresh, I have to put 'em on.
Me and Marie: it's fine! You're already fresh!
Callie: *cries with happiness*
Marie: Tentacola alert! fresh off the tentatek place XD
Callie: you don't even like tentacola!
Me:....
Callie: OMG
Marie: whut
Me: she's got to pick the winners for the Anime Idea Contest
Callie: LOOK AT ALL THESE
Callie: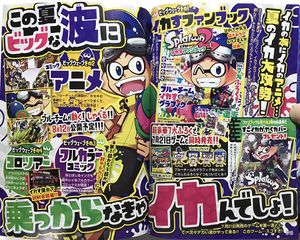 Me: ok that's ridiculous
Marie: see my anime idea! The Box Inklings.
Me: is that the one with the cardboard-box styled inklings?
Marie: yep.
Callie: well Marie, that's good, you'll be a winner.
Marie: hey guys Pearl bought a new ink color!
Marie: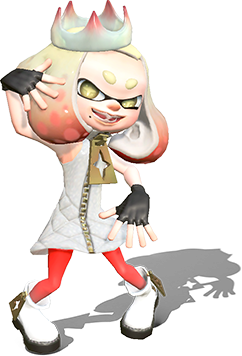 Callie: uum she looks...
Callie: here's a rap: Do I ever? Push the lever! I don't know how you found me, in the deep sea!
Marie: what deep sea?
Me: wait a sec guys did you see this?
Me:
Me, Callie and Marie: BAHAHAHA
Me: wait lemme do a lil' hack
Callie: a HACK? why?
Me: duh, so we can play audio!
Me: make audio playable.exe
Webmaster: no
Me: enter audio hax.exe
Webmaster: heck no
HackChecker: HACKZZZ!
Marie: seriously, this is just like in Calamari Calamity.
Callie: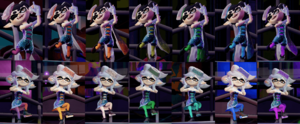 Callie: what colors are the best?
Marie: i'm diggin' the blue
Me: WTH, guys? YOU ARE GETTING DANGEROUSLY OFF-TOPIC.
Callie, Me and Marie: LOL
OH SO WOOMYING CUTE