User:WayslideCool/Brawns vs. Brains
Jump to navigation
Jump to search
Brawns vs. Brains​
Brawns vs. Brains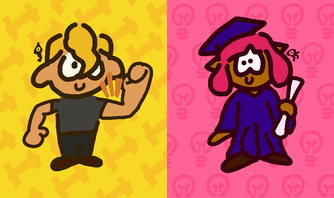 Alpha team

 

Brawns
Bravo team

 

Brains
Month
September 2019
Score method
Average score
Popularity
23.08% - 76.92%
Wins
57.58% - 42.42%
Score
40.33% - 59.67%
Winner
Brains
Brawns vs. Brains was a Squadfest held by ShinyCelesteela and other members of the SquadFest discord. It was held for the month of September 2019. The first round of battles was held on September 17, 2019, and the second was held on September 29, 2019.
Details
The theme was chosen at random on August 31st, 2019. The question is whether brawns or brains are more important, effectively meaning "strength or intelligence." The first round of matches was hold on September 17, 2019, with twelve matches being held overall, Brawns winning nine and Brains winning three. On September 29, 2019, an additional round of matches was held, adding an additional eleven wins for Brawns and ten for Brains, evening out the battle score more. The Squadfest was concluded on September 30, 2019, officially declaring a win for Team Brains, primarily won by their heavy victory in popularity.
The three stages selected for this Squadfest were: Musselforge Fitness, Shellendorf Institute, and A Swiftly Tilting Balance.
Trivia
Gallery
Dialogue
Announcement
Kyla's Dialogue
Brooke's Dialogue
Region
Kyla:
"It's the battle of mind and matter! Working out at the gym or the library! The battle of brawns and brains!"
Brooke:
"A very decisive battle indeed! Usually you're supposed to have a good balance of both…"
Kyla:
"But only ONE can remain supreme in a Splatfest!"
Brooke:
"Precisely. So tell us, Kyla, which team are you on?"
Kyla:
"Team Brawns for life!"
Brooke:
"-"
Kyla:
"When you're in a battle, you aren't gonna beat the snot out of your opponents with algebra."
Brooke:
"-"
Kyla:
"You're gonna take them down with brute force!"
Brooke:
"Well Brains are important in a battle too, not much point in trying to take out an opponent who's just going to outsmart you."
Kyla:
"-"
Brooke:
"With enough smarts, you can slide yourself out of any tough situation!"
Kyla:
"Forget about all that! You're never gonna solve your problems just by running away from them! You gotta go all-out! Tackle 'em head-on!"
Brooke:
"Actually, I think you'll realize that problem solving is what us people on Team Brains are the best at."
Kyla:
"Well it isn't gonna get you out of a locker."
Brooke:
"It is if we're smart enough to crack the lock!"
Kyla:
"Why waste time cracking it if you're strong enough to tear it off?"
Brooke:
"-"
Kyla:
"And don't keep on foolin' with me, Brooke! We all know you've said you have a thing for the cool, strong ladies!"
Brooke:
"And don't you have a soft spot for shy, brainy types?"
Kyla:
"Well…. Forget about that! Everyone, it's time to pick your teams and prepare for the battles throughout the month!"
Brooke:
"-"



Results
Kyla's Dialogue
Brooke's Dialogue
Region
Kyla:
"-"
Brooke:
"Mind over matter!"
Kyla:
"What?! But we were stronger!"
Brooke:
"Your bodies may have been stronger, but our minds were."
Kyla:
"-"
Brooke:
"Have you ever heard of muscle memory?"
Kyla:
"Pffft, you kid, it was our team who had the muscles!"
Brooke:
"Well, they weren't enough to stop you from getting quashed by us and our unspeakable IQ."
Kyla:
"Have you been watching that show about the pickle guy again?"
Brooke:
"First of all, he's a sea cucumber, and second of all, no, because I'm smart enough to know not to watch it."
Kyla:
"-"
Brooke:
"And smart enough to win the Splatfest! Booyah!"



Results if Brawns were to win
Kyla's Dialogue
Brooke's Dialogue
Region
Kyla:
"MIND DOESN'T MATTER!"
Brooke:
"Aww, c'mon…"
Kyla:
"Big and buff, we've all got the stuff! Woo!"
Brooke:
"I guess it was your team that outsmarted us after all."
Kyla:
"No it wasn't! We just outmuscled you!"
Brooke:
"-"
Kyla:
"Now gimme a brug!"
Brooke:
"A… brug?"
Kyla:
"Ya'know. Brohug. Or "brug" for short."
Brooke:
"I don't wanna call it that..."