User:WayslideCool/Mothman vs. Flatwoods Monster
From Inkipedia, the Splatoon wiki
Mothman vs. Flatwoods Monster​
Mothman vs. Flatwoods Monster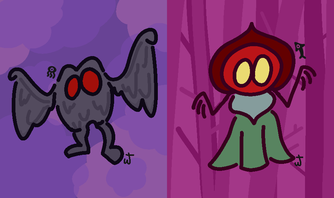 Alpha team

 

Mothman
Bravo team

 

Flatwoods Monster
Month
October 2019
Score method
Average score
Popularity
53.85% - 46.15%
Wins
16.67% - 83.33%
Score
35.26% - 64.74%
Current winner
Flatwoods Monster
Mothman vs. Flatwoods Monster is an ongoing Squadfest being held by ShinyCelesteela and other members of the SquadFest discord. It is being held for the month of October 2019. The first round of battles was held on October 12th, 2019. The second round was held on October 13th, 2019.
Details
The theme was selected specifically for Splatoween on September 30th, 2019. The question is whether Mothman or the Flatwoods Monster is a more interesting cryptid, with both coincidentally being from West Virginia. The first round of matches, held on October 12th, 2019, resulted in 6 wins for Team Flatwoods Monster with no wins for Team Mothman. The second round, held on October 13th, had four wins for Team Mothman, but ultimately this did not compare to the 14 wins Team Flatwoods Monster obtained. Due to Team Flatwoods Monster earning ten consecutive wins, the Handicap Rule was enacted, forcing one member of Team Flatwoods Monster to avoid using any weapon in the class they are most proficient with.
The three stages selected for this Squadfest were: Camp Triggerfish, The Reef, and The Bunker Games.
Trivia
Much like Trick vs. Treat, it is also being labelled as "Splatoween" and is being held in the month of October.
Gallery
Dialogue
Announcement
Kyla's Dialogue
Brooke's Dialogue
Region
Kyla:
"Live from West Virginia, we got a battle of the cryptids coming up!"
Brooke:
"-"
Kyla:
"Are you with the big bug man that soars through the skies…"
Brooke:
"-"
Kyla:
"TEAM MOTHMAN!"
Brooke:
"Or would you prefer the amazing alien that lurks in the woods…"
Kyla:
"-"
Brooke:
"TEAM FLATWOODS MONSTER!"
Kyla:
"Both are cool, but as we know…"
Brooke:
"In a Splatfest, only one can be cooler."
Kyla:
"Yep! So lemme break down why you should pick Mothman here."
Brooke:
"-"
Kyla:
"Whenever something bad is gonna happen, Mothman shows up to warn ya'."
Brooke:
"-"
Kyla:
"Now I'm not the type of gal to stay out of trouble, but if say, Hammerhead Bridge were to start falling down on us, it's probably good to get a warning before it happens."
Brooke:
"Well how do you know Mothman isn't causing those disasters?"
Kyla:
"-"
Brooke:
"I mean, the guy only shows up when bad things happen. He could be trying to warn us, sure, or he could be playing tricks on us."
Kyla:
"Well making a bridge collapse is one heck of a trick."
Brooke:
"I'd say."
Kyla:
"But let's get real, what makes you feel so high and mighty about picking the Flatwoods Monster over Mothman?"
Brooke:
"-"
Kyla:
"I mean, didn't she spray mustard gas at a bunch of innocent kids?"
Brooke:
"She's an alien from another planet! She was scared of what was going on and was doing it in self-defense!"
Kyla:
"-"
Brooke:
"And I do have my reasons for picking my side."
Kyla:
"Well let's hear 'em!"
Brooke:
"1.) She was a close encounter with an alien race."
Kyla:
"Debatable."
Brooke:
"2.) She looks cooler."
Kyla:
"That's subjective."
Brooke:
"3.) She's an icon for lesbians everywhere."
Kyla:
"...Okay, yeah, that is true!"
Brooke:
"Besides, Mothman was probably just a barn owl. Everyone knows that."
Kyla:
"Oh yeah? Well I heard the Flatwoods Monster was ALSO a barn owl! How does that make you feel?"
Brooke:
"Maybe there was just one really big barn owl that terrorized West Virginia in the '50s and '60s."
Kyla:
"Yeah, but that's no fun! What's fun is cryptids! So what do you guys think? Pick your sides, and prepare for the Splatfests coming up soon!"
Brooke:
"I think a really big barn owl would be fun..."