User:WayslideCool/Toothpaste vs. Tabasco Sauce
Jump to navigation
Jump to search
Toothpaste vs. Tabasco Sauce​
Toothpaste vs. Tabasco Sauce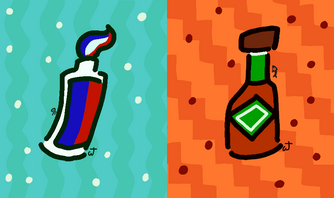 Alpha team

 

Toothpaste
Bravo team

 

Tabasco Sauce
Month
August 2019
Score method
Average score
Popularity
58.33% - 41.67%
Wins
36.11% - 66.89%
Score
47.22% - 52.78%
Winner
Tabasco Sauce
Toothpaste vs. Tabasco Sauce was a Squadfest held by ShinyCelesteela and her close friends. It was held for the month of August 2019, and matches were held on August 15th, 2019, and August 24th, 2019.
Details
The theme was chosen at random on August 1st, 2019. The question is an ambiguous "which is better," as the theme itself is actually entirely nonsensical and was chosen specifically because of that. A round of matches was held on August 15th, 2019, granting five wins for Team Toothpaste and no wins for Team Tabasco Sauce. However, on the second round of matches, held August 24th, 2019, Team Tabasco Sauce made a comeback, winning 23 matches opposed to Team Toothpaste's eight. The results were announced on August 31st, 2019.
The three stages selected for this Squadfest were: Walleye Warehouse, Piranha Pit, and Fancy Spew.
Gallery
Dialogue
Announcement
Kyla's Dialogue
Brooke's Dialogue
Region
Kyla:
"-"
Brooke:
"Well, this one is a no-brainer."
Kyla:
"I'd say."
Brooke:
"-"
Kyla:
"Whenever I'm eating a delicious Cajun dish… I like to give it a bit of that very special sauce."
Brooke:
"-"
Kyla:
"Team Toothpaste!"
Brooke:
"Yeah- wait, WHAT?!"
Kyla:
"I mean, some food is just too, too spicy, but grab a tube of toothpaste, give it a big ol' squeeze, and BLAMMO!"
Brooke:
"-"
Kyla:
"Cool it down with a refreshing, minty flavor!"
Brooke:
"Hold on, hold on, are you suggesting to use toothpaste as a condiment?"
Kyla:
"I mean, what else is it good for?"
Brooke:
"Dental hygiene?"
Kyla:
"Well that's just a bonus."
Brooke:
"Please, it's not even the best for that purpose."
Kyla:
"-"
Brooke:
"Every day after every meal, I grab my toothbrush, slather on some tabasco sauce, and get to brushing!"
Kyla:
"-"
Brooke:
"How else am I supposed to find that spice of life?"
Kyla:
"Eesh, dude! You have some SERIOUS problems!"
Brooke:
"Says the one who eats toothpaste on everything."
Kyla:
"Well, how about you let THEM decide? Which is better, Toothpaste or Tabasco Sauce?"
Brooke:
"Who are "they?""
Kyla:
"The people reading this."
Brooke:
"-"
Kyla:
"Pick your team, and prepare for the Splatfest later this month!"
Brooke:
"-"



Results
Kyla's Dialogue
Brooke's Dialogue
Region
Kyla:
"-"
Brooke:
"TEAM TABASCO TAKES IT HOME!"
Kyla:
"NOOOOO!"
Brooke:
"Hey now, Kyla, no need to be so sad."
Kyla:
"-"
Brooke:
"It's not YOUR fault that we were TOO HOT TO HANDLE! WOO!"
Kyla:
"Well, I guess you are hot."
Brooke:
"I guess I am!"
Kyla:
"And Toothpaste! Y'all gave it your best out there! We'll show 'em in the NEXT Splatfest!"
Brooke:
"We'll see."
Kyla:
"-"
Brooke:
"And of course, for your victory, your prize is..."
Kyla:
"Nothing! Absolutely nothing except your bragging rights and a new line in Splatfest law!"
Brooke:
"Tabasco Sauce is legally better now."
Kyla:
"Yeah!"
Brooke:
"-"



Results if Toothpaste were to win
Kyla's Dialogue
Brooke's Dialogue
Region
Kyla:
"TEAM TOOTHPASTE'S TOTALLY TUBULAR! BOOYAH!"
Brooke:
"Aww, c'mon…"
Kyla:
"'Ey now, cheer up Brooke."
Brooke:
"-"
Kyla:
"It ain't your fault that WE WERE THE COOLEST, FRESHEST SQUIDS AROUND, 'EYOOO!"
Brooke:
"Well, I guess you are pretty cool."
Kyla:
"YEAH I AM! And so were all of y'all on Team Toothpaste!"
Brooke:
"And Team Tabasco, we'll raise the heat in the next Splatfest!"
Kyla:
"Sure you will!"
Brooke:
"But first, the prizes! As much as I hate to admit defeat, it seems that Team Toothpaste wins…"
Kyla:
"Nothing! Absolutely nothing, except our bragging rights, and the legal declaration that TOOTHPASTE IS SUPERIOR!"
Brooke:
"And so it is."