User:WoomyMcBoomy/Rollers Vs. Sloshers
Jump to navigation
Jump to search
Rollers Vs. Sloshers​
Rollers Vs. Sloshers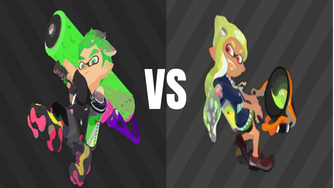 | | |
| --- | --- |
| Expected Time: | May 30th, 2:00 PM-7:00 PM EST |
| Break time: | 4:00 PM-6:00 PM EST |
| Color Set: | Squid vs. Octopus |
| Popularity: | 53.8%-46.2% |
| Battles won: | 6-15 |
| Winner: | Sloshers |

Finally, the not-so-long awaited sequel to Shooters Vs. Dualies, Rollers Vs. Sloshers! In this minifest, we'll be pitting some of the most powerful weapons against each other in an all-out splattle to see which is the dominant weapon! The winner of this fest will face off against the winner of the previous fest, Dualies! Good luck, and stay fresh!
Rules
MUST wear splatfest tee replica to participate
While in battle, you are only allowed to choose from the weapon type you voted for in the fest
Synergy bonuses will not be counted
Stages will be randomized
If someone DC's, then the match will only be counted if the team with the DC wins
Alpha team is Rollers, bravo team is Sloshers
There will be an hour long break in between the play session, in which the moderator will close the lobby for a short period of time. I recommend using that time to eat something and or relax for a bit, take the stress of battling off of your mind.
Make sure to send all of the fest moderators a friend request to join!
A maximum of 10 players can join per fest moderator. For example, if there's 2 fest moderators, then a maximum of 20 people can join.
I may have to switch some players on one team to another team. Please still try to win, even if it's not your own team.
You can add your name to fest moderators if there are 4 extra participants after one lobby reaches up to 8 players. Please still enforce the rules listed above, though.
Message me on my talk page telling me which team you wanna join, and put your name under the corresponding list. Thank you!
Fest moderators
Team Rollers
[UserName]
Splat God
(Yawshi Fan is also rooting for rollers!)
Team Sloshers
(WoomyMcBoomy

is also rooting for team sloshers!)
Notice board