User talk:Rassicas
From Inkipedia, the Splatoon wiki
Patroller rights
Hey Karamatsucc, I noticed that you consistently upload much-needed images and make high quality edits to articles. Normally, every upload and edit made on the wiki needs to be manually reviewed and approved ("patrolled") by staff. But with your consent I want to give you patroller rights, which would automatically mark your edits as patrolled, so that we don't have to review your edits. Patroller rights also include the rollback feature for quickly reverting vandalism, and the ability to patrol other editors' edits for good faith, but you don't have to use those features if checking others' work isn't your thing. You are a trusted and experienced editor, so I think you belong in the patroller group, but it's up to you. Let me know if you're okay with being promoted to the patroller group! Thanks, Heddy (talk) 02:21, 27 January 2018 (UTC)[reply]
(I've never used the talk page before, hope I'm doing this right ) Yeah, being promoted to patroller sounds great, thank you! Karamatsucc (talk) 03:43, 27 January 2018 (UTC)
Promoted! I've added you to the list of patrollers; feel free to add info there if you want. Heddy (talk) 04:09, 27 January 2018 (UTC)
Your draft pages
Some of your draft pages were showing up in categories as if they were main space content, so I had to make some edits to them. By the way, did you actually need these pages? You can always have un-needed pages deleted by tagging with {{delete}}. Heddy (talk) 17:30, 4 July 2018 (UTC)[reply]
Shoots, I'm so sorry about that! I was gonna ask to have them deleted after the update but I kind of.... Forgot to. Rassicas 00:09, 7 July 2018 (UTC)
Splatfest Flooder Artwork
Do you know where this render came from? I asked the original uploader but he never responded.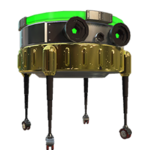 GoombaBroadcast (talk) 3:52, 9 February 2019 (UTC)
Hmmmm... I did a little digging, and I'm gonna guess it was mined by LeanYoshi. https://twitter.com/LeanYoshi/status/1070133331570950144 Rassicas 04:29, 10 February 2019 (UTC)
Fixed it! Also I wish I saw this conversation before I started looking myself XD Inkrid (talk) 09:32, 6 May 2019 (UTC)[reply]
wait...
Yes, I know this isn't a wiki thing, but I don't know where else to put it, but oh my cod I just realized you're the youtube rassicas just wanted to say that you & youre vids are great and i'm honored to be working (? i guess) with you Goldeη1


19:59, 31 May 2022 (UTC)[reply]
I think i found a new script?
Was going through splatoon 3 story mode screenshots and noticed this. The left, right, and top of the screen have text which might be a new script. The one on the right in particular looks like it says "ABCDEGH", if that helps at all.
Or I could be completely wrong, and it's just a strand of filler text.
Tons-of-ducks (talk) 00:58, 8 September 2022 (UTC)[reply]
P.S.: Not sure if I should inform you about this or if there's someone else who's in charge of deciphering scripts, let me know if there is someone. Tons-of-ducks (talk) 01:01, 8 September 2022 (UTC)

I don't know if this is the same script you're talking about, but when you get to the "long octo-expansion just after the blender looking like" stage you will find there are loads of signs. one of these signs i could dissifer/resembles "warning" and the other signs look dissiferable. Watersucker (talk) 10:00, 18 September 2022 (UTC)

Is there a screenshot of the text on this wiki or elsewhere? I would go back and find it myself, but my Switch broke a few months ago. Tons-of-ducks (talk) 22:53, 19 September 2022 (UTC)

I've been super busy moving to another country and havent checked the wiki lately, hence the late response. I've also been without wifi at home, so I haven't been able to update the scripts page either... but that script is Alterna script, and in a historic first, a friend of mine was actually able to extract the deciphered font from in the game itself! So it's fully deciphered without any effort needed, the wiki page just needs to be updated. I want to return to Inkling language stuff later this month, but I'll see if my friend Ardnin (who has been making the graphics and did a lot of writing on the page) wants to update the wiki page with that info in the meantime. Rassicas {Talk} {Contribs} 12:38, 3 October 2022 (UTC)
Love your videos rassicas
I am a huge fan and am inspired by you. Keep up the good work Chrome Wolf🐺 (🎙). 23:55, 23 October 2022 (UTC)[reply]
Have you seen the Easter egg in Hammerhead Bridge of the Octo Expansion human statue?
What are your thoughts on that? Chrome Wolf🐺 (🎙). 01:33, 24 October 2022 (UTC)