User talk:Squid Splat
Jump to navigation
Jump to search
This is a list of comments about Squid Splat.Please edit and put a comment down!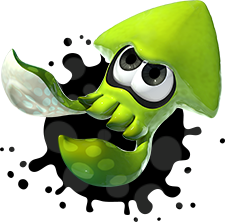 Squid Splat (talk) 21:29, 11 February 2019 (UTC) You can edit my page, people! User:Squid Splat (Talk)
Unofficial material
Please stop adding unofficial material into the main article space. Content of this manner should be contained in the userspace.
Thanks,



21:14, 3 February 2019 (UTC)
Ok.Thanks! Squid Splat (talk) 22:53, 3 February 2019 (UTC)
Hi, another reminder of this. Pages "user talk", "active users", "talk page" are not official Splatoon topics so they should not exist in the main article space. Let me know if you need assistance. Heddy (talk) 02:17, 7 February 2019 (UTC) Thanks for reminding me Squid Splat, the Splatty Squid 12:46, 7 February 2019 (UTC)
Barnsquids
How do I know what Barnsquids I have? Thanks, Squiddily, Squid Splat 21:20, 6 February 2019 (UTC) 22:57, 3 February 2019 (UTC)
Users award Barnsquids to other users according to the criteria. They are handed out by other users, no bots or anything, so if you for example, make 10 mainspace edits and no one comes along to give you one, feel free to insert it yourself (Just don't give yourself Barnsquids you haven't "unlocked" yet). Barnsquids don't do anything other than look pretty, in fact the whole Barnsquid thing is kinda abandoned, the last ones were added early 2016.  KA467 

🗩

 

🖿

   18:51, 7 February 2019 (UTC)
How do I place it? Sorry but I'm a noob sorta. Squid Splat, the Splatty Squid 02:18, 10 February 2019 (UTC)
Template:Barnsquids will have the instructions.  KA467 

🗩

 

🖿

   19:18, 12 February 2019 (UTC)
User:Rii edit
Please don't edit other people's user pages. I suggest you go through Inkipedia's policies as a reminder of what to put here. Thanks, Splattersky (talk) 01:42, 4 February 2019 (UTC) Mm ok. Thanks for the reference and for reminding me of this stuff. Squiddily,Squid Splat (talk) 12:54, 4 February 2019 (UTC)
Other people's userpages also shouldn't be used for self-promotion...just sayin'. -DJParticle (talk) 08:16, 7 February 2019 (UTC)
You throwing me shade?I am a noob. Squid Splat, the Splatty Squid 20:27, 10 February 2019 (UTC) btw I's squid splats alter ego Squiddy Girl, the inkling girl (talk) 00:35, 14 February 2019 (UTC)
Barnsquid
Hey, I gave you a barnsquid for making 10 mainspace edits! Your work is noticed! \/\/00|\/|¥~($₽|_@+|\|€R|]@G€|\|+4$)~\/€€|\/|0 (Talk) 14:52, 20 March 2020 (UTC)